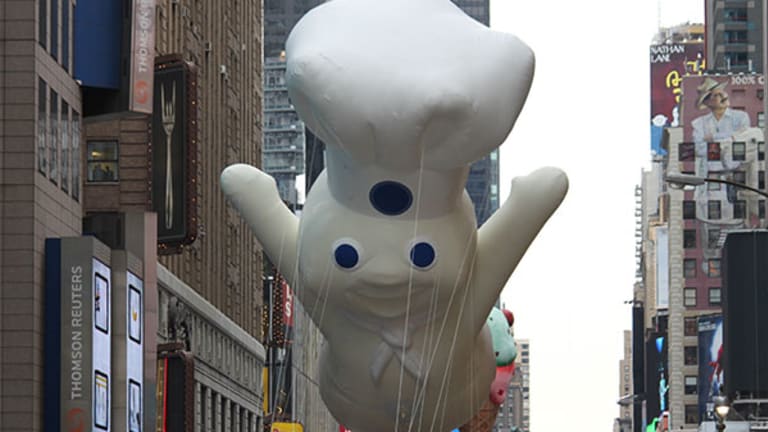 Publish date:
10 Real Stars of Macy's Thanksgiving Day Parade
Think shopping on Thanksgiving is an abomination? The hallowed Macy's parade tradition is commercial from start to finish.
Think shopping on Thanksgiving is an abomination? The hallowed Macy's parade tradition is commercial from start to finish.
PORTLAND, Ore. (TheStreet) -- Mad that some stores are opening for business on Thanksgiving night? For 87 years, the Macy's (M) - Get Report Thanksgiving Day Parade has not only used Thanksgiving to prime Americans for Christmas shopping, but has trucked out Santa Claus to signal the start of the holiday shopping season.
While not even the oldest Thanksgiving parade in the country -- that honor belongs to the Detroit and Philadelphia parades -- the Macy's Thanksgiving Day Parade may be the most relentlessly commercial. The annual telecast on NBC is a psy-ops weapon of relentlessly cheery
Today
show cast members and earworm product jingles that don't give up until you swear an oath to cotton as the fabric of your life or vow that, yes, the best part of waking up is Folgers in your cup. The images of Hayden Panettiere's linen closet and some central casting Midwest son's return home for the holidays and some supermarket coffee sear their way onto viewers' retinas until well into the first course of dinner or the kickoff of the Detroit Lions game -- whichever comes first.
Even attending the parade and snagging a spot along Sixth Avenue or Columbus Circle doesn't help. New York is already built to market wares to everyone passing through it. During the parade, however, guerrilla marketing teams blitz a captive salient of semi-willing consumers with swag ranging from promotional throwaways for upcoming children's movies or free samples of products you'll soon be baited into buying. If
Mars
is getting ready to unveil a Mocha Java Twix, the parade route will be the first ground littered by that product's wrappers.
Nobody has a monopoly on the event. Though NBC partners with Macy's and has official broadcast rights, CBS fires up the cameras and broadcasts its bootleg
The Thanksgiving Day Parade on CBS
simply because the parade passes by its studio space anyway and it has nothing better to do. Balloons and floats pass beneath signs and billboards in Times Square and Herald Square that advertise the direct competition of companies that shelled out for their spot on the street.
It's overwhelming, and that's before Carrie Underwood sings a note, the cast of
Motown
breaks into its first number or the first balloon deflates itself on a streetlamp. It's all a bit much to take in the single-digit hours of the morning, but it's exposure that can pay off handsomely for the companies cramming their logos and products into the order of march. With all respect to Macy's, here are just 10 of the corporate giants benefiting most from their walk through Manhattan.
Aflac (AFL) - Get Report
Parade persona:
The Aflac duck "falloon"
Aflac has been riding its squawking mascot for more than a decade, but the billed face of the company only made its parade debut in 2011.
That proved somewhat rough timing. Comedian Gilbert Gottfried had provided the duck's voice for 11 years but, last March, decided to make some jokes about the Japanese earthquake and tsunami. Gottfried's a button-pusher, and Aflac had to see this coming, right? Nope. Gottfried was scolded by the marketing department and summarily canned. A week later, the company began an Internet search for its new duck voice. It took more than a month to track down somebody else, and the 36-year-old ad sales manager from Minnesota filling the duck's webbed feet didn't quite have Gottfried's trademark vocals or celebrity cachet. The first new commercial aired in May, but a beleaguered public seemed indifferent.
By the time the duck hit the streets of New York, the voice controversy had died down considerably. Now Aflac just gets a lovely version of its spokesduck riding a toboggan. That's about as safe as an insurance company can ask for.
Hess (HES) - Get Report
Parade persona:
The Bridge to the Future float
Hess is in this parade and countless others before it for exactly one reason: To get you to buy its toy Hess trucks. Those trucks, in turn, exist for one reason: To get sentimental parents into Hess gas stations and, with any luck, pick up a few gallons of unleaded and maybe a box of soft drinks for the ride home.
Just in case you miss the float and whatever teen pop act of the moment hitching a ride on it, commercials for the truck will play roughly once every 20 minutes or so. While you're watching that commercial for the fifth or so time, consider that the song the
Christmas is here, the Hess truck's here
jingle is bases on --
My Boyfriend's Back
by The Angels -- turns 50 this year. Yes, there's a whole generation out there who likely heard Hess' jingle on Thanksgiving before they ever heard The Angels' threat to unleash their meatheaded paramour on whatever pour soul disparaged them.
Royal Caribbean
(RCL) - Get Report
Parade persona:
A World At Sea float
See all of those flush faces along the parade route exhaling thick clouds of vapor into the frosty air? Those are folks just waiting for a reminder that the Caribbean is much warmer around this time of year.
Royal Caribbean knows this and is aiming straight for the parka-clad folks packed on New York City's sidewalks and the folks at home who just turned up the thermostat a few degrees. The cruise industry as a whole has seen some dramatic recovery since the recession, with industry group Cruise Lines International Association noting that passenger numbers rose from 13 million in 2008 to nearly 17 million last year. That's a nearly 31% increase and a signal to the whole industry to strike while the folks in the tropical shirts are spending.
For its part, Royal Caribbean is surrounding a yet-to-be-determined music act with sunny, tropical scenes and not-so-subtle reminders that you can still trade your mittens and Thermos of cocoa for sand and palm trees.
Also see: Here's Your Thanksgiving Playlist>>
SeaWorld
(SEAS) - Get Report
Parade persona:
Sea of Surprises float
SeaWorld would ordinarily be just another company trying to woo the frozen holiday faithful to sunnier vacation spots. Unfortunately for the aquatic theme park chain, it's been an extremely trying year.
First the company's initial public offering saw shares fluctuate from a high of nearly $40 in the summer to just $27.50 by October. Then came the backlash from the documentary film
Blackfish
, which focuses on a SeaWorld killer whale that played a role in killing three people, including one of the park's animal trainers. The film homes in on the orca's treatment in captivity and actively questions the use of the animal and any other as a form of human entertainment.
The film got a prime-time slot on
CNN
back in October and reaction to it has only intensified. SeaWorld has defended its treatment of animals vigorously, but that isn't stopping PETA from
and circulating a petition asking that it be removed from the parade's lineup. At this point, SeaWorld can only hope that anti-PETA sentiment is enough to earn it some sympathy from parade watchers. If viewers' qualms with Alec Baldwin and Pamela Anderson aren't enough to sway them in SeaWorld's favor, the company's PR folks will have to do acrobatics more impressive than those performed by the fake orcas on SeaWorld's float.
Delta Airlines
(DAL) - Get Report
Parade persona:
Winter Wonderland in Central Park float
Are you sensing a theme yet?
Delta is going to have its hands full with holiday travel within the next month, but there are big dry spells in its calendar that require some poor sap to take the hit and fill some seats. Travel site
FareCompare
's chief executive, Rick Seaney, calls those periods
and notes that Delta and other airlines really want you to think about flying during those times.
Ordinarily, the first two weeks in December and the last three weeks in January (and into February) are near-vacant portions of the travel calendar. People planning to fly for Christmas or New Year's want no part of them and folks who blew all their cash on holiday gifts can't afford them. Everybody else gets a great deal and some elbow room. Where do you go, you ask? Well, Delta's humbly suggesting that the country get out to New York while the tree is up at Rockefeller Center, while the holiday markets are happening near Columbus Circle and Union Square and while folks are nearly breaking their tailbones falling on the Rockefeller Center, Bryant Park and Wollman rinks.
Your flight won't be crowded for that trip, but just about everyone in the New York Metropolitan area who wants to save a few bucks or beat the majority of tourists will be on Fifth Avenue, in Radio City Music Hall and atop the tall building of your choice with you. With that in mind, a stroll through the park isn't such a bad idea.
McDonald's
(MCD) - Get Report
Parade persona:
Ronald McDonald balloon
The public's view of McDonald's and Ronald McDonald has shifted a bit since this balloon made its debut in 1987, but the company's balloon is already on its third version and shows no signs of leaving the holiday party.
Seriously, there was a sea change between Ronald's parade debut and the modern era. The
Today
show's Willard Scott -- who originated the Ronald McDonald character and played him throughout the 1960s and early '70s -- helped introduce the balloon during its first parade year. Ronald was at the center of holiday commercial campaigns throughout the parade telecast that not only weren't protested by nearly every parent and nutritionist across America, but somehow became
beloved McNuggets of '80s pop culture
. Ronald was part of blatant product placement in kid-oriented films including 1985's
and 1988's
.
Now the all-too-smiley face of U.S. obesity and questionable fast-food marketing practices, Ronald McDonald is a quaint throwback to the days when gratuitous product placement required almost no subtlety whatsoever. Sure, superhero epics such as
The Avengers
feature enough sponsor cash to support a NASCAR race crew, but Tony Stark would have to have a robot sidekick named Audi who runs on Dr. Pepper and Oracle hardware to even come close to the level of blatancy McDonald's achieved during Ronald's heyday. Where better than a rolling parade of ads to place a nostalgic nod to the hamburger-fisted marketing ploys of yesteryear?
General Mills
(GIS) - Get Report
Parade persona:
Pillsbury Dough Boy balloon
How did the author of this piece learn how advertising worked? While watching the parade as a child, taking in a Pillsbury ad and hearing someone in the room behind him exclaim "Don't let me forget to pick up the biscuits."
Good job, marketing department. The Pillsbury Dough boy balloon isn't just yet another company mascot floating down Central Park West: It's perhaps the single most effective such character the parade has ever seen. Why it took until 2009 to get the Dough Boy into the lineup is beyond us, but we'll cut General Mills some slack -- as it only bought the company eight years before the balloon's debut.
It's absolute genius. Pillsbury has tubes of various varieties of cinnamon rolls for Thanksgiving morning parade watching and has spent decades insinuating itself into families' Thanksgiving menus in the form of biscuits and crescent rolls. While these haven't been a great couple of years for carbohydrates or gluten, just planting the idea of a quick trip to the supermarket in the heads of folks who still love and crave those dietary demagogues gives Pillsbury the push it needs.
There may be people out there who scoff at the idea of biscuits from a tube, but they're not the folks that doughy little chef is targeting. The people who are staring down a dinner for 18 to 20 and looking for corners to cut that don't involve can-shaped cranberry "sauce" or a box full of near-sawdust that calls itself stuffing... that's the Dough Boy's crowd, and they'll fall for his little laugh every time.
Also see: Why the NFL Deserves A Thanksgiving Scolding>>
Universal Studios Home Entertainment
(CMCSA) - Get Report
Parade persona:
Despicably Delicious float
Despicable Me 2
already made $366 million in the U.S. this summer and more than $916 million worldwide. Naturally, Universal is going to go for the jackpot and squeeze whatever it can from the DVD, Blu-ray and digital releases of the film, as well as whatever on-demand revenue falls its way.
That requires reminding people about said releases and cranking up the marketing machine all over again. Listen, Steve Carrell, Kristen Wiig and Russell Brand's voices don't come cheap, nor does the kind of marketing budget that allows the studio to build what looks like a repurposed Strawberry Shortcake float and pay a bunch of extras to dance around in Minion costumes while some relatively popular musician sings half a song in front of Macy's.
If this float isn't a reminder of how desperate times have become in the post-Blockbuster home movie market, consider the following.
Sony Pictures Home Entertainment
(SNE) - Get Report
Parade persona:
Papa Smurf balloon and Smurf Mushroom float
A float
and
a balloon. For a film that scarcely broke $71 million in the U.S. on a budget of $105 million.
Sony is really hoping that someone, anyone, from any other country on the globe is watching this parade. The overwhelming majority of the film's nearly $350 million box office gross came from outside the U.S. and is the only reason this franchise is getting yet another sequel in 2015.
As our colleague Leon Lazaroff has made clear, Sony is
and shifting its focus to television programming instead. When it does invest in a film franchise, it will be along the lines of its
Spider-Man
series, which gets even more sequels in 2016 and 2018.
Sony wants blockbusters and films it can milk for a good, long time. U.S. parents didn't shell out in great numbers to see this
Smurfs
sequel, but Sony's hoping that the promise of a few hours of quiet time will be enough to get them to throw a copy of this film into the living room, the car DVD player or even onto a tablet. It'll be a U.S. blockbuster even if Sony has to force it to be one.
Nickelodeon
(VIA.B)
Parade persona:
Dora The Explorer balloon and Dora Christmas Carol Adventure Float, Teenage Mutant Ninja Turtles float, SpongeBob SquarePants balloon
As Matthew Klickstein's recently published
Slimed! An Oral History of Nickelodeon's Golden Age
reminds us, it's been a really long time since Nickelodeon's '90s heyday. The beloved, inherent weirdness of
Rugrats
,
Clarissa Explains It All
,
Ren & Stimpy
,
The Adventures of Pete and Pete
and
All That
has faded into a safe, lowest-common-denominator fight for survival against Disney.
Kenan Thompson has spent more time as a cast member on
Saturday Night Live
than he did on either
All That
or
Kenan & Kel
. Melissa Joan Hart is on the third season of an ABC Family show with fellow former child star Joey Lawrence. Amanda Bynes is... well... keeping things interesting.
In their wake, Nickelodeon has been trying to bring back the somewhat antiquated notion of the Saturday morning cartoon, and is using some well-worn characters to do so.
Big Time Rush
,
iCarly
and
Drake & Josh
? All gone.
iCarly
spinoff
Sam & Cat
and superhero show
The Thundermans
are about the only live-action, non-Power Ranger programs remaining. By reviving another '90s favorite, the Teenage Mutant Ninja Turtles and leaning heavily on its old pals SpongeBob and Dora, Nickelodeon is aiming for an almost exclusively younger audience -- a strong deviation from years past.
The Turtles, Dora and SpongeBob vastly outnumber Disney's one parade offering -- a Buzz Lightyear balloon from Pixar's
Toy Story
series -- but they're clearly playing catchup. Even with help from DreamWorks characters such as Kung-Fu Panda and video-game regulars
The Rabbids
, Nickelodeon's struggle to regain its relevance is as slow a slog as the parade itself.
-- Written by Jason Notte in Portland, Ore.
>To contact the writer of this article, click here:
Jason Notte
.
>To follow the writer on Twitter, go to
.
>To submit a news tip, send an email to:
.
RELATED STORIES:
>>Why The NFL Deserves A Thanksgiving Scolding
>>Here's Your Thanksgiving Playlist
>>5 Reasons To Just Surrender To Holiday Radio Now
Jason Notte is a reporter for TheStreet. His writing has appeared in The New York Times, The Huffington Post, Esquire.com, Time Out New York, the Boston Herald, the Boston Phoenix, the Metro newspaper and the Colorado Springs Independent. He previously served as the political and global affairs editor for Metro U.S., layout editor for Boston Now, assistant news editor for the Herald News of West Paterson, N.J., editor of Go Out! Magazine in Hoboken, N.J., and copy editor and lifestyle editor at the Jersey Journal in Jersey City, N.J.