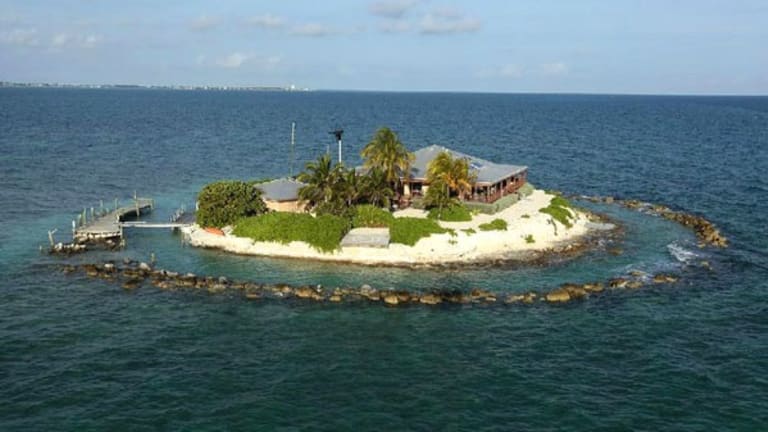 Publish date:
10 Quirkiest Vacation Homes You Can Rent This Summer
Private islands, cave hotels, treehouses and luxurious shipping containers all await travelers unafraid to take the extra step toward getting away from it all.
Private islands, cave hotels, treehouses and luxurious shipping containers all await travelers unafraid to take the extra step toward getting away from it all.
PORTLAND, Ore. (TheStreet) -- Is it really a holiday getaway if everyone else is getting "away" with you?
According to a survey by travel site TripAdvisor, 89% of travelers are planning a trip this year and 34% are planning a Memorial Day excursion. That's an uptick of six and seven percentage points compared with last year, largely because much of the U.S. has cabin fever.
The "Polar Vortex" that enveloped much of the country this winter is the reason why 9% of travelers are getting out for Memorial Day. Another 9% cite it as the reason behind their summer vacation plans, with 71% saying they'll head somewhere new this summer.
We didn't know traffic qualified as a "destination." About 74% of those traveling by car on Memorial Day weekend, with 33% planning to leave Friday and 38% coming home Monday. Oh, and that gas they'll be burning while doing so? A full 19 cents higher per gallon than last year, according to the Department of Energy. It's a big reason 32% of travelers are letting the price of gas dictate their vacation plans this year.
If you're going to shell out a whole lot of cash just to sit in traffic with everyone else watching your gas money vaporize, shouldn't your vacation destination be somewhat remote and removed? If your getaway isn't getting you away from anyone, the folks at travel site SmarterTravel have compiled a list of out-of-the-way vacation rentals just quirky and removed enough to keep the vacationing masses at bay:
Shipping container guest house
Location: Seattle
Cost: From $100 per night
The bad news is that you're sleeping in a shipping container that used to lug pineapples around Hawaii. The good news? That cozy container for two now features a queen bed, a kitchen, a full glass-enclosed bathroom that doubles as a shower and an outdoor patio that opens onto a backyard garden of plums, pears, grapes, and raspberries growing there.
Located between the Wallingford and Fremont neighborhoods of northern Seattle, "Big Yellow" is near Green Lake, Lake Union, the Burke-Gilman bike trail, the Woodland Park Zoo, Gas Works Park, the Fremont Troll and all of the restaurants and breweries of Ballard and Freemont. It's a whole lot less rainy here during the summer, so come in late July and early August for the planes and boats of Seafair or swing by on Labor Day weekend to catch The Replacements playing just beneath the Space Needle at Bumbershoot.

Ancient cave hotel
Location: Matera, Basilicata, Italy
Cost: From $140 per night
They're not kidding: This hotel is a series of caves.
The entire town of Basilicata is a stone-hewn UNESCO World Heritage site featuring Byzantine Empire churches dug into the rock. The hotel, meanwhile, feature cave rooms with spare minimalist furnishings, but with bathtubs dug out near fireplaces beneath carved stone walls and vaulted archways.
So what do you do in a place that served as a backdrop for Passion Of The Christ? You can tour the churches, hike and bike your way around the ruins of ancient villages or explore nearby wildlife reserves.

Houseboat
Location: Amsterdam
Cost: From $215 per night
Have you and three of your closest friends always wanted to hit Amsterdam, but reached an age where you're really stretching the "youth" portion of youth hostels?
Well, the docks next to Amsterdam's canals are home to a floating neighborhood of houseboats that includes The Ambulatory. This restored houseboat and its terrace offer a great view of the passing ships, but is also just 10 minutes away from the nearest train station.
Also see: 5 Worst Airline Fees For Memorial Day Weekend>>
You're not going to need a car to get around at all. You can walk right to the houseboat, rent a bike a few blocks away or have the owner take you on a canal cruise on his antique boat. From the canals, you'll see stunning gabled houses and mansions with blooming gardens that you can tour during Open Garden Days in June. If that's less your speed, the Grachtenfestival in August features classical music performances along the canal and on a floating podium.

Treehouse pod
Location: Builth Wells, Wales
Cost: From $165 per night
If you really like nothing, boy do we have the spot for you.
This treehouse tent in the middle of the forest is rigged up like a woodland villain's layer but filled with rustic amenities. A log-burning stove and a double bed that converts into a couch are the more spare elements, but a desk with a power outlet for devices, dimmable lighting, a flush toilet, sink, and gas-powered shower all make this more of a hotel in the trees.
As for the activities, you're not going to be just popping into the city. London is four hours away and Manchester's about three. That makes for a lovely field of stars above as you sit around the streamside firepit, but it also means you have to rely on a foraging course, a falconry or rented bike and a ride into the town of Rhayader for kicks.

Bath Lodge Castle
Location: Bath, England
Cost: From $4,365 per night
Now this is a bit more plush.
You and up to 15 of your friends can have the run of this small castle and its turrets, battlements and lattice gate. Your light comes in through leaded glass windows, leather furniture sits on rich red carpet, a wood-burning fireplace is flanked by chiseled-stone walls. It's a lovely fairytale setting without any of the theme park accoutrements.
The castle sits on 3.5 acres of manicured lawns and gardens and includes an outdoor hot tub and sauna. In the summer, folks who've read more than their share of Pride and Prejudice -- never with zombies -- descend upon the town for the Jane Austen Festival's Regency Costumed Summer Ball in June. During the summer solstice, visitors from around the world gather at nearby Stonehenge at dawn to mark the occasion. There are nearby open-air boat trips on River Avon, tours of the Bath Abbe, and soaks in the Roman Baths. You're not royalty, but you can get the royal treatment in Bath without paying a fortune.

Organic farm retreat
Location: Malaga, Andalusia, Spain
Cost: From $217 per night
Welcome to wine country, where your party of up to six can slow things and live the simple life while sampling all the region has to offer. About a half-hour from Malaga, this family-run organic farm and historic winery sits on 16 acres with gardens, fruit trees, chickens and sheep. A private chef incorporates the gardens' organic vegetables and edible flowers in his gourmet dishes, served in a formal dining room or on outdoor terraces.
If you do head out to the nearby beaches, fresh-caught barbecued sardines await at restaurants on the seaside promenade in Malaga. On July 16, the Virgen del Carmen procession and feast parades the statue of the Virgin Mary through the streets and down to a decorated boat that sets off across the bay. If you want to cut right to the Malaga wine, the Malaga Fair in August brings in all the locals for dancing and drinking in the streets.

Schoolhouse
Location: Pittsfield, Mass.
Cost: From $225 per night
So you say it's tough to get a room at a hotel or bed and breakfast in the Berkshires at this time of year? Considering this lovely section of Western Massachusetts is the one thing that New York-based Yankee fans and the Boston-bound Red Sox faithful can agree on, the lack of vacancies isn't surprising.
Also see: 5 Best Beer Vacations of 2014>>
The lack of takers on this little rental is. With room for four, this 1843 schoolhouse still has the original chalkboard hanging in its kitchen. One of the oldest one-room schoolhouses in New England, it's listed on the National Register of Historic Places. There's a loft bedroom, real Adirondack chairs on the patio, a forest and creek surrounding you and a fenced-in yard for pets or kids.
Sit around the fire pit, cook out on the patio barbecue -- you don't have to worry about noisy neighbors stumbling in after catching the Boston Pops or the symphony at Tanglewood. You're peacefully secluded in your own little bit of history that leaves you refreshed each morning before a trip out to the Norman Rockwell Museum in Stockbridge, the Massachusetts Museum of Contemporary Art (Mass MoCA, if you please), to Bousquet Ski Area's waterslides and zip lines or to the farmer's markets that take place on weekend mornings.
Let other poor slobs deal with the hassle: You're here for the tranquillity.

The Centennial Inn Train Car
Location: Livingston, Mont.
Cost: From $195 per night
When the first vacationers came West, some just decided to stay there.
Such was the fate of this late-1800s Northern Pacific railcar, which now sits on a secluded 13-acre spot along the Yellowstone River an hour from Yellowstone National Park. That's just lovely and all, but the inside of this care is a thing of beauty worth beholding as well. You'll sleep in a queen-sized walnut bed made in 1880 or the car's original twin beds from its more mobile days. Crystal chandeliers, a pressed-tin ceiling and an Italian marble shower with brass fixtures are all lavish touches for what looks from a distance like a long-abandoned relic.
As for what's around, you'll be tempted to make like the rail car and just sit here a while. Your own private sand beach stretches 1,000 feet along the Yellowstone River. The view from the train car's deck takes in the canyon between the Gallatin Range and the Absarokas. Nearby, herds of bison gather in Yellowstone's Hayden Valley and Lamar Valley during mating season in July and August. You can always make the trek to Yellowstone, but Chico Hot Springs is a relaxing experience in keeping with the vacation-on-rails motif.

Private island
Location: Marathon, Fla.
Cost: From $1,000 per night
There's a reason summer is the low season in the Keys, but even the oppressive heat and humidity -- and a few million winged, biting friends -- shouldn't prevent you and up to five pals from enjoying this.
About halfway down the Florida Keys and a quarter-mile off the coast of Marathon Key sits this the 5,000-square-foot luxury home. Complete with a private pool, wraparound veranda, helicopter launchpad and 25-foot skiff for getting to and from the mainland, East Sister Rock Island is surrounded by its own coral reef for snorkeling and is completely powered by wind and solar energy.
The bad news is that you'll miss out on some of the more touristy fare by heading down in the summer. The good news: It's a great time to hook a blue marlin. If you head down in July, you'll be just in time to catch Hemingway Days and a daiquiri or two in Key West. Grab your copy of The Sun Also Rises, take in the look-alike contest and Hemingway's polydactyl cats and grab a little something to take home to the island. You can get around the keys, but when home is designed to be away from it all, why should you?

Forest hut
Location: Skinnskatteberg, Sweden
Cost: From $60 per person, per night
Maybe you just flat-out hate people: Their dumb faces, their stupid opinions, the constant talking and caring and interacting.
Maybe you've been called a sociopath to your face once or twice. Don't let it get you down. You can get away from the whole lame scene by heading to Stockholm, driving two hours west to Kolarbyn and flipping off society from the disconnected tranquillity of your forest den.
On the remote shore of Lake Skarsjon, this place has no electricity or running water in its grass-mound huts. Your leisure activity involves reading by candlelight. Comforts include a bed, sheepskin rugs and a fireplace.
Want excitement? Make like Henry David Thoreau and split some firewood or fetch water from the nearby spring. Cook your breakfast over an open fire, swim in the frigid lake, row to nowhere or float in the sauna. Wake up to the sound of wolves howling or stare down some moose, beavers and lynx on a wildlife tour. Just shatter your precious smartphone into pieces, set your away message to "I'm not coming back" and enjoy the silence.
-- Written by Jason Notte in Portland, Ore.
>To contact the writer of this article, click here: Jason Notte.
>To follow the writer on Twitter, go to http://twitter.com/notteham.
>To submit a news tip, send an email to: tips@thestreet.com.
RELATED STORIES:
>>NFL Draft Can't Fix A Broken League
>>NFL Sponsorship Is A Thankless Trap
>>What The NFL Owes Taxpaying Fans
Jason Notte is a reporter for TheStreet. His writing has appeared in The New York Times, The Huffington Post, Esquire.com, Time Out New York, the Boston Herald, the Boston Phoenix, the Metro newspaper and the Colorado Springs Independent. He previously served as the political and global affairs editor for Metro U.S., layout editor for Boston Now, assistant news editor for the Herald News of West Paterson, N.J., editor of Go Out! Magazine in Hoboken, N.J., and copy editor and lifestyle editor at the Jersey Journal in Jersey City, N.J.