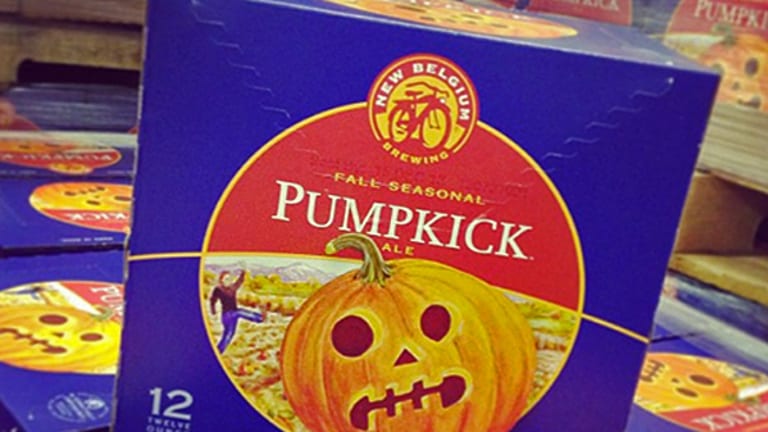 10 Pumpkin Beers You're Seeing Before Labor Day and Why
No, it's not fall yet, but breweries are pumping away on that brewing cycle, and beer drinkers may as well cheer.
PORTLAND, Ore. (TheStreet) -- We got our first pumpkin beer press release Aug. 3 from New Belgium Brewing in Fort Collins, Colo.
Just after that, we got reports
Shipyard Brewing
in Portland, Maine, had been putting its pumpkin ales on shelves since late July. The person issuing the report was ecstatic.
By now, it should be an accepted fact that just as supermarkets will begin stocking Halloween candy in their seasonal aisles after Labor Day and department stores will begin hauling out their first Christmas items in mid-September, pumpkin ales will be an end-of-summer staple. It's still a bit jarring and raises the question of who'd want said beer during the summer, but the brewing calendar is becoming as normalized as the retail calendar for reasons driven by both business and human nature.
The fundamental truth behind it is that beer brewers, especially small brewers, operate extremely close to the margins and don't like to have beer laying around when nobody wants it. Jim Koch, founder of
Boston Beer
(SAM) - Get Boston Beer Company Inc. (The) Report
and the Samuel Adams brand, notes that as much as fans love his Samuel Adams' Old Fezziwig holiday brew just before the holiday season, they want nothing to do with it once the clock strikes midnight on New Year's Eve.
It works the same in just about every season. Summer ales start cropping up in March and are off the shelves by July. Seasonal porters and stouts are a tough find after St. Patrick's Day. Brewers are starting to realize that their drinkers have a very specific window for these beers, and fatigue shuts that window abruptly when July vacations yield to back-to-school planning and Thanksgiving leftovers are cleared out before the winter holidays.
The other motive behind getting the jump on pumpkin brews stems from the fact that they're not exactly a novelty anymore -- all the bigger brewers are picking their own pumpkins. For instance, Samuel Adams now brews its own Pumpkin Ale and toyed with a pumpkin stout before releasing its 8.5% alcohol by volume Fat Jack imperial pumpkin ale in 2011. Demand for pumpkin ale has grown so much within the past decade that
Anheuser-Busch InBev
(BUD) - Get Anheuser-Busch Inbev SA Sponsored ADR (Belgium) Report
introduced Michelob Jack's Pumpkin Spice Ale in 2005 and
MolsonCoors
(TAP) - Get Molson Coors Beverage Company Class B Report
countered with with Harvest Moon ale in 2006 before rebranding it as Harvest Pumpkin Ale last year, when it was on shelves by July.
Also see: 10 Brewpubs Calling for a Taste (or a Fight) in 2013>>
That increased demand and extended brewing calendar is only bringing drinkers more pumpkin ales earlier. Shipyard Brewing cranked up production of its Pumpkinhead ale from 2,100 barrels in 2002 to 30,000 a decade later while extending Pumpkinhead season from August-through-October to late July-through-Thanksgiving to deal with peak demand around the fall holidays.
The number of brewers making pumpkin ale also crowds the patch a bit. There were only about 1,600 breweries in America back in 2009, but there are more than 2,500 now, according to the Beer Association craft beer industry group. If a brewer wants their beer to stand out and doesn't want to be stuck with cases of unconsumed product by Black Friday, a head start never hurts.
Just to give you an example of how prevalent this practice has become, here are just 10 examples of pumpkin beers that have been on shelves since before the umbrellas and coolers in seasonal aisles gave way to backpacks and notebooks:
Cape Ann Brewing Fisherman's Pumpkin Stout
Released:
August
Residents of Cape Ann's hometown of Gloucester, Mass., enjoy a nice summer day at nearby Good Harbor Beach as much as anyone. When the temperatures start dipping into the 70s and below, however, it's the first sign of a long, cold, gray winter to come.
Fisherman's Pumpkin Stout is already on tap at the Gloucester brewpub right on the harbor and should be moving over the rest of New England like a nor'easter in the weeks to come.
This dark, chocolatey stout blends in pumpkin, cinnamon, nutmeg and allspice just to remind folks that the stray group of leaf peepers should start making their way up Route 128 any day now. There's a lot of fall aroma on the nose, tons of flavor on the finish and a fairly strong 7% ABV behind it. When the days get sideways-rain bleak, however, the brewery also offers an 11% imperial version of Pumpkin Stout to see folks through.
Also see: The 10 Beer-Drinkingest States In America>>
Weyerbacher Imperial Pumpkin Ale
Released:
July
This Easton, Pa.-bred pumpkin ale is a big Mid-Atlantic favorite even early in the season for the basic fact that it smells and tastes like pumpkin pie and has enough alcohol behind it to make it similarly warm.
Loaded with caramel and spice before and packing a 8% ABV punch, a little cardamom and clove give it a witbier-style bite without any of the citrusy tartness. We can't emphasize strongly enough just how much Weyerbacher's ample portions of pumpkin, cinnamon and nutmeg boost this brew's overall flavor, but seeing this around so early is anything but a disappointment for drinkers looking forward to a long fall.
Samuel Adams Fat Jack Double Pumpkin
Released:
August
We've already spotted a few bottles out in the wild, though it may be just a bit early for fans to get their hands on a seasonal pack featuring the lower-alcohol Harvest Pumpkin Ale.
With Boston Beer already pushing its seasonal Octoberfest, however, anything is possible. Just having access to 22-ounce bottles of this big ol' pile of pumpkin, cinnamon, ginger, nutmeg and allspice around this time of year is a coup, as its 8.5% ABV will keep just fine in a fridge or cellar until it's actually fall -- when availability becomes a bit more of an issue.
Surprisingly smooth and malty for a beer of this heft, it packs just enough warmth to warrant putting it away until the temperatures drop.
Redhook Out Of Your Gourd Pumpkin Porter
Released:
August
Redhook calls Woodinville, Wash., home, but it also has a lovely little place in New England where it can take in the foliage.
Redhook's facility in Portsmouth, N.H., came through last year when the Craft Brew Alliance brewery produced its first batch of Out Of Your Gourd and distributed it only in its New England markets.
This year, it's already been spotted on shelves near Alliance brewing facilities in Oregon and Washington state, with the small caveat that it's only sticking around until Sept. 30. That's right: A pumpkin ale that won't live to see Halloween.
It sounds like blasphemy, but it has a flavor that should make fans push for it to stick around a bit longer in 2014. Made with pureed pumpkin, blended with cinnamon, nutmeg and ginger and topped off with some maple syrup added during fermentation, Out Of Your Gourd retains a roasty, chocolatey porter flavor with just enough pumpkin pie accents to get folks feeling festive.
While Redhook insists the relatively mild 5.8% ABV would be great for a day of "eating turkey, watching football or drinking with your buddies around a bonfire," fans are going to have to stock up in late September to do so. Such is the drawback of the limited-release batch, but it's a baby step toward the regular rotation.
New Belgium Pumpkick
Released:
July
New Belgium partnered with Seattle's
Elysian Brewery
a few years back on a sour pumpkin ale called Kick and has had a craving for pumpkin ever since.
That beer was brewed with cranberries for a little tartness and aged in oak barrels to produce some punch. This brew skips the oak and keeps its bit to a relatively mellow 6% ABV. 

That little kick of cranberry juice remains, however, and gets a bit of help from cinnamon, nutmeg, allspice and just a bit of lemongrass to complicate somewhat the traditional pumpkin ale recipe. The result is a surprisingly aggressive pumpkin ale that's a joy to drink, but isn't as easygoing as some of its pumpkin contemporaries.
Released:
August
Fall is just the lovely prelude to a harsh winter in Southern Tier's hometown of Lakewood, N.Y. It doesn't hurt to have something to keep you nice and warm as the colors change and the temperatures dip.
Pumpking packs some serious heat at 8.6% ABV, but there isn't a whole lot of alcohol to its flavor. It's a dark orange beer that smells like a pumpkin scone, tastes like pumpkin pie filling at the beginning and finishes like a cinnamon-and-sugar milkshake. It's also extremely popular, with Southern Tier saying sales have increased 50% to 80% since its debut. There's a rare oak-barrel version that may require a trip to Southern Tier's brewpub, but the original recipe is enough to keep even the most discriminating beer lover nice and toasty.
Released:
Late July
It's frightening to see this headless horseman riding into New England shops and pubs before August even hits, but this beer has a strong regional following that wouldn't mind seeing it happen year-round.
It's a tremendous gateway pumpkin ale that's light, fizzy and loaded with cinnamon -- with some New England pubs even putting sugar and cinnamon around the rim of glasses containing it. The 5.1% ABV Pumpkinhead bears little to no resemblance to the mortar-and-pestle pumpkin concoction that Shipyard founder Alan Pugsley first made in a brewpub kitchen more than 15 years ago, but Pugsley has long since ceased trying to make it so.
Pumpkin purists might be more at home with a foil-wrapped 22-ounce bomber of the bigger 9% ABV Smashed Pumpkin, which has far more kick than Pumpkinhead, a much more balanced blend of spices and a subtle touch of hops. Those who love Pumpkinhead in its current form, however, may wonder who spiked their pumpkin pie.
Post Road Pumpkin Ale
Released:
August
Brooklyn Brewery has been churning out this seasonal mainstay for so long that it's starting to look like a lightweight compared with its brawnier competition.
What's kept it around for so long, however, is the fact that it's by no means a pumpkin pie beer. Brewmaster Garrett Oliver keeps this a genuine pumpkin ale by ditching the spices and pouring on the pounds upon pounds of pumpkin mash.
It's one of the few pumpkin ales that comes out as orange in color as its namesake gourd, but uses enough Belgian and British malt to mellow it out. The result is a mild, flavorful 5% ABV beer best enjoyed among friends during a fall outing or a warming session at a nearby pub. Pumpkin ale doesn't need to smell or taste like a bake shop when you're using its base ingredient to its full potential.
Schlafly Pumpkin Ale
Released:
August
Listen, St. Louis-based Schlafly knows it's early. So much so that Schlafly Communications Director Troika Brodsky had to write a lengthy screed explaining why fans were seeing the brewery's pumpkin ale this early.
We already went into the issue of the limited window available to brewers for selling pumpkin ale.
Schlafly Bottleworks Production Manager Brian McBride notes
that not only did the brewery step up pumpkin ale production 75% this year -- making it 10% of all the beer Schlafly brews -- but that kind of production takes its toll on the brewery's yeast supply.
Schlafly's Pumpkin Ale has 8% alcohol by volume, which means there's a whole lot of yeast doing its best Pac-Man impression on the Pumpkin Ale's sugar. That means it's wiped out after being reused only once, which means the brewery has to space out its usage a bit to stay in budget and avoid running out. It's a huge juggling act of supplies, kettle space and beer varieties that prevents Schlafly from just loading up the tanks for five weeks and limiting shipments to September and October.
That said, what are you people complaining about? If you're a big fan of pumpkin pie in a bottle, Schlafly's Pumpkin Ale is the closest thing to it in the beer aisle. There are copious amounts of nutmeg, brown sugar, cinnamon, allspice, ginger, clove and vanilla, but it's the pumpkin flavor and its interaction with the beer's malt that make it taste like pie-filling-sodden crust.
The brewery knows you're still in Hefeweizen and Kolsch mode, but the crisp air, rainy afternoons and falling leaves are coming. Isn't it better to be prepared?
Elysian Night Owl Pumpkin Ale
Available:
August
When a brewery puts a ticker on its website counting down to its annual pumpkin beer festival, it's a good indication of just how much the pumpkin means to it.
Elysian Brewing founder Dick Cantwell has made his brewery a veritable pumpkin patch centered around one of the best pumpkin beers in the land: the spice-laden 8.1% ABV Great Pumpkin. Beer fans, though, have to bide their time waiting for that particular brew and get a very narrow window to enjoy pumpkin collaborations such as Kick sour pumpkin beer Elysian, made with Colorado's New Belgium Brewing, or the complex, woody Heavenly Pumpkin of Citricado it produced with California-based
Stone Brewing
and
The Bruery
.
For those who don't have the patience, however, Elysian's Night Owl Pumpkin Ale is pouring at its pubs and sitting in six-packs now. Elysian's original pumpkin ale is brewed with seven and a half pounds of pumpkin per barrel and spiced ginger, cinnamon, nutmeg, cloves and allspice -- with some roasted and unroasted pumpkin seed thrown in just to liven it up.
The result is a smooth, easy-drinking 5.9% ABV beer that's in many ways more enjoyable to drink than its higher potency tapmates. It's an outstanding lineup overall if you're a pumpkin ale fan, but Night Owl is ideal for resetting the palate after a long summer.
-- Written by Jason Notte in Portland, Ore.
>To contact the writer of this article, click here:
Jason Notte
.
>To follow the writer on Twitter, go to
.
>To submit a news tip, send an email to:
.
RELATED STORIES:
>>10 Brewpubs Calling For A Taste In 2013
>>10 Beer-Drinkingest States In America
Jason Notte is a reporter for TheStreet. His writing has appeared in The New York Times, The Huffington Post, Esquire.com, Time Out New York, the Boston Herald, the Boston Phoenix, the Metro newspaper and the Colorado Springs Independent. He previously served as the political and global affairs editor for Metro U.S., layout editor for Boston Now, assistant news editor for the Herald News of West Paterson, N.J., editor of Go Out! Magazine in Hoboken, N.J., and copy editor and lifestyle editor at the Jersey Journal in Jersey City, N.J.