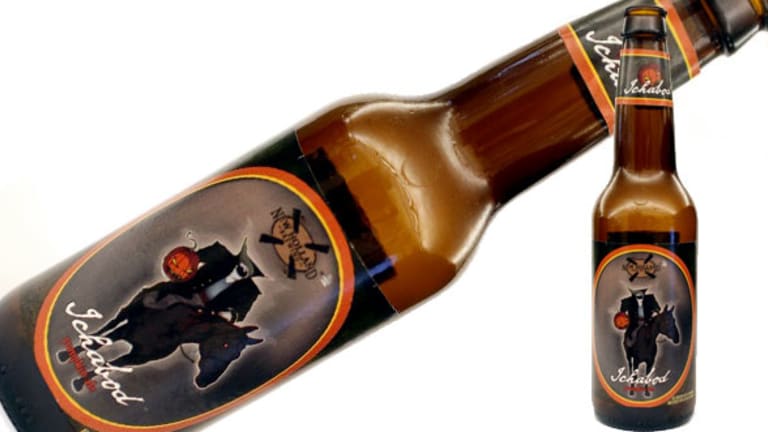 11 Pumpkin Beers Making Fall Flavor A Summer Staple
Craft beer brewers have to debut pumpkin beers during the summer months to make sure they're gone by Halloween, but drinkers are slowly catching on.
NEW YORK (Maintreet) –- We don't know why you're complaining that pumpkin beer is being released in August: brewers aren't.
Last year Tom Rotunno at CNBC reported on July 1 that Southern Tier Brewing Company in Lakewood, N.Y., would release its Pumking imperial pumpkin ale by mid-July. This year, Tampa, Fla.-based Cigar City released its Seasonal Creep Chocolate Pumpkin Ale in June seemingly just to mess with people who fly into a rage whenever a pumpkin beer is released during a month when New England's leaves aren't changing and regular season football isn't being played.
It isn't that brewers don't care about your cries of anguish: They just know you're lying. Southern Tier says sales have increased 50% to 80% since Pumking's debut. The Saint Louis Brewery, which brews Schlafly, told customers that increased production made Pumpkin Ale 10% of all the beer Schlafly brews. That beer's 8% alcohol by volume diminishes the brewery's yeast supply and eats into its production capacity so greatly that Saint Louis Brewery founder Dan Kopman says his brewers have to start producing Schlafly in June just to get it out by August 1.
But why not release it in August, when it's almost fall and there's a chance of having fresh pumpkin around? Because brewers know two things about you:
1. You're not going to drink pumpkin beers in any great amount after October 31.
2. You absolutely don't care if there's fresh pumpkin in your beer and actually prefer that it tastes like pumpkin pie spices.
Consider the case of Shipyard Brewing in Portland, Maine. Its Pumpkinhead ale not only doesn't taste much like gourd, but it tastes so much like pumpkin pie that some bartenders in New England coat the rims of pint glasses with cinnamon and sugar when serving it. Meanwhile, Pumpkinhead production increased from 2,100 barrels in 2002 to 30,000 barrels a decade later and extended Pumpkinhead season from August-through-October to late July-through-Thanksgiving to deal with peak demand around the fall holidays.
It's also reached the point where just about every major brewer has one. Boston Beer company's Samuel Adams brand has brewed its own Pumpkin Ale and released its 8.5% alcohol by volume Fat Jack imperial pumpkin ale in 2011. The Blue Moon brand from MolsonCoors has been brewing its pumpkin ale for roughly two decades, while Anheuser-Busch InBev jumped on board with Michelob Jack's Pumpkin Spice Ale in 2005. When A-B InBev purchased Seattle-based Elysian Brewing earlier this year, it not only got the brewery's multiple pumpkin beers, but also the Seattle pumpkin beer festival that's been showcasing them for more than a decade.
And you people can't get enough of it. Seasonal beer makes up 15% to 25% of the more than $19.6 billion in annual craft beer sales, according to market research firm IRI. Though the Brewers Association craft beer industry group says that India Pale Ale makes up 23% of all craft beer sales and is craft's best-selling style by far, the association noted that IPA takes a backseat once pumpkin beer hits shelves.
With the number of U.S. breweries growing from 1,600 back in 2009 to more than 3,700 today, there are now hundreds of pumpkin beers being sold on a regular basis outside of prime fall. The following are just eleven examples of what's out there:

Pumpkin Down
Ballast Point Brewing Company, San Diego
Released: August
Before we get into this, let's just take a moment to appreciate Mike Myers's underloved 1993 comedy So I Married An Axe Murderer -- the inspiration behind this beer's name.
Honestly, if you're going to introduce yet another pumpkin ale into an already crowded marketplace of them, you may as well have as much fun with it as that film had with the similarly oversaturated romantic comedy genre in the '90s. The smoky caramel and toffee malt of a Scottish Ale is a fine compliment to roasted pumpkin that, if we're being honest here, doesn't add all that much to the flavor of this beer and acts solely as a base for an incredibly subtle hint of pumpkin spices. At 5.8% ABV, it has a bit of heat to it, but the peaty Scottish Ale keeps the focus on the "O' Lantern" portion of this Jack O' Lantern of a beer.
Southern Tier Brewing Company, Lakewood, N.Y.
Released: July
If you were preparing for winter in Southern Tier's hometown of Lakewood, N.Y., you'd want fall to linger as long as possible, too.
Pumking has been the pumpkin ale early bird for years, but it doesn't disappoint. It packs a little heat at 8.6% ABV, but there isn't a whole lot of alcohol to its flavor. It's a dark orange beer that smells like a pumpkin scone, tastes like pumpkin pie filling at the beginning and finishes like a cinnamon-and-sugar milkshake. There's a rare oak-barrel version that may require a trip to Southern Tier's brewpub, but the original recipe is enough to keep even the most discriminating beer lover nice and toasty.

Dry Dock Brewing Company, Aurora, Colo.
Released: August
...And if you didn't think Southern Tier's release of an imperial pumpkin ale so early in the year was having any effect, just take a look at what Dry Dock did to its lower-octane Half Moon Pumpkin Ale just for the occasion.
Blending real pumpkin added into the mash with Saigon and Indonesian cinnamon, nutmeg, ginger, allspice, mace and cloves gives this malty 9% ABV beast just enough spice to counter the slow burn of the alcohol a bit. This beer has been in 22-ounce bombers since at least August 6, but the best time to enjoy for this tall drink of autumn is still a few brisk days away. Keep it in the cellar until you need long sleeves again.

NoDa Brewing Company, Charlotte, N.C.
Released: August
No, it isn't available in four-packs of 16-ounce tallboys until September, but this pumpkin ale is already on tap at NoDa's brewery and in many of the places it sends kegs.
An impressive 50 pounds of pumpkin and 42 pounds of brown sugar join whole-seed allspice, cardamom and clovescracked at the brewery on brew day and a little freshly shaved whole ginger root make for an inviting little pumpkin ale that, at 6.4% ABV, is worth having more than one of. But why is it out this early? Well, as the Charlotte Observer's Daniel Hartis tells it, NoDa actually tried releasing it in October back in 2012, but got beat to the pumpkin ale taps by a whole lot of other breweries. While an October release may be fine if you're just concocting a home-brewed beer in a hollowed-out pumpkin, it's a little tougher when you have a whole lot of barrels to move and nowhere to tap them.

Seasonal Creep Chocolate Pumpkin Ale and Good Gourd Imperial Pumpkin Ale
Cigar City Brewing Company, Tampa, Fla
Released: June and August respectively
We tip our cap to Cigar City for not only trolling the pumpkin beer naysayers, but for realizing that both pumpkin and chocolate are both fine year-round ingredients -- especially in a part of the country where seasons come at a premium.
Quite frankly, in the middle of radler-soaked June, we would've loved to have broken into a deep-red Seasonal Creep and see how clove and cinnamon mingled with hints of pumpkin, orange and chocolate. At 8.3% ABV, we wouldn't have had to drink much of it to get enouhg sugar-and-spice, toasted marshmallow flavor to hold us until the cold came in.
Or at least until it was time for 22-ounce bottles the 9.4% ABV Good Gourd. We've already featured a bunch of imperial pumpkin ales on this list, but Cigar City's use of Ceylon cinnamon, Jamaican all-spice, Zanzibar cloves and nutmeg in this dark, malty marvel provides just enough carmel coating to help us swallow the too-soon end of summer.

Redhook Out Of Your Gourd Pumpkin Porter
Redhook Ale Brewery, Woodinville, Wash.
Released: August
We mulled over not including this one, since we've mentioned it in previous years, but pumpkin porter can be harder to get in some corners of the country than others.
Redhook calls Woodinville home, but occasionally goes leaf-peeping in New England from its brewery in Portsmouth, N.H. The Craft Brew Alliance initially only produced its beer there and distributed it solely to New England markets, but last year it started cropping up around Alliance brewing facilities in Oregon and Washington state.
Made with pureed pumpkin, blended with cinnamon, nutmeg and ginger and topped off with some maple syrup added during fermentation, the mild, 5.8% ABV Out Of Your Gourd retains a roasty, chocolatey porter flavor with just enough pumpkin pie accents to mark the season. Sadly, the downside to having it regularly available in August is that it leaves shelves by the end of September.

Great'ER Pumpkin
Heavy Seas Brewing Company, Baltimore, Md.
Released: August
Now we're getting somewhere. Known primarily for its incredibly-hoppy-for-a-beer-of-its-age Loose Cannon IPA, Heavy Seas doesn't use a light touch with its ingredients or brewing process.
Though the Heavy Seas website will tell you this beer launches in September, you'll see the first 22-ounce bottles crop up in the DelMarVa area around late August. Aged in bourbon barrels and brewed to 10% ABV, this deeply orange beer looks like pumpkin mash but smells and tastes like heaven. Whiffs of bourbon, cinnamon, ginger, allspice and clove lead to a malty mix dominated by brown sugar and pumpkin soaked in oaky vanilla bourbon. There's pumpkin ale you let sit in the fridge until your Halloween party, and then there's the one you save when the last guest has left with fun-sized snickers and the last trick-or-treater has long since gone to bed. This is the latter disguised as the former.

Ichabod Pumpkin Ale
New Holland Brewing Company, Holland, Mich.
Released: August
New Holland is by no means a simple brewery. Its Belgian farmhouse and sour ales, wheatwine, Michigan-hopped IPAs and -- most notably -- its Dragon's Milk bourbon stout could be just about any other breweries' best beers.
For this reason, you don't want to count out its 4.5% ABV pumpkin ale. New Holland's been brewing Ichabod for 18 years and has fashioned a seemingly simple recipe of malt, barley, cinnamon and nutmeg into one of the most consistently drinkable pumpkin ales in the country. It's a pumpkin beer you can drink multiples of without feeling as if you've gorged yourself on pie and one of the few whose flavor carries over nicely to the Thanksgiving dinner table. The headless horseman on the bottle may be tired of pumpkins by now, but it's hard to tire of a pumpkin session beer that's been brewed since before "session beer" entered U.S. craft beer jargon.

Post Road Pumpkin Ale
Brooklyn Brewery, Brooklyn, N.Y.
Released: August
When beer purists start moaning about the lack of pumpkin in malty beers that are heavy on the pumpkin pie spices, please feel free to redirect them to this beer.
Brewmaster Garrett Oliver has had this one in his rotation since the 1990s and only recently redubbed it a "colonial style pumpkin ale." That's a polite way of saying that there's no cinnamon in it. No ginger. No allspice.
Nope, you get hundreds of pounds of pumpkin, a whole lot of Belgian and British malt and a very small amount of nutmeg. The result is a mild, flavorful 5% ABV beer that's as at home at the dinner table as it is on a fall outing or a night at the pub. When beer folks remind you that pumpkin was one of the first ingredients used in beer by the colonists, who were hard-pressed to find beer's more common elements, they're talking about beer that was made like this. There's a distinction between pumpkin beer and pumpkin pie beer, and this one's been drawing it for decades.

Weyerbacher Imperial Pumpkin Ale
Weyerbacher Brewing Company, Easton, Pa.
Released: July
Each year, this pumpkin ale is released during the summer months. Each year, Pennsylvania is incredibly surprised by this fact.
The state and the rest of the Mid-Atlantic don't seem to have all that big a problem drinking it, however, as it now makes of 10% of Weyerbacher's overall beer production. It smells and tastes like pumpkin pie and has enough alcohol behind it to make it just as warm.
Loaded with caramel and spice before and packing a 8% ABV punch, a little cardamom and clove give it a witbier-style bite without any of the citrusy tartness. Weyerbacher's ample portions of pumpkin, cinnamon and nutmeg boost this brew's overall flavor, but they never make a drinker say, "Hey, I bet they had to start brewing this in May!" It's funny how the complaints about pumpkin beers end where the drinking begins.

Coronado Brewing Company, Coronado, Calif.
Released: August
It's not a bad shout-out to the NOFX album of the same name -- which preceded Coronado by about two years -- but Fat Mike lives a few hours up I-5.
Rather than parsing the history of California punk and hardcore, however, let's just appreciate the fact that San Diego -- yet another locale with no discernible fall weather -- has managed to produce a lovely fall beer of its own. The brown sugar, cinnamon, allspice, nutmeg and pumpkin puree are all accounted for, but the hint of "West Coast character" in this 8% ABV pumpkin ale doesn't come from the bit of honey in the brewing process, but from the Nugget hops that have a bit more bite than the English hops more commonly associated with the style.
This article is commentary by an independent contributor. At the time of publication, the author held TK positions in the stocks mentioned.