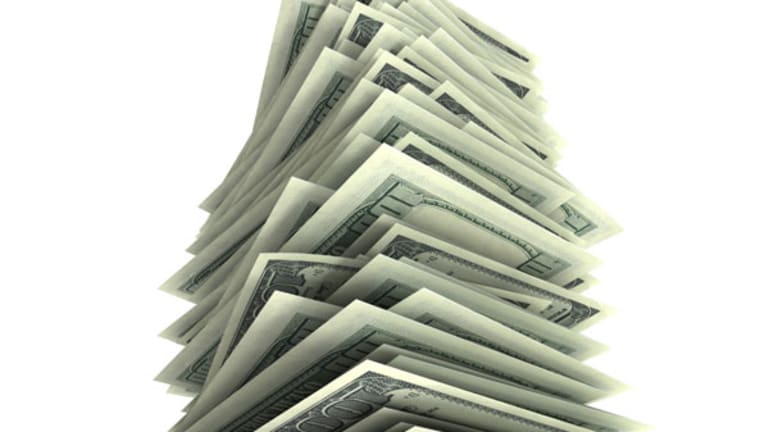 10 Nonprofits That Act Like For-Profits
Nonprofits get tax breaks to help their good works, but some are more about the bottom line than charity.
BOSTON (TheStreet) -- The line between for-profit companies and nonprofit charities continues to blur.
The organizational creep of nonprofits into areas that seem more in keeping with the for-profit world is nothing new. In an effort to boost their bottom line, many charities have branched out into other investments -- real estate holdings, property management, paid endorsements and retail sales among them.
Drawing executive expertise has meant having to offer private-sector-sized salaries. Money donors ponied up for a given cause is often diverted to legal fees and political lobbying.
And the organizational structure of some nonprofits has evolved in new directions.
In 2007,
Google
(GOOG) - Get Alphabet Inc. Class C Report
launched
, an effort defined as a for-profit charity. Seeded with 3 million shares of company stock, it has primarily funded alternative-energy projects. Other nonprofits are looking closer at "hybrid" models to combine profit-driven strategies with charity-minded outcomes.
"For many years nonprofits have often used for-profit subsidiaries or a fee-for-service approach," says Ken Berger, president and CEO of
, a service that evaluates the financial health of more than 5,500 American charities. "In fact, the biggest piece of income for nonprofits is not individual contributions or government money -- it comes from fee-for-service income. This notion of hybrid, or the 'for-profit nonprofit,' is nothing new at all."
The impact of "this notion that for-profits have a social mission, the notion of doing well while you do good," remain to be seen, he adds.
Berger laments the fact that some nonprofits are formed with charity as a secondary intent.
"There are occasions where businesses consciously choose to be a nonprofit because it gives them a strategic advantage over for-profit competitors," he says. "They get a tax exemption and therefore they get a leg up. We are clocking in now at about 2 million nonprofits, the largest nonprofit sector in the history of the world. For the past 20 years, we had more nonprofits formed than in the whole 200 years before that. Even in a down economy it is still explosive."
As the number of nonprofits has grown, so too have the budget constraints of the government officials who oversee them.
"We have nudist colonies and ghost busters that are nonprofits," Berger says. "There does need to be some greater scrutiny in terms of how we authorize these. The original intent was that the government shouldn't get involved in making that judgment
of what a worthy cause should be. But we now seem to be at a point where we've just got so many nonprofits and the ability of governmental agencies to oversee and regulate them is becoming more difficult."
Despite that critique, count Berger as unwavering in his support of the nonprofit ideal.
"You are never going to have a for-profit where chronically ill, mentally ill homeless people are going to be served," he says. "There are certain people who are going to need these services, and I don't care what kind of innovations you come up with, they will only take you so far ... The whole premise of the nonprofit sector, from the beginning, was that it was meant to be for cases where the market couldn't provide adequate incentives for a for-profit model to work and therefore needed to be subsidized in some way."
The following are 10 organizations that, despite their nonprofit status, have for-profit characteristics or business approaches:
MEDIA ID="86192" FILENAME="86192.jpg" ALIGN="left" HEIGHT="390" WIDTH="590" TARGET="all"/>
The College Board
No one needs to buy an
Apple
(AAPL) - Get Apple Inc. Report
iPod, drive a
Ford
(F) - Get Ford Motor Company Report
, eat at
McDonald's
(MCD) - Get McDonald's Corporation Report
or fly on
Southwest
(LUV) - Get Southwest Airlines Co. Report
. But if you are a high school student, or the parent of one, you are more than likely a captive customer of The College Board.
The not-for-profit organization, formally known as the College Entrance Examination Board, has a stranglehold on issuing the tests almost all students need to attend college. Top students take its Advanced Placement exams to show their academic achievements to schools and earn credits. Aside from a smattering of colleges, taking the SAT exams of math and language skills is a mandatory hurdle for acceptance. To further bolster its coffers, The College Board sells its own line of test prep materials in addition to the $47 charged for the SAT test and $87 for AP exams.
That monopoly, combined with unregulated pricing and a dependent customer base, has made The College Board a very profitable nonprofit. Concern for its bottom line, critics say, is illustrated by its decision to stop offering AP language and computer science exams because they were deemed unprofitable.
The College Board did once take a stab at a for-profit venture, sinking $30 million into a profit-seeking (via advertisements and sponsored links) online portal, collegeboard.com. In 2003, the organization instead bought out investors and pulled the plug on the plan.
In its tax filings for 2009, the College Board reported $623 in total revenue and retained $53.3 million after expenses.
The Mozilla Foundation
The idea of a free, open Internet and the tools to enable that vision is a noble cause.
But critics might ask whether those efforts by the Mozilla Foundation, founded in 2003, should be considered a "not-for-profit corporation dedicated to the public benefit" or a money-making competitor to
Microsoft
(MSFT) - Get Microsoft Corporation Report
and Apple via its popular Firefox Web browser and Thunderbird email client.
An ongoing (since 2008) IRS audit has questioned the foundation's nonprofit status from a more specific angle. At the heart of its concerns were royalties paid to the Mozilla Foundation by Google. According to the foundation's 2007 disclosures, Google, the default search engine in Firefox, accounted for about 88% of its $75 million in revenue. In 2008, the share of revenue ($104 million) peaked at 91% before dropping to 86% the next year. Search functionality yielded additional revenue from other companies as well, including
Yahoo
(YHOO)
,
Amazon
(AMZN) - Get Amazon.com, Inc. Report
and
eBay
.
Mozilla has defended its role as "a public benefit corporation" and made the claim that money paid by Google should count as "royalties," not revenue, thereby not skewing its required percentage of public support vs. profit.
National Geographic Society
With an iconic magazine and a popular cable television channel,
National Geographic
is a household name.
Constantly evolving as a media "company," the National Geographic Society differs from other cable mainstays as Bravo and the Food Network in being a nonprofit organization -- and one of the world's largest in science and education.
The society has funded more than 9,975 scientific research, conservation and exploration projects in more than 180 countries, territories and islands.
In its 2009 financial filings, Revenue from its books, magazines and videos totaled about $445 million. Combining the fickle nature of the media business with a recession-fueled downturn in spending, the 2009 filing reported a loss of nearly $14.6 million throughout the previous year, down from an "excess" of nearly $17 million in 2007.
American Cancer Society
The American Cancer Society is on the front line of the battle against the deadly disease for which it is named. Founded in 1913, it has grown into a network of more than 2 million volunteers.
In its 2008 financial filings, the most recent publicly available, the organization pulled in just shy of $1.1 billion in revenue, with $52 million in "excess" funds after expenses. Among the expenses that year were nearly $760 million in program costs, more than $210 million for fundraising and $72 million in administrative costs.
The society, along with the American Lung Association and the American Heart Association, have expertly cultivated corporate partnerships to keep the money flowing, collecting donations from their conceptual partners in the pharmaceutical industry. The power of their "brand" also enables them to allow the use of their name and logo for a fee.
The Susan G. Komen for the Cure, a charity focused on breast cancer issues, has drawn fire for its aggressive efforts to protect its valuable brand. Using donor funds, it has had an ongoing legal campaign to threaten other charities that use any variation of the phrase "for the cure." Even small, hometown efforts have been delivered cease and desist orders.
The PGA Tour
Unlike other professional sports, many of the golfers you watch on TV are taking a swing for charity.
The
is a nonprofit entity and requires all its events to also be nonprofit. The provision of IRS code that gives such a tax break is "the exemption of business leagues, chambers of commerce, real estate boards, boards of trade, and professional football leagues, which are not organized for profit."
Roughly 3,000 charities benefit from the money raised. In 2009, the total raised for charity was some $108 million.
The PGA Tour, as an adjunct to the for-profit PGA of America, is something of a hybrid endeavor. Not all tournament play falls under its umbrella, and the Masters Tournament, U.S. Open and PGA Championship are excluded.
Like any business, some "employees" are not always completely aboard. For years golfer Greg Norman was a critic of how the PGA Tour was run, often clashing with organizers over what he claimed was a lack of "fiduciary responsibility" and transparency with its books.
PBS and NPR
The Corporation for Public Broadcasting, the force behind PBS and NPR, has been a popular target of political vitriol for years.
Throughout ongoing budget and deficit debates, Republican lawmakers have tried to cut federal funding for the multimedia nonprofit. Roughly 15% of the organization's budget comes from federal funds. According to 2009 filings, the corporation pulled in $482.5 million in revenue from donors and sponsors, but ended 2008 with a $16.2 million deficit.
Though it may not pull the boffo ratings of more mainstream, commercial TV, its audience makes it a force to be reckoned with. Each month, PBS reaches 117 million people through 360 television stations and an additional 20 million people online.
Faced with an attack on its bottom line, PBS and NPR did what so many other companies and industries have done when faced with undesirable government influences -- they ramped up a PR campaign and brought in the lobbyists. The difference here was that one of its big guns wasn't a K Street insider, but a furry red monster named Elmo, a prop wielded by pro-PBS pols on Capitol Hill.
YMCA
If only the Young Men's Christian Association could collect a fee every time someone gyrates their acronym from the dance floor of a wedding reception.
Critics of the organization have grumbled that the YMCA has shifted too far from its core programs -- literacy efforts, for example -- to focus excessively on promoting its gyms to more affluent clientele.
One wonders if a Google.org type of business model might be the best of both worlds: Consolidate into a more unified "chain," aggressively promote itself against pricier health clubs and earmark a minimum percentage of proceeds to fund its good works.
The snag in such a plan is also a significant and ongoing point of discontent. For-profit health clubs have complained for years that they lose money to the Y. As they see it, the competition has an unfair pricing advantage because of the taxes it can pocket instead of passing along to the government.
Colleges and universities
Education is big business, even if only a handful of colleges are treated as such.
There is significant scrutiny these days on for-profit and online schools such as those run by
Apollo Group
(APOL)
,
ITT Educational Services
(ESI) - Get Element Solutions Inc Report
and
Corinthian Colleges
(COCO) - Get Vita Coco Company, Inc. Report
.
But what of prestigious (and expensive) schools such as Harvard, Columbia and Yale?
Year after year, these schools rake in cash and expand their asset holdings far beyond books and professors. They own real estate, private equity and even commodities (Yale has massive timberland holdings) as they pile assets into endowments that total in the billions. And that doesn't even include money pouring in from sports teams, licensing agreements and tuition payments that have started to surpass $50,000 a year.
Harvard, famously the world's richest school, has an endowment of $27.6 billion -- and was at $36.9 billion before plummeting with the economy in 2009. While some figure it as $4 million for every undergraduate enrolled, you can also look at
provided by the International Monetary Fund and see that Harvard fell from the GDP of Sri Lanka or Ethiopia to the GDP of Bahrain or Latvia.
Hospitals
The health care landscape, on paper, is a mix of for-profit and nonprofit institutions. In real life, the real differences aren't always that clear cut.
"The leadership is being paid the same amount, the amount of charity care is virtually the same as many of the for-profit hospitals," says Charity Navigator's Berger. "You can look at hospitals where one doesn't have to pay the same taxes, but if it walks like a duck and quacks like a duck ... it sure looks like a for-profit hospital."
The big business of health care has led to many nonprofit hospitals being targets by buyers. Last year, for example, Vanguard Health Systems announced it would buy the Detroit Medical Center for a whopping $1.5 billion.
Steward Health Care System, owned by New York-based private equity firm
Cerberus Capital Management
, has been on a buying spree, having either recently acquired -- or still finalizing the purchase of -- 10 New England hospitals that were once nonprofit.
Health insurance
The former CEO of
Blue Cross/Blue Shield of Massachusetts
earned $8.6 million in total compensation last year, including $1.4 million in severance pay. His predecessor, in 1996, pulled down $19 million.
Those salaries, and others paid by similar nonprofits, are under scrutiny of the commonwealth's attorney general, Martha Coakley. She, along with a contingent of her state's elected officials, is looking for legislation that would curtail the salaries paid by nonprofits and prohibit them from paying those who sit on their board of directors.
What differentiates a nonprofit health insurer from a for-profit one? Judging from such salaries, the expensive media blitz that is waged year-round to draw customers and little or no difference in comparative premiums, the answer would seem to be "not much."
-- Written by Joe Mont in Boston.
>To contact the writer of this article, click here:
Joe Mont
.
>To follow the writer on Twitter, go to
.
>To submit a news tip, send an email to:
.
RELATED STORIES:
>>Gates/Buffet Effect Unclear for Charities
>>>>Top 10 Most Big-Hearted Billionaires
>>5 Jobs Under Government Attack
Get more stock ideas and investing advice on our sister site,