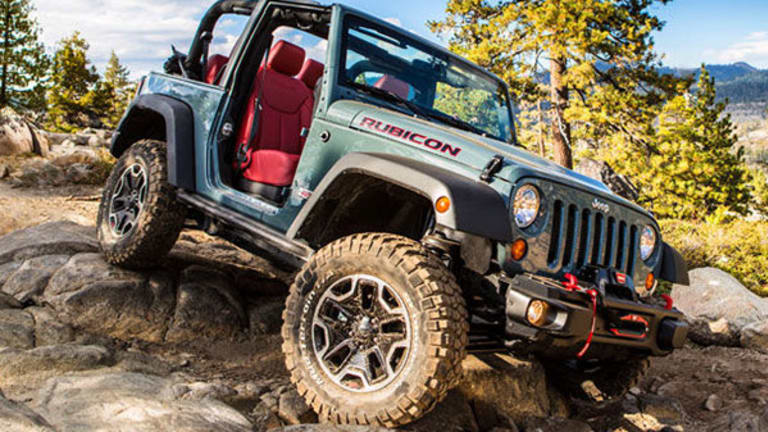 10 Most Union-Made Cars Of 2014
While U.S.-based companies may employ the overwhelming majority of union autoworkers in this country, they're not the only ones using union labor on U.S.-made vehicles.
PORTLAND, Ore. (TheStreet) -- An automaker's headquarters in the U.S. doesn't guarantee it makes the "most American" vehicles on the road. Using U.S. labor is a bit more of a guarantee.
Buying from a U.S.-based maker won't guarantee you're getting an "American" car, nor will buying a car with a high percentage of American-made parts in that car if the vehicle isn't assembled here. Though the National Highway Traffic Safety Administration argues there's no such thing as a 100% ?American? car, the United Auto Workers see things a bit differently.
More than 20 years ago, Congress passed the American Automobile Labeling Act requiring cars to have labels specifying their percentage of U.S./Canadian parts, the country of assembly and country of origin for the engine and transmission. Even with this information, however, representatives of the nearly 400,000 active members and 600,000 retired members of the UAW say the only way to ensure you're getting a quality American automobile built to the highest standards at decent wages is to buy a car built using union labor.
Union backers and detractors will continue to debate that point. Those who judge their "American-made" vehicle by who worked on it, however, tend to value the union label. We've gone through the UAW's list of union-made vehicles and found 10 standout models that are not only assembled here, but are prime examples of the best union shops have to offer:

WATCH: More personal finance videos on TheStreet TV | More videos from Ross Kenneth Urken
Cadillac CTS
Assembled: Lansing, Mich.
NHTSA percentage made in the U.S.: 70%
MSRP: $45,100
Also see: 10 SUVs Selling for Less Than $25,000
Also see: 10 SUVs Selling for Less Than $25,000>>
The base model comes with a 272-horsepower, 2.0-liter V6 engine, but can be bumped up to a 321-horsepower, 3.6-liter V6 for a little more kick. General Motors' symbol of American luxury also includes headlights that adapt to your speed and turning angle, rear backup camera, leather seating, wood trim and a pop-up eight-inch GPS screen that connects to voice control and a 10-speaker Bose stereo system. If you're willing to splurge for the CTS-Vsport, your reward is a 556-horsepower, 6.2-liter V8 engine that takes you from 0 to 6 mph in 3.9 seconds. This beast was a problem child for General Motors and the unions when sales dropped by more than 20,000 vehicles during the economic downturn, but CTS sales have since accelerated from 38,817 in 2009 to nearly 47,000 in 2012. A drop to 32,000 vehicles in 2013 was a side effect of the new, rebuilt 2014 model, but Cadillac's been full of good news for the U.S. market and workers. Its ELR plug-in hybrid just made its debut after being built at GM's Detroit Hamtrack plant.

Chevrolet Sonic
Assembled: Orion Township, Mich.
NHTSA percentage made in the U.S.: 50% (16% in Korea)
MSRP: $14,770
The Sonic has a comfortable ride, smooth steering, 31 cubic feet of cargo space and combined mileage of nearly 30 miles per gallon. Those are just garnish for the car's ?Buy American? base. They're far more concerned that the Sonic is assembled here with union labor, unlike the 20% American-made Ford Fiesta that gets 35% of its parts from Mexico and is assembled there. That's still a more American subcompact than the Toyota Yaris or Honda Fit, both of which have zero American parts and are made primarily in Japan.

Ford F-150
Assembled: Dearborn, Mich., and Kansas City, Mo.
NHTSA percentage made in the U.S.: 75%
MSRP: $25,025
There's a big, patriotic distinction separating the F-150 and Chevrolet's Silverado/GMC's Sierra in the U.S. truck market. The F-150 may get a quarter of its parts from elsewhere, but that's still better than the 51% of Silverado/Sierra parts that come from Mexico. It's bad enough that only 40% of the Silverado or Sierra is made in America, but when the light-duty version's made in Mexico, GM's practically giving away the Made In The U.S.A. market to its foes at Ford.

Jeep Wrangler
Assembled: Toledo, Ohio
NHTSA percentage made in the U.S.: 73%
MSRP: $22,395
When Fiat-owned Chrysler began cutting models after its bailout, there was no way the Wrangler was going anywhere. Its stablemate Liberty is gone ? replaced by the Toledo-built Jeep Cherokee ? and the Compass and Patriot are living on borrowed time, but ditching the Wrangler would be like abandoning the entire brand's history. The closest relative to the Jeep that America's fathers, grandfathers and great grandfathers drove during World War II, the four-wheel-drive Wrangler is one of the few remaining American icons that maintains the ?American? portion of that label. It's been one of Jeep's steadiest performers and has seen demand increase from 82,044 vehicles sold in the U.S. in 2008 to 155,000 sold last year ? which is better than the Wrangler's 119,243 pre-recession sales in 2007.

Chevrolet Volt
Assembled: Detroit, Mich.
NHTSA percentage made in the U.S.: 45% (19% Korea)
MSRP: $26,685
Yes, unions make hybrids, and this is only the second on the list. The Volt was the first plug-in hybrid made here. It's a little more luxurious than competitors such as the Prius, which means features including a huge onboard hard drive, rear camera, touchscreen audio system and quiet cabin keep the price up and the sales numbers down. Since consumers caught on to this, however, sales jumped from a little less than 7,700 in 2011 to more than 23,000 last year. That $5,000 price cut didn't help as much as GM figured it would, however; sales were flat between 2012 and last year. With Cadillac and other luxury plug-ins offering more options and Tesla ditching the fuel engine altogether, the Volt's losing a bit of power with a long road ahead.

Mitsubishi Outlander Sport
Assembled: Normal, Ill.
NHTSA percentage made in the U.S.: 20% (50% Japan)
MSRP: $23,795
Also see: 10 Family Cars You'll Still Look Cool In
Also see: 10 Family Cars You'll Still Look Cool In>>
Mitsubishi, the last Japanese automaker building vehicles with union labor in the U.S., doesn't sell many cars here compared with its competitors. It sells a whole bunch of this one, though. The Outlander Sport is just a step above the base model and comes with dual-zone climate control, a rearview camera with 6-inch screen, keyless entry, push-button start, three rows of seating, 34 cubic feet of storage behind the second row and 63 behind the first. Combined with the multi-information display, heated front seats, HD Radio, Bluetooth and leather steering wheel ? and combined 27 miles per gallon ? the Outlander Sport is Mitsubishi at its best.
Chrysler 200
Assembled: Sterling Heights, Mich.
NHTSA percentage made in the U.S.: 73%
MSRP: $21,700
After a whole lot of years as the utilitarian, faceless successor to the Chrysler Sebring, the 200's new overlords at Fiat finally gave it some European flair. Built on a shared platform with Fiat, the new 200 released this month loses a convertible top but gets either a 2.4-liter, 184-horsepower V6 or a brawnier 3.6-liter, 295-horsepower engine that can get 35 miles per gallon on the highway. It also becomes the only midsized sedan other than the Subaru Legacy and Ford Fusion that's available in all-wheel drive. With standard push-button start, an 8.4-inch Uconnect touchscreen entertainment and information system and a new active park assist system, Chrysler and Fiat are going right at the Toyota Camry, Ford Fusion and Honda Accord. LED lights and fog lamps have been added, a backup camera comes standard and a keyless entry system is now in the mix. That should improve the 200's 122,000 sales last year, which were down from 125,500 in 2012, but it won't do much to save its sibling, the union-built Dodge Avenger. That's apparently being reworked into a performance car.

Ford Fusion
Assembled: Flat Rock, Mich.
NHTSA percentage made in the U.S.: 30% (15% in Mexico)
MSRP: $21,970
Getting production of Ford's midsize moved from Mexico to to Michigan was a huge coup for the UAW, which also managed to bring production of Ford's Transit van over from Europe to Kansas City. The Fusion got a makeover last year that boosted sales 22% and brought total sales to more than 295,000 ? making it not only Ford's second-best seller behind the F-150, but the No. 9 car in the nation. Making Microsoft's voice-activated SYNC entertainment and information system standard, adding all-wheel drive and throwing in features such as active parking assist and auto start and stop for city traffic made it a feisty competitor for the Toyota Camry, Honda Accord and Nissan Altima, but also put some breathing room between it, the Chevrolet Cruze, the Chrysler 200 and the Hyundai Sonata. If it can manage to include more U.S.-made parts, the possibilities are endless.

Ford Mustang
Assembled: Flat Rock, Mich.
NHTSA percentage made in the U.S.: 70%
MSRP: $22,510
Even Mustangs have changed with the times. Muscle cars have been getting a lot more efficient of late, and Ford's Mustang manages to pry 305 horsepower out of its V6 engine while still managing 31 highway miles to the gallon. That would be great ? if anyone were buying them. Mustang sales nosedived from more than 166,000 in 2006 to just 67,000 in 2009. Though the Mustang recovered a bit a year later, sales are still beneath 80,000 as the Chevrolet Camaro and Dodge Challenger eat away its market share. It's gotten so bad that last year Ford started shifting V6 engines intended for Mustangs over to the plant making the better-selling F-150. A redesigned Mustang is coming to showrooms in November, but perhaps not soon enough.

Ford C-Max Hybrid
Assembled: Wayne, Mich.
NHTSA percentage made in the U.S.: 45% (20% in Japan)
MSRP: $25,170
When even the Prius is putting your car on its comparison page just to talk it down, you're angering all the right people.
This car looks a whole lot like the Prius, is priced similarly to the competing Prius and does some some very Prius-type things. Its 42.5 miles per gallon are in Prius range, its plug-in version has 10 miles more range than its competitor and it has the union label that the Prius lacks. It also gets all those sweet Prius benefits like state and federal refunds and solo carpool lane access. Just look past the name and you'll see a huge win for Ford and for U.S. competition in the plug-in/hybrid race.
-- Written by Jason Notte in Portland, Ore.
>To contact the writer of this article, click here: Jason Notte.
>To follow the writer on Twitter, go to http://twitter.com/notteham.
>To submit a news tip, send an email to: tips@thestreet.com.
RELATED STORIES:
>>10 SUVs Selling For Less Than $25,000
>>10 Family Cars You'll Still Look Cool In
>>10 Most American-Made Cars Of 2014
Jason Notte is a reporter for TheStreet. His writing has appeared in The New York Times, The Huffington Post, Esquire.com, Time Out New York, the Boston Herald, the Boston Phoenix, the Metro newspaper and the Colorado Springs Independent. He previously served as the political and global affairs editor for Metro U.S., layout editor for Boston Now, assistant news editor for the Herald News of West Paterson, N.J., editor of Go Out! Magazine in Hoboken, N.J., and copy editor and lifestyle editor at the Jersey Journal in Jersey City, N.J.