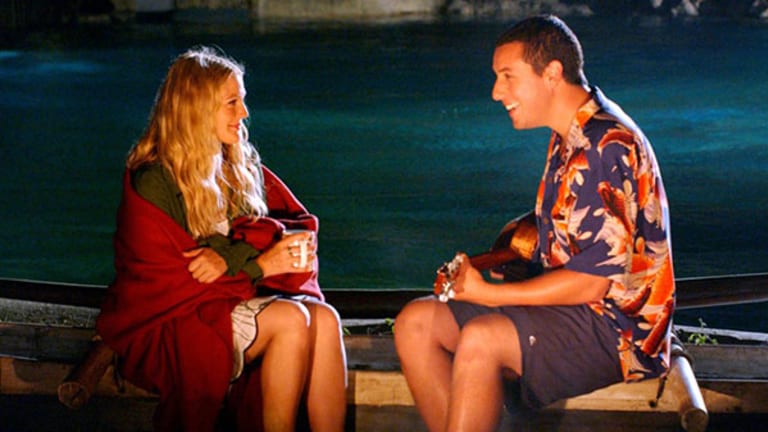 10 Most Popular Valentine's Day and Presidents Day Weekend Movies of All Time
When Valentine's Day falls on Presidents Day weekend, Hollywood sees blockbuster potential for its movies. Moviegoers seldom show them that much love.
NEW YORK (MainStreet) – Hollywood doesn't typically drop a blockbuster weekend into the middle of winter, but that doesn't mean it hasn't tried.
Much as retailers including CVS (CVS) - Get CVS Health Corporation Report , Walgreens (WAL) - Get Western Alliance Bancorp Report , Rite-Aid (RAD) - Get Rite Aid Corporation Report , Kroger (KR) - Get Kroger Co. Report and SuperValu (SVU) have made Valentines Day a $21.6 billion sales holiday second only to the winter holidays, according to IBISWorld, movie studios and theater chains have tried to squeeze some extra box office revenue from Valentines Day — especially when it aligns with Presidents Day weekend.
While a slew of Academy Award nominees still linger in theaters for the few weeks before the Oscars are handed out at the end of February, movie studios and chains including Regal (REG) - Get Regency Centers Corporation ReportAMC (AMC) - Get AMC Entertainment Holdings, Inc. Class A Report , Carmike (CKEC) and Cinemark (CNK) - Get Cinemark Holdings, Inc. Report love nothing more than to push romantic new releases specifically targeted to the mid-February holidays. This typically meets with mixed results. According to BoxOfficeMojo, the movie industry's winter season – which starts the first day after New Year's week and ends just before the first Friday in March — is routinely the movie industry's slowest.
In 2014, the winter slate of films took in roughly $1.1 billion. That's not shabby, considering winter movies first broke $1 billion in 2004 and have surpassed that mark only four times since. That still lagged behind spring's $1.5 billion total, summer's $4 billion (in twice as many days), fall's $1.5 billion and the holiday season's $2.1 billion. With rare exception, that's typically the pecking order. There just aren't as many days off in winter and, when there are, there are no guarantees large swaths of the country won't be spending those days shoveling out their cars.
The lineup is filled with holiday leftovers and Oscar hopefuls, and the movie industry uses January and February as "dump months" for films it doesn't think you'll go see in any great numbers. The industry's been shoveling a whole lot of options into those months, including a record 101 last year (compared with just 64 in 2009 and a paltry 16 when the original Footloose was released during the winter of 1984), but it also knows it's offloading a whole lot of films it hopes people will prefer as digital downloads or streaming options.
That may be just one reason why winter box office results have dropped or flattened out in seven of the past 10 years. To give you some idea of how bad it gets, and to provide some fair warning to folks flocking to see Fifty Shades Of Grey, The First Five Years or Kingsmanthis weekend, here's a glimpse of the Top 10 Presidents Day weekend movies of all time.

10. Constantine
Year released: 2005
Presidents Day weekend take: $33.6 million
There was a time Marvel and DC Comics thought February was a great time to release movies featuring their lesser-known characters. DC stacked this story of exorcist John Constantine and his role in the war between angels and demons with an ensemble cast including Keanu Reeves as the lead and Tilda Swinton, Rachel Weisz, Shia LeBeouf, Djimon Hounsou and Bush singer Gavin Rossdale as his support. It worked, to a degree. While the film made $231 million worldwide for distributor Warner Brothers (TWX) , it made just $76 million in the U.S. and finished third among winter releases, with even the Ice Cube family comedy Are We There Yet outperforming it by nearly $7 million.

9. The Wolfman
Year released: 2010
Presidents Day weekend take: $35.5 million
Judging by the three 2010 entries on this list, you'd think that was a huge year for winter movies. Not really. The winter of 2010 crept in at just below $1 billion and was 19% off the 2009 mark despite having just three fewer days on its schedule. The Wolfman tried to revive the classic 1941 Lon Chaney film by throwing Benicio Del Toro in as the lupine lead and surrounding him with Anthony Hopkins and Emily Blunt. Universal's (CMCSA) - Get Comcast Corporation Class A Report bid to revive its legacy monster franchise and make The Wolfman part of a universe involving The Mummy, Dracula, Frankenstein's monster and, sometime down the road, The Creature From The Black Lagoon, was doomed from the start. Pushed back multiple times from a 2008 holiday release, it came in second on its Presidents Day opening weekend and earned a scant $62 million. Considering it would only make $140 million worldwide and fail to recoup its $150 million in production costs, this was a Valentines Day heartbreaker for Universal.

8. Hitch
Year released: 2005
Presidents Day weekend take: $36.7 million
Will Kevin James ever overcome his awkwardness and woo the ladies? Will Will Smith's professional dating expert ever find love for himself? Can audiences really not know how this will play out? A whole lot of people came out to answer these questions in 2005 and made this the top-grossing film of that winter. On a weekend seemingly built for romantic comedies, Hitch is somehow one of the few on this list and definitely the biggest. It took in nearly $180 million over the course of its U.S. run and nearly $370 million worldwide. That Hollywood didn't take the hint over the next decade is still perplexing.

7. Percy Jackson & The Olympians: The Lightning Thief
Year released: 2010
Presidents Day weekend take: $38.7 million
Oh, B-grade Harry Potter, you never really had a chance. The Chris Columbus-directed first installment of a series whose hero is a demigod enrolled in a demigod training camp — remarkably, not named Pigspimple University — who embarks on a mythic journey to ... you know what, nobody cares. The No. 4 film of winter 2010 took in $88.8 million, which looks more like Disney's Bridge To Terabithia than any of the nine-figure debuts Harry Potter and company put up for Warner Bros. Undeterred, Fox (FOXA) - Get Fox Corporation Class A Report decided to release a second installment — Percy Jackson: Sea Of Monsters — in August 2013. That made just $68 million in the U.S. and made Fox admit last year that a third film was only "possible." Combined, the Percy Jackson movies made roughly $157 in the U.S. The lowest-grossing Harry Potter film, 2004's The Prisoner Of Azkaban, made $249.5 million in the U.S. on its own. Tough break, demigods.

6. Friday The 13th
Year released: 2009
Presidents Day weekend take: $43.6 million
This was an absolutely enormous winter at the movies. Thanks largely to the $146.3 million surprise of Kevin James' Paul Blart: Mall Cop and Liam Neeson's metamorphosis into an action hero in Taken ($145 million), U.S. winter box office receipts topped $1.2 billion for the first time ever. Warner Bros.' reboot of the Friday The 13th series, however, ranked a distant No. 7 for the season. Its total take of $65 million wasn't helped by a horror slate that included My Bloody Valentine 3-D and an era that brought horror fans reboots of Halloween, Prom Night, Dawn Of The Dead, Texas Chainsaw Massacre and Nightmare On Elm Street within seven years of each other. The new Friday The 13th saw its box office take drop 85.5% in a week. Also, although it made considerably more than the original 1980 film ($37.9 million), the remake took in just $13,066 per theater compared with $15,685 per theater for the original 29 years earlier.

5. Daredevil
Year released: 2003
Presidents Day weekend take: $45 million
This is just one of the reasons Marvel doesn't typically release its hero films this early anymore. Casting Ben Affleck as the blind superhero lead and now-wife Jennifer Garner as fellow crimefighter and love interest Elektra, Fox was really hoping for something big out of this franchise. It got $102.5 million in the U.S., which was good enough to get Garner the spin-off film Elektra in 2005 but just bad enough to make it No. 28 among the more than 35 Marvel superhero films — or No. 26 when adjusting for inflation. That rates it just above the three films of the Blade trilogy and just below the Hulk and Fantastic Four in the Marvel movie pecking order.
4. 50 First Dates
Year released: 2004
Presidents Day weekend take: $45.1 million
This is the season that built Adam Sandler's empire. Presidents Day weekend brought us Billy Madison in 1995, Happy Gilmore in 1996 and The Wedding Singer in 1998. The second film in the Sandler/Drew Barrymore trilogy (completed by last year's Blended) and the beginning of the "Adam Sandler takes paid vacations with his friends" period that's now spanned a full decade, 50 First Dates paid for Sandler and Barrymore's tickets to its Oahu setting by introducing the unfortunate genre of "amnesia comedy" to U.S. film. The $120.9 million this film made in the U.S. not only made it the 10th most-lucrative film of Sandler's career, but pretty much paved the way for Sandler to head back to Hawaii with Jennifer Aniston for the 2011 Presidents Day weekend romantic comedy Just Go With It in 2011. That film's $103 million performance pretty much ensured Sandler and his friends could go on vacation whenever they pleased, despite Sony Pictures email gripes to the contrary.

3. Ghost Rider
Year released: 2007
Presidents Day weekend take: $52 million
The great news for Marvel is that it went on to make $115.8 million from this Nic Cage-fronted epic and had the highest-grossing movie of winter 2007. The bad news? Its competition was Eddie Murphy's Norbit and Disney downer Bridge To Terabithia. Marvel had a hard time letting go of its dark, '90s antiheroes, but this chopper-riding, flaming-skulled spirit of vengeance reminded the comic giant that the era of brooding semi-good guys was over. The 2012 sequel Ghost Rider: Spirit of Vengeance rode another Presidents Day opening to less than half the U.S. box office take of the original ($54.2 million) and basically closed the door on underperforming antiheroes such as The Punisher (little more than $41 million from two films in 2004 and 2008) and the X-Men's Wolverine (who dropped from a $180 million solo debut in 2009 to a Ghost Rider-esque $132.5 million follow-up in 2013). It also scared Marvel off of February releases for a while. Of the more than 20 Marvel-related films scheduled for release through 2019, only Deadpool will get a President's Day release — in 2016.

2. The LEGO Movie
Year released: 2014
Presidents Day weekend take: $62.5 million
Way better than anything anyone expected from a toy franchise — and way more cutting and insightful than a film with that direct of a tie-in should be — The LEGO Movie positioned itself as the anti-blockbuster en route to a $257.8 million payday in the U.S.
Shedding tears during a movie starring LEGOs sounds absurd ... until you see this film. Ranting about how the song Everything Is Awesome was absolutely robbed of an Academy Award nomination seems ludicrous ... until you see the film. The fact that, somehow, a remake of About Last Night was a modestly more popular date movie than this one on Valentines Day 2014 doesn't seem so ridiculous ... until you see the movie.
With way more to say about human behavior than about building fake gas stations out of Danish blocks, this is a much bigger movie that its LEGOs imply — and Warner Bro. struck gold with it.

1. Valentines Day
Year released: 2010
Presidents Day weekend take: $63.1 million
This wasn't even the biggest film of the winter it was released — that honor belongs to the Martin Scorcese/Leonardo DiCaprio thriller Shutter Island ($128 million) — but this Warner Bros. ensemble comedy just kept a regrettable idea going. This film made more than $110 million by stuffing as many names as it could into a film — Jessica Alba, Kathy Bates, Jessica Biel, Bradley Cooper, Jamie Foxx, Jennifer Garner, Topher Grace, Anne Hathaway, Ashton Kutcher, Queen Latifah, Taylor Lautner, Shirley MacLaine, Julia Roberts, Emma Roberts — stitching it all together with a thin premise and releasing it just in time for its namesake holiday. Director Gary Marshall was going to this well not just with the dreadful New Year's Day only a year later, but with films including 2009's He's Just Not That Into You and 2012's What To Expect When You're Expecting.
It's a cynical approach to romantic comedy, but it's tough to argue with this film's success. We can only assume
Presidents Day
is in development.
— By Jason Notte for MainStreet
>To contact the writer of this article, click here: Jason Notte.
>To follow the writer on Twitter, go to http://twitter.com/notteham.
>To submit a news tip, send an email to: tips@thestreet.com.
RELATED STORIES:
>>5 Better Homes For Unwanted Holiday Season Houseguests
>>5 Craft Beer Variety Packs To Liven Up Any Holiday Party
>>10 Blockbuster Holiday Movies That Have Little To Do With The Holidays