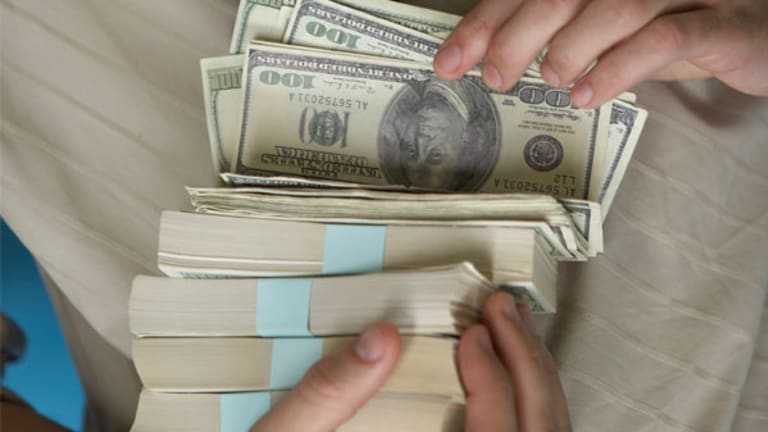 10 Most Over-the-Top Product Placements
Product placement in TV and movies is a hot advertising niche, but can be comically excessive.
BOSTON (TheStreet) -- Product placement is nothing new. For many years the makers of hit movies and TV shows have defrayed the cost of their productions by selling ad space in ways that can be either clever or blatant.
We expect to see James Bond in hot cars, wearing designer watches and single-handedly keeping the luxury industry afloat. We don't mind that BMW and Tag Heuer paid big bucks to keep 007 saving the world in style.
It's also hard to mind that the 1968 science fiction film
2001: A Space Odyssey
, in predicting the future, made a bad guess on space travel giant Pan-Am that casts some doubt as to its prognostications. (The airline ended in 1991.)
It gets a little too obvious, though, when characters push their beer bottles into the frame as though handing us their chosen brew. Reality TV has upped the ante in the worst way: Whenever a cast member on MTV's
Real World
or
Jersey Shore
opens a fridge, expect to see it jam-packed with Sun Drop, each can's label facing outward so the camera gets a good look.
The movie
Wayne's World
and TV show
30 Rock
have even made sport of their placements -- dutifully showing labels but nonetheless cracking wise ("Can we have our money now," Tina Fey asks into the camera after a scripted boast for
Verizon
(VZ) - Get Free Report
on her show).
Experts are aware it can get a little silly.
"The James Bond films were well known for their product placements to the point that, in 1996, there was so much in a particular movie that everybody made fun of it," says Leo Kivijarv, vice president of research for PQ Media, a provider of media econometrics in Stamford, Conn. "In response, the James Bond franchise now limits product placement to only six per film, but because of that exclusivity they ask more per product placement. Everybody follows very closely who is the vodka dealer who got it for a particular film, which watchmaker and what automobile manufacturer."
Product placement has proven an effective form of advertisement, though, especially in an age of TiVo, DVRs and online programming where viewers have the ability to "zap" past commercials, Kivijarv says.
As an indication of how much product placement is relied upon: Despite the recession, spending on consumer events and product placement in U.S. entertainment dipped only 1.3% in 2009, to $24.6 billion, and was on pace to grow 5.3% last year, exceeding most advertising and marketing segments. Specifically, product placement spending reached $3.8 billion last year.
Video game product placement is the one area where growth has slowed. Kivijarv says. There's a lull while major players wait to refresh and update their consoles.
"Where we are seeing a big jump is with the music videos," he says. "That goes to the general reason why product placement will continue to be a very hot commodity -- because of changes in the media landscape, including an audience that is much more media focused than their parents were with analog."
Reaching high school and college-aged kids is important. They avoid commercials, are more selective about what they watch and are not very brand loyal.
"They want to throw product placements into things like music videos because they they know they can reach this nonloyal younger audience," Kivijarv says of advertisers. "A good example is beer. When they get to the age where they can start drinking, they are not loyal to a particular beer brand. So beer manufacturers try to reach them as much as they can on alternative media."
Don't expect the see the deluge of placements end anytime soon.
"Some of the investment in movies, especially from hedge funds, has just totally dried up in 2009 and 2010. Product placement now becomes one of the ways in which producers are able to recoup some of the money that they made in past years,"  Kivijarv says. "Because fewer films are being made, the opportunities are more limited for the brands and agencies, so they may try to place products to the point that some are ridiculous. In some instances they might not even be in the film, but they have some sort of placement in advertising. I believe it was Volvo that became the official car of 'Pirates of the Caribbean' where there weren't even any automobiles."
The following are 10 examples of some of the most over-the-top product placements we've seen:
Demolition Man
Sylvester Stallone's 1993 action flick
Demolition Man
was a non-stop plug for
Yum! Brands'
(YUM) - Get Free Report
Taco Bell, going so far as to weave the product placement into the plotline.
Stallone's character is frozen and revived into the future. His tour guide for the strange new world he finds himself in, played by Sandra Bullock, explains that all restaurants in the future U.S. are Taco Bells. Why? Taco Bell reigned as victor after something referred to as the great "franchise wars."
Any hope that the references might fall into the category of satire evaporate if you happen to see the version released internationally. Apparently Yum!, looking to capitalize on a more globally recognizable name, arranged to have all dialog references to Taco Bell re-dubbed with Pizza Hut and, in a fairly obvious way, any Taco Bell image was scrubbed and replaced with the Pizza Hut brand.
Independence Day
We can accept that Tom Cruise's secret agent in
Mission: Impossible
uses a Mac. What's harder to accept is that in
Independence Day
, an
Apple
(AAPL) - Get Free Report
Powerbook itself saves the planet from an alien invasion.
Armed with a Powerbook 190, the hip accessory for geeks and celebs in 1996, Jeff Goldblum's character manages to hack into the operating system of an alien warship. The common cold virus saved mankind in
War of the Worlds
; here a computer virus does the trick.
As if a film about attacking aliens doesn't already require suspended disbelief, the Mac inclusion made it all the more implausible. Back then, you'd be hard-pressed to get a Powerbook to play nice with a PC running Windows, and yet we are to believe it has no problem networking with whatever Martians these days boot from? We shudder at the thought of what the fate of mankind might have been if they were using an Amiga or a Commodore 64 to rule the galaxy.
Evolution
The less said about the would-be comedy
Evolution
-- a
Ghostbusters
wannabe about aliens starring David Duchovny -- the better.
To this day, however, we have to wonder about its over-the-top product placement for Head & Shoulders. In a bit of pseudo-science that makes no sense at all, the giant alien, a nitrogen-based life form, is poisoned by the dandruff shampoo (the selenium in it, we are told, is deadly to nitrogen-based monsters).
So not only did
Procter & Gamble
(PG) - Get Free Report
push their product as deadly to certain life forms, but how the shampoo was applied certainly should have raised eyebrows. To put it delicately, a fire truck is used to issue the baddie an enema of hundreds of gallons of the stuff.
The word that comes to mind: eww.
Chuck
Fans of the NBC series
Chuck
were up in arms when the show was on the verge of cancellation before its 2009-10 season.
It was spared thanks to the corporate intervention of Subway, which found a unique if pervasive way to entice America with its $5 footlong sandwiches. Subway was already a sponsor that had subs featured frequently as a prop. In stepping in to save the show, Jared's boys crafted a cross-promotional partnership and gained promises that nearly every episode would ether show Subway and its products or mention it in dialogue.
Die-hard supporters of the show didn't seem to mind. In fact, leading up to the deal, many made a point to pop suggestion cards seeking help to "Save Chuck" at Subway locations across the country.
The Island
If you watched the Michael Bay action-fest
The Island
-- and not many of you did -- you may very well have witnessed the single largest cornucopia of product placements ever committed to film. (For extra credit, compare with
Be Cool
, the 2005 sequel to
Get Shorty
that substituted products for charm and quality.)
Roughly 35 advertisers shelled out to be added into the scenery, among them:
Cisco
(CSCO) - Get Free Report
,
Microsoft
(MSFT) - Get Free Report
,
Budweiser
(BUD) - Get Free Report
, Apple,
General Motors
(GM) - Get Free Report
,
Calvin Klein
,
Nokia
(NOK) - Get Free Report
,
Coca-Cola
(KO) - Get Free Report
and
Puma
. In total, about $850,000 was raised to offset production costs, a move Bay has defended by saying that the products on display added "realism" to the science fiction storyline.
Mac and Me
This jaw-droppingly bad movie from 1988 isn't just a painful rip-off of
E.T.
E.T. incorporated Reese's Pieces into its plot brilliantly, while the attempts of
Mac and Me
are just lame. The alien doesn't just like snack food; it actually requires Coca-Cola and Skittles to live.
And if the name "Mac" makes you think "Big," rather than "Mysterious Alien Creature," you are not alone.
McDonald's
(MCD) - Get Free Report
was a corporate benefactor and, perhaps trying to score an
E.T.
-level marketing bonanza, its restaurants and food are omnipresent. How pervasive does it get? A far-too-lengthy "dance-off" that interrupts the action features the Busby Berkeley-styled dance moves of Ronald McDonald and a crew of burger-munching extras.
Castaway
If you think of the "Tom Hanks is stranded on a desert island" movie
Castaway
in terms of product placement, you'll no doubt think of how his character works for
FedEx
(FDX) - Get Free Report
and of how hell-bent he is on delivering a MacGuffin package.
There's another prominent placement that may slip by you, though: The volleyball that keeps Hanks' character company is "Wilson," an obvious choice considering the company that made it.
Transformers
Director Michael Bay, who appears earlier on this list, may never have met a product placement idea he couldn't milk for all it is worth.
In the first "Transformers" movie, a Mountain Dew vending machine (and one of those rare ones that offer only the "Dew" and no other
Pepsi
(PEP) - Get Free Report
products) turns into a green yellow and Dew-logoed robot.
The movie avoids answering whether the Decepticons might have a Mello Yello android girded for battle.
The Matrix films
Our eventual computer overlords -- the ones who take over the world hundreds of years from now -- have duped us all into thinking we lead normal everyday lives, even though we are all just hunks of meat being plundered for energy.
That's the premise of the
Matrix
trilogy of mind-bending films.
Apparently the sentient machines of the future aren't averse to making a few bucks on the side.
Among the many wire-fu fights the films offer up, there's one in
Matrix Revolutions
with a glaring backdrop -- a poster for PowerAde.
A more in-your-face placement (and there are many to be had) takes place in the first film when Neo is getting a lesson in the new reality by Orpheus. The future-based revolutionary holds up a Duracell battery to illustrate mankind's fate.
Cathy's Book
Even books aren't immune to product placement. The 2008
Cathy's Book: If Found Call (650) 266-8233
, by Sean Stewart and Jordan Weisman, raised eyebrows for containing placed references to Cover Girl cosmetics
The negative reaction has thus far kept other publishers from pursuing a similar strategy, although most analysts fully expect that your e-readers will place ads in books sooner rather than later.
-- Written by Joe Mont in Boston.
>To contact the writer of this article, click here:
Joe Mont
.
>To follow the writer on Twitter, go to
.
>To submit a news tip, send an email to:
.
RELATED STORIES:
>>10 Movies That Cashed In On Christmas Day
>>10 Real Prices of TV and Movie Homes
>>10 Big Stars of Musical Product Placement
Get more stock ideas and investing advice on our sister site,