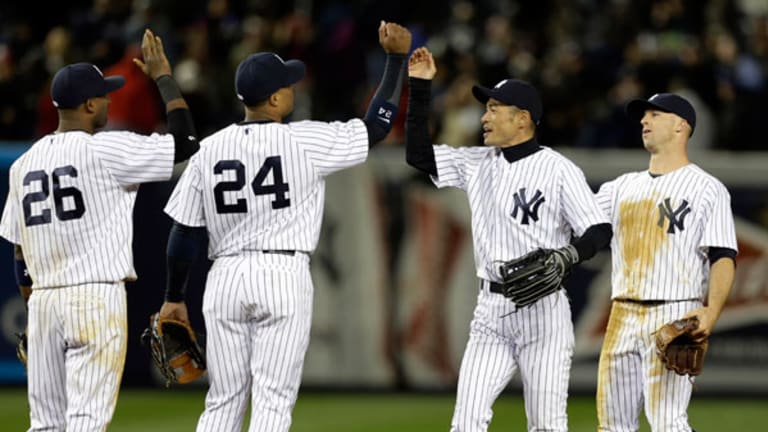 10 Most Expensive Trips To The Ballgame in 2013
Ticket price, concessions and parking adds up. Take your wallet to, and out at, the ballgame.
Ticket price, concessions and parking adds up. Take your wallet to, and out at, the ballgame.
PORTLAND, Ore. (TheStreet) -- Major League Baseball may be still be one of the best values in the land, but that doesn't mean fans are getting off light.
As we've noted before, baseball hasn't had a strike since its World Series-canceling work stoppage in 1994-95 and hasn't locked out players since 1990. Even the NBA (which locked out players in 1995, 1996, 1998-99 and 2011) and the NFL (which locked out players in 2011 and referees last year) can't say the same. Fans, meanwhile, have been rewarded with ticket prices that average $27.48, according to
Team Marketing Report
.
That's a little more than half the price of an average NBA ticket ($50.99), slightly less than half the cost of a ticket to an NHL game ($61.01) and well below the price you'd spend on any given Sunday in the NFL ($78.38). It's also 1.8% higher than it was last year and includes a few teams pricing their tickets at nearly double that average.
We took a look around the league and found $10 cities where the average Major League Baseball ticket price borders on myth and looked into what each gives fans for their money:
10. Miami Marlins
Average ticket price:
$29.27
Change from 2012:
-4%
The Marlins have a whole lot of nerve showing up in this Top 10. They fired manager Ozzie Guillen, sold off most of last year's high-priced roster, got dropped from their documentary series by
Showtime
and are still making fans pay a worst-in-the-country $8 for 16 ounces of beer. Oh, and that 4% drop in ticket prices this year? It only comes after the team sprung a a 55.4% price hike on fans last last season and stuck them with a tax increase for a new stadium. See any motivation to for fans to come out to games tucked away in those thick layers of sadness? Neither do we.
9. Houston Astros
Average ticket price:
$30.09
Change from 2012:
None
At least Marlins fans have two World Series wins in the past 20 years for their trouble. Houston fans have not only never seen a world series title come their way, but haven't seen their team make the playoffs since being swept out of the World Series by the White Sox in 2005. The team was then left to wither on the vine and be sold off for parts by its former owner. Total attendance dropped from more than 3 million in 2007 to just 1.6 million last year. Average attendance, meanwhile, was chopped from more than 37,000 to less than 20,000 per game in 2012, when the new owners of this hollow husk of a franchise agreed to uproot it from the National League and shift to the American League. That means a lot more games against their in-state rival Texas Rangers, but very little to Houston fans awaiting yet another year in or near the cellar.
8. San Francisco Giants
Average ticket price:
$30.09
Change from 2012:
+10.6%
Now
this
is what you charge 30 bucks for. The team just won its second World Series in three years, is looking like a tough out in 2013 and still has MVP Pablo Sandoval on the roster. While there's no ideal time to jack up prices by nearly 11%, doing it while the team is on a roll softens the blow a bit.
7. Minnesota Twins
Average ticket price:
$32.59
Change from 2012:
-1.4%
If Twins fans don't miss the Metrodome, they should. The Twins have finished dead last in the American League Central Division for the past two years after being a perennial playoff contender. Their relatively new home at
Target
(TGT) - Get Report
Field has known little else but misery since the team was swept out of the only playoff series the building hosted during its inaugural season in 2010. Now fans spend the early portions of the Twins' lethargic campaigns freezing in the outdoor facility or getting
. Those sound like small-market problems, but you'd never know it from the major-market cost of admission.
6. St. Louis Cardinals
Average ticket price:
$33.11
Change from 2012:
+3.7%
OK, so the Cards are only a year removed from a World Series title and made the most of their Wild Card spot last year despite losing slugger Albert Pujols and manager Tony LaRussa. Did that really warrant a ticket price hike? Kind of. Sustained excellence is as much of a driver for price increases as titles are. If the folks keep coming out and the playoff appearances keep happening, the tickets won't get any cheaper. Until the team slacks off for any length of time, however, success comes at a price.
5. Washington Nationals
Average ticket price:
$35.24
Change from 2012:
+15.4%
Of course, some teams just get a small taste of glory and start seeing dollar signs. After the Nationals' first-ever playoff appearance last year -- a 3-2 loss to the Cardinals in the division series -- the Nats jacked up ticket prices and started selling 16-ounce beers for $8.25 a pop. In fairness, the Nationals play in a major market that the Montreal Expos were moved to with the understanding that they'd be able to cash in on it. With young stars such as Bryce Harper and Stephen Strasburg, owner Ted Lerner and Nats fans are optimistic about the days ahead. That's great, especially considering teams with one winning season in eight years usually don't get to jack up prices at will.
4. Philadelphia Phillies
Average ticket price:
$37.42
Change from 2012:
None
Sometimes, not changing the price at all is the best indication something is wrong. Last year's .500 season did little to convince fans that a follow-up to the Phillies' 2008 World Series win was coming any time soon. Chase Utley and Ryan Howard were injured shells of their former selves. Aces Roy Halladay, Cliff Lee and Cole Hamels looked vulnerable. More importantly, the balance of power in the NL East had shifted south to D.C. and Atlanta. It's already been tough for the Phillies early on, and standing pat on prices looks like the team's way of saying it's as uncertain about 2013 as fans are.
3. Chicago Cubs
Average ticket price:
$44.55
Change from 2012:
-3.8%
You're just paying to maintain the ivy at this point. That $44.55 is for antique maintenance and little more as General Manager Theo Epstein continues to stare up from the bottom of the NL Central and wonder how the other teams do it. It doesn't help that the only team worse than the Cubs in the National League last year -- the Astros -- fled for the AL. While nearly 4% price cut is a nod to fans who know all isn't well, a few wins wouldn't hurt, either.
2. New York Yankees
Average ticket price:
$51.55
Change from 2012:
None
The team still has a payroll of more than $200 million, even if much of that money is on the injured reserve list. It still has a creaky core that waved goodbye to the sunny side of its 30s a long time ago. Its management has lost the ability to not only identify good offseason moves, but to recognize
. Still, the Yankees haven't had a losing season since 1992, have missed the playoffs only once in since 1994 and have made it to the American League Championship Series in three of the past four years. They're not lowering prices any time soon.
1. Boston Red Sox
Average ticket price:
$53.38
Change from 2012:
None
In deference to all Boston's been through recently, we'll just leave this alone for now. There's a time to revisit this topic in greater detail, but this isn't it.
-- Written by Jason Notte in Portland, Ore.
>To contact the writer of this article, click here:
Jason Notte
.
>To follow the writer on Twitter, go to
.
>To submit a news tip, send an email to:
.
RELATED STORIES:
>>10 Highest Beer Prices In Major League Baseball
>>Baseball's 5 Worst Interleague 'Rivalries'
>>Baseball: Cheapest Professional Sport In The Land
Jason Notte is a reporter for TheStreet. His writing has appeared in The New York Times, The Huffington Post, Esquire.com, Time Out New York, the Boston Herald, the Boston Phoenix, the Metro newspaper and the Colorado Springs Independent. He previously served as the political and global affairs editor for Metro U.S., layout editor for Boston Now, assistant news editor for the Herald News of West Paterson, N.J., editor of Go Out! Magazine in Hoboken, N.J., and copy editor and lifestyle editor at the Jersey Journal in Jersey City, N.J.