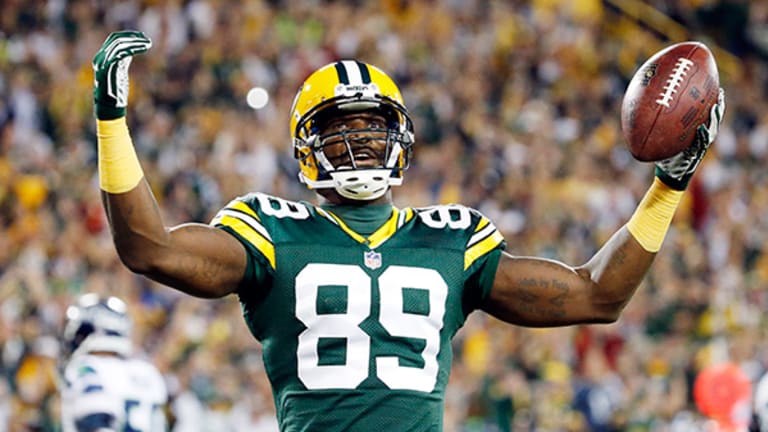 NEW YORK (MainStreet) –- There are no such thing as "cheap" NFL tickets, but cheaper tickets never hurt.
NFL fans are already being punished for leaving their cushy, screen-and-snack-filled homes, turning off DirecTV's NFL Sunday Ticket and actually attending games. The league's average ticket price jumped 2.1% to nearly $86, according to Team Marketing Report. That's nearly triple the cost of the average Major League Baseball ticket (less than $30) and significantly more costly than an average National Basketball Association seat (little more than $50) or an in-house look at a National Hockey League game (just above $60). It's also a fairly low number once you've seen the average cost of the priciest tickets in the league, according to Team Marketing Report's Fan Cost Index.
For most fans, the face-value prices of even the lowest-priced tickets are largely a daydream after they sold out months ago. The folks at ticket pricing site TiqIq compiled data from the secondary ticket market and sites including eBay-owned StubHub and found average ticket prices far more extreme (and more likely) for fans seeking seats during the regular season:
1. Seattle Seahawks: $397
2. Denver Broncos: $370
3. New England Patriots: $292
4. Dallas Cowboys: $284
5. San Francisco 49ers: $265
6. Chicago Bears: $260
7. New York Giants: $250
8. Philadelphia Eagles: $223
9. Green Bay Packers: $222
9. Baltimore Ravens: $200
However, unsteady attendance since the recession has forced the NFL to shelve its television blackout rule -- allowing it to take games off the air in their home market when all non-premium seats aren't paid for -- and pass costs on to its television partners. New television deals with Fox, CBS and NBC kicked in last year and will pay the NFL and its teams $28 billion -- or roughly $1 billion a year -- for NFL broadcast rights through 2022 that include playoff games and rotating Super Bowl hosting duties. ESPN, meanwhile, pays $1.9 billion each year -- or more than double what any network pays for a season of Major League Baseball -- just to host Monday Night Football through that same span.
Last year, the NFL also got DirecTV to pay $1.5 billion a year over the next eight years for the rights to the NFL Sunday Ticket multi-channel out-of-town games package. Though DirecTV executives initially refused to go above the $1 billion they were paying annually in their previous deal, losing NFL Sunday Ticket would have scuttled AT&T's $48.5 billion takeover of the company that included a no-penalty out clause if Sunday Ticket negotiations went south. Meanwhile, the league was also able to pry $275 million more out of CBS for partial rights to Thursday Night Football games in 2014. The NFL and CBS renewed the deal at a "slightly higher" rate for this season.
The overwhelming majority of you only watch NFL football this way. Last year, NFL regular-season games averaged 17.6 million per broadcast, second only to the 17.9 million average in 2010. Games on "free" TV -- CBS, Fox and NBC -- averaged 19.2 million viewers. The Top 20 television broadcasts last fall were all NFL games. Game 7 of last year's World Series (23.5 million viewers) was less watched than an early September matchup between the Kansas City Chiefs and Denver Broncos (25 million). The only non-sports event to join the NFL in the Top 25 was the Macy's Thanksgiving Day Parade (22.6 million viewers), and nearly 10 million more viewers (32 million) tuned in to watch the Dallas Cowboys and Philadelphia Eagles later that day.
All this said, if you're willing to forego rivalry games for somewhat less-thrilling out-of-conference matchups against teams with middling to losing records, you might catch a break. Also, if you're willing to wait until your team clinches, is mathematically eliminated or is playing in weather too cold for anyone to notice the difference, there's a chance of catching a discount then as well. With that in mind, we took a look at Team Marketing Report's lineup of average ticket prices and found what are easily the costliest tickets in the land. This year, eight teams came in with average ticket prices over $100, up from four last year:

10. Green Bay Packers
Average ticket price: $89.37
Change from last year: 4.4%
They beat the rival Bears to open the season, they avenged a terrible NFC Championship loss to the Seattle Seahawks and they showed off a new hotel and entertainment complex near their stadium complete with a new brewery. This is about as good as it gets in the Packers' world, but the publicly owned, quarterback-blessed Packers could get people out to historic Lambeau Field even if they weren't bringing Brett Favre back to town for the Thanksgiving game. We're honestly surprised this ticket price isn't higher, considering the team has nearly 361,000 shareholders.

9. Philadelphia Eagles
Average ticket price: $98.69
Change from last year: 0%
Well, a healthy new quarterback in Sam Bradford, a new running back in former Dallas Cowboys rusher DeMarco Murray and a new energy around the team have resulted in an 0-2 start so far. Not exactly what coach Chip Kelly had in mind, but if he keeps this up, those Eagles fans paying close to $100 bucks a ticket aren't going to be afraid to let him hear about it. They haven't hit the meat of their schedule yet, but things are going to get ugly if the ship isn't at least somewhat righted by the time they play their other division rivals next month.

8. Baltimore Ravens
Average ticket price: $100.19
Change from last year: 0%
The injury to linebacker Terrell Suggs may end his days in Baltimore, but tough losses to both the Denver Broncos and Oakland Raiders on the road have only poured more salt into the Ravens' wounds. A dispiriting loss to the Patriots in the playoffs last year after a scandal-riddled season has made the last year a particularly rough stretch for the Ravens, but there's a bright side this early in the season: at least Donald Trump considers quarterback Joe Flacco elite.

7. Washington Redskins
Average ticket price: $102
Change from last year: 0%
You don't need to get into the name of the team to find something not to like about it. It hasn't won a playoff game since 2005. It's had five winning seasons in the last 20 years. The last time it was in a Super Bowl, George H.W. Bush was in office and NASCAR team owner Joe Gibbs was coaching. Quarterback Robert Griffin III is once again injured, but his squad managed to beat the St. Louis Rams without him. For all this, and for an incredible shrinking stadium that ownership keeps ripping seats out of, folks pay more than $100 per game. Lovely.

6. New York Jets
Average ticket price: $105.66
Change from last year: 0%
Right now, the Jets are the only team in New York City (or at least New Jersey) with a win to its credit, so coach Todd Bowles has that going for him. That said, former coach Rex Ryan has huge expectations up in Buffalo, and the Jets still haven't managed a winning season in almost five years. There's a reason they're the discount ticket in Met Life Stadium, but there's still a chance to make that price look like a pretty sweet deal.

5. Chicago Bears
Average ticket price: $108.44
Change from last year: 0%
They got that first loss to Green Bay out of the way early and didn't exactly set the world on fire in a loss to the Arizona Cardinals. Former Denver Broncos coach John Fox is still less than two years removed from a Super Bowl appearance but doesn't look that much closer to another one with a franchise that's been on a downward trajectory since losing the NFC title game to the Packers almost five years ago. That ticket price isn't buying all it should during the Jay Cutler era.

4. Dallas Cowboys
Average ticket price: $110.20
Change from last year: 0%
They were kept in, then bounced out of last year's playoffs by tough calls, and they lost their star running back in the offseason and lost both quarterback Tony Romo and receiver Dez Bryant in the first two games of the 2015 season. The good news? They're 2-0, and backup Brandon Weeden and the rest of his receiving corps looked just fine after Romo left. The Cowboys may not have given fans as many titles as they'd hoped for during the Tony Romo era, but they've kept it entertaining at larger-than-life AT&T Stadium.

3. San Francisco 49ers
Average ticket price: $117
Change from last year: 0%
Beating the Minnesota Vikings (and watching former coach Jim Harbaugh suffer mightily at the University of Michigan) seemed like a fine way to begin head coach Jim Tomsula's reign in Santa Clara. Then the Steelers just kept pouring on the hurt and reminding 9ers fans that this year's team is far more depleted than the one that made it to the Super Bowl three seasons ago. Quarterback Colin Kaepernick has his work cut out for him.

2. New England Patriots
Average ticket price: $122
Change from last year: 0%
You win a Super Bowl, quarterback Tom Brady has his suspension overturned by a federal court and you still don't raise ticket prices. There's a reason Boston-area fans are almost mindlessly loyal to this organization. The opening games against the Steelers and Bills weren't as close as their scores would indicate and the team as a whole seems to still be rolling off of the momentum of February's late Super Bowl victory. That's frightening for the next few teams on their schedule.

1. New York Giants
Average ticket price: $123.40
Change from last year: 10.5%
It's tough to believe this is the franchise that beat the Patriots in the Super Bowl twice. Defensive end Jason Pierre-Paul is still out of action after blowing off a healthy chunk of his hand with Fourth of July fireworks. Quarterback Eli Manning and coach Tom Coughlin watched as two easily winnable games slipped from their grasp in the waning seconds. Oh, and fans are getting the idea that Odell Beckham Jr. can't just magically turn catches into wins. The Giants have the titles to warrant the most-expensive ticket in the NFL, but this year's team is coming in a bit below that pay grade.
This article is commentary by an independent contributor. At the time of publication, the author held TK positions in the stocks mentioned.