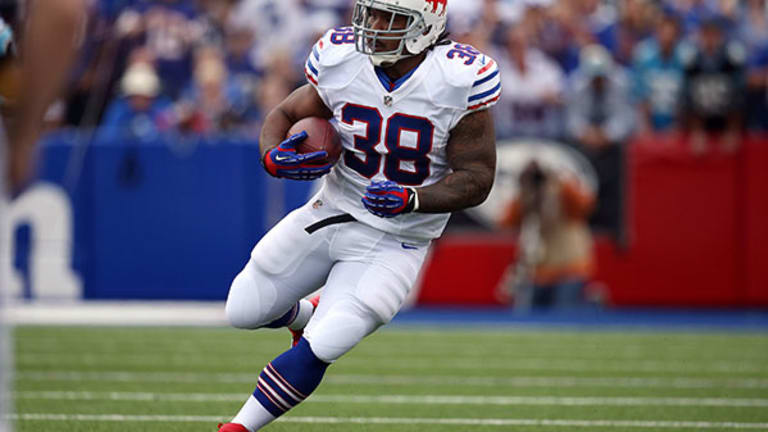 10 Most Expensive Beers In The NFL
You're not only paying to get into the stadium your tax dollars paid for, but getting hosed on beer prices for the privilege.
PORTLAND, Ore. (TheStreet) -- Fans will forgive a National Football League team when it loses. They'll roll with it when attendance sags and it doesn't broadcast games on local television. They'll even hang in there when it takes public money to build a stadium, despite the vast wealth of the team's ownership.
Hike the price of beer, however, and you'll give fans enough rage to keep them nice and toasty through the waning regular season games of winter.
The NFL fans who dislodge themselves occasionally from their cushy, screen-and-snack-filled game day caves, turn off
DirecTV's
(DTV)
NFL Sunday Ticket
and actually attend games this year should prepare to get soaked on everything including the suds. The league's average ticket price jumped 3.1%, to more than $81, according to
Team Marketing Report
. That's the first time it's drifted over the $80 mark, and nearly triple the cost of the average Major League Baseball ticket.
That isn't exactly doing wonders for the argument the NFL is a family-friendly experience. The average cost to take a family of four to a game, park, have a beer, hot dog and soda and go home with a program and cap also jumped 3.7%, to nearly $460. If you're a beer-swilling single, however, it's not such a bad year. After beer prices that jumped from an average of 42 cents an ounce in 2011 to 43 cents an ounce last year, they actually sank to roughly 41 cents an ounce this year.
That's still $7 for little more than a pint, but it seems as if teams are making beer an actual concession to fans feeling otherwise squeezed by ticket prices. In Ohio, fans of the Cleveland Browns and Cincinnati Bengals still enjoy $5, 12-ounce beers for 42 cents an ounce. That's still costly compared with the 35 cents per ounce paid by folks watching the Miami Dolphins (20 ounces for $7) and New Orleans Saints (24 ounces for $8.50). The Carolina Panthers have easily the lowest per-ounce price in the league at 27 cents per ounce (22 ounces for $6), but the biggest surprise may be in New England. Despite having the league's highest average ticket price at $118 and making the AFC Conference Championship last year, the 38 cents per ounce the team charges for beer ($7.50 for 20 ounces) is the lowest of any team that made the playoffs last year.
Other fans aren't nearly as fortunate. With help from
Team Marketing Report
's
Fan Cost Index
, we found the Top 10 beer prices in the league and the teams that view their fans as a keg of cash with a tap that's always open:
10. Tie: St. Louis Rams/Buffalo Bills/San Francisco 49ers/Washington Redskins
Price of a small draft beer:
$9 for 20 ounces in St. Louis, D.C. and Buffalo; $6.25 for 14 ounces in San Francisco.
Price per ounce:
45 cents
That's a whole lot of nerve, Rams and Bills concessions folk.
We'd expect this from the 49ers, who just went to the Super Bowl, play in one of the most expensive cities in the country and are skipping town for fancy new digs in Santa Clara next year. We'd even expect it from Washington, which just had rookie quarterback Robert Griffin III lead the team to its first playoff appearance since 2007.
But St. Louis? This town was built on beer, but that isn't going to make fans more sympathetic when the team hasn't made the playoffs since 2004, hasn't had a winning record since 2003 and has had management demand that the city pay hundreds of millions of dollars for a new stadium. To top it off, the team jacked up the price of tickets 8.1% despite the fact that big-ticket franchise running back Stephen Jackson left for Atlanta.
Also see: 5 Pro Sports Towns Doing Just Fine Without the NFL>>
And Buffalo ... seriously? Your starting quarterback is basically your last man standing, your front office just bilked the surrounding community out of $200 million to keep the team around for a scant eight years and you're still playing a home game a year in Toronto. People were just overcoming their fear of Y2K the last time the Bills were in a playoff game Jan. 8, 2000, and the team has only managed one winning season since -- in 2004. Your fans have to brave lake-effect snow and sub-freezing temperatures just to keep the team on local television late in the season and you charge them
more
for beer. If anything, that fan base deserves a round of Labatt's on the house.
6. Green Bay Packers
Price of a small draft beer:
$7.50 for 16 ounces
Price per ounce:
42 cents
No, they couldn't catch a break on that botched call in Seattle or get past the 49ers in the playoffs to get Aaron Rodgers another ring, but at least the average cost of beer is down.
The 12 ounces of beer the pack sold for $6 last year looks cheaper on the surface, but that's 50 cents an ounce. Fans at Lambeau Field are paying $1.50 more upfront, but a whopping eight cents less on the unit price. That's not such a bad deal.
Even if you're still feeling ripped off, the best part of being a Packers fan is the team's community ownership. If you're a shareholder and hate the price you're paying for what's essentially the life's blood of Wisconsin, make some noise about it.
5. Detroit Lions
Price of a small draft beer:
$9 for 20 ounces
Price per ounce:
45 cents
Those prices aren't from
Team Marketing Report
, but from Lions spokesman Ben Manges.
TMR
originally quoted a price of $8 for 12 ounces as
Ford
(F) - Get Report
Field's cheapest beer. That's 67 cents an ounce, which caught the attention of folks within the Lions organization.
While that's what the team charges in the suites, Manges says 93% of the beers sold during Lions games go for the figure we listed above. The team sells an $8 at its stands, but in 16-ounce bottles. That's 53 cents an ounce, but the Lions say that accounts for only about 6% of their beer sales.
What all of this obscures is the fact that the Lions have raised their draft beer price 50 cents -- or roughly three cents per ounce -- from last season. That wouldn't hurt nearly as badly if the team hadn't gone 4-12 in 2012 just a year after making its first playoff appearance since 1999. Or if it wasn't just the latest losing campaign for a team that's only had winning seasons twice since 1997. They also haven't won a playoff game since 1991, which was their only playoff win of the Super Bowl era.
Its spokespeople can haggle over beer prices all they'd like: The fact is that a beer served at a Lions game at any price is only anesthetic for the pain this team continues to inflict on its fan base.
Also see: 5 NFL Teams Most Likely To Be Blacked Out In 2013>>
4. Oakland Raiders
Price of a small draft beer:
$9.75 for 20 ounces
Price per ounce:
49 cents
The Raiders have spent much of their time in Oakland losing and having home games blacked out on local television. Last year's 4-12 team was considered a return to form after two straight 8-8 seasons and the false hope that accompanied them. Their home stadium --
O.Co
(OSTK) - Get Report
Coliseum -- is the last in the country to host both a football and baseball team, is roundly despised by the latter and is so decrepit that the sewers back up into the locker room. The team is still considering whether it wants to stay in town or move to a place that will give it some stadium money. In the meantime, it's making fans shell out $2.75 more for its smallest beer than it did a year ago, but reducing the cost by a scant 1 cent per ounce. If Terrelle Pryor doesn't work some magic, it could be an exceptionally bleak year in the Black Hole.
3. Tie: Seattle Seahawks/Pittsburgh Steelers
Price of a small draft beer:
$8 for 16 ounces
Price per ounce:
50 cents
The Seahawks gave the "12th Man" its own flag at
CenturyLink
(CTL) - Get Report
Field. Their fans registered on the Richter scale when running back Marshawn Lynch scored a touchdown in the playoffs three years ago and packs its home stadium. Even in its worst years, the Seahawk faithful generate crowd noise that reaches 140 decibels, or roughly as loud as one of Boeing's jet engines. Yet somehow the emergence of rookie quarterback Russell Wilson and the team's return to the playoffs have stirred up the ridiculous notion that Seattle should create more stadium parking just to accommodate all the bandwagons.
So maybe there were way more No. 3 Russell Wilson shirts at Bumbershoot this year than there were when Wilson was fighting for a job with Matt Flynn last year. The Mariners wish they had this problem with any of their players. The Seahawks haven't been hurting for fan support in recent years, despite what local revisionist sports historians might tell you. That's what makes it easy for the Seahawks to hold the line on beer prices despite the team's changing fortunes.
It was kind of the opposite situation in Pittsburgh, where a rash of injuries to stars Ben Roethlisberger and Troy Polomalu and some ugly losses to the Browns, Raiders, Titans and San Diego Chargers led the team to an 8-8 record. No playoffs, no bandwagon fans hoping for a Super Bowl ring: Just one of those down years in the Steel City and a long winter to follow. How do you raise beer prices on fans after a year like that? If you're the Steelers, you don't.
1. Dallas Cowboys
Price of a small draft beer:
$8.50 for 16 ounces in Dallas
Price per ounce:
53 cents
NFL beer prices came down from last year's highs of 55 to 58 cents per ounce. That left the Cowboys with the dubious distinction of serving the most expensive beer in the league despite not raising beer prices.
In owner Jerry Jones's stadium wonderland of giant screens at midfield and dancing girls in the cages around the stadium, there is no public transportation to games whatsoever. That means you're either taking a cab or paying $75 for parking, well over the $31 league average. Want a program? That's $10, or more than double the league average of $4. Jones is aware that the Cowboys haven't won a Super Bowl since 1995, though, have won one playoff game since 1997 and haven't made the playoffs since 2009 and hasn't raised a single price since last season.
The team even gave
AT&T
(T) - Get Report
naming rights to Cowboys Stadium to generate more cash. The Cowboys tried to do right by the fans this season, but even holding the line on prices couldn't keep Jones from wearing the league's black hat.
-- Written by Jason Notte in Portland, Ore.
>To contact the writer of this article, click here:
Jason Notte
.
>To follow the writer on Twitter, go to
.
>To submit a news tip, send an email to:
.
RELATED STORIES:
>>Not Your Typical Craft Beer Lover's Getaway
>>5 Pro Sports Towns Doing Just Fine Without the NFL
>>5 NFL Teams Most Likely To Be Blacked Out In 2013
Jason Notte is a reporter for TheStreet. His writing has appeared in The New York Times, The Huffington Post, Esquire.com, Time Out New York, the Boston Herald, the Boston Phoenix, the Metro newspaper and the Colorado Springs Independent. He previously served as the political and global affairs editor for Metro U.S., layout editor for Boston Now, assistant news editor for the Herald News of West Paterson, N.J., editor of Go Out! Magazine in Hoboken, N.J., and copy editor and lifestyle editor at the Jersey Journal in Jersey City, N.J.