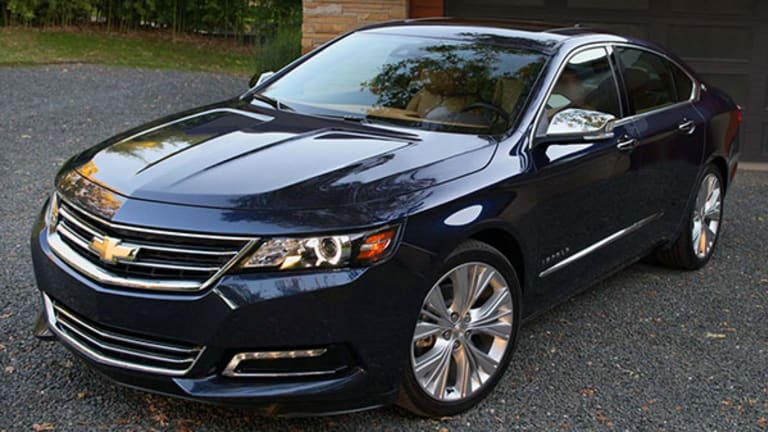 10 Most Comfortable Cars Under $30,000
Some of the most basic comforts in the auto industry didn't make it to the average car until well after the recession. These vehicles prove it.
Some of the most basic comforts in the auto industry didn't make it to the average car until well after the recession. These vehicles prove it.
PORTLAND, Ore. (TheStreet) — If you're spending a whole lot of time and money commuting in a car, shouldn't it at least be comfortable?
The latest recession brought it to drivers' attention that their boring commute was getting costly. When researchers at the Texas A&M Transportation Institute released the results of their 2012 Urban Mobility Report, they found that the average American commuter wasted $818 in time and gas sitting in traffic in 2011. That's $121 billion total, which is up $1 billion from 2010 but still shy of the $128 billion wasted in pre-recession 2005.
Even then, they're spending less time in their car than ever. The Department of Transportation notes that U.S. drivers, who had been racking up a steadily increasing number of miles since the 1970s, started cutting back in 2008 and never returned. Meanwhile, traffic information service Infix notes that as average gas prices started spiking in 2010, average commute times during peak hours dropped from more than four hours to less than two.
A study this spring by the Frontier Group and the U.S. Public Interest Research Group Education Fund found that the average U.S. driver actually started cutting back well before the recession, peaking around 2004 but dropping 6% by 2011. While the total miles driven in the U.S. rose 3.8% from 1948 to 2004, they've been flat since.
Automakers are starting to get the hint and are making valiant attempts at building cars that are both comfortable and cost-effective. Getting some legroom, decent seating and climate control into vehicles doesn't sound like much to ask, but even relatively simple conveniences were relegated to luxury vehicles until shortly after the recession. As auto pricing site Kelley Blue Book points out, even seemingly minor features such as audio controls on the steering wheel and dual-zone climate control are just now trickling down to lower-priced vehicles.
The folks at Kelley Blue Book looked at the current host of auto offerings and found 10 vehicles bringing a more comfortable ride to U.S. roads. Kelley Blue Book capped the sale price at $30,000 and ranked vehicles based on their features and value. The following is its fleet of the most comfortable vehicles in the U.S., as priced with its Fair Purchase Price, falling above MSRP but well short of exorbitance:
10. 2015 Volkswagen Golf
Kelly Blue Book Fair Purchase Price: N/A (MSRP: $17,995)
This compact hatchback has been on U.S. roads for 40 years, but never with this much interior room.
The redesigned Golf features cushy interior materials with sporty red stitching, buttons and switches within close proximity to the drive and 5.8-inch entertainment and information system. Air-conditioning, a front-seat center armrest, a tilt-and-telescoping steering wheel, 60/40-split-folding rear seats with a center pass-through, Bluetooth phone and audio connectivity, satellite radio and iPod connectivity all come standard, while a leather-wrapped steering wheel power reclining front seats and sunroof are all available as upgrades.
The front seats are great for tall passengers without biting into the rear seats, which have 23 cubic feet of cargo space behind them. Kick in a combined 31 miles per gallon worth of efficiency and a buyer also gets the comfort of knowing he or she won't have to spend large portions of a trip stopping for gas.

9. 2014 Buick Verano
Kelly Blue Book Fair Purchase Price: $23,507
The words "compact" and "luxury" don't look quite right together in a sentence, but Buick makes it work.
Buick prides itself on making cars as quiet as rolling libraries, and this baby Buick is no exception. It is perhaps the most comfortable compact car you'll find at this price. Not only is the interior peaceful, but even in the base model it's gets cruise control, a remote engine start (automatic transmission only), dual-zone automatic climate control, split-folding rear seats, a tilt-and-telescoping steering wheel, a 7-inch touchscreen display, Buick's IntelliLink electronics interface (which includes voice control and smartphone radio app integration), a rearview camera, rear parking sensors, Bluetooth phone and audio connectivity, OnStar telematics and a six-speaker sound system with a CD player, satellite radio, a USB/iPod interface and an auxiliary audio jack. Any upgrade will get you heated front seats, but the six-way power driver's seat, heated steering wheel and leather upholstery are found in separate options packages.
The combined 25 miles per gallon aren't great, but at least you'll have a cozy ride to the pump.

8. 2014 Volkswagen Passat
Kelly Blue Book Fair Purchase Price: $19,325
Built in Chattanooga, Tenn., and aimed squarely at American families, the midsized Passat is as roomy as its target audience wants it to be.
With standard features including keyless entry, full power accessories, air-conditioning, a six-way manual driver seat with lumbar adjustment, a 60/40-split-folding rear seat, cloth upholstery, a tilt-and-telescoping steering wheel, audio controls on the steering wheel, cruise control, a trip computer, Bluetooth with streaming audio and a six-speaker sound system with a CD player and an auxiliary audio input, Volkswagen loaded the Passat with features other automakers consider luxuries. The interior has the passenger space of a full-sized sedan, yet still leaves 16 cubic feet of space in the trunk.
The combine 27 miles per gallon doesn't quite touch the 37 miles per gallon of the $5,000 more expensive turbodiesel version, but excellent handling and a whole lot of perks make great consolation prizes.

7. 2014 Honda Accord
Kelly Blue Book Fair Purchase Price: $20,434
It's nice to watch a year of upgrades pay off immediately.
Back in 2013, Honda's goal was to make the Accord less of a Point A-to-Point B snooze fest by adding standard an 8-inch LCD display for its information, communication and app-based entertainment system, a single-angle backup camera, dual-zone climate control, a lane-drift detector, a power moonroof and alloy wheels. Other new options include a three-angle backup cam, enhanced safety sensors, LED running lights and adaptive cruise control.
The one element that remained intact, however, was the Accord's combined 32 miles per gallon. Though the Detroit makeovers haven't helped the Accord, either, it's still one of only two cars among the Top 5 vehicles sold in the U.S. The country that loves it a Ford F-Series, a Chevy Silverado and a Dodge Ram also loves an Accord.

6. 2014 Nissan Altima
Kelly Blue Book Fair Purchase Price: $21,020
We once compared the Altima with a cinder block, a good tomato paste or Eli Manning's haircut — steady, reliable and at its best when it's reminding you it's not there. We stand by that claim, even if that relative facelessness is starting to lose car buyers' attention as the Detroit midsize crowd gets its makeover.
The Altima's combined 33 miles per gallon are still well ahead of the pack, even if its 15.4 cubic feet of cargo lags behind. The cabin is quiet, the new tech features include satellite radio, Pandora, Bluetooth and hands-free texting, and safety options include blind-spot monitoring, a lane-departure warning system and a moving-object detector.
Best of all Nissan lturned NASA research into the Altima's "zero gravity inspired" front seats, which are far more comfortable than that marketing pitch lets on. Even a year after getting a sporty facelift in 2013, the Altima is gaining ground. With this year's buyers getting a larger, lighter Altima than they did in 2012, it's easy to see why.

5. 2014 Toyota Avalon
Kelly Blue Book Fair Purchase Price: $29,320
The not-quite-luxury car is a dying breed, but Toyota breathed new life into its Avalon by listening to a very specific clientele.
With its streamlined Lexus ES frame and a combined 35 miles per gallon, it has the look of an efficient Japanese luxury car. The Avalon is an American-built vehicle built specifically for American car buyers, though, and all its extra room and added luxury features give it a slight edge over the ES — which is made mainly in Japan.
The pitch-silent, cavernous interior has remained a constant for the Avalon, but Toyota has worked hard to cover up old-man smell that once permeated the Avalon and funked up brands such as Lincoln, Buick and Cadillac. With the average age of an Avalon owner hovering around 60 just two years ago, Toyota's trying to bring that down a bit by getting younger car buyers to stop looking at the Avalon as a retirement vehicle or their grandparents' car and start looking at it as a comfortable alternative to their midsized commuter or, at the very least, a much-needed downsizing from their school-shuttling SUV.

4. 2014 Buick Regal
Kelly Blue Book Fair Purchase Price: $27,602
For roughly six years, GM's Buick brand took one of its most recognizable marques and threw it onto the scrapheap in favor of a newer, more costly Lacrosse. Consumers have been spending the entire year since the Regal's relaunch telling GM how bad a move that was.
In the Regal's first year in the lineup, its sales eclipsed those of the midsized Lucerne and ate into sales of its Lacrosse replacement. That's just fine by Buick, which cites Regal as one of the biggest reasons Buick sales are up 51% from last April and 35% year over year. More importantly, GM credits the Regal for bringing 40% of Buick's new customers over from non-Buick brands.
That image is quickly shifting from Great American Retirementmobile to all-around luxury competitor. It was a different game when the Regal and its ilk looked at Ford's boatish Lincolns and Chrysler's luxury liners as the primary competition a generation ago, but with Toyota and Lexus' luxury share looking vulnerable and other high-end imports pricing themselves above some consumers' heads, a $26,000 base-model Regal with stability control; dual-zone climate control; a seven-speaker entertainment system with Sirius XM Radio, Bluetooth and USB connections; heated power seats; and 30 miles to the gallon on the highway starts to look like a sweet deal.
Perhaps that's why GM stacks the Regal and its power features and OnStar package against such competitors as the Audi A4, and Acura TSX and, in more than a few instances, comes up with more bang for the buck. It's a brand with bigger aspirations than being the shiniest toy in the luxury bargain bin.

3. 2014 Chrysler 300
Kelly Blue Book Fair Purchase Price: $29,903
Combine the big, hulking luxury of Chrysler's full-sized 300 with the more European sensibilities of the automaker's new owners at Fiat and what do you get? A very uncertain future for this automobile.
We admit that the interior upgrades the 300 got back in 2012 — including a new instrument panel, "soft-touch" materials throughout and an 8.4-inch Uconnect Touch entertainment and information system — all made for a very swank ride. But the 25-mile-per-gallon 300 with its optional 5.7-liter and 6.4-liter V8 engines are exactly the kind of thing Fiat doesn't want fouling up the Chrysler marque.
It has no problem hanging onto the 300's Dodge cousins — the Challenger and Charger — as pieces of that brawnier brand. But considering that 300 sales are less than half of what they were in 2007 and that sales of the revamped 300 fell from 70,000 in 2012 to just 57,000 last year, expect it to get the same second glance from Fiat that much of the lineup has. Considering that the 300's LX platform dates back to 2005 before the Fiat merger, there's a strong chance Fiat will want to give this vehicle some slight tweaking as early as 2015.

2. 2014 Volvo S60
Kelly Blue Book Fair Purchase Price: $29,529
It has all of the interior charm of an Arctic snow fortress and can charitably be referred to as "minimalist," but man are those front seats plush.
The S60 comes standard with 7-inch wheels, automatic headlights, headlight washers, heated mirrors, automatic wipers, cruise control, 7-inch display screen, Bluetooth phone and audio connectivity and an eight-speaker sound system with a CD player, HD radio, satellite radio, an auxiliary audio jack and an iPod/USB audio interface, but it's the seats that make this car. Switch on the dual-zone automatic climate control and enjoy an eight-way power driver seat (with adjustable lumbar), driver memory settings, a leather-wrapped tilt-and-telescoping steering wheel and soft T-Tec cloth upholstery.
It's a bit of a tougher ride for folks in the rear seats, where six-footers will have a tough time finding room. But options such as Adaptive Cruise controls that warns drivers about their following distance, a collision warning system that detects pedestrians and brakes automatically, sensor that lets drivers know when they've drifted out of a lane and City Safety feature that helps drivers brake automatically in stop-and-go traffic all keep passengers secure.
The S60 may not look like the boxy Volvos of old, but its myriad safety features are just as comforting.

1. 2014 Chevrolet Impala
Kelly Blue Book Fair Purchase Price: $26,605
No, this isn't that car you rented at the airport.
Chevy put effort into making its Malibu a sleek, spunky, beloved midsized sedan, but basically left its full-size Impala to rot as the most boring car on the planet. It's a cop car, it's a cab, it's a government vehicle, it's on just about every rental lot in the country. What it hasn't been is exciting.
An Impala wasn't the car you bought because it was a luxury. Unless you were buying a souped-up Impala SS, you were buying this car because it was big and it was there. Just last year, it held only 6.9% of the U.S. full-sized car market and lagged well behind the Toyota Avalon at 18%. Boy, did Chevy hate that.
For the 2014 model year, Chevy basically tore up the old Impala and started again. Building it on the same platform as the Buick LaCrosse and Cadillac XTS, the Impala got a more angular body, a 4.2-inch MyLink color entertainment and information display and active noise cancellation on all four cylinders of its standard engine.
Not only is it still roomy, but it's quieter and more loaded with features than ever. Keyless entry, cruise control, air-conditioning, an eight-way power-adjustable driver seat, full power accessories, a tilt-and-telescoping steering wheel, a trip computer, OnStar emergency communications, Bluetooth and a six-speaker sound system with a CD player, satellite and HD radio and USB/iPod connectivity are all standard. Even the 2.5-liter four-cylinder engine gets roughly 200 horsepower, though an available 3.6-liter V6 kicks that up to 300.
With an updated interior, a ton of legroom and 19 cubic feet of space in the trunk, the Impala has been saved from airport purgatory. No longer strictly a fleet vehicle, it's now a full-sized semi-luxe ride Americans want to own. Earlier this year, it grabbed a 15% share of the full-size sedan market and shoved the Avalon's share down to 14%. That may not be a comfortable lead, but it's miles ahead of where this car was a year ago.
-- Written by Jason Notte in Portland, Ore.
>To contact the writer of this article, click here: Jason Notte.
>To follow the writer on Twitter, go to http://twitter.com/notteham.
>To submit a news tip, send an email to: tips@thestreet.com.
RELATED STORIES:
>>5 Cities That Want Your Used Hybrid Car
>>10 Ways You're Killing Your Car
This article is commentary by an independent contributor, separate from TheStreet's regular news coverage.