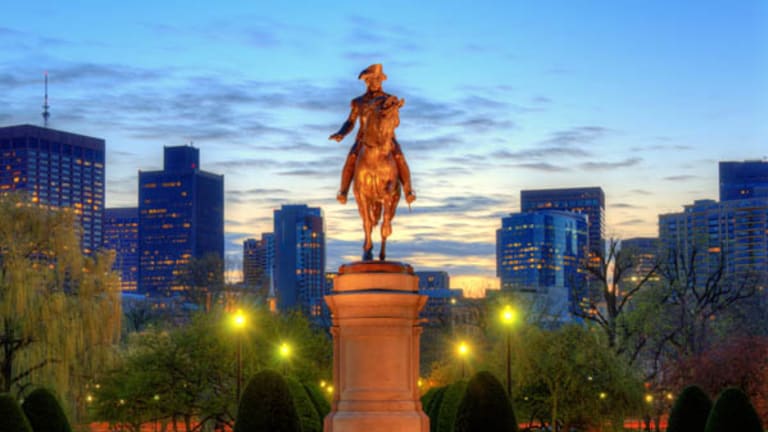 10 Most Bikeable Cities In The U.S.
Bicycle commuting is up throughout the country, but bigger cities are making huge strides in transforming bicycles into a mainstream option for the nation's trip to work.
PORTLAND, Ore. (TheStreet) -- No one died during the first year of New York City's bike sharing program, but that doesn't necessarily make NYC a "bikeable" city.
When New York debuted Citi Bike last year, the tabloids and columnists collectively lost their minds. They predicted blood on the asphalt and tourists ground to hamburger by the wheels of speeding taxis. A year later, not so much.
Citi Bike reports that, in the 8.75 million trips and 14.7 million miles traveled on its bikes within the past year, there have been only 100 crashes and no deaths. It's been a similar story for bike sharing programs around the world, but that's not exactly surprising. When drivers acclimate to seeing cyclists on the road each day, their behavior tends to adjust accordingly.
Thus, Chicago gets the Divvy bike share program, Washington gets Capital Bikeshare, Boston gets Hubway and Minneapolis implements Nice Ride without a whole lot of people getting hurt. It also eliminates the notion that such programs -- and bicycles themselves -- are strictly for small cities and college towns
Walk Score, a mapping service generally rates cities and neighborhoods based on their density, their access to public transportation and their distribution of Amenities, has begun factoring a city's "bikeability" into its rankings as well. A city's Bike Score takes into account its bike infrastructure (bike lanes, turn boxes, trails, racks, etc.), the numbers of bikers on its streets per capita, its hilly terrain and other factors when considering just how highly a city should rank.
It began offering that data two years ago after The League of American Cyclists noted that American bicycle commuting jumped 47% between 2000 and 2011. It also noted that cities with more bike lanes, accommodations and even new buildings with bike storage and repair shops saw bike commuting jump 80% during that same span.
While Walk Score put out a Top 10 list of cities that garnered its best Bike Scores, it included only cities with a population of 500,000 or more. That put Portland, Ore., at the top of the list, but left a whole lot of locales off. To get a more fair representation, we drilled down as far as we could into Walk Score's data to cities of 200,000 or more. That leaves out some big bike meccas such as Davis, Berkeley and Palo Alto, Calif.; Boulder and Fort Collins, Colo.; Eugene, Ore.; and Cambridge, Mass. But it includes a whole lot of larger cities in their general area, so we'd offer the disclaimer that riders considering these cities should take a look at the smaller surrounding metros in the same states:


10. Irvine, Calif.
Bike score: 66.6
Population: 212,375
Percentage of bicycle commuters: 0.91%
There are a lot of things you can call Orange County. Bike-friendly is now among them.
Within the last five years, Irvine has distinguished itself among its Orange County neighbors by embracing the bicycle and garnering national attention for doing so. Helped by the student population of the University of California, Irvine was named a bicycle-friendly community by the League of American Cyclists back in 2009. At the time, it was the only Orange County town to earn that distinction and is still one of only about 150 or so nationwide.
How do you make that happen? Build some infrastructure that actually makes people want to ride. Irvine's system of bicycle lanes and trails is extensive, with 44.5 miles of off-road bicycle trails and 282 miles of on-road bicycle lanes. While Northern California gets a lot of the credit for integrating bikes into its communities, Irvine has shown that even relatively conservative Orange County can make liberal use of its pedal power.

9. Madison, Wis.
Bike score: 66.7 
Population: 233,309 
Percentage of bicycle commuters: 6.3%
There's no question that Madison's ridership numbers benefit greatly from the University of Wisconsin's presence. Students make up 26% of the population in Madison and factor heavily in the bike commuter statistics of just about every city on this list.
That doesn't mean they're the only reason people are riding. Madison has more than 107 miles of bike lanes and paths throughout the city that benefit the state capital's government, health care and biotech workers just as much as the average UW undergrad.
The city also just happens to be the capital of the same state that counts Trek Bicycle Corporation as one of its big business residents. As a result, Wisconsin accounts for roughly one fifth of all bicycles produced in the U.S. Bikes are a big part of the Madison's culture and commuters are quick to respond when their alternate commute becomes a standard rather than an exception.

8. Boston
Bike score: 67.8
Population: 617,594
Percentage of bicycle commuters: 2%
Whether they're braving the lanes on Commonwealth Avenue commuting downtown or weaving between arm-and-arm walkers along the Esplanade, Boston's cyclists are getting around a bit easier in recent years. Boston is a nightmare to navigate even when you're encased in your car's steel cage. It was several times worse for cyclists before former Mayor Tom Menino implemented Boston Bikes and laid out a plan to cover the city with 75 miles of new bike routes in the next five years and 356 miles of such routes within 30 years.
Also see: 10 Most Bikeable U.S. Cities of 2013>>
The city now plants bike racks wherever businesses want them, clearly defines bike lanes and adds pedestrian bumpouts to mitigate traffic and give buses a means of getting out of the way. It's by no means a perfect system: Car doors still open into bike lanes, delivery trucks consider those lanes convenient parking and the city's tight roadways (like the Jamaicaway) and rotaries are still a nightmare for riders. But the success of the Hubway bike sharing program, the extreme bike-friendliness of norther neighbors like Cambride and Somerville and the relatively compact layout of the city itself are making bicycles and their presence on Boston's streets a fixture of the city's future.
7. Sacramento
Bike score: 68.3 
Population: 466,488 
Percentage of bicycle commuters: 2.2%
This isn't typically the first Northern California town that comes to mind when bikes are thrown into the mix -- especially when you consider that 1 in 5 people in Davis alone ride their bike to work -- but it's trying its hardest not to be the last.
California's capital has a dedicated core of riders that struggles through continued development and onerous public works projects to make Sacramento a better place to pedal. Sacramento's mild climate and relative flatness make it a great place to bike under ideal circumstances, but the more sprawling portions of the city are still resistant. That's just fine with folks in the older neighborhoods in the middle of Sacramento. Midtown, Alkali Flat, McKinley Park, Land Park, and East Sacramento are all delightful places to ride, and the more bold commuters in outlying areas can get to them either by bus and light rail or by the bicycle path on the American River Parkway.
Sacramento still has a long way to go toward becoming as bike friendly as its Northern California neighbors and reducing the vehicle speeds and accidents that keep many potential bikers off its paths, but turning parking spaces into bike parking and lobbying for more dedicated bike corridors is a good start.

6. Philadelphia
Bike score: 68.4
Population: 1,526,006
Percentage of bicycle commuters: 2.3%
Philly? Really?
Really. According to a study from the University of California at Berkeley, 37% of Philadelphia workers commute without a car, compared to 33% for Chicago and 45% for San Francisco. Overall, 13% of Philadelphia households do not own a car. In Philly that leaves you with only a few options: The much-maligned trains and busses of the city's SEPTA system, bikes or a really good pair of walking shoes.
For more than 35,100 people, that means riding their bike to work. While Philadelphia's made some modest improvements to its bicycle infrastructure, the density of downtown and the trails along its rivers make this town more bikeable than its congested streets and big swaths of highway suggest.
There's still a lot of work to be done, but when you combine one of the largest bicycle commuter bases in the country with enough shops, groups and infrastructure -- including Philly Bike Share, which arrives next spring -- the safer streets tend to follow. Slowly.
5. Denver
Bike score: 69.5
Population: 600,158
Percentage of bicycle commuters: 2.9%
Fort Collins has more than 280 miles of bike lanes, the Fort Collins Bicycle Library for bike lending and bike-friendly New Belgium Brewing Company hosting bike-in movies, races and scavenger hunts. Boulder has one in 10 people has more than 300 miles of trails and one in 10 residents taking their bike to work.
How does Colorado's biggest city compete? By not only filling its city with bike lanes, but putting more than 850 miles of paved, off-road, bike paths in Denver parks and along Cherry Creek, the South Platte and other bodies of water. Oh, and by launching its citywide B-Cycle bicycle sharing program more than five years ago and growing it into one of the biggest in the country.
The League of American Bicyclists has rated Colorado as the second most bicycle-friendly state in the nation, and Front range cities like Boulder, Fort Collins and Denver have been a huge part of that push. By legislating bicycles and bike safety into positions of priority, Colorado cities have made them a vital part of the state's transportation system and have normalized bicycles as an accepted mode of commuting and recreational travel. Bikes are as much a part of the landscape here as the Rockies, and they're not going anywhere anytime soon.

4. Arlington, Va.
Bike score: 69.6
Population: 207,627
Percentage of bicycle commuters: 1.29%
D.C. didn't make the Top 10, but Arlington cracks the Top 5 for having all of D.C.'s amenities but none of its packed streets and circles.
On the other bank of the Potomac, Arlington has 86 miles of both on-street bike paths and off-road trails. Its Washington Metro stops also have Capital Bikeshare stations that make acess to all of those roads and paths fairly simple. It's a pretty sweet deal overall, especially considering Arlington runs along the Washington & Old Dominion Railroad Trail that's a solid 45 miles out to Loudoun County on converted rai beds. The Custis Trail along Interstate 66, Four Mile Run Trail (actually 7 miles) and the Mount Vernon Trail all provide excellent access both into and well away from D.C. while keeping cyclists out of harm's way.
D.C. would have placed No. 11 on this list, but Arlington's degree of separation makes all the difference when it comes to cycling around the nation's capital.
3. San Francisco
Bike score: 70
Population: 805,235
Percentage of bicycle commuters: 3.8%
Hills, you say? They don't bother riders here. A crammed footprint? That's just how this city's cyclists like it.
The fact is more than 75,000 residents take their bike to work each day, while even more use the city's more than 200 miles of bike paths and lanes. With Bay Area Bike Share adding more bikes to the equation and surrounding Bay Area cities already incredibly bike friendly, San Francisco has seen bike use jump by nearly 60% since 2006. The city's been adding more bike lanes and racks just to keep up, but it's far from a single-city affair.
Also see: 5 Cities That Want Your Used Hybrid Car>>
Northern California is filled with cities like Mountain View, Palo Alto, Davis and Chico that have ingrained cycling cultures and tons of bicycle commuters. When it comes to neighboring Berkeley, however, San Francisco still has a lot of catching up to do. That city was one of the first cities in the U.S. to block and divert traffic away from local streets and toward major arteries to create low-speed "bicycle boulevards" for riders to use as alternatives to congested high-speed thoroughfares. That's put nearly 9% of Berkeley commuters on bikes and has set the pace for the entire Bay Area. Only in that context is a 4% bike commuter rate a disappointment.

2. Portland, Ore.
Bike score: 78.5
Population: 585,429
Percentage of bicycle commuters: 6.1%
We'd love to have a good laugh with the rest of the country and say that all Portland cyclists are like this guy. That's just not the case.
Each day, the bridges across the Willamette are filled with riders of all stripes who are just trying to get to and from work. The MAX trains out to the suburbs have hooks for bikes and bike-designated areas for commuters who've found their bikes to be the easiest way around town. Yes, there are bike coffee shops and bars and, yes, there's a bike culture here that makes shops plentiful and riders just as concerned about lanes, stop boxes and road conditions as drivers, but that doesn't even begin to explain how bikes permeat the culture.
Even in a city with more than 250 miles of bike lanes and trails and a student population hovering around 10%, bikers are extremely aware of which paths and streets they have access to, where their access is restricted and where slower, friendlier roads are. The result is a city in which about 8% of the commuting population takes a bike to work and where the Portland Timbers Major League Soccer team has guarded bicycle parking for fans attending games at Jeld-Wen Field. To even think about starting a business without bike racks outside or putting up apartment buildings without dedicated bike storage borders on madness.
However, the eccentric side of Portland's cycling community still surfaces every now and again. Portland hosts perhaps the most popular leg of the World Naked Bike Ride each June and welcomes roughly 10,000 naked riders each time. As long as riders are familiar with bike law -- shoes, helmets, proper signaling -- their al fresco ride won't get them into any trouble. The last time Portland police tried to arrest one of the naked riders four years ago, Judge Jerome LaBarre dismissed the charges against the clothing-deprived defendant on the grounds that nude bike riding is a well-established tradition in Portland. So, yes, maybe it is just a little different here.
1. Minneapolis
Bike score: 78.5
Population: 382,578
Percentage of bicycle commuters: 4.5%
Even if the smaller cities made it on to this list, Minneapolis would still warrant a spot in the middle of the Top 10.
As mentioned earlier, the city's Nice Ride bike share system has not only been a huge success since starting in 2010, but it's expanded to roughly 150 locations and more than 1,300 bikes. While not huge by today's standards, where even Long Beach, Calif., has more than 2,500 bike-share rides, it's just one way Minneapolis makes like easier for riders.
Minneapolis has more than 120 miles of on- and off-street trails, hosts education programs for cyclists and actively prods more people to get on their bikes by employing four full-time staffers in its bike ambassador program. Their whole job is to help break the myth that cyclists are somehow dangerous, elitist road hazards and to teach cyclists that motorists and pedestrians aren't just obstacles to overcome, but folks who share the roads with them and deserve their respect.
As even more incentive to ride, the city also subsidizes shower, locker and bicycle storage facilities at downtown parking garages.
-- Written by Jason Notte in Portland, Ore.
>To contact the writer of this article, click here: Jason Notte.
>To follow the writer on Twitter, go to http://twitter.com/notteham.
>To submit a news tip, send an email to: tips@thestreet.com.
RELATED STORIES:
>>10 SUVs Selling For Less Than $25,000
>>The 5 Most Outrageous Airline Fees
>>Why Can't You Lease A Tesla?
Jason Notte is a reporter for TheStreet. His writing has appeared in The New York Times, The Huffington Post, Esquire.com, Time Out New York, the Boston Herald, the Boston Phoenix, the Metro newspaper and the Colorado Springs Independent. He previously served as the political and global affairs editor for Metro U.S., layout editor for Boston Now, assistant news editor for the Herald News of West Paterson, N.J., editor of Go Out! Magazine in Hoboken, N.J., and copy editor and lifestyle editor at the Jersey Journal in Jersey City, N.J.