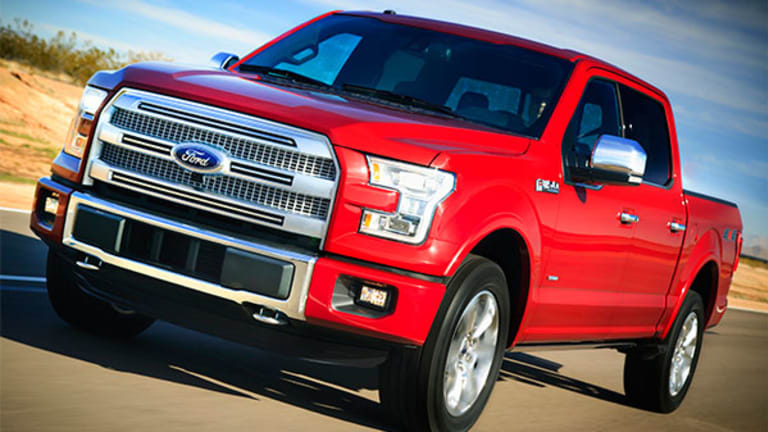 10 Most American-Made Cars of 2014
An American-made car isn't always made by a company based in Detroit, but it's always made with a whole lot of U.S. labor and parts.
PORTLAND, Ore. (TheStreet) You can slap a bunch of flag stickers, ribbon magnets and patriotic slogans on a car and even make and assemble it here, but it takes more than that to make a vehicle American.
Buying from a company with headquarters in Michigan is no guarantee of an U.S.-made vehicle, nor is avoiding any brand that just so happens to have a vowel at the end of its name. You can have a car with 70% American-made parts, such as the Chevrolet Captiva, that's assembled in Mexico. Then again, there are cars such as the BMW AG that are assembled right here in the U.S., but only get 20% of their parts from this country. The National Highway Traffic Safety Administration admits there's no such thing as a 100% American car and notes that one of its most American vehicles, the 70% U.S.-produced Ford Edge, has a base motor made in Mexico and is assembled in Canada.
Also see: 10 Most Union-Made Cars In America>>
More than 20 years ago, Congress passed the American Automobile Labeling Act requiring cars to have labels specifying their percentage of U.S./Canadian parts, the country of assembly and the country of origin for the engine and transmission. The NHTSB has compiled lists of these vehicles for each model year to help consumers who care about such things get more homegrown product for their money.
The following are the 10 vehicles assembled in the U.S. using the most U.S. and Canadian parts. The all-American car may not exist, but a car buyer bent on locas sourcing can get awfully close:

10. 2014 Toyota Sienna
Assembled: Princeton, Ind.
Percentage made In U.S.: 75%
Japanese automakers have not only embraced the all-American family minivan, but are the only companies making them in the United States. Chrysler may have dominated the minivan market in the '90s, but today they only assemble their Dodge Caravan and Chrysler Town & Country in Canada. The Toyota Sienna gives families the room they need with the V6 power they want when family road trips need to end a bit more quickly. While the Sienna was the only minivan on the list last year, its fiercest competitor leapfrogged it in this year's edition.

9. 2014 Toyota Avalon and Camry
Assembled: Georgetown, Ky.
Percentage made In U.S.: 75%
Georgetown has been cranking out Toyotas since 1988 and uses the same platform to produce the Camry and its slightly more spacious and swank Avalon sibling. The Camry is still the best-selling non-pickup vehicle in the U.S, while the Avalon gets the benefit of the streamlined Lexus ES frame and a combined 35 miles per gallon. The Avalon is an American-built vehicle built specifically for Americans, and all that extra room and added luxury features give it a slight edge over the ES -- which is produced mainly in Japan.

8. 2014 Toyota Tundra
Assembled: San Antonio, Texas
Percentage made In U.S.: 75%
OK, we swear this is the last Toyota on the list, but we figured it merited a mention.
As the first full-sized pickup truck built by a Japanese manufacturer, the Tundra had a lot of baggage heaped into its cargo bed that the smaller, popular Tacoma never did. But the San Antonio-based plant that makes the Tundra gave it a Texas-sized upgrade last year that included a larger grille, brawnier fenders, a redesigned tailgate and taillights, as well as a completely redesigned interior. The Toyota practicality comes through inside, however, as a 3.5-inch information screen, Bluetooth connectivity and back-up camera are now among the features that take second billing to its towing and payload capacity.

Also see: 10 Iconic Products Still Made In America>>
7. 2014 Honda Crosstour
Assembled: East Liberty, Ohio
Percentage made In U.S.: 75%
Honda makes its first appearance thanks to its commitment to working in Ohio and its embrace of the big family vehicle. The Crosstour is basically an Accord wagon and was actually named the Accord Crosstour until last year. Honda wants it to be considered a crossover so badly, but the Crosstour continues to pick up the wagon market competitors such as Subaru and Volvo are leaving for dead. A redesign last year gave it a more powerful engine and a rearview camera, but that combined 22 miles per gallon is gluttonous even for an American crossover.

6. 2014 Honda Odyssey
Assembled: Lincoln, Ala.
Percentage made In U.S.: 75%
It can carry five family members, store drinks and snacks in a center-console cool box and collapse its third row to offer 93.1 cubic feet for more storage. Oh, and there's the optional 16.2-inch split screen entertainment system that lets passengers watch two programs at once and has an optional built-in vacuum cleaner to pick up and crumbs and road snacks left behind. It's just your average American road trip vehicle built by a company based in Tokyo, but its increased number of U.S.-made parts is only making it more American by the year.

5. 2014 Chevrolet Corvette
Assembled: Bowling Green, Ky.
Percentage made In U.S.: 75%
Chevrolet hasn't produced a Stingray version of this vehicle since 1986, but this version has the most U.S. parts and labor put into a Corvette in roughly that same span. The pace car of last year's Indianapolis 500, the Corvette delivers on its looks with a 6.2-liter small block V8 engine that cranks out 455 horsepower. Unless you're the one clown who strips this beauty down to its absolute base, chances are you're also enjoying a package that includes a Bose 10-speaker surround-sound audio system; Sirius XM satellite radio with one-year subscription and HD radio receiver; color head-up display; memory package; navigation system; heated and ventilated seats with power lumbar and bolster adjustment; and a leather-wrapped dash. It's the lavish all-American sports car with the parts and labor to back it up.

4. 2014 Ford F-150
Assembled:Dearborn, Mich., and Kansas City, Mo.
Percentage made In U.S.:75%
Considering that it's been the best-selling truck and best-selling vehicle period for decades, it's a wonder that the F-150 is still this far down the list. The truck that's been carrying Ma and apple pie to the baseball game since 1948 is an American icon, but has the same amount of American parts and production as the Tundra. Still, Ford consistently culls three-quarters of the F-150's material from the U.S. and assembles it here. The same can't always be said for the 66% American-made Ram and the paltry 40% U.S.-built Chevy Silverado and Ram, which are sometimes assembled in Mexico.

3. 2014 SRT Viper
Assembled: Detroit, Mich.
Percentage made In U.S.: 75%
That's right: Actually built in Detroit itself. This six-figure supercar comes absolutely stacked for the price, too. Its all-aluminum 8.4-liter V-10 engine produces 640 horsepower while electronic stability control, traction control, four-channel antilock brake system, carbon fiber and aluminum skin, Pirelli P Zero Z-rated tires, four-piston Brembo brakes, low seating position and 7-inch full-color customizable instrument clusters come track-ready ... if it ever sees one. Just in case it never makes it beyond the strip in South Beach, a Uconnect in-vehicle connectivity system, Harman Kardon audio system, bi-xenon projector headlamps with LED daytime running lamps and LED turn signals, LED taillights and snakeskin texture lens all look and sound sweet at cruising speed. The Viper tops out at 206 mph, but looks best at about 25.
2. 2014 Dodge Avenger
Assembled: Sterling Heights, Mich.
Percentage made In U.S.: 75%
It has a 3.6-liter V6 engine, 283 horsepower and sold nearly 94,000 vehicles in the U.S. last year, the second-most since it was reintroduced in 2007. So why is it in limbo after this model year? Because Fiat and Chrysler are still sorting out their brands, but have decided that the Avenger and the Chrysler 200 probably aren't going to make the cut. First there was a chance the Avenger would come back as the Dodge Aspen. Then it was suggested last month it may reappear as a Chrysler and replace the 200. What we do know, however, is that the vehicle currently known as the Avenger -- the most American-made sedan on the market -- is at the end of the road.

1. 2014 Chevrolet Express/GMC Savana
Assembled: Wentzville, Mo.
Percentage made In U.S.: 80%
Call it the baseball team van, call it the church youth group minibus, call it the airport shuttle, but at least try to call it the automotive personification of the American spirit. Usually a working van for contractors or emergency responders, the Express and Sierra are also popular enough as people movers to soak up nearly 45% of America's full-sized van market. That's still behind Ford's E-Series, but GM has a stronger claim to the Made in the U.S.A. Label. It also has a leg up on Ford, whose Expedition SUV dropped from the top spot after dropping its share of American-made parts from 80% to 70%.
-- Written by Jason Notte in Portland, Ore.
>To contact the writer of this article, click here: Jason Notte.
>To follow the writer on Twitter, go to http://twitter.com/notteham.
>To submit a news tip, send an email to: tips@thestreet.com.
RELATED STORIES:
>>5 Cities That Want Your Used Hybrid Car
>>10 Ways You're Killing Your Car
>>5 Best Convertibles For Summer 2013
Jason Notte is a reporter for TheStreet. His writing has appeared in The New York Times, The Huffington Post, Esquire.com, Time Out New York, the Boston Herald, the Boston Phoenix, the Metro newspaper and the Colorado Springs Independent. He previously served as the political and global affairs editor for Metro U.S., layout editor for Boston Now, assistant news editor for the Herald News of West Paterson, N.J., editor of Go Out! Magazine in Hoboken, N.J., and copy editor and lifestyle editor at the Jersey Journal in Jersey City, N.J.