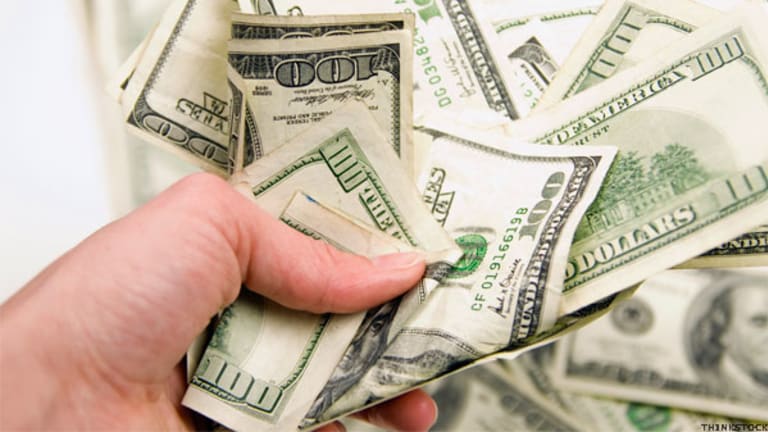 NEW YORK (MainStreet) -- An American-made car is only as American as the sum of its parts. 
Buying from a U.S.-based maker is no guarantee of how "American" a car is these days, but neither is the percentage of American-made parts in that car if the vehicle isn't assembled here. Even the National Highway Traffic Safety Administration freely admits there's no such thing as a 100% American car. 
Twenty years ago, Congress passed the American Automobile Labeling Act requiring cars to have labels specifying their percentage of U.S./Canadian parts, the country of assembly and the country of origin for the engine and transmission. The NHTSB has compiled lists of these vehicles for each model year to help consumers who care about such things get more homegrown product for their money. 
The following are the 10 vehicles assembled in the U.S. using the most U.S. and Canadian parts: 
10. 2012 Buick Enclave/Chevrolet Traverse
Assembled:
Lansing, Mich. 

Percentage Made In U.S.:
76%
American automakers still know how to make a big, burly utility vehicle on home soil even in the age of the downsized crossover. The Enclave and Traverse's three rows of seating and 116 cubic feet of cargo space is still at the top of its class. Americans still want that space, as
General Motors'
(GM) - Get General Motors Company (GM) Report
sales of each have increased steadily since 2009. 

Next>
9. 2012 Jeep Liberty
Assembled:
Toledo, Ohio 

Percentage Made In U.S.:
76% 
When
Fiat
-owned Chrysler began cutting models after its bailout, the big Liberty was spared with good reason. Though its sales are well down from its 167,000-vehicle peak in SUV-friendly 2004, its sales have increased since the line was revamped in 2008. It's also been a great draw for Jeep, as 70% of Liberty buyers are new to the Jeep brand. 

Next>
8. 2012 Chrysler 200 Convertible
Assembled:
Sterling Heights, MI 

Percentage Made In U.S.:
79% 
After the Sebring was tagged as a poor-man's drop top and ridiculed by NBC's
The Office
as middle-manager Michael Scott's convertible of choice, that name had to go. The 200 not only brought back a semblance of respect to the affordable convertible, but jump-started sales for the foundering line. The 87,000 sold last year were not only a vast improvement over the 38,000 Sebrings sold in 2010, but the most the Sebring/200 line had sold since 2007. 

Next>
7. 2012 Lincoln Navigator
Assembled:
Louisville, Ky. 

Percentage Made In U.S.:
80% 
The Navigator patently refuses to apologize for being a gas-slurping behemoth of an SUV. It still comes with only a 5.4-liter, V8 engine and gets a paltry 16 miles per gallon in combined city and highway mileage. Its three rows of seating, power liftgate, power running boards, heated and cooled front seats, dual-headrest DVD system and THX-certified 5.1 Surround Sound audio are all awesomely 2000s features, but that 103 cubic feet of cargo capacity is getting pretty small compared with more updated, fuel-efficient competition. It's just one of the reasons
Ford's
(F) - Get Ford Motor Company Report
Navigator sales have nosedived from a high of nearly 44,000 in 1998 to just 8,000 last year. 

Next>
6. 2012 Ford Expedition
Assembled:
Louisville, Ky. 

Percentage Made In U.S.:
80% 
Like the Navigator, the Expedition was built to be an absolute bruiser. It's still built on an F-150 pickup platform, comes with a standard 5.4-liter V8 engine, pumps out more than 300 horsepower and has 9,200 pounds of towing capacity. Its sole purpose is to beat up on Chevy Suburbans, GMC Yukons, Dodge Durangos,
Nissan
Armadas and Toyota Sequoias. As with most of those other big boys, though, the Expedition's popularity peaked in the '90s and has bottomed out since. Ford sold 233,000 in 1999 before selling just 40,500 last year. That's still better than the 31,000 it moved during the economic downturn in 2009, but considering 20% of those sales came from Texas alone, this one-time mass-market marvel is slowly being relegated to a niche market. 

Next>
5. 2012 Honda Crosstour
Assembled:
East Liberty, Ohio 

Percentage Made In U.S.:
80% 
This is the first appearance by a Japanese automaker on this list, but it certainly won't be the last.
Honda
(HMC) - Get Honda Motor Co., Ltd. Sponsored ADR Report
appears a couple of times thanks to its commitment to working in Ohio and its Accord line of vehicles. For those not in the know, the Crosstour is basically an Accord wagon and was actually named the Accord Crosstour until this year. Honda wants it to be considered a crossover so badly, but the Crosstour actually does a nice job of picking up the wagon market competitors such as
Subaru
and
Volvo
are leaving for dead. 

Next>
4. 2012 Honda Accord
Assembled:
Marysville, Ohio 

Percentage Made In U.S.:
80% 
It's efficient, it's utilitarian, it's made here. No other midsized vehicle comes close to having as much U.S. parts and labor thrown into it as the Accord, which is a shame considering how midsized cars are starting to meet America where it's at. The Accord still gives drivers a combined 24 miles per gallon, enough airbags and other safety features to ease their nerves and a reputation for reliability new car buyers look for in an unstable economy. There may be cars with more American parts, but few cars say as much about the state of America as the Accord. 

Next>
3. 2012 Toyota Sienna
Assembled:
Princeton, Ind. 

Percentage Made In U.S.:
80% 
What happened to the all-American family minivan during the SUV-happy '90s and 2000s? It got a big hug from Japanese automakers. Sure, Chrysler still makes its Town and Country and Dodge Caravan models -- in Canada. The
Toyota Sienna
(TM) - Get Toyota Motor Corp. Sponsored ADR Report
and the competing Honda Odyssey are made right here in the U.S. and give families the room they need with the V6 power they want when a road trip reaches more than one "Are we there yet?" per mile. Both are up to task, but the Honda loses on the cards, with only 70% of its parts coming from the U.S. 

Next>
2. 2012 Chevrolet Express/GMC Savana
Assembled:
Wentzville, Mo. 

Percentage Made In U.S.:
82% 
The minivan is nice and all, but your eight-kid family or 14-member Little League team still can't wedge into one. That's where these shuttle-bus-sized vehicles come in. Usually a working van for contractors or emergency responders, the Express and Sierra are also popular enough as people movers to soak up nearly 45% of America's full-sized van market. That's still behind Ford's E-Series, but GM has a stronger claim to the
Made in the U.S.A.
Label. 

Next>
1. 2012 Toyota Avalon
Assembled:
Georgetown, Ky. 

Percentage Made In U.S.:
85% 
Yep, the ultimate American full-size is the most American-made car on this list. With lots of room and safety features, just the right amount of luxury features and a combined 24 miles per gallon, the Avalon was just the right car for picking the kids up at school or dropping them off at college and hitting the city afterward. The Avalon gets more efficient in 2013 with an upgrade to the Lexus ES frame that trims its fuel economy to roughly 35 miles per gallon. Toyota actually makes a car with even more American parts than the Avalon -- the 95% U.S. Matrix -- but their choice to assemble it across the border in Canada disqualified it. When you say "American-made" down here in the states, "North America" isn't exactly what folks have in mind. 
-- Written by Jason Notte in Boston.
>To contact the writer of this article, click here:
Jason Notte
.
>To follow the writer on Twitter, go to
. 
>To submit a news tip, send an email to:
. 
RELATED STORIES:
>>10 Great Convertibles For Summer 2012
>>10 Best Cars For Spring Sightseeing
>>10 Used Cars To Check Out Before Buying New
Jason Notte is a reporter for TheStreet. His writing has appeared in The New York Times, The Huffington Post, Esquire.com, Time Out New York, the Boston Herald, the Boston Phoenix, the Metro newspaper and the Colorado Springs Independent. He previously served as the political and global affairs editor for Metro U.S., layout editor for Boston Now, assistant news editor for the Herald News of West Paterson, N.J., editor of Go Out! Magazine in Hoboken, N.J., and copy editor and lifestyle editor at the Jersey Journal in Jersey City, N.J.