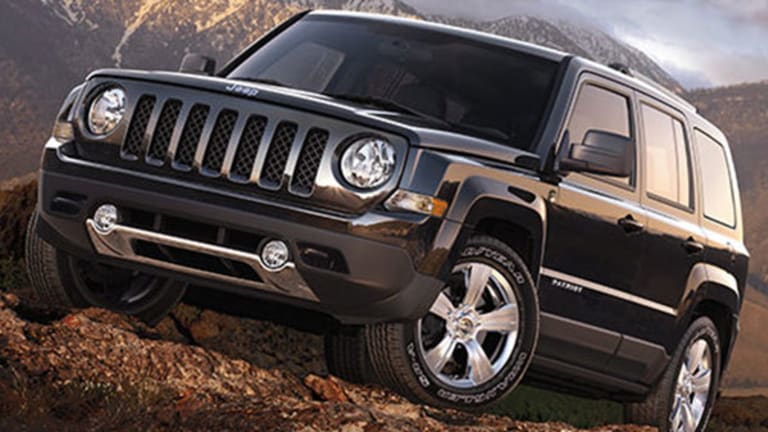 10 SUVs Selling for Less Than $25,000
Sales of crossovers has sport utility vehicles near the top of U.S. car sales. A few models from Subaru, Nissan and Jeep are helping by keeping starting prices below $25,000.
PORTLAND, Ore. (TheStreet) -- Considering how much shame and buyers remorse "cash for clunkers"-era car buyers seemed to have about their hulking '90s and aughts sport utility vehicles, it's amazing that their current iterations have been so warmly embraced.
As crossovers continue to win hearts and minds with increasing cargo space and decreasing gas station stops, total SUV sales are up 14%, according to MotorIntelligence. By swapping out truck axles for car platforms, trimming fuel costs and giving U.S. drivers SUV space at a lower cost, the crossover emerged victorious from a recession that sent a whole lot of old-school SUVs to the scrapheap.
Crossover sales alone are up 13% this year from last year, while small SUV sales have jumped 20%. The crossover's 307,000 sales in the U.S. through April are even starting to challenge those of the venerable midsize sedan, which still holds the lead among vehicle categories with 311,00 vehicles sold.
Unfortunately, even crossovers can't be truthfully described as "cheap" automobiles. A $30,000 ceiling does a poor job of containing them and prices that regularly soar above it have kept even crossover sales tame.
There are still a whole lot of crossover SUVs out that limbo under that mark. With help from Kelley Blue Book, we found five examples of quality SUVs selling for less than $25,000. Among them are vehicles that have earned so much good will for staying relatively affordable that they've found a place among the Top 10 best-selling vehicles in the country:
10. 2014 Subaru XV Crosstrek
Starting price: $21,995
Remember when Subaru used to make wagons? Not the big, high-ground-clearance crossover SUVs with the Outback and Forester names on them now, but actual wagons?
So do many Subaru buyers, which is why this mini crossover has the look and feel of one with just slightly more elevation. As with all Subarus, the all-wheel drive is standard, but the 40 inches of driver headroom, the 43 inches of legroom and combined 52 cubic feet of cargo space with the seat down are all more SUV than Subaru wagon. Still, the standard multi-function display and rearview camera are nice perks for Subaru's smallest crossover, and those 33 miles per gallon on the highway are better than any wagon could manage.

9. 2014 Kia Sportage
Starting price: $21,600
You can throw in all-wheel drive for $1,500 and this CUV still wouldn't break the $25,000 barrier.
Meanwhile, features including Sirius XM satellite radio and Bluetooth wireless connectivity make lovely freebies, while options including a rearview camera, UVO information and entertainment system and backup warning system also can still be had within the $25,000 price range. You kind of hate to see the scant 26 cubic feet of cargo space, but it can work for small families and those trucking a minimum of stuff.

8. 2014 Mazda CX-5
Starting price: $21,045
It's way sportier than other compact-crossover, but the Mazda CX-5's more practical features are its big draw.
The 155-horsepower engine and available Bluetooth hands-free phone and audio streaming, HD radio, Pandora Internet radio and TomTom navigation system are certainly nice toys. But it's the ample rear seating and up to 65.4 cubic feet of cargo space that emphasize the "utility" portion of this vehicles category. That, and maybe the optional blind-spot warning system or the combined 28 miles per gallon that jumps up to 31 mpg if you can handle a manual transmission. Oh, and if you feel the need to bump up to all-wheel drive, the $3,000 upgrade won't break the $25,000 ceiling.

7. 2014 Hyundai Tucson
Starting price: $21,450
The Tucson and its larger sibling, the Hyundai Santa Fe, aren't mentioned enough on lists like this one.
Long considered the frugal car buyer's answer to Ford, Honda and Subaru crossovers, they're basically more tricked-out versions of the more frequently cited Kia Sorento and Sportage. The Tucson, for example, is sized and priced similar to the Sportage -- and has a combined 25 miles per gallon similar to its less-than-efficient cousin. Its wealth of cup holder, bottle holders, Bluetooth controls and multifunction trip computer give it a slight edge, though. Throw in heated front seats, a touchscreen display, rearview camera and other perks for a $2,000 upgrade and you have a far more luxe version of Kia's economical alternative.

6. 2014 Dodge Journey
Starting price: $19,995
Fiat-owned Chrysler is just starting to get a handle on what crossover vehicles it's going to keep and what bulky American grocery getters are going to be slimmed down into a sexier Italian frame.
The Journey was spared the same execution as much of the Dodge brand, but isn't going to look much like its 2014 incarnation in its next model year. Sure, it's inexpensive, but its combined 23 miles per gallon are absolutely dreadful by crossover standards. Its "amenities" aren't a whole lot to write home about, either. Daytime running lights, a power driver's seat, Bluetooth and a USB port -- standard on most vehicles -- are part of an options package. Keyless entry, a push-button starter and an optional (but small) third row of seating are nice, but the Journey's biggest upside is its cargo space. There's nearly 40 cubic feet behind the second row and roughly 68 with the seats down, plus lots of tucked-away storage compartments in the floor and beneath the driver' seat.
That may be worth jumping on if you're in dire need of space for your stuff or your family's, but it may be worth waiting for the Fiat-designed 2015 upgrade if you want the most for your money.

5. 2014 Nissan Rogue Select
Starting price: $22,790
Under $25,000 with nearly 30 miles per gallon worth of combined fuel efficiency? Even Nissan's (NSANY) mid-range crossover fits into this list.
Easily one of the the most fuel-efficient and cost-effective vehicles of the bunch, the five-passenger Rogue crossover with its all-wheel drive and 2.5-liter four-cylinder engine is the undercover Forester. Its interior is less plastic than its upmarket competitor and has comfortable seats, a huge center console bin and glove box, an organizer under the floor and nearly 40 cubic feet of cargo space with all seats in place.
Nissan even beefed up the features by making former options such as Bluetooth, keyless entry, folding side mirrors, cruise control, a tilt steering wheel, air-conditioning, full power accessories, a 60/40-split-folding rear seat, a trip computer and a four-speaker sound system with a CD player, an auxiliary audio jack and an iPod interface standard. In a midmarket increasingly populated with go-to small SUVs such as the Honda CR-V, Toyota RAV4 and Ford Escape, the Rogue is the thrifty driver's bargain pick.

4. 2014 Mitsubishi Outlander Sport
Starting price: $23,795
Mitsubishi doesn't sell many cars in the U.S. compared with its competitors, but it sells a whole bunch of this one.
The Outlander Sport is just a step above the base model and comes with dual-zone climate control, a rearview camera with 6-inch screen, keyless entry, push-button start, three rows of seating, 34 cubic feet of storage behind the second row and 63 behind the first. Combined with the multi-information display, heated front seats, HD Radio, Bluetooth and leather steering wheel -- and combined 27 miles per gallon -- the Outlander Sport is Mitsubishi at its best.

3. 2014 Nissan Juke
Starting price: $19,170
The all-wheel drive isn't standard -- it's a $2,000 upgrade from the base model -- but it's a worthwhile pickup for a vehicle with a price that still comes in pretty low on this list without it.
Sure, the Juke is small and funny looking, but with a combined 29.5 miles per gallon that's among the best in its class, it's what's inside that counts. That includes a surprising 36 cubic feet of cargo space and a navigation system, rearview camera, leather interior and a beefed-up speaker system available as upgrades. Not bad perks for a car sporting all of four cylinders in its engine while putting out 188 horsepower.
The more costly, but more spacious, Nissan Rogue is on this list. But with such a low starting price, the Juke offers a whole lot more upgrades for the same price.

2. 2014 Jeep Compass
Starting price: $18,695
Jeep's out to make the rest of its non-Wrangler line look like different versions of the Cherokee, but that's just branding. The 30 mpg on the highway and the 62.7 cubic feet of cargo space behind the front seats are the perks it's putting out there.
The problem is that, because it's a Jeep, you're not getting much in terms of equipment or performance. It has sluggish acceleration, a wide turn radius and a whole lot of features listed as options -- a year of satellite radio, a jack for mobile devices, steering wheel-mounted audio controls, Bluetooth -- that are standard in just about every other comparable vehicle out there.
Chrysler's new masters at Fiat haven't been shy about cutting models and sacrificed the Jeep Liberty to prove they were serious about it. The Compass is inexpensive, roomy and efficient, but a bit dated. Fiat knows this and has put the Compass on death watch, with its last model year coming in 2016. It'll be replaced, but by one vehicle that will stand in for both itself and the ...

1. 2014 Jeep Patriot
Starting price: $15,995
There's no beating the price on this walking dead crossover, but you lose quite a bit for the money.
The Patriot joins the Compass on the scrapheap in 2016 and already got a look at what the replacement might look like when Jeep introduced its 2015 Renegade model. It should be worried. Its 53 cubic feet of cargo capacity with the rear seats down isn't bad -- nor its its 30 mpg on the highway -- but the rest of its interior is sparse.
Seriously, it comes with absolutely nothing in the base model. Power windows, power door locks and air conditioning are "available" on the base model, as is an audio jack. The dome light inside is removable and rechargeable. With that being the case, we were stunned that they actually included a CD player. Why not throw in a tape deck, rename it Jeep Compact Crossover Vehicle and knock a few more bucks off the price? If you're going generic, you may as well go all the way with it. At least there's power steering to navigate the Patriot through its last years before puttering into auto history.
-- Written by Jason Notte in Portland, Ore.
>To contact the writer of this article, click here: Jason Notte.
>To follow the writer on Twitter, go to http://twitter.com/notteham.
>To submit a news tip, send an email to: tips@thestreet.com.
RELATED STORIES:
>>10 Best 40-MPG-Or-Better Cars of 2013
>>5 Vehicles You Want To Drive In A Rainstorm
>>Top 10 Cities For Car Sharing
Jason Notte is a reporter for TheStreet. His writing has appeared in The New York Times, The Huffington Post, Esquire.com, Time Out New York, the Boston Herald, the Boston Phoenix, the Metro newspaper and the Colorado Springs Independent. He previously served as the political and global affairs editor for Metro U.S., layout editor for Boston Now, assistant news editor for the Herald News of West Paterson, N.J., editor of Go Out! Magazine in Hoboken, N.J., and copy editor and lifestyle editor at the Jersey Journal in Jersey City, N.J.