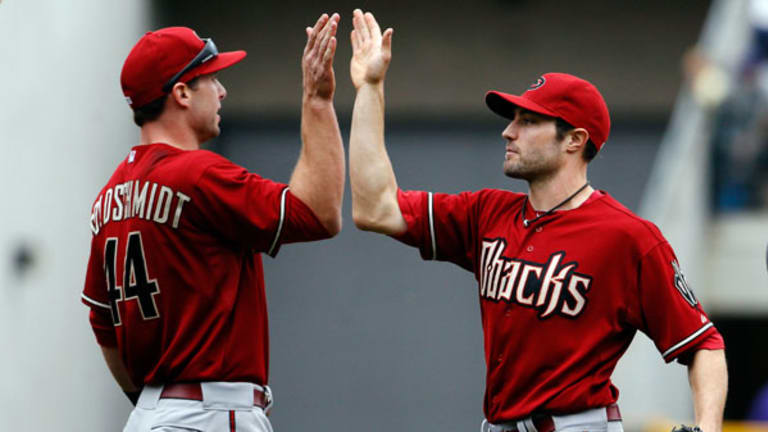 10 Major League Towns Where Baseball Doesn't Cost a Bundle
Sure, you can pay major bucks for a baseball game. But Major League bucks can also stretch pretty far.
PORTLAND, Ore. (TheStreet) -- Major League Baseball is the most cost-effective sports ticket money can buy, but there are definitely teams out there providing more bang for the buck than others.
MLB ticket prices average $27.48 this year, according to
Team Marketing Report
. That said, we're not going to sit here and pretend that the sport that calls itself the national pastime is only about as costly as some peanuts and Cracker Jack. Major League Baseball's top-money tickets can fetch an average of
, and that's before you get into the ballpark, where
the smallest size of the cheapest beer in the place
goes for what you'd pay for a six pack of IPA anywhere outside the stadium.
Still, baseball's admission price is little more than half that of NBA ticket ($50.99), slightly less than half the cost of a ticket to an NHL game ($61.01) and well below the price you'd spend on any given Sunday in the NFL ($78.38). So what if it's also 1.8% higher than last year? There are still roughly a dozen teams in the league with average ticket prices less than $25.
We scanned the league and found 10 cities where the average Major League Baseball where the average ticket price is not only cheap but, in five cities, will get you some change back if you hand the folks at the ticket booth a $20 bill:
10. Texas Rangers
Average ticket price:
$22.54
Change from 2012:
+10%
Just let that settle in for a second. This is a team that's gone to the World Series twice in the past three years. It's a team that's started this season atop the division standings despite letting go of slugger Josh Hamilton. It's a team that just had an in-state rival, the Houston Astros, move into its division. Combine all of that and a 10% uptick in ticket prices and fans are still paying less than $23 on average. Considering the Rangers' rivals in Houston have the gall to charge nearly $8 more on average for their tickets, fans in Arlington should feel pretty good about themselves this season.
9. Los Angeles Dodgers
Average ticket price:
$22.37
Change from 2012:
-3.3%
The team added pitcher Josh Beckett and big-ticket hitters Carl Crawford, Hanley Ramirez and and Adrian Gonzalez last year before adding Cy Young winner Zach Greinke in the offseason. Granted, the team's riddled with injuries right now, but how do you take on all that star power and keep the gate prices low? Well, the team's $7 billion contract with
Time Warner Cable
(TWC)
for its own network certainly helps, but the team's mediocrity over the past three years isn't the stuff price hikes are made of. Plus, it's kind of nice to charge $5 less for tickets on average than that other "Los Angeles" team in Anaheim.
8. Oakland Athletics
Average ticket price:
$22.12
Change from 2012:
+2.2%
Hey "moneyball," how's that one winning season and playoff appearance in the past six years treating you? Manager Bob Melvin has the A's back on track and looking tough so far this season, but it must be somewhat disconcerting to look across the bay and see the Giants' two World Series titles in the past three years. Yes, A's tickets are a full $8 less on average than what fans are paying at
AT&T
(T)
Park, but the Bay Area's status as a big baseball market still depends on which side of the bay you're standing on.
7. Cincinnati Reds
Average ticket price:
$21.35
Change from 2012:
+3.6%
This constitutes Part 1 of the two-part series "Ohio: Baseball's Bargain Bin." That the Reds still charge only a shade over $20 for tickets on average is incredible, considering they've taken the National League Central twice since 2010. It took the eventual World Series champion Giants to pry them out of the playoffs last year, and even then it took a full five-game division series to do so. Though a tough National League Central just got a lot tougher with division punching bag Houston out of the picture, Cincinnati's nucleus of Joey Votto, Brandon Phillips and Jay Bruce is still intact and off to a fast start. Reds fans are getting a lot for relatively little and should probably keep that fact to themselves before anyone catches on.
6. Tampa Bay Rays
Average ticket price:
$20.39
Change from 2012:
+2.8%
Tampa is no easy place to be a sports fan. The economy has drained jobs and left homeowners and their mortgages underwater. The NFL's Buccaneers routinely black out home games on local television thanks to slumping attendance and shrinking expendable income. Even with three playoff appearances in the past five years and an always-formidable pitching staff featuring reigning Cy Young winner David Price, it gets tough to go out to Tropicana Field on a regular basis. In fairness to the Rays, they've kept the average ticket price hovering around $20 territory and have kept the team competitive enough for fans to enjoy when they finally do have enough cash to splurge on a ticket.
5. Kansas City Royals
Average ticket price:
$19.83
Change from 2012:
-10.1%
What price do you put on misery? This team hasn't made the playoff since it won the World Series in 1985. It hasn't had a winning season since 2003. When it manages to produce a star such as Carlos Beltran or Zach Greinke, it has to let them go to teams with deeper pockets. Kauffman Stadium is still a gem and the Boulevard Beer sold there is among the best fans will find anywhere in the league. While the team is off to a solid start, Royals fans know better than to rest the season's hopes on its earliest days. In the meantime, enjoy that sub-$20 price, that 10% price cut and a day at the park.
4. Cleveland Indians
Average ticket price:
$19.59
Change from 2012:
-4.1%
The sellout streak at Jacobs Field ended 12 years ago. The place was renamed
Progressive
(PGR)
Field five years ago, just after the Tribe's last playoff appearance -- their only playoff appearance in the past decade. Their last two Cy Young award winners followed the money to the East Coast. So why go to games? That cheap ticket price helps, but the $4 beer the team claims to be selling this year -- though we have yet to find any physical confirmation of it -- is tied for the lowest price in the league.
3. Atlanta Braves
Average ticket price:
$17.32
Change from 2012:
+3.8%
Keep in mind, this is for a team that actually made the playoffs last year. The Braves still have the lowest ticket price of any of last year's postseason contenders and are perennially far better than their ticket price suggests. So why are prices this low? Because that's what it takes to draw Braves fans. Not the unbroken stretch of playoff appearances from 1995 to 2005. Not the two playoff appearances in the past three years. Nope, there are those who'd rather dwell on the relative lack of World Series titles (a complaint Cleveland fans still wouldn't mind strangling your whole city over) and the two losing seasons in 2006 and 2008. Know when this team's last losing season was before then? 1990. The Braves have given their fans a lot more than an average $17.32 worth of baseball, and the grateful portion of Braves fans know it all too well.
2. Arizona Diamondbacks
Average ticket price:
$16.89
Change from 2012:
+7.3%
A big air-conditioned building in
Chase
(JPM)
Field, a pool behind the outfield wall, $4 beers, Alice Cooper's restaurant right outside and a team that's occasionally playoff caliber. Yep, that's a pretty strong argument for Phoenix-area residents to leave their houses during the hottest part of the year.
1. San Diego Padres
Average ticket price:
$15.99
Change from 2012:
+3.5%
We don't know how to put this politely, so we won't: This team might be a tough buy even at that price. Far be it for us to refuse a $16 ticket to
Petco
Field on a gorgeous San Diego day, but the Padres have a nasty habit of ruining days like that. Management has let prime talent such as Cy Young winner Jake Peavy, slugger Adrian Gonzalez and closer Heath Bell walk out the door without so much as a wave. Even a switch in ownership last year didn't exactly go as planned, as former owners John Moores and Jeff Moorad took a $200 million portion of the Padres' new TV deal with them. Rumors have swirled that the Padres are broke, but the new ownership group denies it despite making no offseason acquisitions. It may not be a costly season for Pads fans, but it'll probably be a long one.
-- Written by Jason Notte in Portland, Ore.
>To contact the writer of this article, click here:
Jason Notte
.
>To follow the writer on Twitter, go to
.
>To submit a news tip, send an email to:
.
RELATED STORIES:
>>10 Highest Beer Prices In Major League Baseball
>>Baseball's 5 Worst Interleague 'Rivalries'
>>Baseball: Cheapest Professional Sport In The Land
Jason Notte is a reporter for TheStreet. His writing has appeared in The New York Times, The Huffington Post, Esquire.com, Time Out New York, the Boston Herald, the Boston Phoenix, the Metro newspaper and the Colorado Springs Independent. He previously served as the political and global affairs editor for Metro U.S., layout editor for Boston Now, assistant news editor for the Herald News of West Paterson, N.J., editor of Go Out! Magazine in Hoboken, N.J., and copy editor and lifestyle editor at the Jersey Journal in Jersey City, N.J.