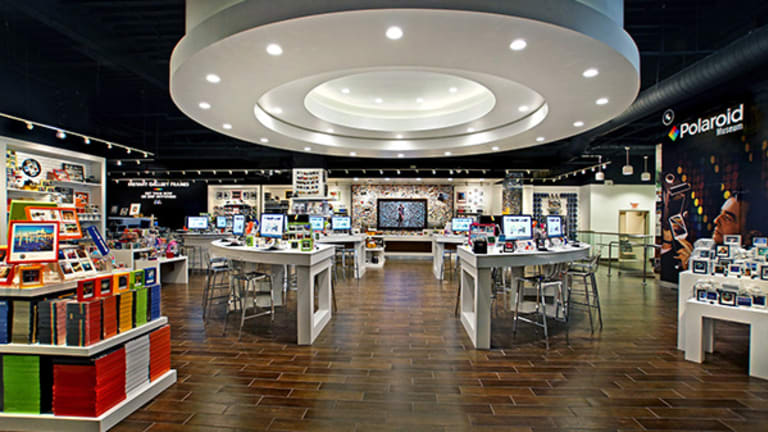 10 Hot Franchise Concepts You Can Invest In
It seems hard to believe that McDonald's, Dunkin' Donuts and Subway all started out as small ideas at one point in time. Here are 10 small, yet growing concepts hoping for the same big success.
It seems hard to believe that McDonald's, Dunkin' Donuts and Subway all started out as small ideas at one point in time. Here are 10 small, yet growing concepts hoping for the same big success.
NEW YORK (
) -- It seems hard to believe that
McDonald's
(MCD) - Get Report
,
(its formal name is now
Dunkin' Brands
(DNKN) - Get Report
) and
Subway
all started out as small ideas at one point in time. In order to get in on a McDonald's franchise now, for instance, an investor needs millions in capital. For an investor new to franchising, that's not realistic. Even if possible, with same-store sales at the fast-food chain stagnating, the prospects of long-term financial success are iffy.
Given the foodie explosion in the U.S., there are many smaller and less expensive
hitting on market trends. While many will fail, some clearly have growth potential. And not all are in food.
Del Frisco's CEO: U.S. Has Turned Into a 'Foodie Nation'
Dunkin' Brands CEO: Competition Makes Us Better
Denny's CEO on Staying Relevant in a Fast-Casual World
The International Franchise Association, franchising's main trade association, estimates that roughly 2,500 brands are franchised in the U.S.
As of the first quarter, 203 new business concepts went the franchise route in 84 different sectors. Some 1,498 units were opened by these newbies, according to a report by independent research firm FRANdata. (That number includes both franchised locations and company-owned units.) The report projects another 2,500 units from the newcomers over the next year. New concepts are young brands that have recently converted into a franchised business or start-up concepts that are only entering the franchised market, the report said. Some 65% of the brands that entered franchising in the first quarter were non-food concepts, the report said.
Thanks to the increased availability in credit since the recession, franchised brands are growing again. The IFA says that seven of the 10 business sectors that it tracks franchising in are
adding jobs faster than the private sector
 as a whole.
Franchising "is a lot more than just fast food. It's automotive, it's commercial and industrial, it's personal services, it's real estate, it's hospitality," said IFA spokesman Matt Haller. "It's really thousands of different types of businesses in sectors across the spectrum."
Outside of food, the top five sectors in which franchises have launched concepts in the first quarter include: health and fitness; child-related; business; maintenance services and real estate, according to the FRANdata report. Within food, the most popular category is QSR, or quick-service restaurants, which includes the explosion of growth in so-called fast-casual concepts. Fast-casual concepts are typically a step up from fast-food chains in that items are cooked to order and made with higher-quality ingredients.
Looking for an Investment? Here are 9 of the Best Franchises in America
Looking for an Investment? 9 Franchises for About $100K
Want to Own a Dunkin' Donuts Franchise? Know This First.
How PizzaRev Plans to be the Chipotle of Pizza
Just because a franchise is opening lots of locations, doesn't mean it's a sustainable business, says FRANdata CEO Darrell Johnson. "Franchising is a business model follows opportunity and opportunities in the business sector are trend based and so trends take multiple years to evolve," Johnson says.
Potential investors should thoroughly review a company's
(FDD), a document that franchisors provide to prospects that provides a variety of aspects to the business including supply sources, financial statements, any litigation and general background on the company, among other things.
Other factors to consider when deciding on a franchise: how long locations have been open, net location openings in any given year; and growth potential of the concept's given industry. Finally investors should talk to established franchisees in the system.
Eager franchise investors looking for the next great idea can get a sense of new brands and established concepts at the
, held June 19 through June 21 in New York City. The expo is sponsored by the IFA.
Here are 10 small, yet growing concepts hoping for big success.
1. GYMGUYZ
Description:
offers mobile personal or small group training with client-customized workouts with state-of-the-art fitness equipment. Based in Plainview, N.Y., the company brings its services to the comfort of a customer's home, office, or setting of choice. GYMGUYZ was founded in 2008 by fitness specialist Josh York.
Number of locations:
Eighteen territories are operating (this is between corporate's locations and one franchisee who has multiple territories on Long Island), with franchisees opening in 20 and 30 territories this year
.
Start-up investment:
$50,675-$95,250
What consumer trends is it hitting on?
Personal services, health and wellness, physical fitness, nutrition
Good business investment?
Personal trainers' average annual income is $31,720, the company says, citing data from the Bureau of Labor Statistics. GYMGUYZ says its personal trainers can earn up to 10 times a typical personal trainer's salary. GYMGUYZ provides franchisees with recurring revenue, a low initial investment, the ability to scale the business and a quick upstart time.
Average annual sales:
The gross as an owner for two vans is $452,409 in a basic territory of 75,000 people.
ROI:
The first franchisee made his investment back in two months of working the location.
2. Polaroid Fotobar
Description: 
 offers a first-of-its-kind, fun, experiential destination where people can "liberate" their Instagram,
Twitter
(TWTR) - Get Report
and
Facebook
(FB) - Get Report
photos. They instantly walk away with an ultra-modern image with that retro, recognizable Polaroid border. Print options, which start at under $1 per print, range from a print with the iconic white border to images mounted on bamboo, acrylic, glass or metal costing in the thousands. Customers receive instant gratification in a shop with an ultra-hip vibe.
Number of locations:
Five corporate-owned (four in South Florida, flagship in Las Vegas). The concept is launching its franchising program at the IFE.
Start-up investment:
$135,000 to $439,000 (depending on the type of option chosen -- retail store or micro-retail location)
What consumer trends is it hitting on?
Digital revolution. Think of 2014 as the year of the selfie (hello, Ellen!). People want an easy and fun way to free their pictures from their devices.
estimates roughly 500 million photos are shared every day, according to her
.
Why is it a good business investment?
Potential franchisees have the opportunity to get in on the ground floor of a concept that will appeal to consumers of all ages.
3. The Original Soupman -- SoupMobile
Description:
In 1984, The Original Soupman opened its doors in midtown Manhattan. The tiny storefront quickly became a worldwide destination after being featured in the popular sitcom "Seinfeld." Today the company sells soup to grocery stores and foodservice operators across America and has franchised restaurants. Shaquille O'Neal serves as an adviser and equity partner, as do Reggie Jackson and Tony Award winning actor Jason Alexander who played George Constanz on "Seinfeld."
Within the past six months, The Original SoupMan (now publicly traded under its parent company, 
Soupman Inc.
(SOUP)
), is expanding its franchising opportunities from Original SoupMan stores to Al's Famous New York Delicatessen & Restaurant. At IFE, the brand is launching its next franchising concept -- a mobile food truck serving its famous soups, under a joint venture with Shaquille O'Neal.
Number of locations:
The company plans to have 100 mobile food trucks on the road by 2016.
Start-up investment:
A truck can cost from $80,000 to $100,000; a trailer can cost from $25,000 to $40,000.
What are the consumer trends it is hitting on?
Consumers are looking for gourmet food fast that's convenient.
Why is it a good business investment?
Mobile food trucks are a low-cost investment, relative to other franchises and simple to operate. They offer mobility and flexibility to capitalize on the various locations at the busiest times.
4.
Beef Jerky Outlet
Description: Beef Jerky Outlet
is a national retail franchise specializing in over 200 varieties and sizes of beef, turkey and wild game jerky. Customers encounter bulk jerky in old-fashioned covered barrels for sale by the pound and packs of jerky lining the shelves. The authentic atmosphere of the beef jerky stores is in line with the overall marketing philosophy of the franchise to keep it simple. This uncomplicated approach makes a Beef Jerky Outlet store easy to operate for the owner and a pleasure to shop for the customer.
Number of locations:
22 operating stores in 10 states, with commitments for up to 50 stores. The company is ready for business in most states in the continental U.S., as well as Alaska and Puerto Rico and looking to expansion efforts in Canada. On average, locations can get up and running within two months. So far this year, it's had more than 250 requests for more information.
Start-up investment:
$129,500-$224,400
Average Annual Sales:
$493,019 (for the middle third of franchisees)
Average Gross Margin:
49% (all stores)
What consumer trend is it hitting on?
Beef jerky is becoming more popular as a snack food as a general trend. Beef Jerky Outlet Franchise channels and amplifies this existing trend by providing a much wider variety of premium beef, turkey and wild game products at a retail location. There are a few food trends like Paleo dieting and low carb products that feed right into the company's positioning.
Why is it a good business investment?
Beef Jerky Outlet stores offer an excellent opportunity for investors seeking a franchise business with better-than-average margin returns on moderate start-up costs.
The earliest independent stores in northern Michigan and Florida have roughly 20 years of staying power and are still going strong, the company says, eclipsing the "most businesses fail in the first five years" rule of thumb. The company started franchising in 2010. Over the past four years, there have been zero stores that closed.
"On average our new franchisees are purchasing two or more locations in order to expand and dominate their local market. Franchise support is comprehensive, covering everything from website development to providing a reliable supplier chain," Dr. Michael Riddiough, Beef Jerky's franchise development team leader said in a press release. He attributes the growth to matching franchisees to the right location and the high level of support supplied by the franchise.
5. JunkLuggers
Description:
The Junkluggers takes unwanted household, commercial and industrial items and disposes of them in an eco-friendly way by donating and recycling as much as possible. From couches to TVs and computers to entire houses to construction sites and warehouses, the company says it does it all.
The Junkluggers is ecofriendly in the fact that their goal is to recycle or donate every item that they pick up. They partner with charities in their local markets to give gently used items a new home with those who need it most, including furnishing apartments that have been donated to formerly homeless Veterans.
Number of locations:
Five franchised locations with local owners; corporate owns and operates eight current territories with 14 trucks in New York City.
Start-up investment: 
$79,200-$113,000
What consumer trends is it hitting on?
"People have always a need to move or to clean to get rid of stuff. From a franchising standpoint, these companies figured out a way to market those services to consumers," IFA's Haller says.
Why is it a good business investment?
The Junkluggers is a multi-million dollar business headquartered in NYC with an excellent reputation in the junk removal industry with eight years of experience running successful operations in New York, Connecticut and New Jersey.
6.
Orangetheory Fitness:
Description
: 
began in Fort Lauderdale, Fla. in March 2010. Four years later, the company has 75,000 current clients across the country. The Orangetheory workout is a 60-minute interval-training class designed to maximize the effect known as "after burn," which keeps your body burning calories at a higher rate even after you've stopped working out. During an Orangetheory class, members' complete intervals on low-impact treadmills and water rowers, then they move to the floor for strength and core training using weights, medicine balls and TRX systems. Orangetheory is unique because it tracks members' performance using heart-rate monitors to ensure they stay in the "orange zone" during class.
Number of locations:
110, with an estimated 500 locations projected by 2017
Start-up Investment:
$327,600-$634,100
What consumer trend is it hitting on?
High-intensity interval training was named the top fitness trend for 2014 by American College of Sports Medicine. Orangetheory has taken this trend to a new level offering personalized interval training in a group setting at a reasonable price point.
Orangetheory Fitness uses exercise physiology and science to develop the high-intensity, interval-training workout. The Orangetheory Fitness workout maximizes EPOC -- excess post-exercise oxygen consumption -- which is a scientific term for burning more calories long after you've left the gym. Orangetheory Fitness is focused on results -- the workout is scientifically designed to achieve maximum calorie burn, from 500 to 1000 calories per session, with extra burn for up to 36 hours post-workout. They were also the first franchise to use the heart-rate monitors, giving a personalized approach to the workout (anyone can do it because it is based on individual heart rate).
Why is it a good business investment?
Orangetheory Fitness studios typically offer between eight and 10 group sessions per day; members typically attend between two and four slots per week. Membership options range from monthly plans to pre-paid packages of 10, 20 or 30 sessions, all of which are offered on a no-contract basis.
7.
e²
Young Engineers
Description:
enrichment programs adopt an edutainment (the combination of education and entertainment) approach. The franchise has developed a variety of different programs that can be used to teach STEM (Science, Technology, Engineering and Mathematics) courses. Children joining the company's educational community can learn subjects like arithmetic, physics and mechanical and software engineering using tablets, LEGO and K'nex assembly kits.
Number of locations:
The company currently has a presence across 12 countries, operating 91 franchises in 18 months. They have now shifted focus to the U.S. with plans to open 15-20 franchises by the end of 2014 and 500 total franchises by the close of 2017.
Start-up investment: 
$31,400-$47,000
What consumer trend is it hitting on? 
According to the Education Industry Association, the U.S. is ranked 48th in the world for the quality of the country's science and mathematics education compared with other countries. e² Young Engineers is looking to solve that problem.
"Our focus is on the future generations of engineers and scientists. Our initiative has always been to establish an original and unparalleled approach to assisting the engineers of tomorrow by creating engaging educational solutions at the early stages of cognitive development," Amir Asor, CEO of e² Young Engineers, says in a press release. 
Why is it a good business investment?
The children's education and enrichment industry generated "more than $3 billion in sales in 2012 and has tripled since 2006, all while battling a tremendous recession," the company says in its franchise report.
"From the White House launching the
Educate to Innovate
campaign aimed to move American students from the middle to the top of the pack in science and math achievement over the next decade to parents increasing the amount they're spending on child enrichment programs, now is the perfect time for us to expand throughout the U.S.," Asor said. "We are offering entrepreneurs the opportunity to get in on the ground floor with an innovative franchise in the education segment -- a concept that's already been proven successful around the world."
Average annual sales per unit:
$50,000-$125,000
ROI:
approximately 14-16 months
8.
Pinot's Palette
Description:
Since opening its doors in 2009, Pinot's Palette has become most innovative and creative social event for locals to share a drink and socialize. As a pioneer and leader in the "Paint & Sip" industry, Pinot's Palette has put a spin on the traditional girls' night out, date night and corporate event by creating a social experience that is delivered in the form of a two- to three-hour painting event where the guests enjoy their favorite cocktails and snacks.
Although most Pinot's Palette locations are BYOB, about 1/2 of Pinot's Palette studios have built-in bars and may also offer mobile studio options, depending on local laws or franchisees preferences.
Number of locations:
Eighty-one studios in 29 states. The company is specifically looking to expand in the Northeast. As the paint-and-sip industry has really taken off, they have added more than a dozen locations in the area alone. The company looks to triple the number of its locations in the tri-state region within the next year.
Start-up investment:
$80,000-$150,000 includes franchise fee, retail build-out, grand opening marketing, initial inventory, hiring staff and ongoing operational and marketing support.
What consumer trend is it hitting on? 
Honing in on the recent trend of customization, Pinot's Palette allows guests to tailor their experience by letting them choose which specific painting they would like to recreate from an online schedule.
Why is it a good business investment?
Besides the low start-up capital required, Pinot's Palette has so far had zero store closures or location transfers. Co-founder and President Charles Willis says that franchisees love what they do and have a sense of career satisfaction at their jobs. Additionally, while the "paint and sip" concept is unique enough, Pinot's Palette offers additional franchisee support through "custom, proprietary software that automates much of the business' administrative tasks" and partnerships with large retail chains, media and beverage companies to "enhance" the customer experience, he says. Pinot's Palette launched an
Apple
(AAPL) - Get Report
 iPhone app in January and plans to launch a customer loyalty program in the fourth quarter. 
9. Kono Pizza
Description:
Entrepreneurs David Ragosa, Greg Kinlaw and Carlo Ruggiero, launched
Kono Pizza's
U.S. operations in 2013 in Edison, N.J., catapulting the wildly popular European "pizza cone" concept into the U.S. The cone-shaped crusts created are filled with fresh, quality ingredients inspired by original Italian recipes, giving consumers a portable, healthier way to enjoy their favorite food.
The co-founders have worked together for many years building successful franchises in the U.S. fitness, food and technology industries, including the well-known brands Let's YO! and Retro Fitness, before joining together to bring Kono Pizza to the states.
Number of locations:
Currently, there is one Kono Pizza location in Edison, N.J. and the brand has approximately 15 franchise units in the development pipeline with plans for growth nationwide. There are currently more than 130 Kono Pizza locations operating in 20 countries.
Start-up Investment:
$250,000-$400,000
What consumer trend are they hitting on?
Kono Pizza is hitting on portability, taking a fun twist on a classic dish. Kono Pizza is also catering to health-conscious consumers because Kono Pizza is healthier than a traditional slice. The imported thin crust cone, fresh tomato sauce with a low moisture cheese and quality fresh ingredients results in reduced calories.
Why is it a good business investment?
Kono Pizza is taking on dominant pizza chains,
Domino's
(DPZ) - Get Report
,
Papa John's
(PAPA)
 and
Yum! Brands
(YUM) - Get Report
Pizza Hut but its unique approach to pizza is a bet these entrepreneurs were willing to take.
"There are more than 70,000 pizzerias and fast-casual pizza joints, but no other franchise out there in the United States has a product like ours," Ragosa said in a release. "We are offering entrepreneurs the opportunity to get in on the ground floor with an innovative franchise in the quick-service pizza segment -- a concept that's already been proven successful around the world."
10. Smoke's Poutinerie
Description:
How do you like your Poutine? That's the marketing tagline
uses to highlight the traditional Canadian dish it sells.
Smoke's Poutinerie has "taken the traditional Poutine of fries, curd and gravy, and has added fresh toppings making unique, custom Poutine meals for everyone. Whether your preference is beef, chicken, veggies, pork or simply just a different type of sauce, Smoke's Poutinerie has the recipe for you," according to its Web site.
Number of locations:
80. The company has been franchising in Canada since 2009 and is now setting its sights on the U.S.
Start-up investment: 
$200,001-$500,001
What consumer trend is it hitting on?
 Smoke's Poutinerie resonates with its core 18-25 year-old demographic as "the place to be," after hours crowds and a broader daytime demographic as a higher end quick service restaurant. The younger demographic is going crazy for this new twist on Canada's National iconic dish making it a top restaurant for college students on campus, in sports and entertainment venues and other non-traditional locations, according to promotional material for its booth at IFE.
--Written by Laurie Kulikowski in New York.
Disclosure: TheStreet's editorial policy prohibits staff editors, reporters and analysts from holding positions in any individual stocks.