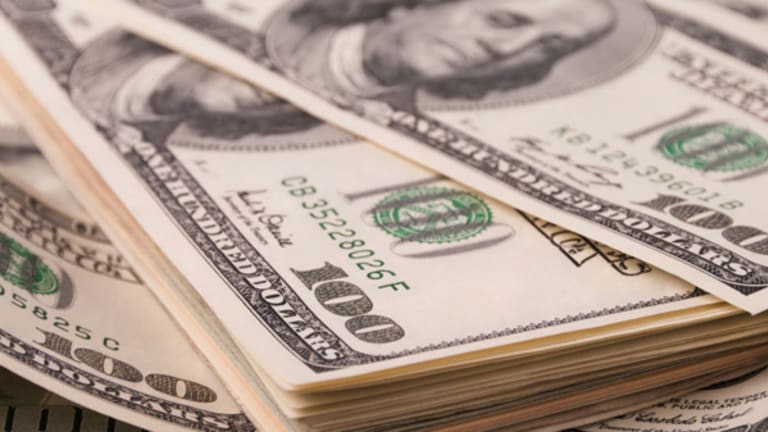 10 Holiday Songs You'll Hate By Christmas
Not to cast a pall on holiday shopping or general seasonal merriment, but any song is going to wear thin when played 10,000 times in 25 days.
BOSTON (TheStreet) -- When you've heard "Do They Know It's Christmas" for the 13th time this season, think of the holiday retail workers and all-holiday radio DJs who've heard it 13,000 times and thank God it's them instead of you.
The all-holiday radio season is in full swing, with broadcast and cable tracking firm Media Monitors saying that more than 33 stations nationwide have made the switch already. Even Web-based Pandora and
Sirius-XM
(SIRI)
satellite radio have launched their holiday stations this week as consumer demand for the genre and advertiser interest grows. Radio research firm
Arbitron
(ARB)
notes that stations that switched to the all-holiday format saw ratings climb an average 91% last holiday season and total listenership grow by an average 66%.
The one downside to this merry money grab is that consumers are being inundated with the same standards over and over again for a month straight.
ranked 2,000 songs during last year's holiday season and found that the Top 20 were played more than 10,000 times each during December alone. Even the jolliest, most jovial holiday music fan can feel fatigued when the same song is playing more than 16 times an hour across the country.
To gird readers, listeners and consumers against the impending flood of holiday favorites, the
TheStreet
culled Media Monitors' Top 10 songs played most by all-holiday radio and has broken down just how often they'll be playing across America this year. While it's too early to tell if the rankings will hold up, these stubborn stalwarts seem least willing to relinquish their slice of the season's air time:
10. Paul McCartney / "Wonderful Christmastime"
Total plays last December:
13,835
Plays per hour Dec. 1-25:
23
This is the time of year Sir Paul takes all the good will he's stored up with the world's listening public during his years with The Beatles and, to a lesser extent, Wings ("Maybe I'm Amazed" ... c'mon, give it to him) and spends a month and a half flushing it as hard as he can with this synthed-up seasonal staple. That electro backing and Electric Light Orchestra-style castrati vocal accompaniment may have been a fantastic idea when this song was released in 1979, but it induces the urge to throw a stale fruitcake through the nearest speaker around the third listening. By Dec. 25, it won't matter if "the mood is right," "the spirit's up" and "we're here tonight." There's only one lyric revelers will want to sing once that song plays for the 23rd time: "That's enough."
9. Hall & Oates / "Jingle Bell Rock"
Total plays last December:
14,274
Plays per hour Dec. 1-25:
24
Leave John Oates out of this: All the blame for this wannabe-rockabilly baritone-falsetto version of Bobby Helms' classic rests squarely inside the pipes of Mr. Daryl Hall. Besides pronouncing it "Jin-gul Beul" at every opportunity, Hall seems content to "Rock. The. Naht. Awa-ay" by doing his Gene Vincent impression for two of the longest minutes of this holiday season not spent listening to a relative's story about wart removal. The Bert-and-Ernie-Meets-
Pee-Wee's-Playhouse
video accompanying this song was its only redemption back in 1984, but today it's the greater of two evils on an all-holiday Top 10 crowded with this song's dancing and prancing in Jingle Bell Square.
8. Jose Feliciano / "Feliz Navidad"
Total plays last December:
14,331
Plays per hour Dec. 1-25:
24
It's hard to knock Jose Feliciano for this, as this extremely simple song was a big reason why many previously English-only holiday households learned, at the very least, how to say "Merry Christmas and Happy New Year." However, that simplicity is downright sadistic 14,000 plays later. "Feliz Navidad" is repeated 21 times and "I want to wish you a Merry Christmas" is sung 18 times during the course of a three-minute song. String enough of those together and you don't have a holiday tune anymore: You have a Psy-Ops weapon.
7. Nat King Cole / "The Christmas Song"
Total plays last December:
15,896
Plays per hour Dec. 1-25:
26.5
This isn't about Nat, whose tones and lyrics are delivered at such a smooth and varied pace that it's hard to stop listening for even the dozenth time once he's started. It's that string into it that's put more wear and tear on car radio tuners and
Apple
(AAPL)
iPod clickwheels than perhaps any song on the planet. It's Nat's second-greatest Christmas gift to the world beyond the song itself: fair warning it's coming so you don't have to sit through it again.
6. John Lennon / "Happy Xmas/War Is Over"
Total plays last December:
16,089
Plays per hour Dec. 1-25:
27
It's enough of a struggle to keep conversation civil around the holiday table without John Lennon issuing his reminder that all is not well in the world beyond the dining room. Yes, the U.S. still has troops in Iraq and is fully engaged in Afghanistan. Yes, there are questions about each campaign. No, it does not mean Lennon has to prompt your lefty college-aged cousin and your most conservative aunt or uncle into playing Fox News and MSNBC for the evening while you try to enjoy a meal in peace. Imagine a holiday that doesn't involve the words "Obamacare" or "Teabagger" -- it's easy if you try.
5. Andy Williams / "Most Wonderful Time of the Year"
Total plays last December:
16,448
Plays per hour Dec. 1-25:
27
Just try listening to this song without irony after spending three weekends in malls with children whose wails fall somewhere between air-raid siren and sonic boom, shoppers who save a week's worth of questions and commentary for when they reach the register just ahead of you and seasonal store employees who know as much about the store they're working in as a goldfish does about the little plastic castle in its bowl. Andy Williams seems like a nice enough guy, but it's a wonder disgruntled listeners and shoppers don't make a beeline to his Moon River Theater in Branson, Mo., at the end of each holiday season and treat themselves to an early gift of lusty booing and rotten-fruit throwing.
4. Bobby Helms / "Jingle Bell Rock"
Total plays last December:
16,495
Plays per hour Dec. 1-25:
27.5
Between ol' Bobby and Hall & Oates, all-holiday stations are playing "Jingle Bell Rock" more than 51 times an hour. When you get that many chances to contemplate a song, some questions arise: Did "snowin' and blowin' up bushels of fun" mean the same thing in 1957 as it did in the late-1970s and 1980s? Where exactly is Jingle Bell Square? Are jingle horses a recognized breed? How many Web subcultures are dedicated to people who "mix and a-mingle in the jingling feet?" The mind wanders ...
3. Mariah Carey / "All I Want For Christmas Is You"
Total plays last December:
16,634
Plays per hour Dec. 1-25:
28
Yes, it gets played an almost mathematically impossible amount of times during December, but this modern classic penned by Carey and Walter Afanssieff didn't need American radio love to be a classic. In fact, we'd dare say Americans were late to the holiday party. This song was No. 2 in the United Kingdom, Australia, Japan, the Netherlands and Norway when it released in 1994. It didn't chart here. It climbed to No. 6 on Billboard's Hot Adult Contemporary chart a year later, but didn't really gain traction here in the U.S. until the latter part of the last decade, after British director Richard Curtis gave it a key role in the 2003 holiday romantic comedy
Love Actually
. It's hovered around the top of Billboard's U.S. Holiday Songs Chart and reached No. 1 back in 2008 before settling in at No. 4 this week. Before you complain about how often you've heard it, think about the British listeners who've been immersed in it for 16 years.
2. Brenda Lee / "Rockin' Around The Christmas Tree"
Total plays last December:
16,906
Plays per hour Dec. 1-25:
28
It's hard to get a sentimental feeling when you hear a song that never stops playing, but Brenda Lee's annual bout of pumpkin pie and caroling is as much a fixture as wreathes, trees and bell ringers. Never mind that nobody knows what a Christmas party hop is anymore or that this song hasn't prompted a "new" old-fashioned way of doing anything in a half-century, but it's short, sweet and has that swingin' little horn part and rockabilly riff. That said, at least one person out there who's not the writer will spend at least 16,000 plays trying to guess what Brenda's saying at the end of the first stanza ("Ev'ry couple that tries to stop").
1. Burl Ives / "Holly Jolly Christmas"
Total plays last December:
17,233
Plays per hour Dec. 1-25:
29
Yep, the ghost of the singing snowman from Rankin/Bass'
Rudolph The Red Nosed Reindeer
is still haunting America, imploring it to do him a favor by kissing whichever "somebody" is beneath the mistletoe at that time. Come to think of it, this song is perhaps one of the worst things you can listen to before a night of holiday merriment. All that "somebody" kissing is just a slap, hospitalization or lawsuit waiting to happen, while Burl's advice to drink up despite being unsure of the weather conditions is just the sort of poor decision-making the highway patrol warns against this time each year.
-- Written by Jason Notte in Boston.
>To contact the writer of this article, click here:
Jason Notte
.
>To follow the writer on Twitter, go to
.
>To submit a news tip, send an email to:
.
RELATED STORIES:
>>Hot Sites For Online Holiday Shopping
>>5 Best Gift Cards For Early Holiday Shopping
>>Why You Can't Escape Christmas Radio
Jason Notte is a reporter for TheStreet.com. His writing has appeared in The New York Times, The Huffington Post, Esquire.com, Time Out New York, the Boston Herald, The Boston Phoenix, Metro newspaper and the Colorado Springs Independent.