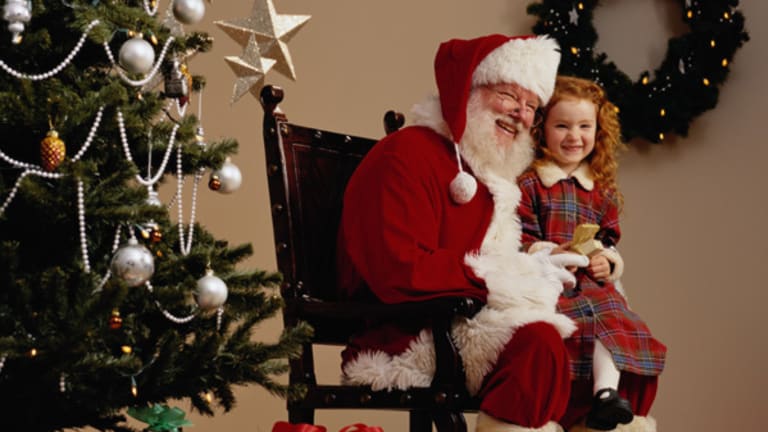 10 Holiday Jobs for Retirees
Holiday jobs range from the usual cashier positions to the more exciting Santa Claus impersonators.
BOSTON (TheStreet) -- As the holiday shopping season approaches, retailers hire more seasonal employees to keep up with the crowds. It's not just the traditional sales cashier positions that are in demand; possible holiday jobs include everything from Santa Claus impersonator to home holiday decorator or product demonstrator.
Retirees could be looking for part-time work that keeps them occupied or to help make ends meet, and their flexibility during the holidays makes them an asset for retailers.
"Employers are also looking to hire someone who is responsible and reliable -- two attributes an older worker has in their quiver," says Kerry Hannon, author of
Great Jobs for Everyone 50+: Finding Work That Keeps You Happy and Healthy ... And Pays the Bills.
The holidays are a perfect opportunity for job-seekers, and "forecasts for holiday hiring are looking stronger than last year," Hannon adds.
Here are 10 holiday jobs Hannon recommends for retirees, arranged generally from maximum earning potential to the lowest.
Santa Claus
Median pay range:
From $10 an hour to thousands of dollars per season. Contract pay for the 40-day season can range from around $10,000 for a rookie to more than $50,000 for a more experienced player, depending on the mall and location.
Qualifications:
It helps if you look the part -- older, plump, a white beard and a jovial laugh. Santas can be of any race, depending on the venue, but they must be male. (There are some openings for Mrs. Santas and Santa's helpers, too.) Having a natural beard is often a prerequisite, but you can dye it if necessary and padding can be tucked in to get that jelly belly. Expect a criminal background check and drug screening.
Job-hunting tips:
Contact smaller malls, department stores, photo shops and special event party planners directly for openings.
Check local classified ads. National staffing services typically provide Santa impersonators to the larger malls. Three of the bigger ones:
Cherry Hill Photo Enterprises
,
Worldwide Photography
and
Noerr Programs
You'll need to apply online and go for an in-person interview. If they like your look and attitude, you'll slip into costume and makeup for headshots, which are sent to the mall reps for selection.
If you're picked, the service will negotiate your contract and send you to Santa school for tips on appropriate behavior and conversations, suggestions for calming kids and makeup help. Don't forget your flu shot.
Call center representative
The hours:
Many call centers are open extended hours or staffed around the clock. Peak times may not last for a full shift, so you may be slotted for part time or work a split shift.
Median pay range:
Median hourly wages of customer service representatives range from less than $9.15 to more than $23.24.
Qualifications:
Listening and verbal skills are key. For workers who correspond through email, good typing, spelling and grammar skills are essential. Basic to intermediate computer knowledge is vital. You'll likely be given training with background on the company and its products, the most commonly asked questions you'll face and a review of the computer and telephone systems you'll be using. Hint: Companies favor folks who have a pleasant, neutral speaking voice.
Product demonstrator
The hours:
Vary by store. During holiday crunch times, evenings and weekends are the norm.
Median pay range:
$8.28 to $21.19 per hour.
Qualifications:
On-the-job training to glean sales techniques is standard fare. Smooth public speaking and communication skills and an outgoing personality will serve you well. This is a performance in many ways, so you'll want to channel your inner entertainer. Humor and friendly chit-chat attracts customers.
Past jobs in retail, sales or customer service make it easier, but any volunteering or public speaking experience is worth noting on your resume.
Job-hunting tips:
If you know a shop or even a big-box store near you that uses demonstrators, stop by and ask if the store does the hiring directly. If so, put in your application.
You might also ask an in-store demonstrator during a break how he or she got the job. Some companies pay a kickback for bringing in a new worker. If the store uses an outside agency, get the contact information. If you're interested in a specific product, go to the company website to check for openings and apply online. Kiosk operators in malls sometimes hire part-time product demo help. Pump it up.
Retail sales representative
The hours:
During holiday crunch time, plan on working evenings and weekends.
Median pay range:
Pay can range from less than $7.37 to more than $19.14 an hour, though bonus pay is possible.
Qualifications:
Previous sales experience helps, but it's not a deal-breaker. Greenhorns can apply. Expect on-the-job training by a more experienced employee. This can be on the fly at this frenzied time of year. Don't be shy about asking questions. In department stores, training programs are more formal. Topics often include customer service, security, store policies and procedures, and cash register operation. Insider knowledge helps. If you're hawking computers, a sense of the technical distinctions between products is vital. People skills are a must. Employers might run a background or credit score check on you to make sure you're trustworthy.
Best arrows to have tucked in your quiver: patience and persuasion.
Holiday decorator
The hours:
Potentially long and variable, but brief stints. November to early January. Some late-night and weekend can be work required for installation and dismantling.
Median pay range:
$8.14 to $17.23 per hour.
Qualifications:
Past holiday decorating experience is a plus.Floral designer training helps. If you've got a flair for this type of work, a good attitude and you're willing to learn, many florists and decorators will gladly train you as you go.
Many vocational schools and community colleges award certificates and degrees in floral design. You'll learn the basics of arranging flowers, including the different types of flowers, their color and texture, cutting and taping techniques, tying bows and ribbons and proper handling and care of flowers. The American Institute of Floral Designers offers an accreditation examination.
Job-hunting tips:
Check with local florists and floral departments at grocery stores and event-planning firms for openings.
If you're confident in your own decorating panache, you might opt to start your own business. You can land clients through word of mouth and ask friends and family to help spread the word. For starters, decorate the homes or offices of a few friends or family members gratis or at a bargain price. You'll be able to build up a portfolio or website with display pictures to show potential clients.
Bartending/waiting tables/catering
The hours:
Flexible. Nights, weekend and lunchtimes can peak during the weeks before New Year's.
Median pay range:
Bartending fetches $7.33 to $15.11 per hour and up plus tips. Waitstaff is good for $7.54 to $14.41 plus tips. Caterers should expect an hourly range between $9.82 and $11.89, but can run up to $20 an hour plus tips.
Qualifications:
A pleasant personality and an ability to banter with customers is essential. Math and memorization skills come in handy too. Experience is helpful, but other positions where you've worked with people (even as a volunteer) are worth noting. Personal and professional references are valuable calling cards.
If you're considering bartending, especially as a postholiday part-time job, you might enroll in a bartender training school that offers two-week programs.
Catering will require more stove time in the kitchen to earn your culinary chops and references to back up your claims. You could face stiff competition from professional chefs. Expect upfront costs for sample menu preparation.
Not for the hot and bothered.
Job-hunting tips:
Before you apply for waitstaff or bar jobs, do your reconnaissance as a customer to see how staff dress and get a feel for the venue and menu.
Shipping clerk/package delivery
For shipping clerk:
The hours:
Flexible and partial shifts during the rush season.
Median pay range:
The hourly wages run the gamut from $8.50 to $15 an hour based on experience.
Qualifications:
You must be computer literate. Retail experience staffing a cash register helps. Background check is standard for most positions.
For package delivery:
The hours:
Full eight-hour shifts to part time, depending on where you live.
Median pay range:
$9 to more than $14 an hour; tips and bonuses are possible.
Qualifications:
You should be somewhat spry to handle the physical aspects of this job. At
UPS
(UPS) - Get United Parcel Service, Inc. Class B Report
and
FedEx
(FDX) - Get FedEx Corporation Report
, there's typically a written test to gauge communication skills that may be called on when you come face-to-face with a customer. And some training is provided.
Job-hunting tips:
Check the big delivery company websites for openings.
Restaurant greeter
The hours:
Lunch and dinner shifts, generally no more than five hours.
Median pay range:
The pay scale is generally $8.25 to $15 an hour, but varies widely by size and popularity of the establishment.
Qualifications:
People and organizational skills are prerequisites.Some phone work. Prior time spent at a restaurant is valued. Warmth and a welcoming smile will serve you well.
Your mantra: "Follow me. Your table is ready."
Gift wrapper
The hours:
In-store jobs track shopping hours. For distribution center jobs, night shifts apply.
Median pay range:
The range is typically $8.60 to around $13 an hour.
Qualifications:
The ability to fold and wrap paper so it's taut and neat around a package, plus a knack for deftly twisting ribbon in ways the typical customer can't fathom.
This skill is generally self-taught, but you may be given crash on-the-job training with a few test packages. Some community colleges offer classes for around $25 that teach the "creative art" of gift-wrapping.
Job-hunting tip:
Search online job boards for "gift wrapper associate" and stop by or contact the human resource department at nearby stores.
Retail sales cashier
The hours:
Variable. Plan on working evenings and weekends.
Median pay range:
Pay can range from $7.15 to more than $12 an hour.
Qualifications:
Cashiers need little or no previous experience, although it helps. Training is generally on the go with a more seasoned co-worker. Department and chain stores might offer a short training course to get you up to speed on customer service, security, the store's policies and procedures and cash register operation. Employers generally run a background or credit score check to make sure you can be trusted to handle money. You should be at ease with financial transactions and basic computer commands.
Remember: The customer is always right.
--Written by Caitlin Walsh in Boston, with excerpts from Great Jobs for Everyone 50+: Finding Work That Keeps You Happy and Healthy ... And Pays the Bills.
2012 HOLIDAY GUIDE:How to Survive (and Enjoy) the 2012 Holiday Season