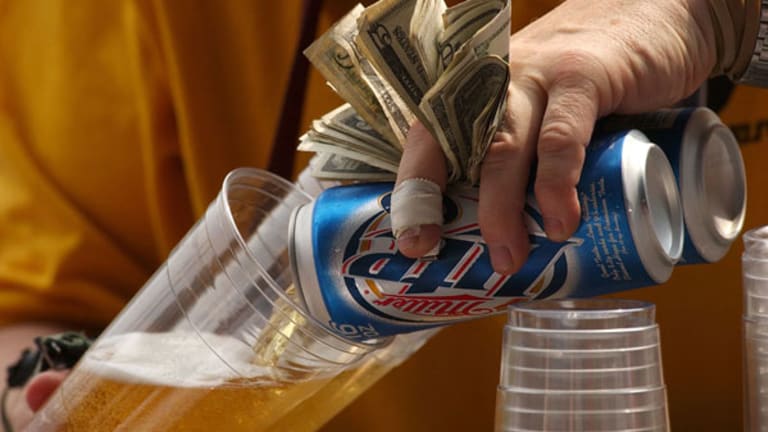 Publish date:
10 Highest Beer Prices In Major League Baseball
Somewhere in the stadium may be a couple of carts of the cheap stuff, but what you get can hit $8.25 for a small.
Somewhere in the stadium may be a couple of carts of the cheap stuff, but what you get can hit $8.25 for a small.
PORTLAND, Ore. (TheStreet) -- Just mentioning the price of beer at a Major League Baseball game can cause a bench-clearing brawl.
There'll be accusations of price inflation. There'll be cries for discounts and reparations. There'll be an overarching argument that the whole thing is unfair... and that's just the stadium vendors talking.
We learned a few things about beer pricing in baseball while writing about it last year, but the biggest lesson is that fans, teams and stadium concessions providers have vastly different views of beer pricing at baseball games. The only constant is that it's all in the eye of the beholder.
Take the Seattle Mariners'
Safeco
Field, for example.
Team Marketing Report
's
Fan Cost Index
puts the price of that building's cheapest beer this year at $5.50 for 12 ounces. Step up to one of the Northwest Beers carts on the stadium concourse, though, and you'll get a beer made at a small brewery within city limits for $9.75 -- or about $5 more than you'd pay for it at the taproom across town.
The concessions providers see that $5.50 as their lowest, most affordable beer price. A fan who can't find the stands with that price sees the $9.75 being charged near his or her section as the going rate. While the concessions folks have the moral high ground if there's even one stand in the building selling beers at that price, it's tough to jump all over the fan's case if vendors aren't making that low-priced beer very easy to find.
The absolute truth, however, is that Major League Baseball's average price for a small beer has risen from $5.81 in 2011 to $6.12 this year. At this time in 2011, the highest price for a small beer was the $7.25 the Boston Red Sox were charging at Fenway Park. This year five teams have exceeded that price, with two teams breaking the $8 barrier.
With help from Team Marketing Report, we took a look at the Top 10 beer prices in the league. In each case, that league-average price may as well be fiction for beer-loving fans. It starts with:
10. San Francisco Giants
Price of a small draft beer:
$6.75
Two World Series titles in three years will do this. Ticket prices jumped 10.6% this year, but the price of a 16-ounce beer at
AT&T
(T) - Get Report
Park went up a whopping 50 cents. It's tough to argue as long as Pablo Sandoval and company are bringing home the hardware, but in a town where
Anchor Brewing
helped launch craft beer and brewers such as
21st Amendment
carry on the tradition, increasing the price of highly spillable ballpark suds is akin to Gordon Biersch skimping on cloves for its garlic fries.
9. St. Louis Cardinals
Price of a small draft beer:
$6.75
There's no hometown discount for Budweiser at Busch Stadium in St. Louis, but that's OK:
Anheuser-Busch InBev
(BUD) - Get Report
is about as much of a St. Louis institution as waffles or clogs are. A-B's merger with InBev a few years back cost a lot of folks in this town their jobs and sent former A-B stalwarts running to small local brewers such as
Schlafly
,
Urban Chestnut
and others. Still, it must sting Cardinals fans in a stadium named for the Busch family to spend more on 12 ounces of beer than their fellow beer-ballpark fans pay for a pint at Milwaukee's Miller Park ($6) or Colorado's
Coors
(TAP) - Get Report
Field ($6).
8. Atlanta Braves
Price of a small draft beer:
$7.25
That wild card matchup against the Cardinals last year was nice and all, but was a post-season loss really grounds for bumping up the price of a 16-ounce beer by 25 cents? At $17.32, the Braves still have the lowest average ticket price of any of last year's playoff teams, but hiking beer prices is a dangerous proposition in
Coca-Cola's
(KO) - Get Report
hometown.
7. Chicago Cubs
Price of a small draft beer:
$7.25
We're not sure if the Cubs realize how this works, so we'll just pass some advice along: Wait until some of second-year general manager Theo Epstein's moves pay off, let the team win more than 61 games,
then
raise the price of beer by a quarter or so. Considering the Houston Astros, the only team in the National League with a worse record than the Cubs last year, jumped ship for the American League, Cubs fans may pay more per win this year than per beer.
6. Boston Red Sox
Price of a small draft beer:
$7.25
No change in price for what has ben the most expensive 12 ounces of Major League beer three years running. Oddly, that's the same amount of time since the last Red Sox playoff appearance. If the on-field product is already angering fans, don't punish them further with high beer prices. Win or lose, Red Sox nation still pays the steepest price for beer per ounce in the majors.
5. Toronto Blue Jays
Price of a small draft beer:
$7.34
Hey, if you just bought the better parts of the Miami Marlins' roster and some pitching help from the Mets -- though R.A. Dickey hasn't been much help so far -- you'd jack up prices 15 cents too. It's the second year in a row the price of 14 ounces of beer at the Rogers Center has gone up by that much, but the expectations this year are just a bit higher, too.
4. Minnesota Twins
Price of a small draft beer:
$7.50
You have to admire the chutzpah. This is a team that has finished dead last in the American League Central Division for the past two years after being a perennial playoff contender. Its relatively new home at
Target
(TGT) - Get Report
Field has known little else but misery since the team was swept out of the only playoff series the building hosted during its inaugural season in 2010. Now you're jacking up the price of a beer by 50 cents? Granted, the smallest size is still 20 ounces, but that hurts.
3. Philadelphia Phillies
Price of a small draft beer:
$7.75
The price of beer holds steady in
Citizens Bank
(RBS) - Get Report
Park, but the "small" is still 21 ounces. At 37 cents an ounce, that's a better deal by volume than fans are getting anywhere on this list except Baltimore. If the Phillies can make it back over .500 and into the playoffs again, it'll make those beers an even better bargain.
2. Miami Marlins
Price of a small draft beer:
$8
They fired manager Ozzie Guillen, sold off most of last year's high priced roster and are still making fans pay $8 for 16 ounces of beer? Granted, the Marlins dropped ticket prices 4% this year, but that's only after springing a 55.4% price hike on fans last year and sticking them with a tax increase. It's all a high price to pay for mediocre-to-bad baseball and beer, but it's still not enough for Miami to keep its Most Expensive Beer title. That honor goes to its National League rivals ...
1. Washington Nationals
Price of a small draft beer:
$8.25
You get the feeling that management was just waiting for any signs of life from this franchise before soaking its well-heeled D.C. fanbase. Well, here comes the flood. After the Nationals' first-ever playoff appearance last year -- a 3-2 loss to the Cardinals in the division series -- the nationals raised ticket prices 15.4% and increased the price of a 16-ounce beer by a whopping $1.75. Once a major market team starts playing like one, the major-market prices follow.
-- Written by Jason Notte in Portland, Ore.
>To contact the writer of this article, click here:
Jason Notte
.
>To follow the writer on Twitter, go to
.
>To submit a news tip, send an email to:
.
RELATED STORIES:
>>How Tapping The Jewish Beer Market Begat A Plan
>>Sierra Nevada CEO Makes East Coast Beer Run
>>Craft Brew Founder Widmer Savors Results
Jason Notte is a reporter for TheStreet. His writing has appeared in The New York Times, The Huffington Post, Esquire.com, Time Out New York, the Boston Herald, the Boston Phoenix, the Metro newspaper and the Colorado Springs Independent. He previously served as the political and global affairs editor for Metro U.S., layout editor for Boston Now, assistant news editor for the Herald News of West Paterson, N.J., editor of Go Out! Magazine in Hoboken, N.J., and copy editor and lifestyle editor at the Jersey Journal in Jersey City, N.J.