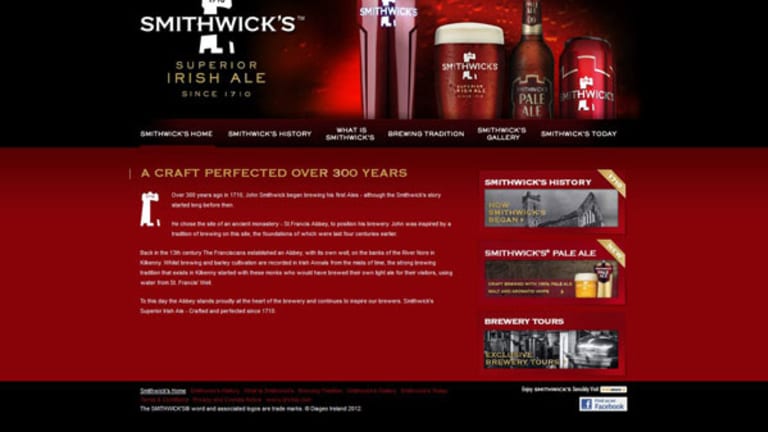 8 Great Irish Beers That Aren't Stouts
Why should the country that gave us red ale and black lager be reduced to Guinness every St. Patrick's Day?
PORTLAND, Ore. (TheStreet) -- Around this time of year, every pub on the planet and the folks at Diageo (DEO) - Get Diageo plc Sponsored ADR Report who make Guinness out to be Liquid Ireland would have you believe that the Irish created dry stout, dropped the mic and walked off the world beer stage.
Like the local American Legion Hall that slaps a shamrock on the door and considers itself "Irish" for the day, equating stout with St. Patrick's Day misses the mark a little bit. We've said it before and we'll say it again: There is no
"official beer of St. Patrick's Day."
It's a religious holiday that has no more traditional ties to beer than
or
do.
Even if St. Patrick's Day did have an official beer, Guinness wouldn't be it these days. As much as beer drinkers may love what the
has done for Irish-style pubs and low-alcohol drinking sessions, it makes up less than 1% of the U.S. beer market and is
of the beer drunk in Ireland. Ask folks at a pub in Galway what they'll have and nearly two times out of three they'll answer with
Anheuser-Busch InBev's
(BUD) - Get Anheuser-Busch InBev SA/NV Sponsored ADR Report
Budweiser, Stella Artois, Carlsberg, Heineken or some other light lager.
Also, while we're very sure Guinness stout is Irish, we're not so sure it's
. Arthur Guinness' original recipe for Guinness Stout was originally his Extra Superior Porter. True porters didn't return until the initial American craft beer boom of the late 1980s and early 1990s. To this day, judges at beer competitions insist stouts are darker, use roasted barley and use less water than porters. Unfortunately, even brewers and beer experts don't believe there's much separating porters and stouts beyond what a brewer decides to call them.
It helps to keep making a low-alcohol product that won't have you stumbling out the door after long sessions at the pub. But at the very least, it should have something in its makeup, character or even heritage that would make it at home in an Irish pub. To make sure Ireland's brewing heritage isn't shortchanged and to give pubgoers an alternative to a plastic cup of hastily poured stout this St. Patrick's Day, we've come up with eight beers that are every bit as Irish as Guinness, but aren't just yet another frothy pint of stout:
8. O'Hara's Irish Wheat
"Wait, isn't
Belgian?" Stick a County Cork in it and hear us out. This particular wheat, sometimes known as Curim Gold, has Irish Celtic roots and spurns the citrus and coriander flavor of typical witbiers for a more Teutonic blend of plum, peach and banana. At a scant 4.3% alcohol by volume, it's just as mild as stout while more refreshing and less roasty and bitter.
A product of
Carlow Brewing
, an Irish craft brewer founded in 1996, O'Hara's experienced growth similar to most American craft brews. While only a modest presence in Ireland for the first years of its existence, O'Hara's built its footprint through lots of do-it-yourself promotion, word of mouth and exports. This wheat beer and other brews on Carlow's roster delve deeper into traditional Irish styles and remind folks that the palates of the nation's brewers were far broader than blackened pints would have you believe.
7. Porterhouse Brewing Bohemia
Some of the greatest upstart brewers have come up in the shadows of brewing giants. New Belgium, Avery and Oskar Blues helped make Colorado a craft beer center despite Coors and, later,
MolsonCoors
(TAP) - Get Molson Coors Brewing Company Class B (TAP) Report
being headquartered right down the road. Schlafly and Urban Chestnut thrive in St. Louis after Anheuser-Busch's merger with InBev.
Since 1989, Porterhouse Brewing has been spreading some of the craft beer spirit around Guinness' backyard by fooling around with Belgian recipes and tweaking beloved Irish styles. Porterhouse has since expanded a to brewery and four brewpubs in Ireland, another brewpub in London and yet another at the New York pub -- Fraunces Tavern -- where George Washington had a few beers with his officers to celebrate their victory over the British.
Now "Bohemian" doesn't sound Irish at all (in fact, it sounds awfully Germanic and Czech), but Porterhouse's Bohemia is a take on the black lager style that Irish brewers including Guinness are increasingly claiming as their own. Brewed with help from a Czech brewer and with Pilsner Urquell yeast, the 5% ABV Bohemia has a bunch of Saaz Hops on the nose but finishes with the roasted chocolate flavor that stout drinkers love so well. It's innovative and, in Guinness' hometown, its a nice alternative that's forcing its bigger neighbor to step up its game a bit.
The smooth, light Irish Red style spawned many impostors across the pond -- hint, George Killian hasn't produced beer since 1956 and never produced any for Coors -- but the real deal still remains among the best.
One of the longtime favorites is Kilkenny Irish Cream Ale, a style that falls between a warm-weather ale and a cellar-stored lager. Brewed by Guinness and distributed by Diageo, Kilkenny traces its origins back to Smithwick's brewery during the 14th century. The entire point of this beer is to have the sweetest, smoothest, most inoffensive brew imaginable in your glass to make you forget you're drinking a beer.
Kilkenny accomplishes all of that with an almost vanilla aroma, a rich, creamy, toasted malt flavor and a nitrogen-infused texture similar to Guinness, but with little more than 4% ABV. It wasn't available here until 2009, however, and then only at the Dubliner Pub in Washington, D.C. It's availability has expanded somewhat, but drinkers should still consider themselves lucky if a local decides to carry it.
Where Kilkenny's history's gone, Smithwick's has followed.
Smithwick's and Kilkenny were brewed on the site of a Franciscan abbey in Kilkenny, where monks had brewed since the 14th century. It wasn't until 1710 that John Smithwick and Richard Cole founded the brewery that it started producing the Irish Red Ale known and loved today. With lots of malt and a little hint of caramel, Smithwick's is almost still as it hits a drinker's tongue and smooth and light going down. While it feels almost devoid of carbonation, a pint of Smithwicks from a nitrogen tap can be as light and lovely as any stout and pairs as nicely with a Guinness as a proper Black and Tan.
Though only 3.8% alcohol in Ireland, Smithwick's gets kicked up to 4.5% ABV in the states. Don't worry about finding some: Smithwick's was bought by Guinness in 1965 and is part of the Diageo family. If you find one, odds are the other is a tap beside it.
4.
Franciscan Well Rebel Red
You're just not going to find this stateside, barring some St. Patrick's Day miracle.
This craft brewery in Cork City, Country Cork, has been around since 1998 and is built on the site of a Franciscan monastery and well dating back to 1219, but it remains something of a local secret. Better known for producing stout aged in Jameson Irish Whiskey barrels, Franciscan Well takes it the other way with a mild red that sits at a manageable 4.3% ABV. Midle Fuggle and East Kent Goulding hops keep the aroma and flavor at bay, while the malt makes its as smooth a drink as its style implies.
It seems only fair to recommend at least one trip to Ireland for St. Patrick's Day if you're that keen on having an Irish beer for the holiday. This brewery more than justifies the trip.
Murphy's is the only one of the Big Three Irish Stout Producers -- Guinness and Beamish being the others -- that produces its own Irish red that you can still find here in the states. Yet another of the dry, malty, caramel-flavored Irish red ales, it's named for the reddish hue that comes from adding just the right amount of roasted barley.
Murphy's red dates back to the early days of Lady's Well Brewery in 1856, when it was brewed as Lady's Well Ale. The modern incarnation has a bit less romance to it after being reintroduced by Heineken in 1983 to appease beer-drinking countries Heineken didn't think would take to stout.
Since then, however, Murphy's and Smithwick's have spawned a host of U.S. doppelgangers that have little to no Irish roots but are giving the old standbys a run for their money.
Boston Beer
(SAM) - Get Boston Beer Company, Inc. Class A Report
makes a serviceable version with its
, but kicks the ABV up to 5.8% for the American craft beer masses. Some of the best Irish Reds in the U.S., however, come from the Midwest. Kansas City, Mo.-based
(5.8% ABV), Cleveland's
Great Lakes Brewing's Conway's Irish Ale
(a whopping 6.5% ABV) and the smooth caramel and peat of the
(5.5% ABV) from Three Floyd's Brewing in Munster, Ind., started with the same traditional red ale foundation but gave it an American spin.
2.
Want to mock the folks at the pub drinking cider on St. Patrick's Day? Guess what, boyo? Those folks were there drinking cider the day before and they'll be there knocking back ciders long after your little amateur hour escapades are over.
The Irish have been making big batches of hard cider since the mid-1930s, when the first batches were made by William Magner. Cider now accounts for 12% of Ireland's beer market, and that original cider Magner made makes up a huge part of that percentage.
Though it's known as Bulmer's in Ireland for reasons involving former ownership by H.P. Bulmer and a lot of evolution we're not going to address, Magners found a huge following among East Coast Irish expats and pub crowds. Sales were up more than 29% last year as the sweet, mild cider set its sights on even more U.S. growth with new varieties, including a peach-and-berry concoction.
Its owners,
C&C Group
, bought E.&J. Gallo Winery's Hornsby's cider brand in 2011 and, just last year, Vermont Hard Cider and its Woodchuck Brand for $305 million. It's battling Boston Beer's Angry Orchard brand for cider dominance and, yes, it's typically best enjoyed with ice. Don't like it? Go ahead and tell that to the team of rugby players who've been waiting for your obnoxious, green-wearing self to finish that drink order and move on. You may think you're Irish on St. Patrick's Day, but Magners is Irish year-round.
1.
Black IPA
Irish it ain't, but it draws more inspiration from Irish brewing than much of today's stout.
Once again, not of Irish descent in the least. India Pale Ale is a British style that's since been Americanized and has precious little to do with Irish ales and stouts.
Black IPA is a dark ale and, as we mentioned earlier with stouts and ports, it can get awfully difficult to find the nuanced differences between the styles. Black IPA cuts some of the mystery by going heavy on the aroma and flavoring hops and tossing in citrus flavors as the prime source of bitterness that would usually come from roasted malt.
Escondido, Calif.-based Stone Brewing, for example, comes strong with an 8.7% ABV Sublimely Self-Righteous Ale that's heavy on the hops and citrus, while San Francisco's 21st Amendment cans its 6.8% Back In Black and ships it just about everywhere. Just up the Pacific Coast in Oregon, brewers such as Rogue and Deschutes also dabble in hoppy black IPAs. They're not such a tough find on the East Coast, either, as Lakewood, N.Y.-based Southern Tier Brewing produces a formidable version in Iniquity that mixes smoke and hops in a potent 9% ABV brew.
-- Written by Jason Notte in Portland, Ore.
>To contact the writer of this article, click here:
Jason Notte
.
>To follow the writer on Twitter, go to
.
>To submit a news tip, send an email to:
.
RELATED STORIES:
>>How Tapping The Jewish Beer Market Begat A Plan
>>Sierra Nevada CEO Makes East Coast Beer Run
>>Craft Brew Founder Widmer Savors Results
Jason Notte is a reporter for TheStreet. His writing has appeared in The New York Times, The Huffington Post, Esquire.com, Time Out New York, the Boston Herald, the Boston Phoenix, the Metro newspaper and the Colorado Springs Independent. He previously served as the political and global affairs editor for Metro U.S., layout editor for Boston Now, assistant news editor for the Herald News of West Paterson, N.J., editor of Go Out! Magazine in Hoboken, N.J., and copy editor and lifestyle editor at the Jersey Journal in Jersey City, N.J.