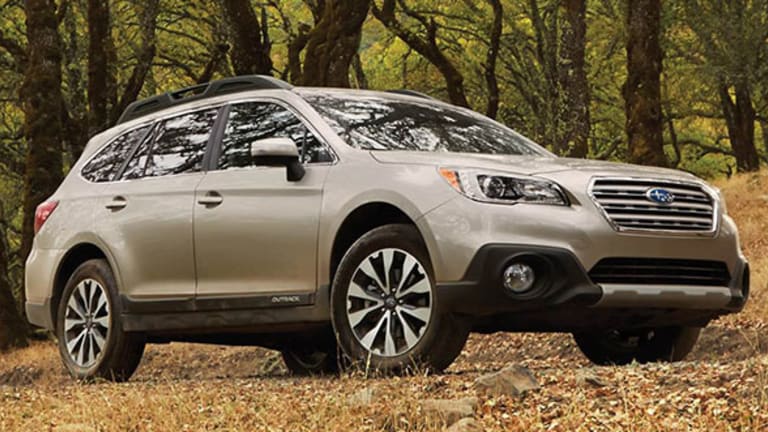 12 'Foreign' Cars Still Made In The U.S.A.
Mitsubishi won't be producing its vehicles at its plant in Illinois much longer, but some of the most popular Japanese, German and Korean automobiles will still be made here.
NEW YORK (TheStreet) -- We're bidding farewell to the U.S.-made Mitsubishi, but this country is still building more than its share of "foreign" cars.
In July, Mitsubishi USA announced that it would end vehicle production at its plant in Normal, Ill. and attempt to sell the facility in an effort to save jobs. It's the end of a long, odd journey that began with Chrysler buying a 15% stake in Mitsubishi back in 1970. In an effort to keep U.S. Mitsubishi sales in Chrysler's column, the two automakers built a plant in Normal in 1988. After making Chrysler and Eagle-brand vehicles there for a few years, Mitsubishi bought out Chrysler's share of the plant in 1991 and escaped Chrysler's clutches altogether in 1993.
It had been building cars under its own name in Normal for 20 years but watched production sink from a peak of 223,000 vehicles in 2000 to just 18,500 by 2009. The company eventually brought production levels back up to more than 69,000 by last year, but Mitsubishi's share of the U.S. market slid to just 0.5%. Though Mitsubishi sales in the U.S. are up 25% year to date, the company didn't seem to feel it could carry that plant much longer.
However, the legacy of what it accomplished in Normal remains, with Japanese, Korean and German automakers all producing cars here in the U.S. Many are strictly assembled here with a glut of parts from overseas, but the National Highway Traffic Safety Administration freely admits there's no such thing as a 100% American car and notes that one of its most American vehicles, the 65% U.S.-produced Chevrolet Captiva, had its motor made in Mexico and is assembled there as well.
The NHTSB's list of 2015 vehicles assembled in the U.S. using the most U.S. and Canadian parts is dotted with overseas automakers who've built predominantly "American-made" vehicles here in the U.S. It's reached the point where event the most "American-made" sedans and pickup trucks aren't produced by U.S. automakers. The following are just some examples of the vehicles being produced in this country by overseas automakers.

Acura RDX
Assembled:
East Liberty, Ohio
The Japanese automakers typically don't build a whole lot of their luxury vehicles in the U.S., but Honda isn't afraid to make Acura a strong presence here. The Acura MDX, TLX, NSX and ILX are all produced at Honda plants in Alabama and Marysville, Ohio. However, the RDX tops them all by being built with 70% U.S.-made parts.
Oh, and it's exclusively built here, unlike its sister crossover: The Honda CR-V. The CR-V is less expensive and far more popular, which means Honda has to assemble it in the U.S., Canada and Mexico just to meet demand.
The RDX makes up for it by loading up with all sorts of luxe gadgets to keep you comfortable. Our favorite, the GPS-linked climate control in the RDX's $3,700 technology package (and that of the pricier MDX) communicates with a GPS-linked solar sensor that determines the position of the sun relative to the driver and passenger. That's right, it's using global positioning satellites to tell your dual-zone climate control system then to keep the sunny side of the car as cool as the shaded side. The future is here, and it's made in Ohio.

Infiniti QX60
Assembled:
Smyrna, Tenn.
This is the only Infiniti that Nissan makes at either of its two U.S. plants in Tennessee and Mississippi, but it isn't difficult to understand why.
The former Infiniti JX -- don't ask us why Nissan and Infiniti couldn't settle on Infiniti naming convention earlier -- is basically a luxury crossover built on a Nissan Pathfinder's frame. This isn't exactly news, and every Acura, Lexus and Infiniti owner knows he's driving a Honda, Toyota or Nissan with higher-grade upholstery and more expensive toys in the cabin. Even the 3.5-liter V6 engine and its 256-horsepower are basically equivalent to what you'll find in the Pathfinder. But it's the maple trim, leather seating, three-zone automatic climate control, two panoramic moon roofs, suite of collision-avoiding safety features, in-car remote concierge service, twin 7-inch passenger video screens and Bose surround sound that give the Infiniti its big-ticket value.

Volkswagen Passat 
Assembled: Chattanooga, Tenn.
The Chattanooga plant opened in 2011, employs 2,000 workers and produces only this mid-sized vehicle aimed squarely at American families. While it only built 22,000 of them in 2011, it's built more than 100,000 each year since. According to the NHTSB, roughly 42% of the Passat's parts were made here, but the intention is to get that total up to 85% while increasing production capacity to roughly 600,000 vehicles per year. Volkswagen has made a serious investment here, and a roomy midsize that gets about 37 miles to the gallon is a great foot forward.


Subaru Outback
Assembled: Lafayette, Ind.
The Subaru of Indiana Automotive Plant was originally at Subaru-Isuzu joint venture when it first started producing vehicles in 1989. However, Subaru bought out Isuzu for exactly $1 in 2002 -- Isuzu would leave the U.S. entirely by 2009 -- and used the space to build its short-lived Baja and Tribeca models but also its far more successful Legacy midsize and Outback wagon. Yes, the lacrosse car of choice is built right here in the U.S. with 50% U.S. parts in the same facility that currently produces the best-selling midsize car in the U.S., the Toyota Camry. The Camry leaves after next year, but some of Japan's strongest automotive ties to U.S. families will still stem from Indiana.

Toyota Tundra
Assembled: San Antonio, Texas
This isn't just the most American-made pickup from a foreign automaker: Its 75% U.S.-made parts make it the most American-made pickup period.
The top-selling Ford F-150 paid for its 2015 upgrade by embracing a mix of parts that's only 65% U.S.-made (including some Canadian-made diesel engines). The Fiat Chrysler Ram series has only 61% U.S. parts -- with 23% Mexican parts -- and splits assembly locations between the U.S. and Mexico. GM's Chevrolet Silverado and GMC Sierra? The majority (52%) of their parts are made in Mexico, and a bunch of models are assembled there.
As the first full-sized pickup truck built by a Japanese manufacturer, the Tundra had a lot of baggage heaped into its cargo bed that the smaller, popular Tacoma never did. But the San Antonio-based plant that makes the Tundra gave it a Texas-sized upgrade two years ago that included a larger grille, brawnier fenders, a redesigned tailgate and taillights, as well as a completely redesigned interior. The Toyota practicality comes through inside, however, as a 3.5-inch information screen, Bluetooth connectivity and back-up camera are now among the features that take second billing to its towing and payload capacity. The Detroit Three's trucks are more popular, but Toyota's features, parts and labor make it more American than the lot of them.

BMW X Series
Assembled: Greer, S.C.
When BMW built this plant in 1994, it had no intention of making a facility that cranked out cars just to placate U.S. buyers. It wanted somewhere that would help deliver a new breed of luxury car to the world.
BMW's X series of crossover SUVs has all of the plush amenities of the German automaker's coupes and sedans, but the hopped-up horsepower and slew of tech features including a Mobile Office function that enables text-to-speech readings of e-mail, calendar entries and notes made it a fast favorite worldwide. Roughly 364,000 X series vehicles were produced in South Carolina last year, but 70% were exported to 140 countries. In fact, the X series has proven so popular that BMW has opted to spend a billion dollars and make the South Carolina facility the automaker's largest factory in the world.

Nissan Pathfinder
Assembled: Smyrna, Tenn.
Nissan has two plants in the U.S. -- one in Smyrna and the other in Canton, Miss. -- assembling 12 Nissan vehicles (and the Infiniti QX60). It's made a hefty investment in this market, for which it's received an 8.6% share of U.S. auto sales, putting it in sixth place in market share behind Honda, Toyota, Chrysler, Ford and GM.
Its vehicles here are built with with 50% U.S.-made parts and have a distinctly American appeal to them. However, as lagging sales of the Nissan Titan pickup and the recent decommissioning of the Nissan Xterra make clear, Nissan still has a bit of catching up to do.
As recently as two years ago, the Pathfinder was still being built to compete with the Chevy Blazer and Ford Bronco. It was hopped up on trucks, still getting a paltry 18 miles per gallon and it still firmly believed a 4.0-liter V6 is something anyone wants in a family vehicle. Recently, it joined the rest of the modern automotive world by switching to a car-platform crossover, trimming to a 3.5-liter V6 and cutting fuel economy to a combined 23 miles per gallon. It still has seven seats, nearly 80 cubic feet of storage room with the two rows of rear seats down. The second row moves up five inches for easy rear-seat access and there's three-zone climate control to go with an available three-zone entertainment center.

Honda Odyssey

Assembled: Lincoln, Ala.
This is what you're talking about when you discuss the great American minivan. Made with 75% U.S.-produced parts, the Odyssey has as many U.S.-made pieces as Chrysler's Town and Country and Grand Caravan but doesn't have to cross the border into Canada for assembly as those two do.
Honda has four U.S. plants in Alabama, Indiana and Ohio that build more than a dozen Honda and Acura vehicles here. However, few capture the spirit of the U.S. family quite like the Odyssey. It can carry five family members, store drinks and snacks in a center-console cool box and collapse its third row to offer 93.1 cubic feet for more storage. Oh, and there's the optional 16.2-inch split screen entertainment system that lets passengers watch two programs at once and has an optional built-in vacuum cleaner to pick up and crumbs and road snacks left behind. It knows the American family well, and doesn't let that Tokyo-headquartered nameplate get in its way.

Hyundai Elantra

Assembled: Montgomery, Ala.
This is Hyundai's tenth year of Assembling vehicles at its Alabama plant, where it produces more than 300,000 vehicles a year and provides more than 5,500 jobs. That's the good news.
The bad news is that, according to the NHTSB, only about 39% of the Elantra's parts are made here. That includes the engine and transmission, but 60% of the Elantra is still sourced from Korea, compared to 46% to 49% of the Hyundai Sonata made at the same facility. Still, the Elantra is by far the best-selling Hyundai in the U.S., with the 129,000 sold through June outpacing the Chevrolet Cruze and Ford Fusion. It isn't the most "American" vehicle made in the U.S., but it's certainly one of the most popular to come out of a foreign automaker's plant.

Kia Sorento

Assembled: West Point, Ga.
Yes, Hyundai and Kia fall under the same umbrella -- as evidenced by the fact that the Hyundai Santa Fe is being produced at this Kia plant -- but here in the U.S., the Kia brand warrants homes of its own.
Kia has its own design center in Irvine, Calif., and has made about 300,000 cars a year in Georgia since 2010. Not just any cars, but its midsize Sorento SUV and midsize Optima that are considered the brand's flagships here in the U.S. Granted, it doesn't sell enough of them to match Hyundai's 4.4% market share, but Kia's 3.6% share of the U.S. market exceeds that of Subaru (3.2%) and that of Mazda (1.9%), Fiat (0.3%) and Mitsubishi (0.5%) combined.

Mercedes-Benz C-Class

Assembled: Vance, Ala.
Welcome to the last and, perhaps, best remnant of the DaimlerChrysler partnership.
Mercedes-Benz has been making vehicles here since 1997 and employs about 4,000 workers to crank out its M-Class, R-Class and GL-Class vehicles here. The facility's biggest coup, however, came last year when it was announced that production of the automaker's popular, entry-level C-Class would be shifted here. That's a high-profile addition for a facility that's already fairly impressive thanks to its multiple test tracks, its Mercedes-Benz Museum and its collection of cars. Though DaimlerChrysler dissolved ten years after this plant open, it seems both Mercedes and Alabama got the best end of the deal.

Toyota Camry

Assembled: Georgetown, Ky.
Yes, we've already included Toyota on this list, but we're including Camry to prove a point: That Toyota doesn't have the biggest share of the U.S. market held by any foreign automaker for no reason at all.
It has four facilities in Kentucky, Indiana, Texas and Mississippi. Its Kentucky plant has been making Toyotas since 1988 and produces the size-large Avalon specifically for U.S. consumers. However, the Camry has more U.S.-made parts (75%) than any midsize vehicle currently sold in this country and is the third best-selling vehicle in the U.S. behind the Ford F-150 and Chevrolet Silverado. Between the Camry and the Mississippi-assembled Toyota Corolla, Toyota sells more compact and midsize cars in the U.S. than any other manufacturer, and it's done so by making a second home here. Other Japanese automakers may follow Mitsubishi out of U.S. production -- or follow Suzuki and Isuzu's lead and leave the market altogether -- but Toyota isn't going anywhere.