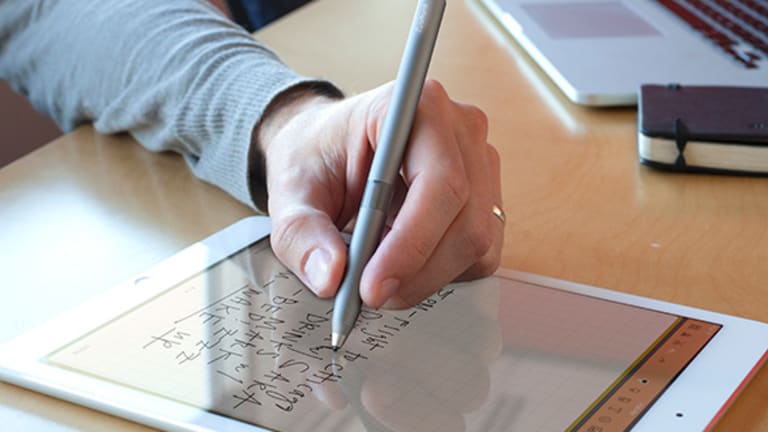 NEW YORK (TheStreet) -- Since the first day of June, my inbox has been flooded with marketing emails from Amazon (AMZN) - Get Amazon.com, Inc. Report, Groupon (GRPN) - Get Groupon, Inc. Report and every other store I've bought items from in the past year. All are making gift recommendations for Father's Day.
Groupon wants me to consider giving dad a gift certificate for golf lessons; Amazon suggests lawn and garden tools; and Williams-Sonoma (WSM) - Get Williams-Sonoma, Inc. Report thinks I should get him an ice cream maker.
According to the National Retail Federation's 2015 Father's Day Spending Survey, the average person is expected to spend $115.57 on gifts. More than half of those surveyed are planning to buy for their father or stepfather (51.8%), while others will shop for their husband (27.6%) or son (8.9%).
To help gift-givers narrow their choices, we picked out 10 gifts for 10 different types of dads, from the wannabe bartender to the one obsessed with his car. Here's hoping you'll find something that's just perfect for the dads on your list.

The wannabe bartender
Does dad enjoy hanging out in the home bar with his beer-loving pals? Krups and Heineken B100 BeerTenderwith Heineken Draught Keg Technology is one gift he'll love. He can always have cold beer on tap and he'll have so much fun playing bartender. It will also make for a happy spouse as it frees up space in the fridge — no more beer bottles or beer cans to deal with.
This cool gadget uses the Peltier cooling system that provides constant and consistent cooling of the keg. Dad can throw a party and if for any reason he doesn't empty the keg (highly unlikely), the beer will stay fresh for 30 days. There's just one drawback: this BeerTender can only work with beers in the DraughtKeg system: Heineken, Heineken Premium Light and Newcastle Brown Ale.
Amazon sells this item for $179.50, but if you're shipping it directly to dad as a gift, take to heart Amazon's warning: "This item's packaging will be visible when delivered and cannot be gift-wrapped."

The first-timer
If you have a first-time dad on your list, try to make his life a little easier with a useful gift. How about a diaper bag he wouldn't be embarrassed to carry?
DadGear makes diaper bags that are both roomy and stylish. The backpack ($99) is great for traveling, as it can hold three day's worth of diapers and other needs. It has a neat compartment for baby wipes, a separate space for diapers and changing pad, as well as room for baby's clothes, blankets, snacks, small toys and bottles.
DadGear also makes messenger-style diaper bags ($89) that make dad look more like he's carrying a laptop than baby stuff. Messenger bags can be customized by swapping the removable front flap.
The backpack and messenger diaper bags are available in many designs at DadGear.com.  For dads who simply refuse to carry a diaper bag no matter how masculine it is, DadGear also offers vests with numerous pockets for baby-care essentials.
The car fanatic
Does dad spend hours in the garage, cleaning and polishing his car? Give him all the gadgets he'll need to pamper Christine (or whatever name he's given it).
This Griot's Garage 58523 Random Orbital One-Step Kitis easy to use. Apply the Paint Cleaning Clay and Speed Shine to remove contaminants, then use the One-Step Sealant with the 6-inch Random Orbital and a 6-inch Orange Foam Polish Pad. Next step is to buff off the residue with the Micro Fiber Polish Removal Cloths.
The package also includes a Spray-On Wax for touch-ups and for keeping the car's finish nice and glossy.
Effective for removing swirl marks, light scratches and other paint imperfections, this one-step kit is available on Amazon for $235.14.
The liquor bottle collector
Some dads buy certain types of liquor just for the bottle. If vodka is your dad's preferred drink, he will love the elit by Stolichnaya, Stoli's line of ultra-luxury vodka. It goes through a unique freeze filtration process to remove impurities, resulting in a smoother version of original Stolichnaya vodka.
The clear bottle with its clean architectural lines is a collector's item and can be engraved with a short message, a favorite quote or a simple "Happy Father's Day!"
The elit by Stolichnaya retails for $59; ReserveBar will engrave it for an additional $69. If you don't think that's pricey or luxurious enough for dad, you might want to check out the ultra-expensive elit Pristine Water series. The limited edition vodka comes in a crystal bottle and retails for … $3,495 (nope, that's not a typo.)
The flake
Does dad say he'll be home by 6 p.m. but actually arrives closer to 8 p.m.? And when you try to call him, do you always get his voicemail?
Give him no reason to be late or ignore your calls with the Samsung Gear 2 Neo Smartwatch. Assuming he has a compatible Samsung device, dad can get phone calls and read instant notifications and text messages on his wrist. No more "I left my phone in my briefcase" excuse.
A bonus for dad is the built-in music player. No need to bring his phone along when he goes for a run or works out at the gym -- just his headphones and this watch should be enough to keep him company. Another cool feature is the personalized fitness motivator, which tracks his steps, calories burned and heart rate.
Amazon sells the black Samsung Gear 2 Neo Smartwatch for $199. If you're looking to save a few bucks, get it in grey for $168.
The sentimentalist
Does dad have thousands of old photos that he keeps in boxes or drawers? And has he been talking about wanting to get them all organized? Here's an idea.
For Father's Day, you can get dad a prepaid scanning box from ScanMyPhotos.com. The box is $145 and can hold up to 1,800 standard-sized photos. The price includes the cost of scanning and three-way shipping.
When dad is done filling up the box, he just needs to ship it out and within five to 10 days, he'll get a DVD with all his photos. If he's just getting started on Instagram, this is the easiest way for him to post stuff for #TBT (Throwback Thursday).
For a small fee, dad can have his photos saved on a flash drive. ScanMyPhotos.com can also digitize 35mm slides, film negatives, and VHS tapes.

The techie
The Adonit Jot Script 2 is a great gift for the self-proclaimed techie dad who is never too far from his Apple (AAPL) - Get Apple Inc. (AAPL) Report iPad. This will allow him to recreate that pen-to-paper experience — whether he's on the plane traveling for business, jumping from meeting to meeting in the office or using his iPad at home to draw sketches for the little ones.
The Jot Script 2 is a slim, fine-point Bluetooth stylus for $74.99 that syncs with dad's favorite note-taking apps such as Penultimate, GoodNotes and NoteShelf. The previous version of the Jot Script requires one AAA battery, but this one comes with a rechargeable battery that could last up to 50 hours.
The frequent traveler
Make dad's business trips more enjoyable with the  Bose QuietComfort 25 Headphones. He can put these on while on the plane, and all that engine noise will fade away. That means he can hear everything mom and kids say during FaceTime calls or listen to his favorite music for hours.
Even if dad already owns an older version of these (or uses another brand of headphones), it's still worth giving him a new pair. Bose has done a complete redesign with higher-quality materials and finishes. They are lightweight, and the earcups rotate further for a better fit. The headband sits closer to the head, with suede-like material underneath for extra comfort.
At $299.95, the QuietComfort 25 headphones come with a 56-inch inline remote and microphone cable, airline adapter, carry case and AAA battery.
The grill master
If dad loves to barbecue, he'd want to have exceptional grilling tools to make his life easier.
Williams-Sonoma's BBQ Tools Set  includes a basting mop, fork, slotted spatula and tongs. These tools have extra-long synthetic handles and loops for hanging. They also come in an attractive storage case.
There's nothing ordinary or predictable about this gift if you choose to customize. Williams-Sonoma will monogram all the handle shanks with three initials -- choose his initials or just plain "DAD."
Williams-Sonoma offers this exclusive product online only. The $115 price tag includes personalization.
The man-cave dweller
Is spending hours in the basement watching ESPN or HBO your dad's idea of relaxation? Give his man-cave an upgrade with the Sonos Playbar TV Sound Bar/Wireless Streaming Music Speaker. With virtual surround feature, it will give dad the ultimate theater experience.
Setup is quick and easy — the Playbar connects to the TV with a single optical cable and power cord and is compatible with other Sonos music components such as Play 5, Play 3 and Play 1. So if dad is looking for a complete audio experience, not just in his man-cave but all over the house, he can pair the Playbar with other Sonos speakers.
With the free Sonos Controller app for Google (GOOG) - Get Alphabet Inc. Class C Report (GOOGL) - Get Alphabet Inc. Class A Report Android, iPhone and iPad, dad can control his Sonos player -- and the music he wants to play -- from anywhere in the house.
The Playbar isn't cheap at almost $700, but BestBuy.com offers an open-box option for $595.