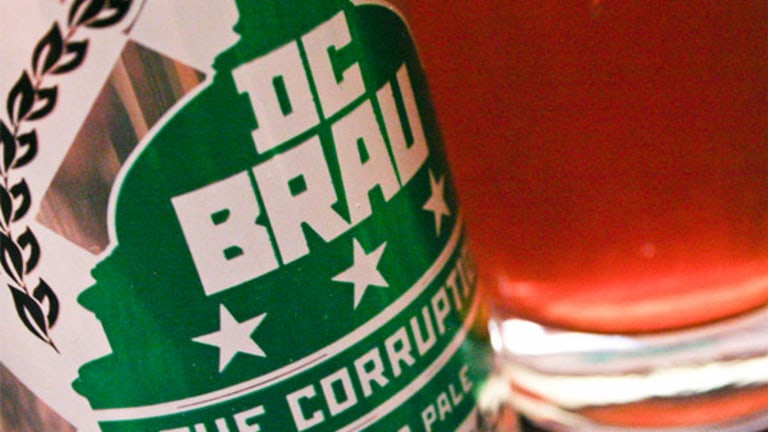 10 Fastest-Growing Craft Breweries In the U.S.
Local support and outsized reputation are making these breweries players even in the shadows of the giants.
PORTLAND, Ore. (TheStreet) -- Just 30 years ago, there were 80 breweries in the United States -- the fewest since prohibition. Today there are more than 2,500 and the numbers keep growing.
According to the Brewers Association craft beer industry group, breweries have opened at a pace of roughly 1.15 a day over the past year. The number of breweries in the U.S. now exceeds the previous record of 2,011 set back in 1887 and has leapt by nearly 1,000 breweries since 2009.
While overall beer industry sales grew 1% last year, sales by brewers that the Brewers Association defines as craft -- or 2,483 breweries out of a total of 2,538 -- jumped 15% by volume and 17% in dollars during the same span. Through July, craft beer sales are up 15.2% in volume and 17.5% in dollars, while overall beer sales are down 1.1%.
With the Washington, D.C.-based Beer Institute industry lobbying group noting that slow economic recovery has taken its toll on large brewer sales and dragged down overall beer sales, there is still a question of just how long craft beer's growth can be sustained. There's been a lot of speculation, but continually changing beer and distribution laws and a lack of leveling in craft beer sales numbers have made that unclear.
The only thing that is apparent, however, is that there's still plenty of space in the current beer market for astronomical growth by even the smallest brewers. With help from the Brewers Association, we took a look at sales numbers from the past year and came up with the 10 small breweries that have grown the fastest. A combination of local support and outsized reputation are making these breweries big players even in cities where they're overshadowed by larger operations. If one of these isn't in your area, don't worry -- there's likely a brewery in your area making similar plans for sizable expansion:
Location:
Astoria, Ore.
2011 production:
3,300 barrels
2012 production:
6,200 barrels
Growth rate:
88%
Just six years ago, Fort George Brewery was a shattered, rusting shell of a former auto-body shop near where John Jacob Astor's Pacific Fur Company first set up shop in the early 1800s. This year, it opened the second floor of its brewpub as 16-ounce tallboy cans of its Vortex IPA, Quick Wit, Calvatica Stout, 1811 Lager and Sunrise OPA proliferate throughout the Pacific Northwest. It's a small footprint, but teaming with Portland's Gigantic and Lompoc Breweries on 3-Way IPA and Portland-based record label Tender Loving Empire on its NWPA have helped deepen that print a bit.
Also see: 6 Good, Bad and Ugly Beer Partnerships>>
Location:
Bend, Ore.
2011 production:
2,700 barrels
2012 production:
6,000 barrels
Growth rate:
122%
The brewery known as Wildfire Brewing when it first opened in 2006 is looking a whole lot more like its former name than its undersized current moniker. Founding brothers Jeremy and Chris Cox expanded 10 Barrel's operations recently from a 2,500-square-foot facility with a small, local reach to a 15,000-square-foot monstrosity that covers a distribution area covering all of Oregon, parts of Idaho and Vancouver, Wash., and has recently achieved a toehold in Seattle. Their operation runs out of a 50-barrel brewhouse, even though their 10-barrel operation is still in place.
The brothers have also added a canning line and built a brewery in Boise to give that town its first new brewer and brewpub since the George H.W. Bush administration. They've drawn enough respect with their Small Tank Project beers to collaborate with the likes of
Stone Brewing
, but their regular slate of beers including Apocalypse IPA holds its own. At this year's Oregon Brewers Festival, demand for their grapefruit-laden Berliner Weisse -- affectionately named Swill -- was so strong that lines stretched the width of the festival grounds by the Willamette River. Keep in mind, that's a beer you can get for $1.99 at any bottle shop in Portland.
We'd say they're doing this all in spite of sharing the same hometown as 25-year-old craft beer mainstay
Deschutes Brewing
. Considering that the Cox brothers have former Deschutes brewer Jimmy Seifrit on the payroll, however, maybe having Deschutes around wasn't so bad.
Location:
Seattle
2011 production:
13,525 barrels
2012 production:
31,869 barrels
Growth rate:
136%
It's been a long, weird trip for founder Dick Cantwell and Elysian, but it's been one worth making. Elysian has existed in various forms since 1996, when it opened its original brewery in Seattle's Capitol Hill, but remained a largely local affair until about five years ago. In its early days, Elysian operated in the shadow of pioneering Seattle breweries including
Redhook
and
Pyramid
, but did what it could to survive when the microbrew bubble burst in the late '90s.
In 2008, Elysian entered an agreement with collaborator
New Belgium Brewing
in Fort Collins, Colo., that allowed it to brew large batches of its Immortal IPA and small seasonal beers such as its Trip collaboration series and its fresh hop IPA at New Belgium's more sizable facilities. Elysian didn't open a large production facility of its own until 2011, when it found space in Seattle's Georgetown. While collaborations with breweries including
New Belgium
,
Green Flash
,
Stone
and
The Bruery
gave Elysian a boost, the quality of Elysian brews including its Loser Pale Ale partnership with
Sub-Pop Records
, its multiple pumpkin ales and its spate of hop-heavy IPAs have cemented Elysian's reputation.
Location:
Springfield, Mo.
2011 production:
2,331 barrels
2012 production:
5,773 barrels
Growth rate:
148%
As recently as 2009, the facility that houses Mother's was cranking out bread, cakes and other goods for Interstate Bakeries. Mother's founder Jeff Schrag didn't start turning it into a 40-barrel brewhouse until 2010 and brewmaster Brian Allen, who'd hopped around breweries in Wisconsin and hooked on with
Boston Beer Works
, didn't get a full year of brewing in until 2011. While there's little about everyday offerings such as Towhead American Blonder, Lil' Helper IPA or Three Blind Mice brown ale that heralded Mother's as a sleeping giant, small-batch brews including the exceptional 10% ABV Foggy Notion barleywine, Doozy Double IPA and D'Lila hoppy witbier helped Mother's impress beer drinkers enough to expand distribution into Kansas City, Arkansas and beyond. As with the other breweries on this list, however, Mother's presence in its home communities can't be discounted. From running movie nights and bocce tournaments to hosting bike crawls and cask-beer nights, Mother's puts a lot of legwork behind its growing numbers.
Also see: 10 Brewpubs Calling for a Taste (or a Fight) in 2013>>
6. Boneyard Beer
Location:
Bend, Ore.
2011 production:
2,968 barrels
2012 production:
8,650 barrels
Growth rate:
191%
What if you made arguably the best IPA in the Pacific Northwest and it was practically your second job? That's basically Boneyard founder Tony Lawrence's entire brewery backstory. After starting his career in 1989 washing kegs at Deschutes for founder John Harris to make enough money to keep snowboarding, Lawrence took brewing gigs at
Firestone Walker
in California and
Three Floyds
in Indiana. He came back to Bend in 2005 to open a brewery-specific metal fabrication business and basically built Boneyard from the scrap pile that gave the brewery its name.
That fabrication business is still intact and Boneyard's tattoo-style, gearheaded, adrenalized labeling, merchandizing and marketing still mesh perfectly with it. As do the brewery's potent, hop forward RPM IPA (7% ABV/50 IBU), Hop Venom Double IPA (8.9% ABV/80 IBU) and Notorious Triple IPA (12% ABV/80 IBU). With that trio hogging much of the horsepower, it's all too easy for Boneyard's strong Cascadian dark ales, including its Skunkape IRA partnership with
Lib Tech Snowboards
and Armored Fist (10% ABV/80 IBU) collaboration with Three Floyds to get lost in the scrapheap.
Location:
Washington, D.C.
2011 production:
1,698 barrels
2012 production:
5,002 barrels
Growth rate:
195%
Did D.C. have brewers before DC Brau? Sure, and they're just fine. But the nation's capital didn't have a single brewer that sold beer beyond its taproom since 1956.
That all changed when Brandon Skall and Jeff Hancock opened DC Brau in 2011. With brewmaster Hancock already well trained after his years with
Grizzly Peak Brewing
and
Arbor Brewing
companies in Ann Arbor, Mich., and at
Flying Dog Brewery
in nearby Frederick, Md., he and Skall made a point of making themselves and their cans of The Public Pale Ale, The Corruption IPA and The Citizen Belgian Pale Ale a part of the community. They partnered with powerhouse DelMarVa breweries including Baltimore's
The Brewer's Art
and Blue Mountain-based
Devils Backbone
, teamed with Denver's
Ska Brewing
on a beer for D.C. ska stalwarts The Pietasters, recreated the city's pre-prohibition Heurich's Lager and partnered with Major League Soccer's D.C. United on a team-specific beer known as The Tradition -- the only such team-brewery partnership in the league. They two have even dedicated their time and part of their website to supporting statehood for the District of Columbia.
As a result, DC Brau's reach has expanded throughout Maryland and Virginia and the brewery's output has nearly tripled. Community outreach is the key to success for any small brewer, but DC Brau has just put on a clinic for breweries looking to fill their city's beer void. Even if it's a town as large as Washington.
Location:
Los Angeles, Calif.
2011 production:
1,500 barrels
2012 production:
5,000 barrels
Growth rate:
233%
Speaking of big cities with undersized brewing communities, let's talk about Los Angeles.
When
Eagle Rock Brewery
opened in Glassell Park in 2009, it was the first brewery with operations based in Los Angeles in 60 years. It brought in food trucks, it poured growlers: It opened the door.
Two years later,
Tony's Darts Away
owner Tony Yanow and former
Oskar Blues
and
Speakeasy
brewer Meg Gill came down from San Francisco and walked right in. They set up a full brewpub, got to work putting Cabrillo Kolsch and Point The Way IPA into 16-ounce cans, made appearances on
The Steve Harvey Show
and went about building a brewery of the scale that L.A. hadn't seen in some time.
Along the way, Yanow and Gill found success not only with their brewpub, but with hoppy concoctions including their Wolf Among Weeds 8% ABV IPA and and limited-edition offerings including a Berliner Weisse, Almond Milk Stout and Anejo tequila-barrel-aged Hefeweizen. While those 1,500 barrels only account for the fewer than three months the brewery was open in 2011, the early reception was enough to warrant adding a 50-barrel brewing system to Golden Road's 15-barrel operation. The brewery's tallboy cans are now an L.A. fixture, thanks to a sweet distribution deal with
Whole Foods
(WFM)
and specialty shops, and Golden Road's success has helped transform the city's brewing community from a tiny, quirky novelty to a trained market with kegs full of growth potential.
Location:
Austin, Texas
2011 production:
1,051 barrels
2012 production:
5,188 barrels
Growth rate:
394%
In the city where Pierre Celis introduced U.S. beer drinkers to witbier back when Blue Moon was a song on an oldies station, craft beer is in the veins.
It's home to one of the best beer bars in the country in Austin Draught House, along with greats including The Alamo, Hopdoddy's and The Whip-In. It supports a thriving brewing community with growing brewers including
(512) Brewing
. It also helped usher along the canned beer renaissance with a little help from Austin Beerworks, which has been canning its beers here since May 2011.
A brewing team stocked with even more Flying Dog alums made a plan to keep things simple: Four styles made well and placed in 12-ounce cans. They make an American IPA, a pale ale and German-style schwarz and pils. That's it, but it a town with an acute fondness for the simplicity of Shiner Bock, that's all they needed. A few awards at the Great American Beer Festival and a few South By Southwest festivals later, the brewery is now producing nearly five times the amount of beer it was when it opened little more than two years ago.
This brewery is doing with four beers what other brewers struggle to do with a regular lineup, a spate of seasonals, a handful of small batches and the occasional firkin offering. Making any one beer well isn't easy, but Austin's the kind of town that rewards folks who put a lot of effort into "simple" things.
Location:
Houston
2011 production:
674 barrels
2012 production:
8,169 barrels
Growth rate:
1,112%
If you're not quite getting how easy canning has made distributing craft beer, let's give you yet another example.
Tell us if any of this sounds familiar: A brewery opens in Texas in summer 2011, a brewer from
Flying Dog
serves as brewmaster, puts the brewery's flagship styles in cans and suddenly there's enormous growth. Karbach brewmaster Eric Warner's tale is a bit different than that of the lads at Austin Beerworks, as are those of owners and co-founders Chuck Robertson and Ken Goodman, but the small brewery on Karbach Street came into being in a similar environment.
Houston's craft beer community was already thriving thanks to
Saint Arnold Brewing
and
Real Ale
. But Texas-themed craft brews including Hopadilla IPA and Rodeo Clown Double IPA, as well as their easy-sipping siblings Weisse Versa Wheat and Sympathy For The Lager, found a large and willing audience. Oktoberfest, pumpkin, saison and holiday seasonals followed and beer-loving Houston was on board.
Considering that Beer Advocate ranked Texas and its 86 breweries No. 42 in the nation in capita per brewery -- with more than 292,000 Texans for every brewery -- we're kind of surprised there aren't more stories like those of Austin Beerworks and Karabach coming out of the Lone Star State.
Location:
Nashville, Tenn.
2011 production:
600 barrels
2012 production:
7,740 barrels
Growth rate:
1,190%

That's the smallest starting point for any brewery on this list, but last year's ridiculous growth made Blackstone the fourth-largest of the fastest-growing breweries in the U.S.
Tennessee and Nashville in particular deserve at least a bit of the credit. With 31 breweries -- or one for every 205,000 Tennesseans -- the Volunteer State ranks No. 38 in capita per brewery. We realize it's whiskey country, but it's somewhat hard to believe that the beer-loving artists coming out of Nashville don't thirst for something other than a light lager every now and then.
Maybe it just took some time for Nashville's brewers to scrape together some cash and for tastes to change. Blackstone's been kicking around as a brewpub since 1994. Its Chaser Pale and Nut Brown Ale have been awarded medals at both the Great American Beer Festival and the World Beer Cup, while its St. Charles Porter is the most award-winning Brown Porter in the history of the Great American Beer Festival. Blackstone didn't get around to opening its bottling facility until 2011, though. There was some question about whether Nashville would embrace bottles of American Pale Ale or Picnic Summer Ale, but those were answered all too quickly last summer.
Blackstone is now cranking out its own beers as well as those of St. Louis-based
Schlafly Beer
thanks to an agreement reached by the brewers -- and, most notably, former Schlafly brewery and current Blackstone head Dave Miller -- two years ago.
-- Written by Jason Notte in Portland, Ore.
>To contact the writer of this article, click here:
Jason Notte
.
>To follow the writer on Twitter, go to
.
>To submit a news tip, send an email to:
.
RELATED STORIES:
>>10 Brewpubs Calling For A Taste In 2013
>>10 Beer-Drinkingest States In America
Jason Notte is a reporter for TheStreet. His writing has appeared in The New York Times, The Huffington Post, Esquire.com, Time Out New York, the Boston Herald, the Boston Phoenix, the Metro newspaper and the Colorado Springs Independent. He previously served as the political and global affairs editor for Metro U.S., layout editor for Boston Now, assistant news editor for the Herald News of West Paterson, N.J., editor of Go Out! Magazine in Hoboken, N.J., and copy editor and lifestyle editor at the Jersey Journal in Jersey City, N.J.