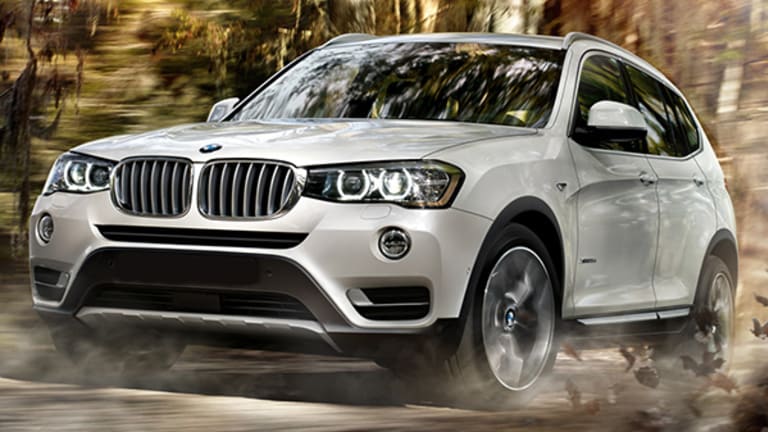 10 Family Cars You'll Still Look Cool In
Drivers who don't want to spend another Memorial Day in the reliable and roomy, but uncool confines of a minivan should give crossovers and wagons a shot.
PORTLAND, Ore. (TheStreet) -- Look at that line of minivans, SUVs and crossovers heading out of town this weekend and tell us summer hasn't started.
The calendar and the Northern Hemisphere's proximity to the sun tell us summer's still about a month away, but for parents sacrificing their cool personas for bulky warm-weather vacation vehicles, summer's already begun. It's tough to knock the minivan for being good at its job. It's spacious enough to hold the entire family and its gear, comfortable enough to keep everyone sedate for hours on end and has enough power under the hood to slide through lanes of vacation traffic like a sleeker car half its size.
Unfortunately, it's also a minivan. When you've resigned yourself to one, you've waved goodbye to any semblance of social status you once held. Families weren't driven to SUVs in the 1990s and 2000s because they were more convenient; they were roped in because they weren't an immediate signal to those around you that you had a family, children in the back, potentially a mortgage payment waiting for you to get home and nothing more exciting than a trip to the theme park in your future.
SUVs tried to inject some adventure into the family car by starring in commercials climbing rocky terrain and winding their way up coastal cliffs. It may have been a mom or dad behind the wheel, but to the outside world they were suburban adventurers in rugged vehicles straight out of Jurassic Park. Their insatiable reliance on lots of fossil fuels only drove that point home.
It's been a while since minivans ceded ground to SUVs and those hulking beasts gave way to crossovers, but the minivan's reputation never quite recovered. The broad minivan market of the 1980s became a three-van race between Honda's Odyssey, Toyota's Sienna and Dodge's Caravan. Plenty of families will still take those vehicles on Memorial Day trips, but for those drivers whose fragile self esteem can't bear implications of practicality, the folks at Kelly Blue Book offer 10 vehicles that put up a sporty, urban and not-at-all parental facade:

10. Nissan Rogue
MSRP: $22,790
Under $25,000 with nearly 30 miles per gallon worth of combined fuel efficiency? How did this make the list?
Easily one of the the most fuel-efficient and cost-effective vehicle of the bunch, the five-passenger Rogue crossover with its all-wheel drive and 2.5-liter four-cylinder engine is the undercover Forester. Its interior is less plastic than its upmarket competitor and has comfortable seats, a huge center console bin and glove box, an organizer under the floor and nearly 40 cubic feet of cargo space with all seats in place.
Nissan even beefed up the features by making former options such as Bluetooth, keyless entry, folding side mirrors, cruise control, a tilt steering wheel, air-conditioning, full power accessories, a 60/40-split-folding rear seat, a trip computer and a four-speaker sound system with a CD player, an auxiliary audio jack and an iPod interface standard. In a mid-market increasingly populated with go-to small SUVs such as the Honda CR-V, Toyota RAV4 and Ford Escape, the Rogue positions itself as the pick for when summer sun gets washed out by the weather.

9. Chevrolet Traverse
MSRP: $30,795
Built on the same platform as the GMC Acadia and Buick Enclave, this is the entry-level version of General Motors' Lambda crossover platform. Aside from window dressing, there really isn't much separating the three.
Also see: 10 Ways You're Killing Your Car>>
They all have roughly the same electronics package featuring the MyLink radio and apps-based entertainment system. They all seat eight passengers comfortably. They all have 116 cubic feet of combined cargo space the best in their class.
So why pick the Traverse? Because a family on a budget doesn't need to blow $8,000 extra on the Buick's luxury appointments. $31,000 isn't cheap by any means, but it also isn't nearly $40,000.

8. Ford Flex
MSRP: $29,015
Basically a minivan in a crossover's body, the Flex has room for seven, 44 inches of legroom in the second row and a power folding mechanism for getting into the third row. A surprising amount of headroom makes it easy to transport a large crew or throw some gear in the back and take a long trip while giving passengers enough room to maneuver regardless of height.
Options such as sliding second-row captain's seats, Microsoft Sync phone, entertainment and navigation systems in its MyFord Touch screen, DVD entertainment center for the back, a multipanel sunroof and second-row fridge console for road sodas compensate somewhat for its roughly 22 combined miles per gallon. Potential buyers may be turned off by its looks, but that standout frame and spacious 80 cubic feet of cargo room make it a pretty ideal family hauler.

7. Subaru Forester
MSRP: $22,195
KBB didn't just put the Forester at the top of its list of all-wheel-drive carsl, it placed five Subarus in the Top 5 spots of its all-wheel-drive Top 10.
The Outback ($23,495), Legacy ($20,295), Impreza ($17,895) and XV Crosstrek ($21,995) all scored high marks with KBB, but all managed to limbo beneath its $25,000 cutoff.
Still, you can't ask for a better investment. A 10-year-old Forester still has more than 25% of its original value. The newer models have even reverted to the boxy wagon look of their predecessors, while retaining the standard all-wheel-drive for Bohemian Bourgeois parents trying to balance shuttle runs to lacrosse practice with trips to Whole Foods or Trader Joe's. Those combined 28 miles per gallon beats the 2013 model's 24 mpg and its interior is bigger than the Honda CR-V and Ford Escape, though its 34 cubic feet of cargo space is on the low end. Subaru's added Bluetooth connectivity and rearview camera to all its models and beefed up the options on its pricier trims, which means a power liftgate, voice-activated GPS and X-Mode engine control that provides additional traction on inclines and wet roads.

6. Toyota Prius V
MSRP: $26,750
Even the Prius V's website declares the inevitable: Space savvy, family friendly. That cute little Prius you used to rent from Zipcar for weekend road trips and grocery outings back when you lived in the city has followed you out to the 'burbs and transformed into a wagon. So what if its combined 42 miles per gallon now lag behind the 50 of the original Prius? The V's 67.3 cubic feet of cargo space is considerably larger than the original Prius' 39.6 cubic feet and is closer to that of compact SUVs such as Toyota's RAV4.
No, you're probably not going to be parallel parking this one as much, but those grocery runs are getting a lot bigger now that there are more mouths to feed. Besides, it's still the most fuel efficient vehicle on this list. That has to count for something, even if it's not quite as sexy as the smaller model you remember.

5. Honda CR-V
Starting price: $23,120
In the stages of adulthood grief, the CR-V is acceptance. It's the sign that young adult parents committed to someone else's needs other than their own.
Also see: 10 Greenest Cars Of 2014>>
It's surrender, but at least it's an amicable one. The popular crossover's 2012 overhaul only made it more alluring by adding a leather interior, heated seats and rearview windows and navigation system with controls mounted on the steering wheel. It's also trimmed fuel efficiency to a combined 27 miles per gallon while leaving all 70 cubic feet of cargo space untouched. As practical utility vehicles go, it's a sound and popular choice that won't be the only one seen unloading chairs, bags and blankets at the beach.

4. Volvo XC 60
MSRP: $35,750
Ordinarily, summer vacations are the domain of the Volvo wagon. Since Volvo killed off the last of its trademark wagons a few years back, however, the redesigned XC 60 crossover will have to do.
It's loaded with family-friendly safety features including a blind-spot warning system, antilock brakes, a low-speed collision avoidance system, pedestrian detection and a driver-attention monitor that issues a warning if the driver appears to be drowsy at the wheel. Secure in the knowledge that your family will likely make it through the trip unscathed, giving them spacious rear seats with built in booster seats for the kids and an available dual-screen rear DVD system should keep them content as well. Toss in Sirus XM satellite radio, HD Radio and Bluetooth hands-free communications up front, and you've one-upped the wagon in just about every way.

3. Volkswagen Jetta Sportwagen diesel
Starting price: $26,565
Granted, there's still a whole lot to be said for the spaciousness and stability of the standard-issue wagon.
The Volkswagen SportWagen is among the last of its kind, offering roomy seating for five and 33 cubic feet of cargo capacity with the rear seats up. The quiet cabin and smattering of Volkswagen tech throw-ins are a nice touch as well, but it's the turbocharged 2.0-liter diesel engine that gets nearly 42 miles per gallon on the highway that helps a budget-conscious family spend a little more on the vacation itself.

2. BMW X3
MSRP: $38,400
What, you were thinking of something more practical?
If you're preoccupied with looking good while lugging the kids around, a more luxurious option likely isn't out of the question. Even if you've convinced yourself that you're buying a BMW for seating or cargo capacity, let's cease that charade and cut to the chase: This is a comfortable, connected rolling office with child seating. The trunk has a 12-volt power outlet. The navigation system is cloud-connected so you can plot out a trip before you even get into the car.
A 9-inch touchscreen controls the navigation and music once you're inside, while a Mobile Office function enables text-to-speech readings of email, calendar entries and notes. Throw in 240 horsepower under the hood, 80 gigabytes of hard drive space for family entertainment and brakes that charge the battery when you pump them, and you have one of the best features a working parent can ask for: The ability to work from wherever.

1. Porsche Cayenne
MSRP: $49,600
This beast gets 22 miles per gallon on the highway. It gets a whopping 300 horsepower and tops out at 142 miles per hour in its base model. It comes with toys such as the Porsche Communications Management system to link your various media and electronics, a rearview camera and Bose surround sound speakers.
As much as the 24 cubic feet of rear space and 63 cubic feet of combined cargo space want to make the argument for this vehicle as a family hauler, it's a more of a midlife crisis with a motor. So why buy one as a family car? Because you're far from alone. The Cayenne is Porsche's best-selling car in the U.S. by far. That's a lot of parents who want to truck the family around, but still cling desperately to their sports-car dreams.
-- Written by Jason Notte in Portland, Ore.
>To contact the writer of this article, click here: Jason Notte.
>To follow the writer on Twitter, go to http://twitter.com/notteham.
>To submit a news tip, send an email to: tips@thestreet.com.
RELATED STORIES:
>>10 Most American-Made Cars Of 2014
>>5 Cities That Want Your Used Hybrid Car
>>10 Ways You're Killing Your Car
Jason Notte is a reporter for TheStreet. His writing has appeared in The New York Times, The Huffington Post, Esquire.com, Time Out New York, the Boston Herald, the Boston Phoenix, the Metro newspaper and the Colorado Springs Independent. He previously served as the political and global affairs editor for Metro U.S., layout editor for Boston Now, assistant news editor for the Herald News of West Paterson, N.J., editor of Go Out! Magazine in Hoboken, N.J., and copy editor and lifestyle editor at the Jersey Journal in Jersey City, N.J.