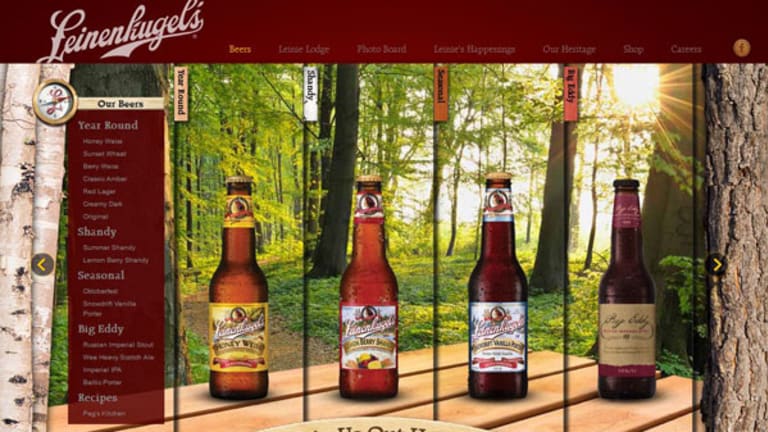 PORTLAND, Ore. (TheStreet) -- As much as certain factions within the U.S. beer industry would like to portray it as a pitched struggle for hearts and minds between big brewers with bigger market share and small brewers just scraping by, the American beer marketplace is more like a high school cafeteria overrun with cliques.
There are the popular kids at
Anheuser-Busch InBev
(BUD) - Get Anheuser-Busch InBev SA/NV Sponsored ADR Report
and
MolsonCoors
(TAP) - Get Molson Coors Brewing Company Class B (TAP) Report
, whose products get dismissed as pale and vapid by their detractors but still account for more than 75% of all U.S. beer sales. Then there are the imports who thumb their noses at American brewers even as sales of Heineken and
Diageo's
(DEO) - Get Diageo plc Sponsored ADR Report
Guinness brand decrease stateside. Finally, there's craft beer: the nerds and geeks who suddenly became the cool kids to hang out with, but whose clique keeps flexing the entry requirements based on who they like.
The queen bee of the craft beer set is the Brewers Association, the Denver-based industry trade group that brings together breweries, home brewers and local brewers guilds for cool parties such as the Great American Beer Festival and keeps track of growth within the industry. Oh, and it totally gets exclusive access to the industry slam book that dictates who is and isn't craft.
Boston Beer
(SAM) - Get Boston Beer Company, Inc. Class A Report
produces more than 2 million barrels of brew a year -- more than Mike's Hard Lemonade -- and makes malt beverages including Twisted Tea and Angry Orchard cider. They can't be craft, right? Wrong. The Brewers Association raised its "craft" production limit to 6 million barrels from 2 million just to accommodate its Samuel Adams brand.
But
Red Hook
and
Widmer
have decades-old craft brewing roots in the Pacific Northwest and produce less than 700,000 barrels of beer a year combined. Surely they, as members of the
Craft Brew Alliance
(BREW) - Get Craft Brew Alliance Report
, must be craft brewers, right? Wrong. Just as the Brewers Association revised production numbers to keep Samuel Adams in, it revised ownership criteria to keep Red Hook and Widmer out. By the Brewer's Association's standard, no more than 25% of a craft brewery can be owned by a brewery that is not itself craft. Anheuser-Busch owns a 32.2% stake in the Craft Brew Alliance and serves as its distribution partner.
In an attempt to clear up the craft beer picture a bit, the Brewers Association offered up its
statement on the topic last month, as well as
of "non-craft beers" as a guide for consumers. While intended to out "craft" poseurs such as Coors' Blue Moon and A-B's Shock Top witbiers, the Brewers Association list also hammers small regional brewers and brands long considered "craft" based on their ingredients and and the company they keep. We took a long glance at the Brewers Association's hot and not list and found 10 examples of "craft" brewers that drinkers (and in some cases, the breweries themselves) might be surprised to learn aren't as craft as they may seem:
10. Blue Moon
Why it's not craft:
Owned by SAB Miller/MolsonCoors venture Miller Coors
Let's get one thing absolutely straight here: Witbier like Blue Moon has
never
been a craft beer by the Brewers Association's standard definition. That doesn't stop plenty of beer snobs and geeks from enjoying them each summer alongside their big-brewery contemporaries.
Pierre Celis single-handedly revived the witbier after centuries of dormancy in 1965, when he began brewing it in his barn in the Belgian town of Hoegaarden. His recipe combining of wheat, bitter Curacao orange peel, coriander, sweet orange peel and only a slight touch of hops became the recipe for Hoegaarden White Ale and sold more than 300,000 barrels at its peak in 1985, when a fire engulfed its brewery and forced a cash-strapped Celis to sell to giant Belgian company Interbrew. That company is now known as Anheuser-Busch InBev and is the reason jelly-glass tumblers of Hoegaarden can be found in outdoor restaurant spaces and beer gardens across America.
Even Hoegaarden wouldn't be the success it is today if Celis hadn't dusted himself off, moved to Texas and opened his own craft brewery just outside Austin in 1992. His Celis White was good enough to get Celis a buyout from Miller and introduce witbier to a new generation of brewers.
Craft brewers latched onto the style and, by 1995, Rob Tod at
Allagash Brewery
in Portland, Maine, turned it into Allagash White and made it his flagship beer. A year later, Coors brewer Keith Villa formulated Blue Moon while working at the company's on-site brewery at the Denver home of Major League Baseball's Colorado Rockies in Coors Field.
The Brewers Association really doesn't like that Blue Moon isn't labeled as a Coors product, produces other esoteric styles like pumpkin ale under its label and uses crafty, indie-pop ads to promote its product. Craft beer drinkers don't feel nearly as strongly about it, with
giving it fair marks for quality and
putting it right in the middle of the pack.
For many craft beer drinkers, Blue Moon was their gateway beer when Coors and Anheuser-Busch couldn't offer anything beyond it. It didn't come from one of the craft beer community's small breweries, but it sure led a lot of people to them.
9. Shock Top
Why it's not craft:
Owned by Anheuser-Busch InBev
The same reasoning the Brewers Association applied to Blue Moon applies here: It's a big-brewery witbier.
Fine, but do you really not trust drinkers enough to suss this out on their own?
readers found it decisively average, while its writers think it's a pretty poor version of a witbier.
have been far less kind.
Also, if the Brewers Association considers Shock Top such pure evil, then why does it have no problem including Anheuser-Busch InBev breweries on its
membership rolls?
Why does it allow them to take part in its festivals and competitions? Why does it take money (albeit tiny sums) from those breweries for its annual budget?
If Shock Top is so "not-craft," then why are you giving its parent company so much craft cred?
8. D. G. Yuengling & Son
Why it's not craft:
Uses adjunct ingredients in its beer, not "traditional"
Man, it takes a huge pair of stones for an organization that came into existence in 2005 to call a brewery that's been in existence since 1829, survived through prohibition and is still family owned "non-traditional."
There are many other ways the craft kids could knock Yuengling. Last year, it brewed more than 2.5 million barrels of beer to become the largest American-owned brewery in the country, which makes it huge by craft standards. It still brews in its hometown of Pottsville, Pa., but has other brewing facilities in Tampa, Fla.
The problem is that if you're going to keep Yuengling off the list for getting too big, you'd have to do the same for Boston Beer. That would take all of Boston Beer's growth out of the equation, too, which is disastrous when craft beer's mouthpiece hitches so much of small brewing's success to numbers. In 2011, small and independent craft brewers as defined by the Brewers Association saw their industry grow 13% by volume, driven by big gains for Boston Beer. In the first half of 2012, volume grew by an additional 12%. A lot of Sam Adams went into those numbers as well.
To avoid some messiness, the Brewers Association points to the fact that Yuengling uses corn in its mix and accuses it of cutting corners and trimming costs. The problem is, as fellow blacklisted brewery
August Schell Brewing
in Minnesota
, older breweries founded by German immigrants tend to use a bit of corn in their recipes because they didn't have access to two-row barley from home and had to cut into the higher protein found in the native six-row barley.
Given how much craft beer snobs shriek and howl when it's even suggested that a brewery might change recipes when it expands, one would think they'd welcome a brewery such as Yuengling sticking to its original formula for all these years. Oh, and if they think Yuengling's cheaping out, check the price of corn after the biofuel push of the 2000s and compare it with the price of malt. Nobody's getting a break by subbing in corn.
P.S. You know who doesn't have a problem with Yuengling mingling among the craft brewers? Pennsylvania craft breweries. Not only does Yuengling take part in craft events such as Philly Beer Week these days, but it's also teamed up with craft brewers such as Victory Brewing to address issues including self distribution that affect craft and regional brewers alike.
As much as the Brewers Association singles out Yuengling for being "non-craft," it doesn't have a problem using it to pad its membership numbers, either.
7. Straub Brewing
Why it's not craft:
Uses adjunct ingredients in its beer, not "traditional"
The craft beer guys really have something against the old-line Pennsylvania breweries.
We can understand Pittsburgh's Iron City making BeerAdvocate's "non-craft" list, as its cans of low-end lager have done little to convince people otherwise despite sticking around since 1861. We can even see why Wilkes-Barre's
Lion Brewery
made the list, as it's been around since 1905 but does a bunch of contract brewing work for
Pabst
.
But Straub? Really? It isn't distributed too far beyond its home in St. Mary's, Pa., and only travels about as far as Ohio. It gives drinking-age visitors to its Northwest Pennsylvania brewery free beers from the "Eternal Tap" in its brewery wall. Its lager recipe hasn't changed since the brewery was founded in 1872.
As former Pennsylvania Gov. Robert Casey once said, "Bud is Bud and light is light, but Straub is Pennsylvania." The Brewers Association disagrees for the same reason it disagrees with letting Yuengling into the club: There's corn it it.
Listen, way back in 2005 when the Association of Brewers and the Brewers' Association of America merged to form the Brewers Association and "promote and protect small and independent American brewers, their craft beers and the community of brewing enthusiasts," there were any number of ingredients available for craft brewers to use. Shockingly, for German immigrants such as Peter Straub settling in the U.S. in the late 1800s, plucking two-row malt from any spot on the globe and backing a truckload of bittering and aroma hops up to your brewkettle just weren't possible.
Instead, German brewers had to throw some corn into the mix just to counter the effects of American malt. That's improvisation and ingenuity that the Brewers Association claims to support, but take every opportunity to spit on if it didn't happen sometime after 1970. Unfortunately, it results only in the organization throwing shade at yet another of
its members
.
6. Jacob Leinenkugel Brewing
Why it's not craft:
Owned by SABMiller, uses adjunct ingredients in its beer, not "traditional"
The fact that the Leinenkugel's brand is owned by Miller comes as no real surprise to anyone living around the Leinie Lodge in Chippewa Falls, Wis., where Leinenkugel's was founded in 1867. Miller bought the company in 1988, before all but the most long-lived craft breweries existed.
Even its 10th Street Brewery in Milwaukee -- the basis for MillerCoors' 10 & Blake Beer Co. brands including Blue Moon, Pilsner Urquell and Peroni -- was bought more than 15 years ago. The problem, it seems, is that MillerCoors has since taken Leinenkugel's national and filled beer store shelves with its Sunset Wheat, Honey Weiss, Oktoberfest, Red Lager and Big Eddy Russian Imperial Stout and Imperial IPA varieties.
While nobody's disputing the corporate ownership or even the presence of adjuncts in some of its brews, we can understand why the folks at the Leinie Lodge get a bit testy about that "traditional" claim. When you say that a brewery that's been around for nearly a century and a half and is a huge draw for Chippewa Falls isn't "traditional," you're just inviting the Leinenkugel folks to counter with "145 years of craft beer brewing and Leinenkugel family history," as they do on the Lodge's
tour page
.
If you're going to take away their tradition, they're going to take away your made-up "craft" label. Seems like an even swap.
5. Goose Island Brewery
Why it's not craft:
Owned by Anheuser-Busch InBev
Goose Island couldn't win, so why try?
The Chicago brewery got its start in 1988 but got its first taste of craft beer wrath when it joined up with Redhook and Widmer Brothers in the Craft Brewers Alliance in 2006. Despite saturating the Chicagoland area in 312 Urban Wheat during the summer and warming it with its barrel-aged Bourbon Country Stout during the winter, it occasionally drew critiques for associating with a collective that was distributed and partially owned by Anheuser-Busch.
Despite a trophy case full of medals from the Brewers Association's Great American Beer Festival, whispers about the supposedly inevitable drop in Goose Island's quality became deafening. Last year, founder John Hall sold the company to Anheuser-Busch InBev outright for $38.8 million. Since then, questions about Goose Island becoming a national brand (which it was, to a degree, when the Craft Brewers Alliance brewed it in various locations) and about Bourbon County Stout going year-round have continued to circulate.
There were still lines for BCS in Chicago this year and nothing about Goose Island's numbers indicate outsized success as A-B's "craft" beer brand. According to
Beer Marketer's Insights
, Goose Island sold 150,000 barrels of beer in 2011, its first year with Anheuser-Busch. Not only is that less than half of the 623,000 barrels sold by the Craft Brew Alliance in the same year, but it's a fraction of the 713,000 barrels sold by Colorado-based New Belgium and the 858,000 barrels unloaded by California-based Sierra Nevada.
Even among the big boys, Goose Island remains a misfit.
4. Narragansett Brewing
Why it's not craft:
Uses adjunct ingredients in its beer, makes some of its beers outside its brewing facility
Wait, isn't Narragansett
a member
of the Brewers Association? Yes, but that clearly hasn't meant much to this list so far, so why start now?
But doesn't Narragansett appear at the American Craft Beer Festival in Boston each spring? Why yes, it does.
Then what's the problem? Again, it essentially comes down to adjuncts. The original recipes for Narragansett Lager dates back to 1890 and, as a result, has a touch of corn thrown in. Its Narragansett Light, meanwhile, is basically built around adjuncts. The two products are brewed at the North American Brewery in Rochester, N.Y., which the Brewers Association already hates for being owned by North American Breweries and its private-equity parent company
KPS Capital Partners
, but we'll get into them a little later.
Narragansett's been trying to get into craft beer's good graces, however. Its lineup has expanded to include an Oktoberfest and Summer Ale that took home silver at the 2011 World Beer Championships. Its trademark 16-ounce tallboy cans also seem like a sure fit in the craft community, but a beer best known for being the beer of choice at Red Sox games in the 1950s and for its 'Gansett Girl pinups (which still find a home on the
) may have a long way to go before it gets cozy in craft circles.
3. Dixie Brewing
Why it's not craft:
Uses adjunct ingredients in its beer
Hey, you know what really makes beer snobs look like insufferable jerkwads? Picking on a brewery destroyed by Hurricane Katrina.
The brewery in New Orleans' Third Ward was heavily damaged by the storm and has sat abandoned and picked over since the storm hit in 2005. Photos of the abandoned site are
, but not nearly as unsettling as the decision by the Brewers Association to put Dixie on its hit list
last month
for not putting enough grain in the brew.
Oh, we're sorry fat, warm, sheltered beer snob. We're sure one of Dixie's displaced employees will climb in through one of its many busted windows, scrape about eight years worth of rust off the works and get on that
tout de suite
. In the meantime, feel free to sling a few blog barbs at the contract brewer keeping the brand alive so New Orleans can one day have its beer and a few jobs back.
2. Pyramid Brewery
Why it's not craft:
"Imported adjunct beer sales exceed domestic production"
This has nothing to do with Pyramid's apricot beer, its brewpub in Seattle, its restaurants or its bland labeling that make it look oddly like
Costco
(COST) - Get Costco Wholesale Corporation Report
house brew.
This has everything to do with who's owned it and, more importantly, who owns it now. Pyramid's been on a wild ride since 2008, when it was sold to Magic Hat Brewing of Burlington, Vt., for roughly $25 million. Just two years later, investment firm KPS Capital Partners and its North American Breweries snatched up Pyramid and Magic Hat and included them in its stable alongside beers including Genesee Cream Ale, Dundee Honey Brown, Canada's Labatt Blue and Costa Rica's Imperial.
The Brewers Association likely had the latter two in mind when it slapped Pyramid's parent company for selling too many imports, but Pyramid's current situation is even more globally complex. In October, KPS Capital sold NAB to Cerveceria Costa Rica, a subsidiary of Florida Ice & Farm, for $388 million. That makes Pyramid and its smaller holding -- Portland, Ore.-based MacTarnahan's -- an even more minute portion of a large international conglomerate.
Any way you approach it, it's tough to call that "craft."
1. Magic Hat Brewing
Why it's not craft:
"Imported adjunct beer sales exceed domestic production"
Much as we explained earlier, Magic Hat isn't craft in the Brewers Association's eyes because it sold out to the man.
Even that probably wouldn't have been such a big deal if it hadn't come from such inherently crafty beginnings. Magic Hat is brewed in Burlington, Vt. Its beers have individually designed labels and names such as Circus Boy, Vinyl, Hex and Blind Faith. It has its own music festival in Vermont. Its No. 9 apricot ale was many a college student's gateway away from 16 packs of swill into better brew.
That began to change when it bought up Pyramid in 2008, but really took at turn in 2010 when North American Breweries staked its claim. Its lineup became more standardized, favorites such as its Jinx Scotch ale and Humble Patience Irish red faded away and even fairly open-minded craft beer lovers noticed a distinct turn for the bland.
While other craft beers have seen sales soar in the past five years, Magic Hat and Pyramid combined to sell 336,000 barrels in 2011. That's up from 332,000 a year before but is equal to the 336,000 it sold in 2008. By comparison,
Deschutes Brewery
in Bend, Ore., is just behind Magic Hat and Pyramid with 223,000 barrels sold in 2011, but increased sales from 182,000 in 2008.
Since Magic Hat's been guzzled by an international conglomerate, it's uncertain what the future will hold for the brand and its craft beer faithful that have been following it since 1994. What is certain, however, is that Magic Hat's predicament is exactly the type of thing that leads to craft/non-craft declarations such as the one the Brewers Association just made.
-- Written by Jason Notte in Portland, Ore.
>To contact the writer of this article, click here:
Jason Notte
.
>To follow the writer on Twitter, go to
.
>To submit a news tip, send an email to:
.
RELATED STORIES:
>>How To Handle Holiday Returns Without The Hassle
>>Craft Beer's 10 Best Seasonal Porters and Stouts
Jason Notte is a reporter for TheStreet. His writing has appeared in The New York Times, The Huffington Post, Esquire.com, Time Out New York, the Boston Herald, the Boston Phoenix, the Metro newspaper and the Colorado Springs Independent. He previously served as the political and global affairs editor for Metro U.S., layout editor for Boston Now, assistant news editor for the Herald News of West Paterson, N.J., editor of Go Out! Magazine in Hoboken, N.J., and copy editor and lifestyle editor at the Jersey Journal in Jersey City, N.J.