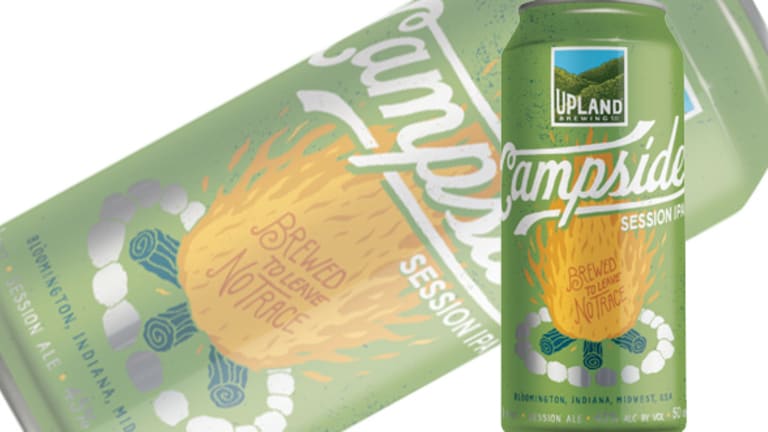 10 Craft Beers Brewed for Kicking Off Summer
Seasonal beers are a growing portion of craft brewers' beer portfolios. Summer's peak beer-drinking season is prime time for certain styles.
NEW YORK (MainStreet) – What do Memorial Day weekend and summer beer season have in common? They both kick off in spring.
By the time the first of the Memorial Day weekend beer buying begins, many summer beer varieties will have been sitting on shelves for weeks. That's partially because spring is the most uninspired, scattered season on the beer calendar, but mostly it's because brewers are like Memorial Day revelers: They want summer to begin as soon as possible.
That's why summer's unofficial kickoff in Memorial Day Weekend and beer's peak season tend to coincide: The sun is out, the work calendar has some blank spots in it and you may as well fill the fridge and cooler. According to the Treasury Department's Alcohol and Tobacco Tax and Trade Bureau, beer shipments that fester around 14 million to 15 million barrels through spring suddenly jump to about 18.5 million barrels in May and June before peaking at 18 million or so in July. By August, it's down to roughly 17 million barrels before collapsing to as low as 13.6 million by December.
With 3,400 brewers throughout the U.S., that's a whole lot of summer beer to get through before the pumpkin ales and malty fall varieties start showing up in August and push summer beers out entirely by Labor Day. Big brewers such as Anheuser-Busch InBev (owners of summer favorites Shock Top, Elysian Superfuzz and 10 Barrel Swill) and SABMiller/MolsonCoors joint venture MillerCoors (Leinenkugel Summer Shandy and Blue Moon Belgian White) have just as much invested in seasonal beers these days as craft brewers, including the Craft Brew Alliance (Redhook, Widmer Brother and Kona) and Boston Beer (Samuel Adams, Traveler, Angry Orchard). Sales of craft beer seasonal variety packs were up 21% by volume, and big brewers have been making their own similar summer packs available for some time now.
With 2,000 more breweries in the planning stages, we can't even pretend to cobble together a comprehensive list of all the great summer beers out there. We can only offer these 10 as starters and hope you'll search out the rest yourselves:
Summer Solstice
Anderson Valley Brewing
Boonville, Calif.
Sweet, mellow and low-potency, Summer Solstice is a whole lot creamier than most summer seasonals, but just as light. At 5% ABV, Summer Solstice is built for long afternoons of session drinking, but has a caramel-and-spice combination that won't leave you scraping your tongue from bitterness. It's by far the most mild, malty offering on this list, and we mean that in the most complimentary manner possible.
Twilight
Deschutes Brewing
Bend, Ore.
We can't recommend blonde ale enough during the summer months. It has a balance that its pale ale and IPA counterparts often lack and a subtlety that escapes citrus-laden wheat beer. Twilight has hung around for more than a decade by countering the pine bitterness of Cascade and Amarillo hops with mild pale and pilsner malt. It echoes pale lager while encompassing all the hoppy character of a West Coast ale. Not all blonde beers are like this — more traditional Belgian blondes can be unfiltered and intensely citrusy and spicy — but this one feels familiar.
Swelter Summer Ale
Baxter Brewing
Lewiston, Maine
You're going to notice a bit of a citrus theme running through the summer offerings, but that's OK. Brewers acknowledge that drinkers tend to want something refreshing with little alcohol during warm days, and the folks at Baxter seized that opportunity by filling their 4.7% ABV wheat beer with an undisclosed bill of citrusy american hops, lemon and lime peel, Kaffir lime leaves and lemongrass. You're going to get all of that citrus in the first sniff, but it's going to finish somewhere between the orange zest of a Belgian white and the lemon or grapefruit soda flavor of a radler/shandy. Refreshing understates things a bit, so let's just consider this the closest beer will get to lemonade without dumping actual lemonade into a beer.
Samuel Adams Porch Rocker
Boston Beer
Boston
If you wanted to take that approach, though, you could just bottle yourself a radler. Usually that involves combining a light lager with some lemonade or lemon soda, but the folks at Samuel Adams opted to nix that approach and add lemons to a Helles lager instead. Now, we know there are some folks out there who prefer the lemon-tinged Samuel Adams Summer Ale and aren't sad to see this left out of the Beers Of Summer variety pack this year, but a six-pack of this far more citrusy 4.5% ABV semi-radler won't leave thirsty beer drinkers disappointed.
Mexican Logger
Ska Brewing
Durango, Colo.
Keep talking smack about Modelo, Corona, Dos Equis and Pacifico, beer snobs: They're putting up craft beer numbers regardless of what you call them. Dos Equis (whose sales increased 14% in 2013), Modelo (up 18%) and Corona (2.7%) not only outperformed the sales losses of Budweiser, Bud Light, Coors Light and Miller Light, but they also forged ahead as Yuengling Lager — the No. 1 craft lager sold — took a 3.1% dive over the same period. The folks at Ska aren't fools and are more than willing to give folks a 5.2% ABV lager that looks and tastes a whole lot like the light Mexican brews above. It won't replace them, but it may make craft beer drinkers feel a little better about enjoying them.
Hell Or High Watermelon
21st Amendment
San Francisco
This one's for all the tough-guy beer drinkers out there who can't wrap their chickpea minds around a fruit beer. There's a difference between not liking a beer and actively evangelizing against it, and fruit beer foes can't help diving into that latter category.
This beer is one why they are (and will always be) wrong. For wheat beer fans and those who prefer refreshment over fistfuls of hops, 21st Amendment's watermelon wheat is a smooth, malty alternative to more bitter summer beers and has the same light sweetness of a watermelon slice. It's inoffensive, refreshing and, at 4.9% ABV, enjoyable in multiple servings.
Campside
Upland Brewing
Bloomington, Ind.
There is a whole lot of session IPA out there right now. In that sea of year-round, low-octane, aroma-heavy beer, can't we at least pretend that summer might just be the time session beers make the most sense in this country? It's when we as a nation drink the most beer, which makes it advisable to keep your IPAs to a 4.5% ABV comparable to Campside's. It's also a time when a little brewing sleight of hand is necessary to convince drinkers they're getting full IPA aroma and bitterness while keeping keeping actual bitterness at pale ale levels and saving most of the beer's hops for its citrusy aroma. Upland gets this concept better than anyone, which is why we hope this citrus-scented gem of a session beer stays hitched to the warm season.
Fly Line Vienna Lager
Payette Brewing
Boise, Idaho
It's a bit of a continuation on the Mexican beer theme that Ska Brewing began, but we can't help it if Austrian-influenced Mexican brewers had great taste in beer styles. Beer drinkers here might know Vienna Lager best as Samuel Adams Boston Lager or Negro Modelo, but Payette's 5% ABV take on the style is a bit lighter and has malt and hop subtlety more akin to a pilsner. Listen, by volume big brewers and their light lagers still make up about 89% of all beer consumed in this country. By brewing and tweaking a lager style it knows drinkers already enjoy, Payette isn't giving in: It's building a bridge to its other, more complex beers. What better occasion to do so than during a summer party?
Sommerbrau
Gordon Biersch Brewing
San Jose, Calif..
Shame on us for going so deep into this list without mentioning a Kolsch. Fermented like an ale and bottle conditioned cold like a lager, it's slightly more floral and hoppy than a lager and far less bitter than a heavily hopped ale. A whole lot of U.S. breweries make them, but Gordon Biersch's Munich-educated co-founder and brewmaster Dan Gordon has worked diligently to make this beer as true to its Cologne-born style as possible. As a result, Sommerbrau's subtlety and 4.8% ABV make it the perfect warm-weather beer that original Kolsch brewers envisioned.
Summer Ale
Brooklyn Brewery
New York City
Brooklyn brewmaster Garret Oliver doesn't just lighten up a beer recipe and call it "Summer Ale." There's a story behind this one. Beyond those bright yellow-and-blue labels is a modern interpretation of the "Light Dinner Ales" brewed in England throughout the 1800s right up until the 1940s. Those small beers were also called "luncheon ales" or even "family ales," because they were refreshing and flavorful without being too heavy.The mix of English barley malt and German and American hops gives it a citrusy IPA scent but a bready English ale flavor. It's an extremely pleasant beer to spend the day with.
— Written by Jason Notte in Portland, Ore., for MainStreet
To follow the writer on Twitter, go to http://twitter.com/notteham.
This article is commentary by an independent contributor. At the time of publication, the author held TK positions in the stocks mentioned.