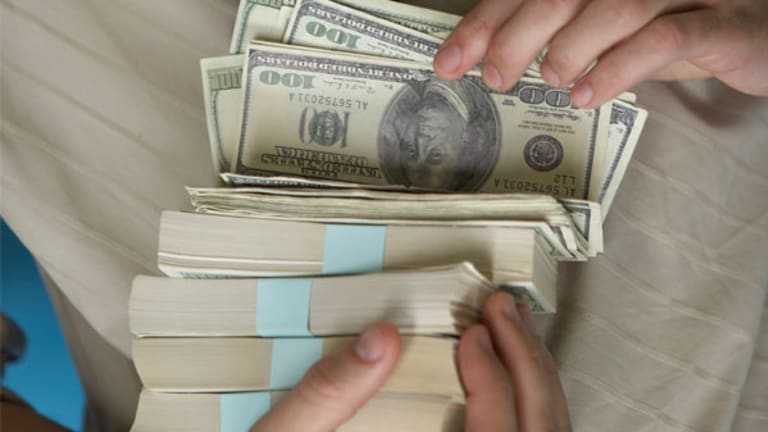 10 Companies Going to Your Wedding
Wedding season means retailers from Bed, Bath & Beyond to Pottery Barn all want a piece of couples' special day.
NEW YORK (TheStreet) -- Couples planning weddings may see the first step toward the rest of their lives together and a venue full of family and friends, but savvy retailers see a blank catalog waiting to be filled and eager consumers ready to make sentimental spending splurges.
Isn't love grand.
Behind all the designer dresses and tuxedos, fondant-embalmed cakes and silly love songs is an industry raking in $74 billion a year, says Amy Eisinger, editor of TheKnot.com's sister site WeddingChannel.com. Stripping away the honeymoon, registry and other nonceremonial items, Eisinger says spending on the day of the wedding alone brings in roughly $36.2 billion each year.
Though wedding market research firm The Wedding Report notes that average wedding costs dropped from $28,730 in 2007 to $19,580 in 2009, TheKnot.com and WeddingChannel.com Real Weddings study found that only 31% of brides said the economy affected their wedding budget last year, down from the 34% who said as much a year earlier. As a result, the average price of a wedding soared to $24,070 last year as unwavering brides and grooms stood their ground amid growing consumer confidence.
"Weddings are recession-resistant at the very least," Eisinger says. "Brides have been planning this day for a long time, and families have been awaiting this day for a long time, and they're not compromising on the things they want."
Increasingly, couples aren't putting a price tag on their ideal weddings. According to the Real Weddings survey, 42% of couples with weddings last year went over budget, while 16% had no budget at all. With so much money on the table being spent so freely, it's little wonder retailers and services are going out of their way to wring couples and their families of every wedding dollar and slap their brand on one of the biggest days in their consumers' lives. The following 10 companies have made weddings their business, and business for Wedding Inc. is booming:
Bed, Bath & Beyond
(BBBY) - Get Bed Bath & Beyond Inc. Report
The as-seen-on-TV items and low-tech gadgets in the front of the store aren't fooling anyone: Bed, Bath & Beyond is a wedding registry behemoth.
According to TheKnot's registry study, Bed, Bath & Beyond was Americans' top choice for wedding swag last year, with 61% of soon-to-be-wedded couples asking for Keurig coffeemakers, Wustof knives and trunkloads of towels from the budget-friendly retailer. That's up from the 56% who registered there in 2009.
That growing clout among married couples goes right to Bed, Bath & Beyond's bottom line, as the company's stock price has climbed to more than $57 since cratering at little more than $17 in November 2008. Last year's increase in registries helped boost sales 11.9% from 2009 to $8.76 billion while same-store sales increased 7.8% compared with 2009's 4.4% uptick. While Eisinger says frugal couples are big on Bed, Bath & Beyond prices, it's the broad selection given the real credit for keeping couples of all incomes coming back.
"Companies do whatever they can to create a number of price points for couples to register for," Eisinger says. "We're always telling our brides that it's considerate to have a number of price points for guests to choose from and not just to go for the big-ticket items."
Men's Wearhouse
(MW)
Much like Bed, Bath & Beyond, Men's Wearhouse watched its fortunes fade in November 2008, when its share price slumped to less than $9. Since then, stock value has nearly tripled as market research firm IBISWorld says the retailer has snatched up roughly 50% of the American formalwear market.
The dominance of this dapper men's apparel outlet can't be understated, especially after company sales soared 10.1% last year, including a 5% uptick in Men's Wearhouse-branded sales alone and a 4.7% increase in same-store sales after a 4% slump in 2009. Compare that with the rest of the formalwear industry, which IBISWorld says brought in $736 million in revenue last year -- a decline of 35% from 2000. The market researcher predicts industry revenues will fall another 14.6% through 2016 as business consolidation and decreasing tuxedo costs result in more purchases and fewer rentals.
David's Bridal
Want to call it Women's Wearhouse? Go ahead, they'll get paid either way.
With 300 stores in 45 states and Puerto Rico and wedding dresses starting at $100, David's Bridal just loves doing business with brides who -- gasp! -- don't care to invest half their wedding budget in their dress and don't feel like storing the garment and handing it down to an heir who may just want one of her own.
Does that approach make Vera Wang want to faint where she stands? Not really, as she and designers such as Oleg Cassini have signed on with David's to make triple-figure dresses that won't triple the cost of getting married.
Call this populist approach cheap if you must, but considering that David's partners with Men's Wearhouse to not only offer tuxedos to lazy grooms but color coordinate them with the same palette used for bridesmaid's dresses, it's more of a one-stop-shopping coup than competitors would care to mention.
Target
(TGT) - Get Target Corporation Report
Sure, more than half the engaged couples in TheKnot's and WeddingChannel's registry survey put their housewares and knickknacks through Target's ClubWedd, but the No. 2 wedding registry in the country makes a better bridesmaid than a bride.
Of the 89% of couples who registered in more than one place last year, more couples (39%) chose Target as their secondary registry last year than any other retailer -- including everybody's first choice, Bed, Bath & Beyond (24%). Target isn't completely unhappy with the arrangement, either, as the 51% of couples who registered there last year were more than the 47% who filled out their wish lists in 2009.
That increase helped bump Target's overall earnings last year by 3.7% over 2009 to $65.8 billion, with a 2.8% jump in same-store sales. Sometimes that big, fluffy white dress just isn't the best fit.
Macy's
Yes, the Lenox and Spode place settings are all still here, but Macy's has a lot more appeal to the modern consumer than a place that their parents registered at probably should. A whopping 39% of engaged couples registered at Macy's last year, good for third place among all retailers but faring much better in the aisles than that bronze medal would indicate.
Thanks to little touches such as its "sip and scan" events that allow couples to come into a closed-to-the-public Macy's for hors d'oeuvres, booze-free cocktails and a scan-gun-fueled start to their wedding registry, Macy's is the primary registry of more couples (17%) than second-place Target (15%). Cheese on toothpicks and fake mojitos may not seem like much -- especially when more couples registered at Macy's in 2009 (40%) than last year (39%) -- but in the wedding industry it's how you build a loyal customer base.
"We always tell brides to take advantage of these events," Eisinger says. "It's the one time in your life that you get to do it and, if you're going to ask your friends to shell out for an expensive piece of china, you should get your hands on it and see if you're really going to use it."
Crate & Barrel
Speaking of wine and cheese, Crate & Barrel's similar scanning-and-scarfing registry events have made it also hugely popular in the wedding world. Roughly 26% of all couples registered there last year, up from 24% in 2009.
Bridal brunches -- they let couples scan items into registries while busying themselves with little waffles made in store-sold waffle irons, breakfast sandwiches cooked in straight-from-the-shelf Cuisinart Griddlers and champagne-spiked mimosas mixed in glassware available in the catalog -- have only increased the store's appeal. A completion program that offers 10% off the price of registry items after the wedding -- which Knot and WeddingChannel registrants said was their No. 1 motivation for picking a retailer's registry -- doesn't hurt either.
If there's any downside to Crate & Barrel's success, it's that -- according to Eisinger's findings -- the average Crate & Barrel registrant tends to be a bit more wizened than his or her coupled counterparts. That maturity brings a bit more expendable income with it, but it also means the low-end, post-collegiate cheap stuff that helps broaden price selection is mostly missing from the crates and barrels.
Williams-Sonoma
(WSM) - Get Williams-Sonoma, Inc. Report
Sure, Williams-Sonoma isn't anybody's idea of cheap, but in better times it's the kitchen store well-heeled couples just love. As the economy improved, so did Williams-Sonoma's chances of making it onto couples wedding registries -- with 10% of all couples registering there last year after only 9% went for high-end cookware and cutlery in 2009.
That sparked a better year all around for Williams-Sonoma Inc., which also owns the West Elm and Pottery Barn brands, as revenue increased 9.2% to more than $2 billion and same-store sales at Williams-Sonoma alone jumped 4.6%. Though it's only 2% of all couples' first choice for registries, Williams-Sonoma has carved out a registry niche that's impressive for a store that sells only costly kitchen products, but downright formidable considering that bigger, more broad-based retailers such as
Wal-Mart
(WMT) - Get Walmart Inc. Report
and
Sears
(SHLD)
command only 8% and 5% of the registry market, respectively.
"Places like Pottery Barn and Williams-Sonoma have always had a healthy share of the market, but they've always been in sixth or seventh place instead of being in the Top 3." Eisinger says. "That doesn't have so much to do with personal income as it does with the breadth of products being offered."
Pottery Barn
Why does Pottery Barn get its own entry when we just went over how well Williams-Sonoma is doing? Because its Merritt Bench coffee tables are
carrying
Williams-Sonoma right now.
Pottery Barn has jumped from 6% of the registry market in 2009 to 8% last year while the retailer as a whole saw same-store sales sales jump 14.3% -- almost three times the growth rate of the flagship Williams-Sonoma brand.
Craftily designed home furnishings and decor form an extremely limited niche, but the 1% of Pottery Barn registrants who chose the chain as their primary registry are still a larger contingent than the near-nonexistent minorities who chose Sears or Home Depot as their top wedding toy chest.
J.C. Penney
(JCP) - Get J. C. Penney Company, Inc. Report
J.C. Penney doesn't just want couples' weddings, it needs them. Back in 2009, its 9% share of the wedding registry market eclipsed
Kohl's
(KSS) - Get Kohl's Corporation (KSS) Report
(8%), Pottery Barn (6%) and Wal-Mart (7%). That all changed last year when share dropped to 7%, even as sales increased 1.2% and same-store sales jumped 2.5%.
How does this happen? The answer's as plain as the J.C. Penney's website home page, where the "gifts + registry" section is tucked up above the main page in a small, thin, sans-serif font smaller and less bold than the one it uses to advertise a $44.99 jewelry tree just inches below. Even when that's clicked, though, consumers are sent to a page bombarding them with Mother's Day suggestions; "wedding" is just one of the small suggestions among myriad gift options. The wedding page itself is lovely, but the lack of branding or even desire to bring couples to it may not mean much now -- when 57% of couples still go to stores to register -- but abdicating that growing 33% of registries being set up online isn't doing J.C. Penney any favors.
"Companies that don't have a comprehensive online registry program are losing out big time," Eisinger says.
TheKnot
(KNOT)
The companies TheKnot surveys customers about and features on its site are all taking big chunks of that $74 billion wedding cake, but so is TheKnot itself. Since 2000, revenue for the site has jumped from $24.2 million to $112.9 million last year. That's a 6% jump from 2009, and while the nearly 200 niche sites it's launched benefit from the cut TheKnot gets from retail-partner sales, that's just the beginning.
TheKnot just bought back shares from its longtime stakeholder Macy's and net income jumped to $3.7 million after a $4.9 million loss in 2009. As couples' wedding pages and registries fill up and its universal registry site Gift Registry 360 gains traction by letting couples access items from just about any online retailer, from big partners such as Bed, Bath & Beyond to the site of the small boutique boutique on the corner, all those images of women in white are increasingly keeping the company in the black.
-- Written by Jason Notte in Boston.
>To contact the writer of this article, click here:
Jason Notte
.
>To follow the writer on Twitter, go to
.
>To submit a news tip, send an email to:
.
RELATED STORIES:
>>Why Retailers Want Your Wedding
Jason Notte is a reporter for TheStreet. His writing has appeared in The New York Times, The Huffington Post, Esquire.com, Time Out New York, the Boston Herald, the Boston Phoenix, the Metro newspaper and the Colorado Springs Independent. He previously served as the political and global affairs editor for Metro U.S., layout editor for Boston Now, assistant news editor for the Herald News of West Paterson, N.J., editor of Go Out! Magazine in Hoboken, N.J., and copy editor and lifestyle editor at the Jersey Journal in Jersey City, N.J.