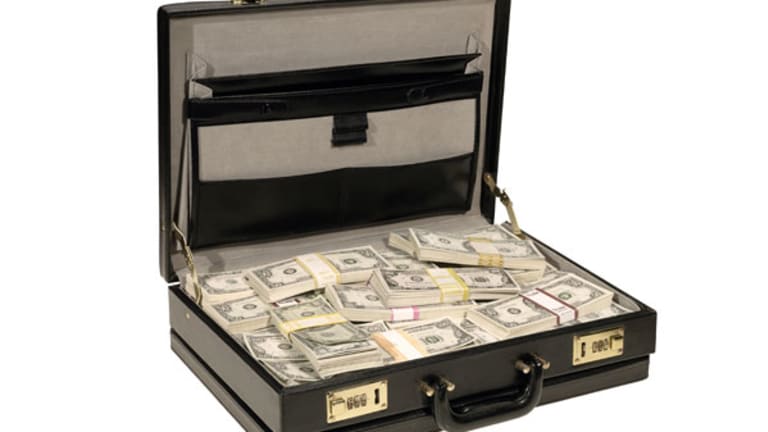 10 Cities Poised For Greatness in 2013
Crack open the calendars and flip through the months to see what cities are poised for a big, eventful 2013.
PORTLAND, Ore. (TheStreet) -- It's a relatively quiet calendar compared with last year, but amid the relative silence, there are cities waiting for their chance to shine.
Americans were in the throes of a presidential race and the candidates were already decided, but this year is relatively quiet on the political front. The Olympic torch is back in storage after leaving London last summer and won't be trotted out again until the lead-up to the Winter Olympics in Sochi, Russia, next year.
That doesn't mean there aren't big plans in the works for 2013. Global alliances are shifting, cultural centers are on display and old treasures are getting a new look. Towns daring enough to stray from their same rote holidays, pro sporting events and Chamber of Commerce productions are giving folks a reason to visit, while improving economies provide incentives to stay.
Crack open the calendars, inhale that fresh new year smell and flip through the months to see what cities are poised for a big 2013. If it's not yours, don't worry. There are more exciting years ahead:
Dublin, Ireland
It's tough to say the city of Joyce, Yeats and Beckett is
poised
for greatness. When Ireland calls everybody home, however, it's perhaps the only way to make a great city of pubs, song, literature and culture even greater.
Those with Irish ancestry or a healthy envy of those who have it may want to consider heading to Dublin for
, a yearlong series of festivals, concerts, clan gatherings and sporting events celebrating Ireland and its diaspora. While more than 70 million people around the world claim Irish descent, a full 44 million of those are Americans.
The highlights include a supersized
celebration in Dublin in march, a nod to Irish music and dance during the
this month and trips out to the
that families left behind after the Great Famine in the late 1800s. Millions are expected to trace their roots and join clan gatherings across the country, but Dublin will be their gateway and should reap much of the benefit from the festivities. If it gets even some Americans to pass up parades and bars with paper shamrocks in the windows, The Gathering will be a worthy endeavor.
New Orleans
We're not going to lie, this one's all about sports.
New Orleans already played host to the
Allstate
(ALL) - Get Allstate Corporation Report
Sugar Bowl and BCS Championship Game in 2012 and brought in more than 250,000 visitors and $500 million in economic impact as a result. Then it hosted last year's men's college basketball's Final Four and national championship game in March and early April and took in another $100 million in business for its trouble.
This year, however, the Superdome hosts its first Super Bowl since Hurricane Katrina hit the city in 2005.
Mercedes-Benz
has taken over as the stadium's sponsor and gave it a major overhaul in 2011. The event is the last in New Orleans' string of big-ticket sporting events, but should be easily the biggest of the bunch. Mayor Mitch Landrieu is hoping the NFL's big game will help the city reach $1 billion in total revenue for all its big-game hosting duties. It doesn't undo the lingering damage left in the storm's wake, but it certainly doesn't hurt.
Split, Croatia
It's been a long road from Croatia's War of Independence with Serbia in the early 1990s to its impending membership in the European Union, but this spot along the Adriatic coast should reap many of the benefits.
When Croatia becomes the 28th member of the European Union in July, it will get a whole lot of cash from its fellow members to bolster its economy and, more importantly, strengthen its tourism. The country has stated that it wants to make things a lot easier on foreign tourists in the future, and building hotels and improving historic sites and attractions goes a long way toward meeting that goal.
While Split's historic architecture, surrounding old cities and Riviera beaches are a UNESCO-approved wonderland, the Mediterranean climate has already made it a holiday favorite among Europeans. Folks from the U.S. and elsewhere should really consider a trip this year, however, as it's only a matter of time until Croatia switches from its relatively weak kuna to the much brawnier euro.
Amsterdam
OK, college bros, we know this city was poised for greatness back when you totally ogled that escort chick in the window and went to that hash bar before downing three Royales with cheese. Cool story.
For the grown-ups among us who no longer have the brain cells to spare and get drowsy just thinking about hitting said bars -- regardless of the quality of their baked goods -- there are far better reasons to visit Amsterdam in 2013. The city's
I Am Amsterdam
celebrations tie together a number of significant birthdays and anniversaries into one big yearlong party.
Amsterdam's canal system turns 400 years old in 2013 with tours, exhibitions and skating along its frozen channels. The Artis Royal Zoo turns 175, and the Royal Concertgebouw music venue celebrates 125 years. Native son Vincent van Gogh would have celebrated his 160th birthday this year, and the Van Gogh Museum museum plans to celebrate by reopening in the summer after a long series of renovations. Speaking of renovations, the
art museum bitterly refuses to mark its 10th consecutive year of renovations and opens its doors again April 14 after nearly a decade of renovations.
Cultured "I Am Amsterdam" attendees can once again stroll its 80 halls of art dating back to the Middle Ages, get an eyeful of Rembrandt's
Night Watch
and ... what? ... OK, fine, that's totally a plate full of weed and a bag of cannibis cookies on I Am Amsterdam's front page. Damn you, Amsterdam.
Gettysburg, Pa.
Gettysburg's greatness became a matter of record 150 years and nearly 8,000 lives ago. This year just serves as a reminder of it.
With the Union and Confederate armies suffering more than 50,000 casualties combined, Gettyburg was the Civil War's bloodiest battle and the war's emotional turning point. To commemorate it, there's a year full of events scheduled in and around Gettysburg. It all builds to a head this summer with a
of tours ending in a massive battle re-enactment featuring 100 cannon, 400 horses and 15,000 re-enactors on July 4.
It doesn't take Ken Burns or Shelby Foote to explain why this should hold such great significance or why the wholesale slaughter of Confederate soldiers charging at Union lines on Cemetery Ridge changed the entire country's direction. It doesn't hurt to have the scores of volunteers and historians scheduled to attend various events in Gettysburg this year on hand to sort it out, though.
Asheville, N.C.
Asheville has never really been short on great stuff. There's the lush scenery of the Blue Ridge Parkway and Great Smoky Mountains National Park, the cascading falls at Sliding Rock, the history at the Grove Park Inn and the Vanderbilts' Biltmore Estate and a whole lot of hiking, biking and brewing to be done.
Speaking of brewing, though, 2013 is the year Asheville transforms from a really nice little beer town to a great beer city and a beer industry hub. It's provided a great home for brewers such as
Highland
,
Craggie
,
Oyster House
,
Green Man
and
French Broad
for several years while drawing in beer lovers from across the country with its beer-and-bluegrass Brewgrass festival.
This year, however, its much-talked-about influx of brewers from the West becomes a reality. Though Chico, Calif.-based
Sierra Nevada
and Fort Collins, Colo.-based
New Belgium
aren't expected to open their breweries here for at least another year, the can-crazy folks at
Oskar Blues
in Lyons, Colo., are cranking up their East Coast operations in Asheville later this year. The brewer is expecting to produce 40,000 barrels in Asheville alone in 2013, which is fairly impressive since it took Oskar Blues nearly 13 years to start producing that much brew in Colorado.
There's been a lot of big beer talk in Asheville up to this point. By the end of 2013, it'll have at least one big brewery that can back it up.
Marseilles, France
Each year, the European Union selects a Capital or Capitals of Culture to showcase not only the continent's rich heritage, but vibrant artistic and creative spirit. Marseilles seems like a bit of a gimme in this regard.
Sidled up to the Mediterranean along the Cote-de-Azur in the South of France, the city has had art in its veins since the paleolithic era gave the area its first cave paintings. Founded by the Greeks, bolstered by the Romans and besieged and sickened by just about everyone in between, Marseilles has always had the food of surrounding Provence and a steady stream of music to get it through the tough times.
From the moment visitors arrive in its glass-enclosed train station (and they certainly should try getting there by rail or TGV to take in the surrounding countryside), there's an apparent otherness to the town that its Capitals of Culture
should only enhance. A cardboard city is already under construction, venues have been built and the area's surrounding cattle herds are being prepared for a trip into the city for one big, smelly living art event. Remember, it's not strange, it's Marseilles.
Kosice, Slovakia
The somewhat lesser known of this year's European Capitals of Culture is quite a gem in its own right.
The second-largest city in Slovakia behind Bratislava is a melange of Gothic cathedrals, Baroque theaters and remnants of city walls dating back to the 11th Century. It's also teeming with artwork, which all goes on display for the
Night Of Museums and Galleries
celebration and the
festival of public art, both in May.
Though no longer as inexpensive as before switching from its koruna to the euro five years ago, Kosice and surrounding Slovakia are still the gorgeous and relatively undiscovered gems of Central Europe. Unless visitors enjoy a brisk day for sipping mulled wine and enjoying local beers, this Capital of Culture is best enjoyed between May and September, when it's slightly less gray and frigid.
Nashville, Tenn.
Music fans think Nashville's pretty great already, but it's improvement to that music infrastructure that's making 2013 a huge year for this town.
Nashville is opening its
this year, combining a huge convention center with a big public space for art and music. The new Omni Nashville Hotel, meanwhile, will be home to the super-sized
, which will take up several floors of the building.
The city's also getting an 18,000-square-foot
, which you'd think would be in his Sun studio stomping grounds in Memphis, and a new home for its
Musicians Hall of Fame and Museum
.
What's that, Cleveland and Seattle? You have music museums too? That's great. Maybe when you put both the Rock and Roll Hall of Fame and Experience Music Project in the same town, you can poise yourselves for some greatness as well.
Santa Clara, Calif.
Having an economy propped up by
Intel
(INTC) - Get Intel Corporation (INTC) Report
,
Oracle
(ORCL) - Get Oracle Corporation Report
and
Nvidia
(NVDA) - Get NVIDIA Corporation Report
and an unemployment rate that sank from nearly 9.5% last year to 7.8% is already enough to make other towns jealous.
Add an NFL stadium and a franchise or two to that mix and 2013 may be the year that boosts Santa Clara to the next level. The San Francisco 49ers broke ground on their stadium in Santa Clara last year and already began offering season ticket holders at Candlestick Park first crack at seats in the facility.
This year, however, the NFL is expected to announce whether the new Santa Clara Stadium or Sun Life Stadium in Miami will get to host Super Bowl L in 2016. The Miami Dolphins ownership and Miami city officials are already looking for public money to spruce up their stadium, but taxpayers may be loath to pay out after just buying a new ballpark for the Miami Marlins only to watch owners completely dismantle the team.
If the 2016 Super Bowl somehow escapes Santa Clara's grasp, it goes automatically into contention for Super Bowl LI the next year. The 49ers should also find out this year whether the Oakland Raiders will be joining them in their new home. The Raiders' lease on
O.co
(OSTK) - Get Overstock.com, Inc. Report
Coliseum expires after this year, and while NFL Commissioner Roger Goodell supports a sharing agreement similar to what the New York Giants and Jets have in New Jersey, Raiders owner Mark Davis has been reluctant to move the team.
A lot has to fall Santa Clara's way for it to have a big 2013, but it's tough to bet against the town when there's so much working in its favor.
-- Written by Jason Notte in Portland, Ore.
>To contact the writer of this article, click here:
Jason Notte
.
>To follow the writer on Twitter, go to
.
>To submit a news tip, send an email to:
.
RELATED STORIES:
>>5 Destinations For 'Dark Week' Travel
>>5 Most Infamous Cars Of 2012
Jason Notte is a reporter for TheStreet. His writing has appeared in The New York Times, The Huffington Post, Esquire.com, Time Out New York, the Boston Herald, the Boston Phoenix, the Metro newspaper and the Colorado Springs Independent. He previously served as the political and global affairs editor for Metro U.S., layout editor for Boston Now, assistant news editor for the Herald News of West Paterson, N.J., editor of Go Out! Magazine in Hoboken, N.J., and copy editor and lifestyle editor at the Jersey Journal in Jersey City, N.J.