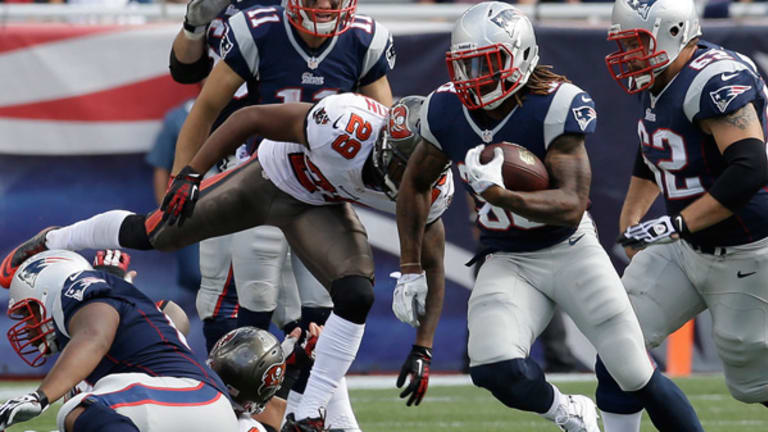 10 Cheapest Beers in the NFL
It pays to throw the disgruntled local fan base a concession every so often.
Updated on Oct. 4 with Josh Freeman's current status and a revised beer price for the Carolina Panthers
PORTLAND, Ore. (
) -- As an unwritten rule, National Football league teams don't generally do their fans any favors.
, the NFL has no problem taking billions in tax dollars for its play palaces, hoarding all the money from deals to broadcast games from those gilded facilities, blacking out those broadcasts in home markets when fans don't give them a full stadium to show to the rest of of the country, hiding behind tax-exempt status to avoid financial responsibility for any of it and using an antitrust agreement to justify all of the above.
That being the case, it pays to throw the disgruntled local fan base a concession every so often. The Jacksonville Jaguars haven't blacked out a game on local television in three years, but the experience left the small-market team's front office so chastened that it's giving away
free beer
with tickets this year just to avoid the possibility.
It's one of the few ways the league has tried to dislodge fans from their warm lairs filled with high-definition screens, cheap and plentiful snacks and beverages and
DirecTV's
(DTV)
NFL Sunday Ticket
supplementing games on every broadcast network and
ESPN
(DIS) - Get Walt Disney Company Report
. Otherwise, NFL owners have been content to boost average ticket prices 3.1% to more than $81, according to
Team Marketing Report
. That's the first time the NFL's average ticket price has drifted over the $80 mark, making it nearly triple the cost of the average Major League Baseball ticket.
That's before you factor in the cost of taking a family of four to the game and, you know, introducing a future generation of potential customers to a live-game experience. The average cost to take a family of four to a game, park, have a beer, hot dog and soda and go home with a program and a cap also jumped 3.7%, to nearly $460.
But the kids don't seem to be the NFL's main targets. If you're over 21, the NFL and its official beer sponsors at
Anheuser-Busch InBev
(BUD) - Get Anheuser-Busch InBev SA/NV Report
want you to come to the game more than ever. After beer prices jumped from an average of 42 cents an ounce in 2011 to 43 cents an ounce last year, they actually sank to roughly 41 cents an ounce this year.
That's still $7 for little more than a pint, but it's one of the few concessions the league is making at its concessions stands for fans feeling otherwise squeezed by ticket prices. While there are still plenty of teams that
charge well above that average beer price
, there are still some relative deals to be found in the depths of taxpayer-funded NFL stadiums.
In Ohio, fans of the Cleveland Browns and Cincinnati Bengals still enjoy $5, 12-ounce beers for 42 cents an ounce, although that's costly compared with the 35 cents per ounce paid by folks watching the Miami Dolphins (20 ounces for $7) and New Orleans Saints (24 ounces for $8.50). The Carolina Panthers have easily the lowest per-ounce price in the league at 27 cents per ounce (22 ounces for $6), but the biggest surprise may be in New England. Despite having the league's highest average ticket price at $118 and making the AFC Conference Championship last year, the 38 cents per ounce the team charges for beer ($7.50 for 20 ounces) is the lowest of any team that made the playoffs last year.
With help from
Team Marketing Report
s
Fan Cost Index
, we found the 10 lowest beer prices in the league and the teams that aren't soaking their beer-loving fans:
6. Tie: Denver Broncos/New York Giants/New York Jets/Houston Texans/San Diego Chargers/Tennessee Titans/Cincinnati Bengals/Cleveland Browns
Price of a small draft beer:
$5 for 12 ounces
Price per ounce:
42 cents
When a full quarter of the league charges the same price for beer, that's isn't "low." That's pretty much the going rate.
Also see: 10 Most Expensive Beers In The NFL>>
We'd love to say that all of this is a result of one company standardizing prices, but the teams above are divided amongst concessionaires
Aramark
,
Delaware North
and
Centerplate
. They're also self-reporting that beer price, which means fans may be hard pressed to find the "small" size at $5. The stipulation for this list is that such a beer needs to be sold on the grounds of the stadium on gameday for the price listed, but we've received complaints about this before.
There's plenty of reason for skepticism, considering that five of the eight teams charging this price (Jets, Giants, Texans, Broncos and Chargers), boast ticket prices above the league average. As we'll discover, though, there's little to no correlation between ticket prices and beer prices in the NFL.
5. Minnesota Vikings
Price of a small draft beer:
$7.75 for 20 ounces
Price per ounce:
39 cents
, indeed, Vikings.
It hasn't been an easy couple of years for Vikings fans. After a loss to the New Orleans Saints in the 2009 NFC Championship and the subsequent retirement of quarterback Brett Favre, the team has gone 20-35. Its 10-6 season last year was tarnished by a loss to their hated rivals, the Green Bay Packers, in the NFC Wild Card game.
An injury to starting quarterback Christian Ponder would have hurt a lot more if backup Matt Cassel didn't help give the Vikings their first win of the season. Few aspects of Vikings fandom are more troubling than the controversy surrounding the new stadium, though. With the Wilf family of owners hinting at a potential move to Los Angeles, Minnesota put itself on the hook for about $500 million of the proposed $974 million Vikings stadium planned for 2016. That figure was still being negotiated, but negotiations hit a snag when owner Zygi Wilf was found
guilty of fraud, racketeering and breach of contract
in a New Jersey real estate deal gone bad.
Again, that's a guy the state is entrusting with $500 million in tax dollars. The same guy who basically extorted those tax dollars out of the state by threatening to pull the Vikings out of a place they've called home for more than 52 years. A guy who's pulling the team out of the enclosed Hubert H. Humphrey Metrodome next season to play outdoors -- in a Minnesota winter -- at the University of Minnesota's TCF Bank Stadium for two years as they wait for the completion of a stadium nobody's broken ground for.
A $7.75 beer is nobody's idea of a consolation prize, but Vikings fans are making out better on the unit price than they have on any aspect of the Vikes' recent business dealings.
4. New England Patriots and Arizona Cardinals
Price of a small draft beer:
$7.50 for 22 ounces in New England, $6 for 16 ounces in Arizona
Price per ounce:
38 cents
If you were dropped on the Earth three days ago and told to look at these two teams, you might see some similarities. Both eschewed the big-city identities of Boston and Phoenix for more regional, big-tent, suburb-friendly monikers. Both feature quarterbacks that were among the league's elite a decade ago -- though one has done a better job of staying there than the other. Both have made a Super Bowl appearance in the past five years and lost in close, dramatic fashion.
To just about everyone else, however, there's little tying the Patriots, who have missed the playoffs only five times since 1994, to the Cardinals, who have made the playoffs only three times during that span. Since 1985, the Patriots have been to seven Super Bowls and won three. The Cardinals, meanwhile, have posted exactly three winning seasons in that span, all after moving to Arizona in 1988.
Also see: Congress Should Tackle NFL's Tax-Exempt Status>>
Cardinals fans have earned their low beer price, especially after ownership raised average ticket prices 17% from last season based on just about no merit. Patriots fans, meanwhile, get that low unit price as a tradeoff for paying the highest average ticket price in the land at nearly $118 to watch their perennial favorite. That's on top of an average of $40 for parking in spaces that are often little more than abandoned mud lots or excess gas station space. Performance, ticket prices, geography: Almost none of it changes what you pay for a beer on game day.
3. Carolina Panthers
Price of a small draft beer:
$7.50 for 20 ounces
Price per ounce:
37.5 cents
The $6 for $22 ounces originally reported by TMR would be easily the biggest steal in the league -- if it were so. Unfortunately, as the
, that's the size of their 12-ounce beer, which adds up to 50 cents an ounce. The larger version, however, is far more of a bonus for fans who already have high hopes for quarterback Cam Newton and their team.
The 2011 Rookie of the Year hasn't posted a winning record yet, but these things take time. Meanwhile, Panthers ownership is hoping their cheap beer softens up fans enough to make them forget that they not only gave owner Jerry Richardson
$87.5 million in tax money
for renovations to 17-year-old Bank of America Stadium, but only got him to promise that he'd keep the team in town for another six years.
Six
. That's more than $14.5 million per year, and $116 per Charlotte resident whether they see the Panthers play or not.
Maybe Panthers fans are confident Newton can get the town a Super Bowl ring during that span. If not, maybe their $87.5 million investment will pay off for Los Angeles or London sometime after 2020.
2. Tampa Bay Buccaneers
Price of a small draft beer:
$5.75 for 16 ounces
Price per ounce:
36 cents
The quarterback once considered the future face of the franchise, Josh Freeman, was been benched for backup Mike Glennon before being released. Coach Greg Schiano may or may not have leaked confidential drug test information about Freeman to the media, has chafed players including star cornerback Darelle Revis with his aggressive style and drawn fire from both the New York Giants and Arizona Cardinals for having his players dive after the ball when the opposing offense kneels down to run out the clock. It hasn't helped that Schiano's team lost both times it tried the latter.
The team is 0-4. It hasn't had a winning season since 2010, hasn't made the playoffs since 2007 and hasn't won a playoff game since winning the Super Bowl a decade ago.
Yet none of that is why Bucs fans deserve one of the cheapest beers in the league. The fact that they've seen just five of the teams 24 home games on local television between 2010 and last year, despite shelling out 100% of the costs of $165 million Raymond James Stadium, warrants some cheap suds. As does the news that, at least for this season, that blackout streak is over.
Bucs management announced last week
that they -- and not the team's television affiliates or sponsors -- would send a check to the league if attendance fell below the league's new, optional 85% minimum.
That's a big reward for a fan base that's put up with more than its share of insults in the past few years. Some reasonably priced concessions only further salve that wound.
1. Miami Dolphins and New Orleans Saints
Price of a small draft beer:
$8.50 for 24 ounces in New Orleans, $7 for 20 ounces in Miami
Price per ounce:
35 cents
That's not a bad price to pay to enjoy a beverage and watch some warm-weather destination football.
In a booze-soaked city such as New Orleans, where the pre-game drink options are both reasonable and ample, providing some beer value doesn't hurt. Giving fans a franchise quarterback such as Drew Brees and that 2009 Super Bowl win certainly don't hurt, either.
For Dolphins fans, even that price might be too much to keep them out of the clubs, off the beaches and in the stadium. In the past decade, the Dolphins have posted exactly three winning records. They made the playoffs once, in 2008, and were handily tossed in the first round by the Baltimore Ravens. The team's off to a 3-1 start this year, but Dolphins ownership wants taxpayers to kick in for upgrades at
.
Taxpayers and politicians have told owner Stephen Ross to take it walking, especially after the city was burned by baseball's Miami Marlins -- who took tax money for their new ballpark and immediately purged their roster of star players. Ross continues to push for tax dollars that will cover at least half of his $350 million in stadium renovations, but fans have been giving him some idea of what they think of that plan and the product he's been putting on the field by not showing up to games. Ross and the team's sponsors have been shelling out to prevent television blackouts and say they'll continue to do so this season, but season ticket purchases have dwindled from more than 61,000 in 2006 to little more than 40,000 last year.
The message in New Orleans and Miami is one that bars and clubs in both towns should be familiar with: You can ply folks with booze all you'd like, but unless you give them a reason to stay, they'll just bounce to the next place.
-- Written by Jason Notte in Portland, Ore.
>To contact the writer of this article, click here:
Jason Notte
.
>To follow the writer on Twitter, go to
.
>To submit a news tip, send an email to:
.
RELATED STORIES:
>>7 NFL Football Apps You're Going to Need This Season
>>5 Pro Sports Towns Doing Just Fine Without the NFL
>>5 NFL Teams Most Likely To Be Blacked Out In 2013
Jason Notte is a reporter for TheStreet. His writing has appeared in The New York Times, The Huffington Post, Esquire.com, Time Out New York, the Boston Herald, the Boston Phoenix, the Metro newspaper and the Colorado Springs Independent. He previously served as the political and global affairs editor for Metro U.S., layout editor for Boston Now, assistant news editor for the Herald News of West Paterson, N.J., editor of Go Out! Magazine in Hoboken, N.J., and copy editor and lifestyle editor at the Jersey Journal in Jersey City, N.J.