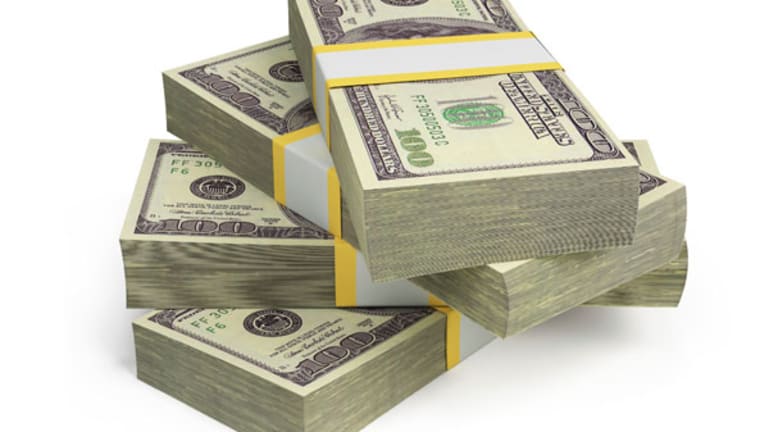 10 Celebrities Who Lost Big Financially
Celebrities have no problem making money, but bad financial sense makes those million tough to keep.
Celebrities have no problem making money, but bad financial sense makes those million tough to keep.
MIAMI (TheStreet) -- Celebrities have more money than the average American, but there's no evidence that they spent or invested it more wisely during the recent economic downturn.
The average nonceleb doesn't need much prompting to tell you how bad it's been in the past few years. Call last year a recovery period if you must, but Americans still saw personal bankruptcies rise 9% to more than 1.5 million and reach their highest point since bankruptcy law reform was introduced in 2005, according to the American Bankruptcy Institute and the National Bankruptcy Research Center.
Meanwhile, real estate data firm RealtyTrac notes that foreclosures rose to a record 1.05 million, edging the previous record of 918,000 in 2009. That means 26% of all homes sold last year were foreclosures.
It seems only fair that celebrities contribute to both categories, with some losing 280 times the $50,000 the Census Bureau says an American household makes in a year. The following are just 10 examples of celebrities who've taken a huge financial hit during the past few years:
Shaquille O'Neal
Five years and three teams ago, Boston Celtics center/rapper/actor/
Comcast
(CMCSA) - Get Report
pitchman Shaquille O'Neal won an NBA title with Dwyane Wade and the Miami Heat. At the time, he was also trying to sell a house on Star Island in Miami Beach that he bought for $18.8 million in 2004. Sitting on 2.5 acres along 300 feet of Biscayne Bay waterfront, the 19,400-square-foot home had eight bedrooms, a two-bedroom guest house, a tennis court, an indoor racquetball court, a six-car garage and a pool splashed with the Superman logo.
Shaq tried to flip the house for what he felt was a reasonable $32 million to $35 million and in 2007 almost had a New York Yankees third baseman on the hook for $25 million. But he watched the estate linger on the market for five years amid a housing crisis that flushed Miami housing prices by nearly 40%, according to the Florida Association of Realtors.
Eventually, Shaq unloaded the house on Russian real estate magnate and Naomi Campbell paramour Vladislav Doronin in 2009 for a reported $16 million -- $2.8 million less than he paid and less than half his asking price. Shaq has since recovered, heading toward the playoffs as starting center (once he comes back from injury) of the NBA's East-leading Celtics, but only in the world of celebrity investments and bankrupcy can a $2.8 million to $16 million loss be considered getting off light.
Toni Braxton
It's a good thing Toni's heart is unbroken, because the rest of her is flat broke. The six-time Grammy winner and her company Liberty Entertainment filed for bankruptcy last September after accumulating debts ranging from $10 million to $50 million against only $1 million to $10 million in assets. That's actually the least of Braxton's problems.
This is the singer's second bankruptcy after first filing in 1998, but that was brought on by tension and an eventual split with her record label and poor financial choices, such as accumulating $500,000 in overdraft fees in 1997 alone. This time, much of Braxton's trouble stems from canceling a string of shows in Las Vegas in 2008 after chest pains she experienced during performances were later diagnosed as a heart problem that insurer Lloyd's of London called a "pre-existing condition" in refusing to cover her losses. She was also forced to pull out of the series finale of ABC's
Dancing With The Stars
that year when she had a breast tumor removed. With a list of creditors including the Internal Revenue Service, Flamingo Las Vegas hotel and casino, the Four Seasons Hotel in Washington, D.C., Cedars-Sinai Medial Center, Neiman Marcus, the Screen Actors Guild, RCA Music Group and
Tiffany & Co.
(TIF) - Get Report
, Braxton saw her $2.6 million home in Henderson, Nev., go into foreclosure and sell for little more than $1 million. Her $1.2 million home in Duluth, Ga., just went into foreclosure proceedings.
Nicolas Cage
That Nicolas Cage
hasn't
declared bankruptcy yet is nothing shy of amazing. The
Leaving Las Vegas
Oscar winner and
National Treasure
star's films have grossed more than $4 billion, but he has been forced to take just about every role thrown at him after a series of spending missteps.
In 2009, the IRS filed a put a lien on some of Cage's property in Louisiana and said cage owed them roughly $6 million for purchases made in 2007. They weren't talking about weekend splurges at Harrod's, mind you, but a $15.7 million mansion in Rhode Island, the $8 million-plus Milford Castle in Bath, England, and a five-year, $7,700-a-month lease on a 1964 Rolls Royce SC III and a $3,600-a-month lease on a 2002 Rolls Royce Corniche. The burden forced him to sell two $3.5 million homes in New Orleans back to the bank for $4.5 million, an $8.5 million home in Las Vegas for $5 million, a $9.5 million Manhattan apartment for $7.5 million and -- most crushing -- a Bel-Air Tudor mansion he'd listed for $35 million for $10.5 million after it went into foreclosure.
Meanwhile, he's also listed a $1.7 million home in Newport Beach, Calif., for less than $1 million and that $15.7 million Rhode Island home for $7.8 million. Cage sued his business manager for $20 million in 2009, which only led the manager in question to countersue, saying that he told Cage to spend within his means but couldn't stop him from buying $33 million in homes, 22 cars, 47 pieces of artwork and a $276,000 skull of a Tarbosaurus dinosaur.
Julius Irving
Dr. J was a tough competitor on the court, but he spent last year getting schooled on the golf greens. Erving fulfilled his dream of owning a golf course in 2007 when a friend advised him to invest $3 million in the Heritage Golf Club in Tucker, Ga. That investment came with an $11 million loan obligation that Erving was just fine with as long as the club brought in returns. It never did.
As it turns out, the previous club owner's mortgage was in default before Dr. J bought the club and its value was never close to $11 million. The property ended up being worth $2 million and, because Erving never took a paycheck as the club's owner, he ended up losing about $5 million on the deal.
Kevin Bacon and Kyra Sedgwick
Sure, everyone knows
now
not to invest with Bernie Madoff, but someone should have told Mr. Six Degrees and his wife
The Closer
that before Madoff uncorked his $50 billion Ponzi scheme on them and the rest of the investing world.
The pair reportedly lost millions of their personal investments in the scheme and, while it may have been somewhat comforting to know that Hollywood figures such as Steven Spielberg and Jeffrey Katzenberg were duped in the same deal, it had to be humbling for the already prolific Bacon to tell
Life & Style
magazine in 2009 that "I need to work, for obvious reasons." Remember this when you're inundated with commercials for any of Bacon's four projects slated to hit the screen this year.
Wesley Snipes
During tax season, we at the
TheStreet
would like to remind that even if you're suddenly adding millions of dollars to your paycheck, you need to file a tax return every year. The star of the
Blade
movies got no such advice when he made more than $38 million since 1999, but only started filing tax returns in 2006. We still don't quite understand this.
Snipes paid taxes on his earnings from
Wildcats, Major League, White Men Can't Jump, Jungle Fever, Mo' Better Blues, Passenger 57
and
Rising Sun
, but suddenly he starts playing a samurai vampire (sorry,
daywalker
) and he's invulnerable to taxes? Did those eight straight-to-DVD movies he's made since 2004 weaken his powers?
Don't worry, Snipes has plenty of time to ponder this after his final appeal failed last year and he started his three-year prison sentence in December.
Madonna
Ordinarily a fairly savvy businesswoman -- especially considering she started her Maverick record label with
Time Warner
(TWX)
almost 20 years ago before that was a thing to do -- Madonna's one major blunder came during her marriage to Guy Ritchie, which was filled with them.
Forget her and Ritchie's heavy ordnance of a film
Swept Away
, her "British" children's book
The English Roses
, her directorial debut
Filth and Wisdom
, her
American Life
album and her affected English accent -- you marry a guy who directs heist movies like
Lock, Stock and Two Smoking Barrels
and
Snatch
for a living and you don't sign a prenuptial agreement?
Madonna was worth $500 million during her marriage to Ritchie and, while the director didn't clean her out when their marriage dissolved in 2008, the $75 million he reportedly got was a nice parting gift.
Bono
While it's great U2 raked in $130 million last year as the world's biggest-selling music act, according to
Forbes
, that sum wouldn't even cover the amount Bono lost on his worst investment.
When Bono bought a stake in private equity firm Elevation Partners in 2004, it gave him a nearly 30% stake in Palm, including stock worth an estimated $325 million. In the pre-iPhone smartphone market, that wasn't too shabby.
When Palm fumbled the Pre, however, and the iPhone surged in market share, that investment started to look a lot more shaky. It got worse when
H-P
(HPQ) - Get Report
bought Palm for $1.2 billion last year, but only valued Palm shares at $5.70 when they were trading at $18 just a year before. The whole deal set Bono back $140 million and, while it's tough to top U2's
Pop
album as a career low point, his disastrous Palm investment trumped it in Bono's typically grand fashion.
Liza Minelli, Uma Thurman, Paul Simon, Tom Brokaw, Harvey Weinstein, et al.
With swarms of predatory "investment advisers" looking to take a chunk of their earnings, it's a wonder more celebrities don't invest in hollowed-out mattresses. Just two years after Madoff was put away for swindling investors with his Ponzi scheme, Kenneth Starr (not the Whitewater independent counsel; the other one) pleaded guilty last year to running a Ponzi scheme that defrauded his celebrity clients out of at least $59 million.
His list of defrauded clients read like the guest list at a gala fundraiser: Actor Uma Thurman, musican Paul Simon, actor and singer Liza Minelli, newsman Tom Brokaw, film producer Harvey Weinstein, talk show host Phil Donohue, singer Carly Simon, photographer Annie Leibovitz, playwright Neil Simon and actor Sylvester Stallone -- who sued Starr in 2002 and claimed his advice caused him to lose $10 million in his restaurant chain Planet Hollywood's stock.
As a reward for their trust, Starr repaid his clients with such dastardly deeds as testifying against Snipes in his tax-evasion trial, bilking 99-year-old heiress Rachel "Bunny" Mellon out of $5 million in a Manhattan apartment deal and tucking away more than $57 million worth of ill-gotten goods in property and bank accounts shared with his wife and former Scores stripper Diane Passage -- including one account in the name of "Poledance Superstar."
Now we're not saying a 66-year-old financial adviser who marries a stripper in her mid-30s and is regularly sued by his clients -- including former radio actor Joan Stanton, who sued Starr for misappropriating "tens of millions" in funds before dying in 2009 at 94 -- is necessarily a bad guy. You just may want to consider all that background before handing him your money.
Michael Vick
The good news for Philadelphia Eagles quarterback Michael Vick is that he turned a Comeback Player of the Year season in 2010 into a key to the city of Dallas and a franchise tag from the Eagles that could be worth $16 million to $20 million if the NFL doesn't lock out its players next season. The bad news: The aftermath of his dogfighting conviction and ensuing prison sentence will put almost all of that money into other people's hands.
It's no secret Vick's past cost him endorsement deals with
Nike
(NKE) - Get Report
and
AirTran
(AAI)
, more than $60 million of his $130 million contract extension that he signed with the Atlanta Falcons in 2004 and 16 months of his freedom. What's less known is that also left him bankrupt, with roughly $10 million to $50 million in debt. According to the
Atlanta Journal Constitution
, he's been paying off that debt by keeping only $300,000 of the $6.8 million he made with the Eagles during the past two seasons but has more than $20 million still outstanding. Though he's recovered from his dogfighting conviction professionally, its fallout will likely keep his paycheck on a short leash for the imminent future.
-- Written by Jason Notte in Boston.
>To contact the writer of this article, click here:
Jason Notte
.
>To follow the writer on Twitter, go to
.
>To submit a news tip, send an email to:
.
RELATED STORIES:
>>10 Terrible Financial Choices in Music History
>>Lessons From 8 Business-Savvy Celebrities
Jason Notte is a reporter for TheStreet.com. His writing has appeared in The New York Times, The Huffington Post, Esquire.com, Time Out New York, the Boston Herald, The Boston Phoenix, Metro newspaper and the Colorado Springs Independent.