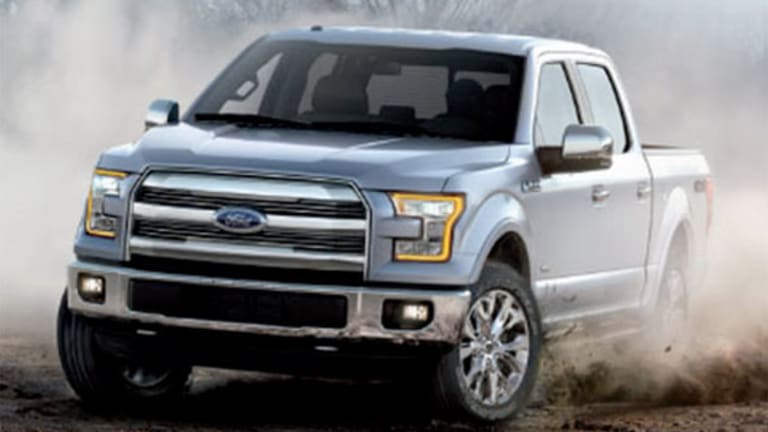 10 Vehicles With the Best Resale Value After 5 Years
These vehicles are a buyer's best chance of getting half of their money back or more once it's time to sell.
NEW YORK (TheStreet) -- Thinking of getting a new vehicle? If they are on this list, chances are you will get half of your money back -- or more -- in five years.
Kelley Blue Bookhas released its picks for the top vehicles of 2015 that have the best resale value. Trucks and SUVs dominate the list:
10. Honda CR-V
MSRP: $24,150
Resale Value after Five Years: 50.8%
The Honda CR-V for the past decade has been the best-selling SUV on the road. It is an ideal car for families that are just starting out because of its fuel economy and safety. Its AWD goes 33 mpg through the highway and 26 mpg through the crowded cities. The car comes standard with its electronic brake distribution and brake assist. The Honda CR-V is a quiet and smooth ride that makes it very hard to compete against.

9. Ford F-150
MSRP: $26,615
Resale Value after Five Years: 52.0%

The new F-150 encompasses a new aluminum body which gives it the power to tow very large payloads. A single car garage will not do for the F-150 because of it tremendous size. In addition, the F-150 is a car that if equipped with all the luxurious features that Ford has to offer will run you more than $60,000. The F-150 comes with four different options for engines that range from 283hp to 385hp.


8. Toyota 4Runner
MSRP: $33,000
Resale Value after Five Years: 54.3%
This crossover SUV will allow you to drive through any terrain with its four-wheel drive (4WD). Its interior is spacious allowing for seven people to be seated -- with optional third-row seat --  and also has ample cargo capacity.


7. Chevrolet Silverado
MSRP: $27,000
Resale Value after Five Years: 54.7%
The Silverado underwent a full body revamp to include the latest technological features, such as Wi-Fi, silent cabins, and safety features. With a new 8-speed automatic transmission the car offers a smoother ride. To the loyal customer the Silverado still maintained its block exterior but with new LED lights that make working in the dark much more feasible. If you are willing to add more features, it can cost you over $50,000.


6. GMC Sierra
MSRP: $27,800
Resale Value after Five Years: 55.6%

The GMC Sierra rules over all other pickups with an outstanding 285 hp and 305 lb-ft of torque. For those that need to stay connected to the web, the Sierra has OnStar 4G LTE Wi-Fi hot spot and five USB inputs. This pickup screams safety with it Driver-Alert seat which vibrates to warn of potential danger.
The Sierra offers a crew cab model which raises the price tag to $36,225 before any additional features.


5. GMC Canyon
MSRP: $21,830
Resale Value after Five Years: 57.5%
The Canyon has best-in-class fuel economy and has features such as Forward Collison Alert and Lane Departure Warning. Built with a tough frame like its competitor GMC Sierra, passengers enjoy a nice quiet cabin while it's on the road and enjoy seat heaters.
4. Chevrolet Colorado
MSRP: $20,995
Resale Value after Five Years: 58.3%
The Chevrolet Colorado has the strength to tow a 7,000-pound trailer. Its GearOn system allows for a platform for more storage. The technological features of the truck such as OnStar and OnStar's 4G LTE make this truck worth it. It rough and durable interior allows the owner to put the Colorado through some tough treatments. Under the hood, the Colorado displays a 2.5 liter inline-4 with 200hp and 191 lb-ft of torque.

3. Toyota Tundra
MSRP: $30,000
Resale Value after Five Years: 58.4%
Under the hood, the Tundra has a 310hp, 4.6 liter V8 engine and with even greater options, this truck can do it all. The interior is lavished in brown leather with a wood trim. In addition, it contains a 6.1-inch display touch screen infotainment system. The Toyota Tundra is in the middle of the pack with an estimated 19 mpg on the highway. This model costs about $3,000 more than last year's model.

2. Jeep Wrangler
MSRP: $23,500
Resale Value after Five Years: 58.9%

For Jeep Wrangler aficionados the driving on the road will be things of the past once you hit the off-road. Enjoy the 8-speaker audio system and its Pentastar V6 engine 4-wheel drive 285hp. The upright windshield folds down whenever there is a need to lean over the hood.

1.    Toyota Tacoma
MSRP: $21,650
Resale Value after Five Years: 60.4%

The Toyota Tacoma has one of the best V4 engines; 4.0 liter, 159hp with 180 lb-ft of torque. The Tacoma has a composite inner bed which includes built-in storage compartments and four rail-mounted sliding tie down cleats.