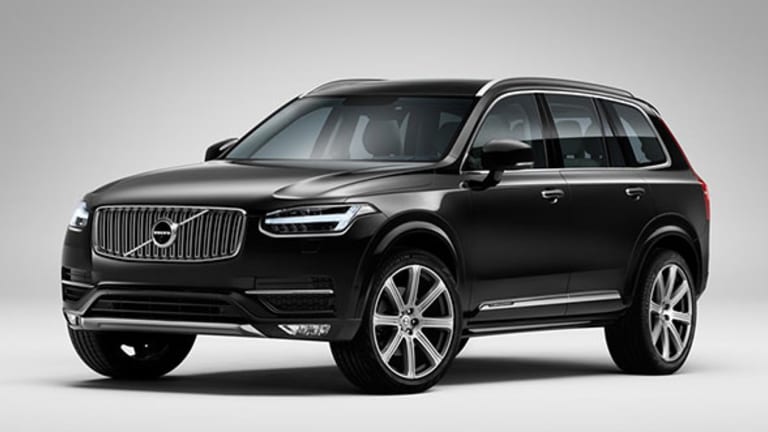 10 Cars With the Best Climate Controls for Summer 2015
Air conditioning isn't just some throw-in feature in today's vehicle market: It's constantly updating technology that can sell a vehicle based on comfort alone.
NEW YORK (MainStreet) – Air conditioning isn't just a feature in your car around this time of year: It's often the only thing making a sweltering commute bearable.
Once just a fairly standardized option, the vehicle air conditioner has made huge advances over the years. Drivers who once had to fiddle with cooling and fan dials can now set their car's temperature, while passengers in the front and rear seats no longer have to freeze or fry at the driver's whim.
The folks at auto pricing site Edmunds.com found that automatic air conditioning available in 67% of vehicle models just 10 years ago can be found in 87% of new vehicles today. Meanwhile, manual A/C has plummeted from 64% of new vehicles in 2005 to just 36% this year — with manual and automatic overlapping based on vehicle options packages.
Meanwhile, the days of single-zone, driver-dictated A/C are coming to a close as well. While 63% of vehicles had single-zone climate control a decade ago, just 43% fall under that category today. Dual-zone climate control went from an available feature in 59% of all 2005 vehicles to either an option or standard feature in 87% of vehicles on lots today. Even better, those air conditioners aren't the huge drain on mileage they once were.
"Running the air conditioning is no longer the drain on engine efficiency that it used to be, accounting for maybe one or two miles per gallon on the hottest of days," says Brandy Schaffels, contributor for auto pricing site TrueCar and editor at AskPatty.com. "Experts say (and I believe it's even been tested on MythBusters) that it's more efficient to run the air conditioning on hot days than it is to drive with the windows down."
They're no trivial feature. Edmunds.com editor Ed Hewitt and his crew spend a fair amount of time in the vehicles they use as a long-term test fleet. As a result, he says, the climate control systems in each car become a frequent topic of conversation around the office.
"It can be about which ones are too complicated or something as simple as noticing which systems have a lowest fan speed that's incredibly low or which have a lowest fan speed that's annoyingly high," he says. "People notice these things more so than they let on because they're in the car so much and it's a factor of just being comfortable. That's something people base their whole decision to buy a car upon: How comfortable they are just sitting in traffic."
To see just how far air conditioning technology has advanced, we consulted with Schaffels and Edmunds.com to see which cars were offering the coolest options for the cost. Here are just some of the vehicles we came up with.
Mercedes-Benz C-Class
Starting price: $38,400
There are some luxuries you just aren't going to find in a midrange, midsize sedan. This $350 enhancement of Mercedes' air conditioning system (also available in S-Class vehicles) allows you to pump the fragrance of your choice into the vehicle's cabin through the air ducts. Choose from "Downtown Mood" (which assumes there's a downtown somewhere filled with lilac and jasmine), "Nightlife Mood," "Sport Mood" or "Freeside Mood." Refills cost $110 but, for $85, you can get an empty glass vial to fill with the alcohol-based cologne or perfume of your choice. Because even your car should have your signature scent.
"The intensity of the fragrance can be adjusted in three stages and passes into the cabin of the car through the air conditioning vents in five-minute intervals," Schaffels says. "Particularly nice if you drive in smelly rush-hour traffic, the system also enhances the quality of the air inside the cabin by ionizing the oxygen and filtering the outside air."
Mercedes-Benz E-Class
Starting price: $69,155
Climate control in a convertible seems like a waste, you say. Not when you're being cooled by $2,800 ventilated front seats as your neck is warmed by the $4,000 optional AirScarf neck-level heating system available on E-, SL and SLK convertible models. It's an odd mix, sure, but try get a balanced body temperature in a convertible without them.
Acura RDX
Starting price: $38,970
Automatic climate control is all right, but it's a thermostat in your car. The GPS-linked climate control in the RDX's $3,700 technology package (and that of the pricier MDX) communicates with a GPS-linked solar sensor that determines the position of the sun relative to the driver and passenger. That's right, it's using global positioning satellites to tell your dual-zone climate control system to keep the sunny side of the car as cool as the shaded side. That's basically Terminator technology, so enjoy the cool air your robot overlords are providing while you can.
Toyota Prius
Starting price: $26,985
Let's be clear: Just about any car that has an app-based system such as Toyota's Entune, which turns your smartphone into a remote information center for your car, can start it and cool it in advance. But for about the past five years, the Prius has offered a $1,500 package with a solar-powered ventilation system that uses a solar-powered electric fan to cycle outside air through the cabin once the interior temperature hits 68 degrees. Meanwhile, the remote A/C can turn on the Prius' electric air conditioning compressor from the key fob and run it on battery power for up to three minutes.
"This is an especially handy for parents of small children, so they can make sure the interior of the car is comfortable before loading baby into a sweltering hot – or freezing cold – car," Schaffels says. "These systems do affect fuel economy a bit because of the time the vehicle spends idling, so it's important to be mindful of how much one uses it."
Kia Optima EX
Starting price: $27,490
Why are we throwing a Kia on this list of luxury cars and hybrids? Because Kia has a lot more to offer than just low starting prices and lengthy warrantees. The EX comes with standard dual-zone climate control, but the $3,300 premium package upgrades the driver to a heated and ventilated seat that circulates cool air beneath the seat leather. The passengers get to look out a panoramic sunroof or play with the touchscreen entertainment system, but you have the most relaxed ride of all.
Honda Odyssey EX
Starting price: $32,275
There are few cars in which three-zone climate control is advisable or even workable, given the size of the cabin, but a giant minivan is one where it comes in handy. The Odyssey's tri-zone system with humidity control and air filtration lets the folks in the 93 cubic feet behind the front seats cool themselves to their liking. Bump it up to the $36,000 EX-L and they get a second-row center console with a refrigerated Cool Box for road drinks as well.
GMC Acadia SLT-1
Starting price: $42,820
You don't see a whole lot of demand for big, three-row SUVs anymore, which is a shame since they've basically perfected the comfort packages on these vehicles. The Acadia SLT-1 comes with not only automatic three-zone climate control that allows the driver, front passenger and folks in the back to set their cruising temperature, but a $2,000 upgrade comes with optional heated and cooled front seats.
Buick Regal
Starting price: $32,415
No, dual-zone automatic climate control isn't all that special on its own. But throw in a windshield temperature and humidity sensor and a solar-absorbing windshield designed to keep you and your passengers cool, and Buick's luxurious leather-appointed beauty becomes a cradle of comfort.
Volvo XC90 Inscription
Starting price: $54,500
Sure, there's a $48,500 version available. Sure, it has the same four-zone climate control that lets this one give four passengers in its first two rows control of their seat's individual climate (or so Volvo claims, despite everyone still being in the same vehicle). Sure, there's dedicated third-row air conditioning in both models. But the Inscription has ventilated front seats to give the driver and co-pilot the utmost comfort on the long road ahead. Hey, if you're going to spring for better air conditioning, don't go halfway.
"I would say, to some degree, the difference between the dual-zone and even a triple-zone or quad-zone air conditioning system may not be really a big difference or big innovation," Hewitt says. "Individual control of vents for each person gives you some control, but there's only so much you can do in a shared space."
Dodge Grand Caravan R/T
Starting price: $30,995
All Grand Caravans come with three-zone climate control. All come with front and rear air conditioning. But you don't get automatic tri-zone climate control and personal thermostats until you pay for at least this level of comfort. You can get by on manual climate control, we guess. But if you're splurging for it, don't you want to make absolutely sure it's 65 degrees where you're sitting while it's 99 degrees outside?
— Written by Jason Notte in Portland, Ore.
To follow the writer on Twitter, go to http://twitter.com/notteham.