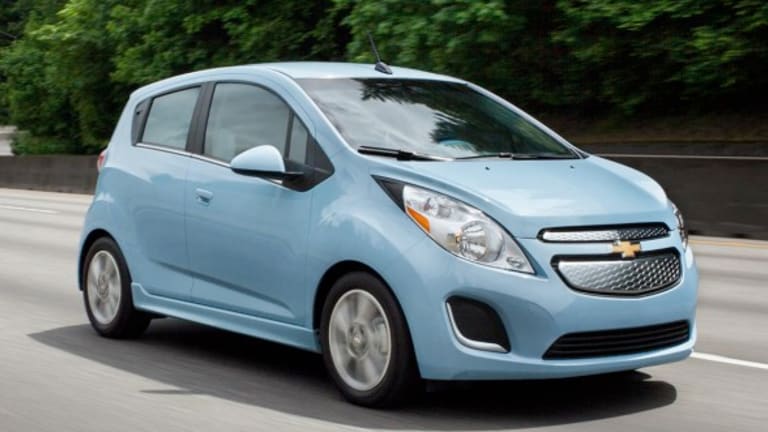 10 Cars That Get Scary Good Mileage For Less Than $25,000
Hybrid and electric vehicle costs are coming down as technology advances, which means you don't have to mortgage your future on better mileage.
Yes, it was once true that fuel efficiency meant exorbitant costs for carbuyers, but that eco-friendly premium is losing its power.
As U.S. fuel efficiency standards roll toward 54.5 miles per gallon by 2025, as the Environmental Protection Agency has mandated, more fuel-efficient vehicles have become both more plentiful and less expensive. The average fuel economy (window-sticker value) of new vehicles sold in the in August was 25.3 mpg, according to the University of Michigan Transportation Research Institute. That's still less than halfway to the EPA and Department of Transportation's goal that they set back in 2012, but it beats the roughly 19 miles per gallon that the Department of Transportation measured for the same pool of vehicles in 1995. It's also closing in on double the average mileage of the light-duty vehicles on U.S. roads in 1980.
Meanwhile, the automakers continue to work toward affordable electric vehicle options. Tesla has introduced the Model 3 as a concept and touted a $30,000 price for it, but it hasn't mentioned a release date for it in a while. Meanwhile, Chevrolet Bolt that General Motors announced at the Detroit Auto Show more than a year ago claims it will offer 200 miles of electric range for $30,000 after incentives, but that's also still in the concept stages.
Fortunately, hybrid and electric vehicles that can be found for that price or less aren't exactly rare. With help from the EPA's FuelEconomy.gov site, we compiled a list of the most fuel-efficient vehicles under $25,000. They may not have the electric range or array of features as more costly options, but they'll still cut your fuel costs without making you pay a whole lot for it up front:

10. 2015 Honda Civic Hybrid
MSRP: $24,735 with incentives
Miles per gallon: 47 city, 44 highway, 45.5 combined
You don't always have to downsize to get an efficient hybrid.
The Civic Hybrid's mileage took a while to catch up to its hybrid name and premium price, but this midsize now gives its all-gas sibling a run for its money. A 7-inch touchscreen audio display, HondaLink information and entertainment system, Pandora compatibility, text message manager, rearview camera, Lane Watch blind spot camera, traffic updates, Bluetooth connection and pushbutton start help provide a lot of incentive to pay a little extra for added efficiency.

9. 2015 Toyota Prius
Starting price: $24,200 with incentives
Miles per gallon: 51 city, 48 highway, 49.5 combined
The Prius has new, more efficient model coming in 2016. However, with gas prices the lowest they've been in a decade, the 2015's mileage will still work out just fine.
A relatively cavernous 21.6 cubic feet of cargo space that turns into 40 cubic feet with the seats down, a heads-up information display on the windshield, multimedia system with app suite, an available solar roof that powers and internal fan to cool your car's interior while you're away and an available remote air conditioning system are still everything you'd want out of a fuel-sipping icon.

8. 2016 Ford Focus Electric
MSRP: $21,670 with incentives
Miles per gallon: 110 city, 99 highway, 105 combined
Electric charge range: 76 miles
The Ford Focus electric takes the midsize conversion a step further by ditching the gas altogether, putting in a plug and still allowing the brakes recharge its motor.
With automatic dual-zone climate control, pushbutton start, the SYNC 3 voice-controlled communications and entertainment system and a 160-horsepower engine, this fairly basic commuter car looks and feels much better for its eco upgrade. When you build off of what already works, you just have to let the pricing and miles per gallon do the rest.

7. 2016 Kia Soul EV
Starting price: $24,450 with incentives
Miles per gallon: 120 city, 92 highway, 105 combined
Electric charge range: 93 miles
We always give this car a hard time for the hamster commercials and "Party Rock," but the electric wagon has really come into its own. The touchscreen UVO infotainment system and its charge status updates, charging station navigation, climate control and sound system with beat-sensing mood lighting are all worth crowing about -- as is the boasted top speed of 149 miles per hour.
It doesn't have the broad color palate, mix-and-match accent plates and sunroof upgrades still of the standard model, but it's still has the Soul's versatile 60/40 rear seating and 23.7 cubic feet of cargo space (49.5 with the rear seats down) that make it an ideal electric surf shack, bike shuttle or city shopping companion. The ten-year, 100,000-mile Kia powertrain warranty is always a plus.

6. 2015 Smart Fortwo Electric Drive Convertible/Coupe
MSRP: $12,490
Miles per gallon equivalent: 122 city, 93 highway, 107 combined
Electric charge range: 68 miles
There are are reasons to wait a year on this one.
For years, the combustion-engine version of this two-seater wasn't great on gas. However, the EV came as a power convertible top or as a coupe with a panoramic roof and threw in with power heated exterior mirrors, rain and light sensors, a radio app and automatic temperature control. It still takes up to four and a half hours to charge it from zero, but it doesn't burn through a lot of power.
All this said, we'll mention that the forthcoming 2016 version widens the wheelbase, gives drivers a smartphone dock for better access to the car's myriad apps that substitute for dashboard items and adds items you likely thought were standard: Bluetooth hands-free calling, cruise control, power steering, power windows and crosswind assist for its tiny frame. None of that will bulk up this vehicle's 47 horsepower, however, but it may make it a little easier to love.

5. 2016 Mitsubishi i-MiEV
MSRP: $15,495 after incentives
Miles per gallon equivalent: 126 city, 99 highway, 112 combined
Electric charge range: 62 miles, 98 in the city
Mitsubishi gave this car a year off just as it stopped production of other vehicles at its U.S. factory, but there's no killing the electric egg.
It's economical, but everything about it screams "economy size." It's price comes with a 66-horsepower engine isn't so brawny and its 62-mile range is in plug-in hybrid territory. Features like navigation that are throw-ins on other electric cars are options for the Mitsubishi. However, with 85 cubic feet of passenger room and 13 cubic feet of trunk space, it's as big as the smallest Prius and similarly useful. If you don't go beyond city limits all that often, this cut-rate number may come in handy.

4. 2015 Nissan LEAF
MSRP: $21,510 with incentives
Miles per gallon equivalent: 126 city, 101 highway, 114 combined
Electric charge range: 84 miles
This car was about a half a decade before its time when it was introduced in 2010, but its lack of a supercharger is finally make it seem dated.
However, for folks without a long commute and who live among a spate of charging stations, it doesn't get better than this. It still has a whole lot of of audio, navigation and app support features – including maps of nearby charging station. The LEAF is just as silent as its competitors, though, and is still one of the best EV options available for the money. Time has taken its toll, but it helped the LEAF to have a head start.

3. 2015 Fiat 500e
MSRP: $24,050 after incentives
Miles per gallon equivalent: 122 city, 108 highway, 116 combined
Electric charge range: 87 miles
The little electric with 111 horsepower considers itself as zippy as a Tesla at a fraction of the price
This electric cinquecento comes with an electronic push-button shifter, TomTom navigation with voice-activated commands, a FIAT mobile app with with telematics and assistance, BLUE&ME hands-free communication, seven airbags, rear parking assist, heated seats and mirrors, stability control and Sirius XM satellite radio. Pedestrian alert, hill assist and a four-year warranty on all electric parts are all thrown in for good measure.
It doesn't come at a subcompact price, but you get all of the perks without any of the fuel fill-ups.

2. 2016 Volkswagen e-Golf
MSRP: $21,495 after incentives
Miles per gallon equivalent: 126 city, 105 highway, 115.5 combined
Electric charge range: 83 miles
Why trouble yourself with dubious diesel when there's a perfectly legitimate electric Golf in the same showroom?
Standard features including an electrically heated windshield, full LED headlights with LED Daytime Running Lights, rearview camera, Media Device Interface (MDI) with iPod cable, navigation system with 5.8" touchscreen with proximity sensors and voice control, Volkswagen Car-Net connected car features with e-Golf functions, keyless access with push-button start and heated front seats just blend in seemlessly. The 115-horsepower engine can be sluggish for those used to a little more high-octane German engineering, but a four-hour "slow" charge and a 30-minute direct-current quick charge compensate for that lack of pep.

1. 2015 Chevrolet Spark EV
MSRP: $18,495 after incentives
Miles per gallon equivalent: 128 city, 109 highway, 119 combined
Electric charge range: 82 miles
It's more formidable than the Fiat at 140 horsepower, but doesn't break $20,000 after incentives. In the subcompact EV world, this is GM's Camaro.
The Spark looks like a spartan subcompact from the outside and its EV version doesn't get a full charge for 7 hours using even its most powerful charger. However, it has 23.4 cubic feet of storage with the rear seats down, a 7-inch diagonal high-resolution color touch-screen, Bluetooth wireless, Apple Siri Eyes Free texting and a standard three years of OnStar remote link access that lets owners check battery level, efficiency statistics and more on their smartphones. Oh, and it has mobile 4G Wi-Fi.
Spark EV users also get to use their smartphone as a key and remote starter and, once inside, can drive secure in the knowledge that they're surrounded by no fewer than ten airbags. The Bolt may make the Spark look a bit more thrifty by comparison, but right now this is GM's most electrifying EV.
This article is commentary by an independent contributor. At the time of publication, the author held TK positions in the stocks mentioned.