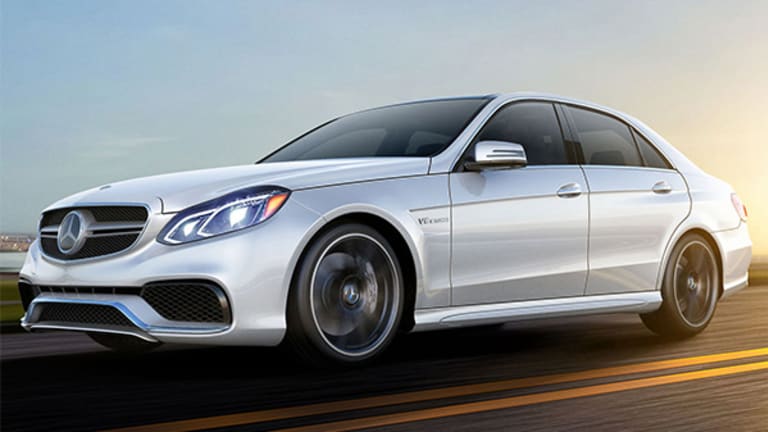 10 Car Brands With the Most Loyal Buyers
Having the best-selling cars on the U.S. market helps an automaker's case, but so do reliability and consistency from the top down.
PORTLAND, Ore. (TheStreet) – How do you get a car buyer to stay loyal to a brand when they can't remain faithful to cars in general?
The U.S. auto industry reached 15.6 million vehicle sales in 2013 after bottoming out at 10.4 million in 2009. While the industry is on pace for 15.9 million sales this year, it's still well below the 17.4 million it rung up back in 2001. Auto sales are up more than 4% this year, but it's been an up-and-down summer for auto dealers coming off an August slump.
According to research firm Experian Automotive, the percentage of older vehicles on the road has reached its highest level since 2009. According to its most recent Automotive Market Trends analysis, vehicles predating the 2001 model year made up more than 28.3% of all vehicles on the road during the first quarter of 2014, up from 22.1% percent six years earlier. That's in line with Polk Automotive's finding that the average age of cars on U.S. roads is just over 11 years, but it's also revealing that drivers tend to stick with specific brands and vehicles when getting the most for their money.
Experian notes that the Ford F-150, Chevrolet Silverado 1500, Honda Accord, Toyota Camry and the discontinued Ford Ranger, Toyota Corolla and Honda Civic were the most popular vehicles of the model year 2000 and older that were still on U.S. roads in the first quarter of 2014. Those manufacturers should feel fortunate U.S. consumers are buying their vehicles at any age.
The Department of Transportation notes that drivers, who had been racking up a steadily increasing number of miles since the 1970s, started cutting back in 2008 and never returned to that peak. Traffic information service Inrix notes that as average gas prices started spiking in 2010, average commute times during peak hours dropped from more than four hours to less than two.
A study done by the Frontier Group and the U.S. Public Interest Research Group Education Fund found that the average U.S. driver actually started cutting back well before the recession, peaking around 2004 but dropping 6% by 2011. While the total miles driven in the U.S. rose 3.8% from 1948 to 2004, they've been flat since. Gas prices, disdain for the commute, a 4% drop in vehicle ownership since 2006 and a 4 percentage-point drop in licensed drivers since 1992 are all making arguments against the car that you just didn't hear from the bulk of U.S. consumers before the recession.
For automakers, that makes customer loyalty more essential than ever.
"Loyal customers provide a ready-made source of sales and constitute an important element of maintaining or expanding market share and profitability," says Jeffrey Anderson, director of consulting and analytics for Experian Automotive.
We took at look at the results of Experian's Loyalty and Trends Market Report and found the 10 brands that earned the most return business in the United States. In a marketplace where loyalty isn't easy to come by, the following 10 companies have managed to distinguish themselves to customers who keep coming back for more.
10. Lexus
Percentage of return customers: 34.1%
How loyal are Lexus customers? Let's put it this way: When much of the U.S. car-buying public was doing tuck-and-roll leaps out of Toyotas in the wake of the 2009 recalls and buying up cars with window stickers of a Hobbes-less Calvin defiling a Toyota logo, Lexus owners sat tight.
Sales remained steady through 2010 and didn't see a huge drop until an earthquake and tsunami in Japan disrupted production in 2011. They've recovered nicely, however, with Lexus car sales in the U.S. up nearly 19% through July from the same period in 2013 and truck sales up 15.4% during that same span. Sales of the flagship full-size ES are flat, but sales of the sporty new IS sedan have nearly doubled since July 2013. The CT hatchback (up 16% over the past year) and midsize GS (up 12%) are also chipping away as the GX (130% growth) and RX (4.9%) continue to claw back customers.
Lexus is up against some tough German competitors, but its loyal buyers have made it an incredibly resilient luxury brand.
9. Mercedes-Benz
Percentage of return customers: 34.6%
The history, the legacy, the symbol: It almost implies customer loyalty.
But if that were the case, wouldn't BMW be on this list, too? You'd assume so, but even factoring in Mercedes' Smart division and BMW's Mini, Mercedes holds a bit of an advantage. With 198,000 vehicles sold here through July to BMW's 184,000, Mercedes enjoys a slight edge in market share even though both companies account for around 2% of U.S. car buyers apiece.
In Mercedes' case, however, it's deriving a great deal of its strength from its higher-end vehicles. While its low-range C-Class saw sales drop nearly 28% through July, its bulkier E Class sedans saw sales increase 22% while sales of its nearly six-figure flagship S Class sedans have nearly doubled since last year.
That's not to say it doesn't have broader appeal. The more lightly priced CLA Class is only in its first year, while its entire stable of SUVs has watched sales soar. A luxury brand tends to inspire loyalty just on reputation alone: Mercedes-Benz just happens to have enough of a following to keep it a step ahead.

8. Nissan
Percentage of return customers: 34.7%
It takes an open-minded individual to swear loyalty to the Nissan line.
Yes, it sells 9% of all cars in the U.S. market. Yes, the inoffensive Sentra and Altima regularly rank among the best-selling vehicles in the nation. But have you seen the rest of the line? To some, it looks like what an automaker can do when it stops focus grouping its automobiles and starts actually designing them. To others, it's just plain ugly.
There is no in-between. The Nissan Leaf, Juke, Murano, Versa and Cube were built to stand out from everything else on the road, and they've certainly succeeded. Your view of that notoriety — and its relation to the vehicle's cost and reliability — will go a long way in determining if you'll ever buy another Nissan again.

7. Subaru
Percentage of return customers: 35.7%
There is a distinct niche market for a Subaru in the U.S., and the automaker seems just fine with maintaining it.
With every vehicle built with standard all-wheel drive, Subaru's more wagon-style vehicles have shuttled generations of lacrosse players, soccer teams, concertgoers, cyclists, skiers and other active family members around the colder, wetter parts of this country. Prized among the nation's active affluent and clustered around regions of loyal followers who hang onto them for decades, the Subaru Legacy, Forester and Outback have become as familiar with Whole Foods parking lots and lake house driveways as they have with braving the snow and rain amid forests and foliage.
If Subaru owners aren't a cult, they've at least developed a distinct culture over the past few decades. Much as "Jeep" described a certain type of vehicle as much as it did the Jeep brand, "Subaru" draws similar conclusions about the vehicles it covers — as well as the owners who drive them.

6. Chevrolet
Percentage of return customers: 38%
There wasn't a question of whether this brand would be on the list: The Ford-Chevy war is still being fought vociferously in certain corners of this country.
The question is why it's ranked this low. Chevrolet makes the second-most-popular vehicle in the nation in the Silverado 1500 pickup and has two other top sellers in its Equinox SUV and midsize Cruze. Shouldn't that be worth something?
It all depends on how you view the brand. If it made your favorite Silverado or Blazer way back when and has earned your business since, this ranking might look a bit low. If the company made that beater midsize or compact you drove around in the '90s or 2000s and sunk a whole lot of repair costs into, you may feel this positioning is about right. If you see Chevy as part of a General Motors that not only rode duplicated cars and shoddy workmanship into bankruptcy, but took a bailout from the government you didn't agree with, you might be questioning why it's here at all.

5. Honda
Percentage of return customers: 38.1%
Want to know why Hondas continue to find themselves among the most stolen vehicle brands in the U.S.? For the same reason Honda sales were absolutely decimated by the Japanese earthquake and tsunami in 2011: because its parts are valuable and not that easy to come across here in the states.
Oh, and because in spite of all of the above, U.S. car buyers spring for lots of Hondas. The Honda Accord is typically among the Top 5 vehicles sold in the U.S. and is second in midsize-car sales to only the Toyota Camry. The Honda Civic battles the Toyota Corolla regularly for small-car supremacy, but regularly smokes the Ford Fusion and Nissan Sentra.
If you're a parent in the U.S. — especially in the Northeast — there's also a strong chance that every other car you've seen pull up to drop off or pick up kids has been a Honda CR-V. It isn't pretty, but it's been the small SUV of choice for the past generation.

4. Hyundai
Percentage of return customers: 38.6%
Think back to the recession for a moment. We know, it's painful, but it wasn't all that long ago and some of you think we're still in it.
Good, now remember what the auto market was like at the time. Chrysler and General Motors both went bankrupt and took bailouts. Toyota decided to have a massive recall right in the thick of the economic downturn. At the same time, Hyundai continued to not only offer its 10-year, 100,000-mile warranty, but offered to take back customers' cars at no extra cost of they lost their jobs.
When the recession wound down in 2011, Hyundai altered that plan to guarantee a minimum trade-in price for their cars three to four years down the road. Since that time, the Hyundai Sonata and Elantra have been among the best-selling cars in the U.S.
Hyundai sales have fluctuated since and the brand hasn't held more than a 5% share of the U.S. market, but the Korean automakers accomplished two things: It made U.S. buyers secure in owning its brand and it gave new consumers firsthand proof that its days of producing cheaply made subcompact vehicles are over. Hyundai is now a legitimate option and threat, and it's the parent company of the next automaker on the list.

3. Kia
Percentage of return customers: 39.9%
Hyundai's days of making inexpensive cars are over, but Kia's days as king of the low-end vehicle market are just beginning.
Bolstered by the 52.7% of Kia Forte compact sedan owners who come back for another Kia, the lightly priced tech-heavy Kia line has watched sales jump by more than 7% year over year as Hyundai's fell. It's the same company offering the same lengthy warranties, but at a much lower price.
In the post-recession U.S., that's been key. A Kia Rio starts at $14,000 and the midsized Optima starts at less than $22,000. Even the small, somewhat ugly but surprisingly roomy Kia Soul starts at roughly $15,000. While Kia has been balancing its lineup with offerings such as the Cadenza full-sized sedan and Sorento crossover SUV, its humble pricing and Hyundai backing are making it a brand worth coming back to.

2. Toyota
Percentage of return customers: 43.3%
Between recalls and natural disasters, Toyota has dealt with some serious setbacks in the U.S. and elsewhere during the past five years or so.
That said, its reputation for reliability keeps winning the day. Back in July, Toyotas accounted for 15% of all cars sold in the U.S., which put it ahead of Ford (14.7%) and Chrysler (11.7%) and just behind General Motors (17.8%). For the year, its 14.4% share of the market is inching up on Ford's 15.4% while still lagging behind GM's shrinking 17.8% share.
Its Camry is positioned to overtake the Chevy Silverado as the second-best-selling vehicle in the country, its Camry and Corolla are the best-selling vehicles in their class and its Prius hybrid outsells the Nissan Sentra and Ford Explorer.
Toyota knows how to take a punch, but it's going to have to go on the offensive if it wants to unseat our top seed.

1. Ford
Percentage of return customers: 44.1%
This company could sell only the F-150 pickup and still be OK.
Through July, Ford sold nearly 430,000 F-150s. To give you some idea of how ridiculous that is, the No. 2 Silverado sold just 280,000 vehicles during that span. The best-selling car, the Toyota Camry, managed just 260,000 sales.
The F-150 alone doubles Honda's U.S. sales of either the Accord, Civic or CR-V and the sales of the Hyundai Sonata and Elantra combined. And, somehow, the F-150 isn't even the vehicle that inspires the most loyalty. A full 56% of all Ford Fusion buyers buy another Ford and 55% for Ford Flex owners, 54% for Ford Edge drivers and more than 50% apiece for folks with a Ford 500, Fiesta, Escape or Focus in their parking space.
How does this happen? Easily. Ford ran a tight ship, negotiated with its union, didn't go bankrupt, didn't take a bailout and didn't stumble during the recession. As a result, it's the most beloved car brand in the country. When you make a decent product and don't let the consumer down, it increases the odds greatly of being rewarded for your efforts down the road.
— Written by Jason Notte in Portland, Ore.
>To contact the writer of this article, click here: Jason Notte.
>To follow the writer on Twitter, go to http://twitter.com/notteham.
>To submit a news tip, send an email to: tips@thestreet.com.
RELATED STORIES:
>>5 Cities That Want Your Used Hybrid Car
>>10 Ways You're Killing Your Car
At the time of publication, the author held no positions in any of the stocks mentioned. This article is commentary by an independent contributor, separate from TheStreet's regular news coverage.