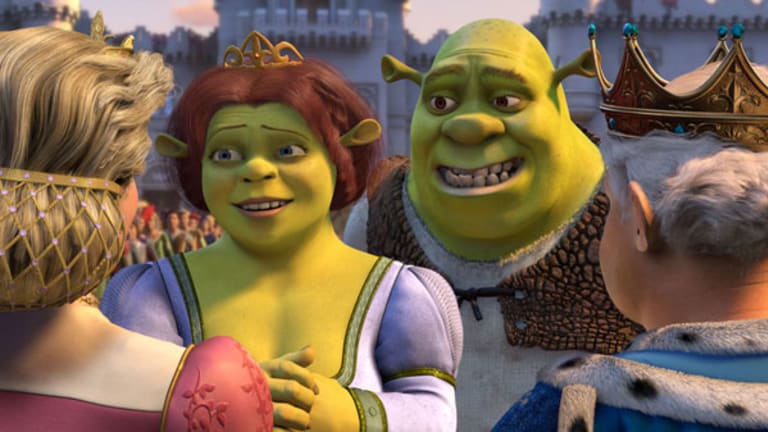 10 Biggest Summer Blockbusters Without Superheroes
When was the last time a summer blockbuster came along that didn't have someone in disguise fighting crime?
PORTLAND, Ore. (TheStreet) -- With Robert Downey Jr. recycling his red-and-gold armor on Friday for the release of Disney's (DIS) Iron Man 3, American moviegoers kick off yet another superhero-laden summer blockbuster season.
After Iron Man jets in, picks up his cash and leaves, there are no fewer than nine comic-book-inspired films waiting to swoop in after him and pick off what little expendable income remains. Moviegoers get less than a month to catch their breath until Superman reappears in
Man Of Steel
in June. Hugh Jackman stops singing his lines and reinstalls his adamantium claws for
20th Century Fox's
(NWS)
The Wolverine
in July, while everybody's favorite blonde Norse god returns for
Thor: The Dark World
in November. Throw in some second-tier titles such as
Universal's
(CMCSA)
R.I.P.D.
,
2 Guns
and
Kick-Ass 2
and
The Weinstein Co.
's long awaited
Sin City
sequel and hero sagas are doing more than their share of Hollywood heavy lifting.
According to
BoxOfficeMojo
,
have brought in $11.2 billion at the box office since Christopher Reeve donned blue tights and a cape in Warner Brothers' original
Superman
film way back in 1978. Not only have the nine top-grossing comic book films of all time been released in the past decade, but comic book films have topped the summer box office four times during that stretch:
Spider-Man
in 2002,
Spider-Man 3
in 2007,
The Dark Knight
in 2008 and
The Avengers
just last year.
They're not just attracting moviegoers, either. Big brands such as
Burger King
(BKC)
,
Dr. Pepper/Snapple
undefined
,
PepsiCo
(PEP)
,
Oracle
(ORCL)
,
Volkswagen's
(VLKAY)
Audi,
BMW
,
Acura
(HMC)
,
Under Armour
(UA)
and others have all thrown money at blockbusters featuring costumed crusaders on the off chance a product cameo or tie-in gets superheroes' huge audiences to buy something other than a ticket and some popcorn.
So what does it take to combat superhuman marketing machines that, in the case of last summer's
The Dark Knight Rises
and
The Avengers
, took in $500 million and $600 million, respectively, in the U.S. alone? With help from BoxOfficeMojo we look a look at summer box office champs dating all the way back to 1982 and found the 10 top-grossing films that weren't ripped from the pages of the nearest graphic novel:
10. Finding Nemo
Year released:
2003
Overall U.S. box office gross:
$339.7 million
This it what it takes to beat the folks in spandex: Disney's deep pockets, Pixar's kid-magnet storytelling and animation and a cute little clownfish that makes a great plush prize at boardwalk games, theme park stands, state fairs and carnivals all summer long. And no, that box office take doesn't include last year's cash-grab 3-D re-release that added another $41 million to the tiny fish's total. Even Nemo's forgetful, Ellen Degeneres-voiced sea sidekick wouldn't fail to make that distinction.
9. Jurassic Park
Year released:
1993
Overall U.S. box office gross:
$357.1 million
That's how big a beast that water-disturbing T-Rex was at the box office 20 years ago. It not only outgrossed latter-day summer superhero blockbusters such
Spider-Man 3
($336.5 million) without adjusting for inflation, but its freaky CGI velociraptors and dismembered Samuel L. Jackson inspired a 3-D run this year and a fourth installment to its film series next year. For some perspective that's 13 years after
Jurassic Park III
-- or an entire high-schooler's lifetime. If that doesn't make folks who saw the originals in theaters feel Jurassic, no amount of updated CGI will.
8. E.T.
Year released:
1982
Overall U.S. box office gross:
$359.2 million
Again, that's just what Stephen Spielberg's pop-cultural phenomenon made during its first summer back in 1982. Adjusted for inflation, that's $866.45 million, or roughly $240 million more than what
The Avengers
made in the U.S. last summer. That's also before the first re-release in 1985 and the second CGI-laden, walkie-talkies-instead-of-guns 20th anniversary re-release in 2002. It's also perhaps
the
reason why you see so many product and video game tie-ins today.
Hershey
(HSY)
was giddy after
Mars passed on a cameo for M&M's
and Reese's Pieces sales spiked after their role in the film. The
E.T.
video game for the Atari 2600 was godawful and wasted thousands of hours by forcing gamers to fall into holes they couldn't escape, but it sold copies -- even if millions more ended up in a
New Mexico landfill, crashing the video game market as a result.
If that doesn't give you some idea of the power of this film, consider Neil Diamond's 1982 song
. It may sound like the maudlin, sung-plot-point pap that tended to accompany films in the late '70s and early '80s, but it doesn't appear on the
E.T.
soundtrack. Diamond and songwriter Burt Bacharach wrote it after seeing
E.T.
for the first time. It inspired the song, an album of the same name and some of the worst karaoke performances a human being may ever sit through. Think about that the next time you see that ham-on-a-periscope alien asking to phone home.
7. Revenge of the Sith
Year released:
2005
Overall U.S. box office gross:
$380.3 million
Six years after they began, George Lucas'
Star-Wars
prequels had inspired newcomers and longtime fans alike to do just one thing: usher them to their grave. After two installments featuring CGI nuisance Jar Jar Binks, some of the least believable "romance" Hayden Christensen and Natalie Portman could muster and a dearth of Han Solo and Princess Leia for films that really could have used some of Harrison Ford and Carrie Fisher's wit and banter, folks just wanted to see Darth Vader and go home. It took them two and a half hours to get there, but they made it. Now that Lucasfilm has been sold to Disney and plans to rerelease the remainder of the prequels in 3-D are on indefinite hold,
Revenge Of The Sith
is the last
Star Wars
die-hards may speak of this sad chapter in the saga.
6. Harry Potter and the Deathly Hallows: Part 2
Year released:
2011
Overall U.S. box office gross:
$381 million
Like
Star-Wars
, the
Harry Potter
film series was a beloved piece of childhood fiction that likely stretched on longer than it had to. Also like
Star Wars
, by the time the last installment came around, it was clearly time to go. How much had all the students of Hogwarts grown since the first film was released in 2001? A year after playing the namesake wizardry school student in 2011, Daniel Radcliffe was cast as a troubled father in 2012's
The Woman In Black.
Part 2
was a fond farewell, but it was a tougher, scruffier last look at childhood for some than for others.
5. Transformers: Revenge of the Fallen
Year released:
2009
Overall U.S. box office gross:
$402.1 million
Yes, the Transformers were a
Marvel
comics property at one point, but these films have as much to do with those books as they had to do with the
Hasbro
(HAS)
toys and animated film from the '80s. Sure, Optimus Prime's voice is the same and some of the throwback elements made it into the first installment, but this sequel had a tough time keeping Shia LaBeouf and Megan Fox onscreen, never mind a few decades' worth of nostalgia. This is where the Transformers series pivots from a human tale featuring CGI machines and deep bass sound effects to a bunch of computer animation fighting onscreen almost nonstop and enough bass drops to blow out lesser theaters' speakers. The Transformers series' take would never be this big again, but it in 2009, it was enough to bludgeon
Harry Potter
,
Up
,
The Hangover
and
Star Trek
into submission.
4. Toy Story 3
Year released:
2010
Overall U.S. box office gross:
$415 million
That's one big pile of money soaked in grown adults' tears. Disney and Pixar once again hit all the right emotional notes and brought the underpinnings of the
Toy Story
series -- the fickle wonder of childhood and its fast fade into adulthood -- to a their heart-wrenching conclusion. None of the
Toy Story
movies go easy on Woody, Buzz Lightyear or any of the other assorted playthings, but this look at the lives of toys once childhood is over sent American parents sprinting to their own parents' attics to see if their beloved plush pals were still there. It's a fine line between memory and masochism, but
Toy Story 3
walked it deftly.
3. Pirates of the Caribbean: Dead Man's Chest
Year released:
2006
Overall U.S. box office gross:
$423.3 million
There's Johnny Depp in the Captain Jack Sparrow costume now worn by bachelorette party strippers across the land. There's Orlando Bloom, Keira Knightley and Bill Nighy reminding everyone what real English accents sound like. Jungle chases, treasure, Davy Jones, a CGI kraken and a whole lot of swashbuckling escapism and drunken slapstick. It was the high-water mark for the franchise and, to this day, the strongest argument for an old Disney theme park attraction's relevance. Sorry
Mission To Mars,
Haunted Mansion
and
The Country Bears
, but you should have sprung for Depp and Gore Verbinski.
2. Star Wars: The Phantom Menace
Year released:
1999
Overall U.S. box office gross:
$431.1 million
It all seems like a dream, doesn't it? George Lucas announcing a backstory to his beloved
Star Wars
trilogy, thousands of folks in costume wielding plastic lightsabers while waiting on line overnight for the first showings, Liam Neeson and Samuel L. Jackson giving the whole project some credibility and clout... R2-FN-D2. It couldn't go wrong, could it? Well, yes and no. This film had so much buildup behind it that curiosity alone would have sent it storming to that lofty gross. That curiosity sent die-hards sailing past warnings about Jar Jar Binks, Queen Amidala's makeup, Neeson's bad end and the all-too-brief appearance of Darth Maul, though, and headlong into perhaps the most fiercely debated installment of the entire series. Lucas says it was made for kids, fans say it was made for lobotomized kids and modern U.S. audiences largely ignored the 3-D re-release last year. With Disney buying Lucasfilm and the new owners actively pursuing original Star Wars cast members for new films,
The Phantom Menace
has become the blockbuster everyone wants to bury.
1. Shrek 2
Year released:
2004
Overall U.S. box office gross:
$441.2 million
Who knew that Mike Myers' fake Scottish accent from his
Saturday Night Live
skit and
would be enough to build an animation empire around. This film not only doubled the take of its 2001 predecessor, but it established
DreamWorks
(DWA)
animation as a legitimate competitor to Disney and Pixar while paving the way for hits like
Shark Tale
,
Madagascar
,
Kung Fu Panda
and
Over The Hedge.
We're not quite sure what makes an ogre Scottish or why this is the only silly kid-oriented film series Eddie Murphy doesn't get yelled at for making, but adult audiences still owe Myers and company a debt of gratitude for re-introducing some adult humor to the fairy tale kingdom.
-- Written by Jason Notte in Portland, Ore.
>To contact the writer of this article, click here:
Jason Notte
.
>To follow the writer on Twitter, go to
.
>To submit a news tip, send an email to:
.
RELATED STORIES:
>>10 Most Expensive Trips To The Ballgame in 2013
>>Where Music Gets Physical: A Boston Memoir
>>10 Best Convertibles For Summer 2013
Jason Notte is a reporter for TheStreet. His writing has appeared in The New York Times, The Huffington Post, Esquire.com, Time Out New York, the Boston Herald, the Boston Phoenix, the Metro newspaper and the Colorado Springs Independent. He previously served as the political and global affairs editor for Metro U.S., layout editor for Boston Now, assistant news editor for the Herald News of West Paterson, N.J., editor of Go Out! Magazine in Hoboken, N.J., and copy editor and lifestyle editor at the Jersey Journal in Jersey City, N.J.