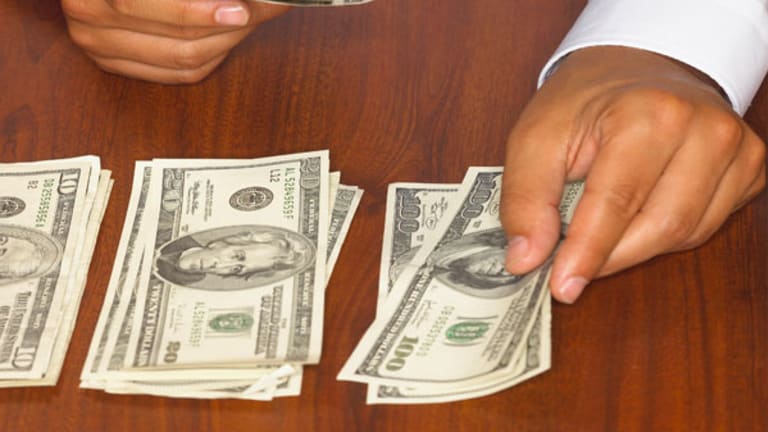 10 Big Stars of Musical Product Placement
Product placement abounds in the songs on your playlist.
BOSTON (TheStreet) -- In 1967, British rockers The Who released The Who Sell Out, a concept album that divided its tracks with jingles and commercials -- including one for Heinz (HNZ) Baked Beans.
Today, selling out is a bit more seamless. Product placement, a mainstay of movies and TV shows, has wedged itself into the lyrics of popular songs.
In many cases, brand-name dropping is an artistic choice. Janis Joplin's pleas for a
Mercedes Benz
, Paul Simon's memories of
Kodachrome
and any number of cars mentioned by the Beach Boys, for instance.
Increasingly, companies are trying to pay performers for shout-outs. It is also no mystery that some singers and rappers do it willingly, fishing perhaps for an endorsement deal.
Sometimes it is far more innocent: the need to complete a rhyme or use a familiar point of reference.
The following are 10 brands, and performers, who have benefited from corporate shout-outs:
Chevrolet
As American as Baseball and apple pie (at least that's what their jingle told us), Chevrolet is a mainstay of song-based product placement.
Eric Clapton put 57 Chevys alongside "screaming guitars" as warming his
Rock 'N' Roll Heart
.
The Beastie Boys, in
So What Cha Want?
suggest that: "You scream and you holler about my Chevy Impala."
Don McLean drove his "Chevy to the levy, but the levy was dry," when he heard about Buddy Holly's death in
American Pie
.
Motley Crue's
Dr. Feelgood
told of a "'65 Chevy, primered flames" obtained in a drug deal. Elton John had an "old gold Chevy" in
Crocodile Rock
. Bob Seger was "workin' on mysteries without any clues" as he made his
Night Moves
in a '60 Chevy.
In
Tim McGraw
, Taylor Swift sings: "Just a boy in a Chevy truck/That had a tendency of getting stuck/On back roads at night/And I was right there beside him all summer long."
Less romantic, and a whole lot creepier, Sammy Johns recalled: "We made love in my Chevy van/And that's all right with me" in the 1970s AM radio staple
Chevy Van
.
Ford
The war between Chevy and
Ford
(F) - Get Ford Motor Company Report
will probably never be resolved to the satisfaction of NASCAR fans. For those in the latter camp, there are several songs that champion the company. Its iconic Mustang is a particular favorite of songwriters.
Wilson Pickett sang about the cheating ways of
Mustang Sally.
T-Rex was direct and to the point with the song
Ford Mustang
and
Black Sunshine
by White Zombie is an ode to a so named turbo-charged 'Stang.
Poison, in
Talk Dirty to Me
, recalls trips to the drive-in "in the old man's Ford."
Ford trucks also get their due in such songs as Jason Michael Carroll's
Where I'm From
, which is a place, we are told, where "the truck's a Ford and the tractor's green."
John Deere
Speaking of green tractors, several country music songs work
John Deere
(DE) - Get Deere & Company Report
equipment into their narrative.
The Judds'
John Deere Tractor
is a melancholy song about a country girl trying to survive in the big city. Its chorus: "I'm like a John Deere tractor/in a half-acre field/trying to plow a furrow/where the soil is made of steel."
Sawyer Brown's
Like a John Deere
offers the lament: "Oh if hearts were built like John Deere tractors/There'd be happy-ever-afters/Strong, true and tough,/and made of steel/They pull through when times get hard/And never fall apart/If hearts were built like a John Deere."
John Deere Green
by Joe Diffie strikes a less melancholic note: "On a hot summer night/He wrote Billy Bob loves Charlene/In letters 3 foot high/And the whole town said the boy should have used red/But it looked good to Charlene/In John Deere Green."
Cadillac
In rock 'n' roll mythology , perhaps no car combines cool swank with "look at me" luxury the way a Cadillac does.
Bruce Springsteen filled his tank with double entendre for
Pink Cadillac
, the same make and color of car Aretha Franklin chose to go riding down the
Freeway of Love
.
The Clash suffered a bad breakup on
Brand New Cadillac
: "My baby drove up in a brand-new Cadillac/Yes she did!/My baby drove up in a brand-new Cadillac/She said, 'Hey, come here, Daddy!'/'I ain't never comin' back!'"
Dwight Yokum had a country music hit with the revved-up
Guitars, Cadillacs, etc.
(the extra component was "hillbilly music"). as well as the more somber ode to Hank Williams' funeral procession,
Long Black Cadillac
.
The late guitar virtuoso Stevie Ray Vaughan gave us
Willie the Wimp and His Cadillac Coffin
and Southern Culture on the Skids warned of the
Voodoo Cadillac.
Coca-Cola
In the battle of
Coke
(KO) - Get Coca-Cola Company Report
vs.
Pepsi
(PEP) - Get PepsiCo, Inc. Report
, the former seems to have the upper hand when it comes to music (and we speak not of that powdery substance caked on Neil Young's upper lip in
The Last Waltz
).
Name-checking the pride of Atlanta goes all the way back to the era of boogie-woogie and the Andrews Sisters imploring the Greatest Generation to enjoy
Rum and Coca-Cola
.
If you were a child of the '70s, you probably recall the soft-focus, hippie-vibe TV commercials that featured The New Seekers singing
I'd Like to Buy the World a Coke
. In a rare feat of reverse product placement, the band topped the charts in 1971 with a reworked version of the jingle,
I'd Like to Teach the World to Sing
.
The Beatles, at John Lennon's raunchiest, mentions "he shoot Coca-Cola," a reference the executives might not appreciate much if they really thought about it.
R. Kelly's
Same Girl
pairs Coca-Cola with Dodge Durango, and 50 Cent mentions the beverage in both
I Get Money
and
Disco Inferno
.
There was also a lost opportunity. The Kink's gender-bender hit
Lola
originally had the line "where they sip champagne just like Coca-Cola." Due to a BBC restriction on such commercial plugs, it was changed to "cherry cola."
Fergie
The self-appointed
Duchess
from the Black Eyed Peas is no stranger to name dropping. In
London Bridge
, off her first solo album, Grey Goose had the "girl feeling loose."
In 2007, rumors swirled that Fergie -- real name Stacy Ann Ferguson -- was set to earn $3.7 million to promote the shoes and clothing made by Candie's in lyrics on her second solo album.
Fergie's camp denied such a deal and Candie's issued a statement: "Contrary to recent false reports in the media, the company does not have any arrangement with Fergie whereby she will incorporate the Candie's brand into her lyrics."
Though the alleged use of "unobtrusive" but compensated namedropping in her songs was dismissed, Fergie has added
Dr. Pepper
(DPS)
to the roster of her endorsements, joining KISS front man Gene Simmons in commercials.
The Black Eyed Peas have unabashedly reaped the benefits of corporate benefactors. Their videos have cleverly placed MAC Cosmetics,
Hewlett-Packard
electronics and T-Mobile phones in the background. The band also had an endorsement deal with
Target
(TGT) - Get Target Corporation Report
, touted BlackBerry on a tour sponsored by
Research in Motion
( RIMM) and provided accompaniment to
Apple's
(AAPL) - Get Apple Inc. Report
dancing silhouettes in an iPod commercial.
It all prompted Comedy Central's Stephen Colbert to sarcastically
for not taking even greater advantage of "advertunities."
McDonald's
With decades of catchy jingles and, more recently, using a snippet of Justin Timberlake's poppy track
I'm Lovin' It
,
McDonald's
(MCD) - Get McDonald's Corporation Report
has had a long history of using music to trigger fast food cravings.
Back in 2005, the Golden Arches tied to entice rappers to drop science about flipping burgers.
It hired Maryland-based marketing firm Maven Strategies to spearhead a campaign that would select rappers and entice them to use the words "Big Mac" in their songs with the promise they would be paid $1 to $5 each time their song was played on the radio.
We were spared ever having to hear MC Grimace and the Hamburglar Krew kick out a jam for
Pass the Mic, Pass the Fries
. The campaign fizzled, as did a strange idea to hire urban-popular designers -- among them Phat Farm, Tommy Hilfiger, FUBU and
American Apparel
(APP) - Get AppLovin Corp. Class A Report
-- to create hip-hop variations of the restaurant's uniforms.
Kanye West
When he's not frightening teenage country music prodigies or giving George W. Bush the "worst moment" of his presidency, Kanye West has amassed a collection of brand-promoting lyrics that puts his peers to shame.
American Brandstand, a research project by the marketing firm Agenda Inc., tracked company mentions in top 20 hip-hop and rap songs from 2003 to 2008.
West was perpetually among the top artists in terms of quantity. Among the brands and products he has managed to slip into songs: Miracle Whip (the color of his Mercedes Benz),
Avis
(CAR) - Get Avis Budget Group, Inc. Report
, Cadillac, Cartier, Cool Whip, Geico, Hennessy, Jacob the Jeweler, Lexus, Mercedes, MTV,
Nike
(NKE) - Get NIKE, Inc. Class B Report
, Pepsi, Rolex, Toys R Us, Versace, Christian Dior and Louis Vuitton, Klondike, Ferrari, Isotoner, Hyundai and
Tyco
(TYC)
. A favorite of ours: "I drink a Boost for breakfast/And Ensure for dessert/Somebody ordered pancakes, I just sip the sizzurp."
His musical genre is rife with lyrical brand loyalty.
Notorious B.I.G. clothed his -- and we'll paraphrase here -- Northeast-based female companions in
DKNY
while "Miami ... prefer Versace" and "every cutie wit a booty bought a Coogi." In another song, he dissed a rival with: "Don't be mad/
UPS
(UPS) - Get United Parcel Service, Inc. Class B Report
is hiring."
Slick Rick piled on the placements on
Ladi Dadi, We Likes to Party
: "I threw on my brand new Gucci underwear/For all the girls I might take home/I got the Johnson's Baby Powder and the Polo cologne."
Both the Sugar Hill Gang and Chingy rhymed out the praises of Holiday Inn. LL Cool J, now keeping America safe on
NCIS: Los Angeles
, was once treating dates at "Red Lobster for shrimp and steak." Digital Underground's Humpty Hump boasted that he "once got busy in a Burger King bathroom."
Jay Z implored a young lady to "
Motorola
( MOT) two-way page me" in
I Just Wanna Love U (Give It 2 Me)
and Pretty Ricky manages to bring Jaguar and Bisquick into the couplets of
Your Body
.
Hennessy
Luxury is the name of the game for many rappers. You won't hear may odes to
Budweiser
(BUD) - Get Anheuser-Busch InBev SA/NV Report
and Rolling Rock, but there are plenty tips o' the mic to high-end liquors.
Hennessy is a particular brand of choice. For example, the rapper Xzibit, of MTV's
Pimp My Ride
fame ("Yo dawg, we heard you like fish, so we put a 50-gallon aquarium filled with seahorses in your trunk") has the Hennessy logo tattooed on his arm.
In
Disco Inferno
, 50 Cent gets into the mix with, "You mix a little Coke with a little Dom Perignon/And a little Hennessy/You know we fine to carry on."
As for other brands, Busta Rhymes's offered to
Pass the Courvoisier
. Petey Pablo's
Freek-a-Leek
boasted: "Now I got to give a shout-out to Seagram's Gin/Cause I'm drinkin' it and they payin' me for it."
Dozens of songs, by artists as diverse as Mariah Carey, 50 Cent and the Beastie Boys have taken the easy path of rhyming "party" with "Bacardi."
A little more downscale are the country music drinking songs odes
Tequila Makes Her Clothes Fall Off
by Joe Nichols (in which the drink of choice is Patron), Gretchen Wilson's
One Bud Wiser
, Joe Diffie's
Cold Budweiser and A Sweet Tater
, Miranda Lambert's
Jack Daniels
and David Allen Coe's
Jack Daniels If You Please
.
Nike
Nelly's
Air Force Ones
, an ode to Nike, led to the company giving him his own designer kicks.
Mac Miller, a Jewish rapper from Pittsburgh, offers
Nikes On My Feet
, and the easy-to-remember lyrics: "And the Nikes on my feet keep my cypher complete/Nike Nike Nike Nike Nike Nike Nike Nike Nikes/Blue suede shoes stay crispy like bacon/Nikes on my feet make my cypher complete."
A competing shoe gets similar love. Old-school style, producer Russell Simmons urged Run-DMC to honor their chosen footwear. The result was the hit
My Adidas
.
-- Written by Joe Mont in Boston.
>To contact the writer of this article, click here:
Joe Mont
.
>To follow the writer on Twitter, go to
.
>To submit a news tip, send an email to:
.
RELATED STORIES:
>>How to Sell Out in Today's Music Business
>>Sonic Logos Now a 'Sound' Business Practice
>>10 Company Mascots Changing With the Times
>>50 Cent Twitter Stocks Pump Hip-Hop's Power
Get more stock ideas and investing advice on our sister site,