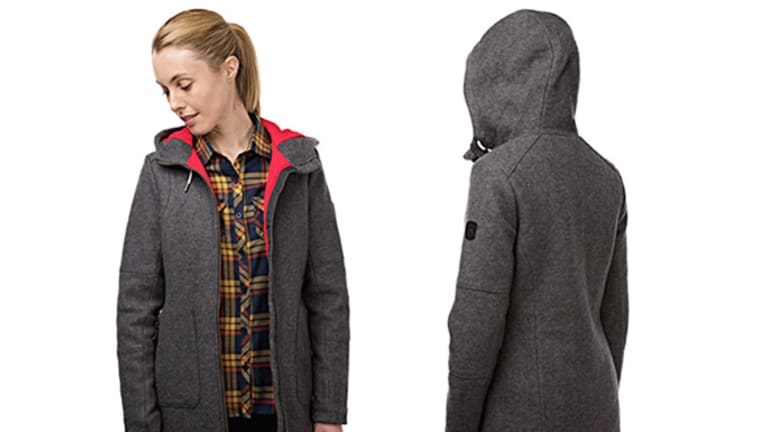 10 Best Winter Coats for Women
Whether you're a lover of the season or cringe at the thought of yet another snow-filled year, choosing the right coat is key to a cozy winter.

Winter might not officially begin until Dec. 21, but the cold arrives much earlier, making the splurge on a new winter jacket a must. Whether you're a lover of the season or cringe at the thought of yet another snow-filled year, choosing the right coat is key to a cozy winter.
If you do have to brave the cold, look good doing it. This season's trends are all about oversized coats worn with fitted clothes, rolled sleeves, coats cinched at the waist and blends of cozy camel.
If you're looking to make your travels in the bitter weather easier with a jacket that is more practical and simple, we have you covered with a selection of durable and quality made coats for all occasions.
Here are 10 women's coats that will keep you comfortable when braving the elements this winter and take the fuss out of your shopping.
Simple yet sleek, the Hepworth Jacket is richly made (pictured above). The Hepworth is designed by Craghoppers, the British outdoor clothing manufacturer who has been perfecting their craft for 50 years and it shows in this felted-effect fleece fabric.
The Hepworth has a full-length zip with an inner zip guard, as well as three convenient pockets. Choose from three beautiful colors; Rioja Red, Almond or Charcoal for just $140.00, a small price to pay for a jacket that will keep you warm for winters to come.
Marmot Women's Isotherm Hoody

The technology behind the Marmot Isotherm Hoody is undeniably the best in weather wear. Travels outside will be comfortable thanks to the Marmot's new state-of-the-art insulation that is light yet warm and breathable.
The Isotherm is made with abrasion-resistant fabric and lined with a breathable mesh and is equally attractive with its athletic style and fitted cut. Keep the heat evenly distributed with this hoody made for just about any activity.
The Women's Isotherm Hoody can be found at Marmot for $250.00.
Shop for Marmot coats on Amazon
Dare2b Fulfilled Down Parka Jacket
Sold on Amazon, the Fulfilled Down Parka Jacket will keep you warm and cozy with its quality liner and water repellant exterior, preparing you for the harsh elements.
Made by Dare2b, the quilted parka is filled with 80% duck down, 20% feathers, and made of 100% anti-rip nylon.
The parka features a sewn on hood with adjuster and removable faux fur. It's lightweight and keeps you warm without all the bulk. The Fulfilled Down Parka retails for $93.50.
Get it on Amazon
Craghoppers Eada Hooded Jacket
Looking for a quality coat to brave the cold? Craghoppers' Eada Hooded Jacket is a soft shell made with the frigid winter in mind. Designed to protect from an array of inclement weather, the Eada is windproof and insulated with a high-loft fleece lining. The exterior is made with an aqua dry membrane, Craghoppers' dual layer fused technology
The Eada jacket is both durable and breathable, and comes in classic black, making it easy to clean and great when paired with just about any cold weather accessories. The grown-up hoodie retails for a reasonable $90.00.
Get it on Amazon
White Sierra Women's St. Helen's Vest
For those who like to layer up during the winter, rather than wear a coat, the White Sierra St. Helen's Vest in is the perfect way to keep the heat in. Paired with a favorite sweater or thermal shirt, the polyfil insulated vest comes in a range of gorgeous solid colors will match with just about anything in your closet.
Also great in mild weather or rain, the St. Helen's vest is 100% nylon and water repellant. It's stylish, fitted, and sits at the perfect length. The vest has a snap front closure for easy on-and-off and can also be paired with a lighter coat for added warmth during your favorite recreational activities.
The White Sierra Vest retails for $120.00.
Get it on Amazon
Columbia Women's Mighty Lite Hooded Jacket

Are you a loyal Columbia fan? If so, the Women's Mighty Lite Hooded Jacket is the perfect full zip, quilted jacket for you. It keeps you cozy through high winds and bitter temps, dry on rainy days. This jacket will flatter just about anything figure with its perfect length and streamline cut.
The Mighty Lite Hooded Jacket has a draw cord adjustable hem with plenty of convenient exterior zippered pockets, as well as an interior media pocket. Comfortable and affordable, the Mighty Lite jacket is $90.16
Anne Klein Women's Classic Double-Breasted Coat

Need a versatile coat for every occasion? How about a Classic Double-Breasted coat from Anne Klein? Wear it to the office, on the weekends or to a casual function.
Timeless in style, the coat comes with slant pockets, oversized notched lapels with a princess seaming. It's not only complementary to your curves, but will keep you warm. Choose from camel, red, charcoal or black for just $63.66.
Taiycyxgan Women's Batwing Cape Wool Poncho Jacket Warm Cloak Coat

Elegant and trendy, this Batwing Cape Wool Poncho Jacket Warm Cloak Coat will have you looking stylish without sacrificing comfort. This top seller is not only warm, but also soft and can be worn to just about any event or on a daily basis with a great pair of boots.
The Batwing Cape comes in three classic colors (grey, black and beige), with prices ranging from $36.99 to $65.53.
Noroze Women's Check Hood Coat

"Absolutely tickled!" "Fantastic jacket!" "Five stars." The list of compliments and positive reviews go on and on for the Noroze Women's Check Hood Coat. Like those magical jeans from The Sisterhood of the Traveling Pants, this hooded coat is flattering for every body type with its slimming belted waist that will make you feel great and help you forget about those winter blues.
Featuring plenty of personality, the Noroze comes in an array of eye-catching colors and classic neutrals, and is made of a durable polyester/cotton blend. The hood is detachable and adds additional flare with its checkered pattern.
The coat retails at $45.00.
Get it on Amazon


Orolay Women's Thickened Down Jacket
If you are looking for a coat with character, something unique, the Orolay is it. Look great while staying warm with this Orolay's Women's Thickened Down Jacket.
With its long length, crumpled hem, and lined hood, this jacket is hands down a top seller. The Orolay down jacket retails for just $79.99.
Get it on Amazon
-- Written by Sarah Luoma
Disclosure: TheStreet has advertisers and partnerships; we may get a share of the revenue from your purchase.