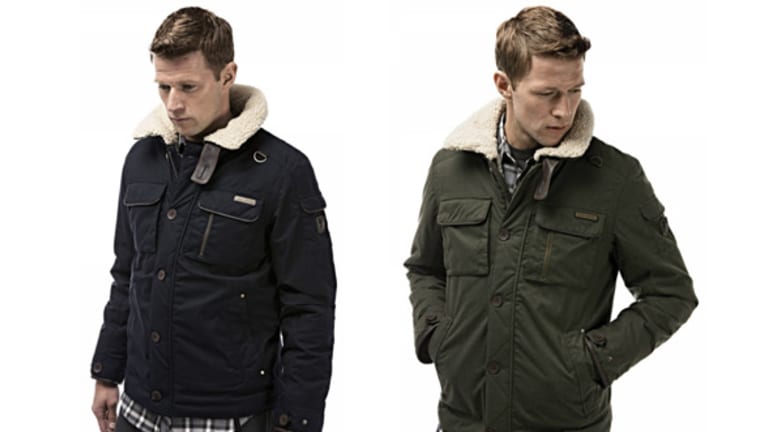 10 Best Winter Coats for Men
These winter coats will work well in the elements -- and on Instagram.
Choosing the right winter coat is a high-stakes decision. Even with a few options in rotation, your favorite coat becomes your trademark for the season. It's the first thing new acquaintances see on you, and it's a frequent look seen by your best friends. On top of fashion, performance matters. Looking great is insignificant if you're shivering on a daily basis.
We've taken a closer look at some strong contenders for the coveted "top winter coat" of this season. Establish your priorities and check out these choices that will work well in the elements -- and on Instagram.
Marmot Isotherm Hoodie, $250
Marmot is well loved for its attractive outdoor athletic gear. The Isotherm Hoodie (pictured above) is no exception. If you are an active outdoorsman, you'll want a coat that warms you up without weighing you down. Lightweight, breathable, and full of state-of-the-art synthetic insulation, the Isotherm Hoodie is a great way to get the "puffy" look without a bloated feel. For a performance garment, it offers a good balance between sportive and sleek. You can go right from cross-country skiing to cocktails.
Shop for Marmot coats on Amazon

Craghoppers Faceby Bomber Jacket, $180
If you're seeking a retro look, choose a bomber style with modern upgrades. This one has a plush collar lining that mimics shearling without the cruelty or cost, and a technical exterior that evokes the softness of a flannel weave without its limitations. Extras include a concealed hood, a structured cut that allows full freedom of movement, and traditional button front. You'll look like James Dean, only more impervious.

White Sierra Men's 4 in 1 Jacket, $160
Want bang for your buck without a flashy brand presence?  The 4 in 1 Men's Jacket by White Sierra might be your best bet. This set has two separate pieces - an outer layer and inner reversible layer - that can be worn together or separately. The waterproof outer shell makes a great light rain jacket or windbreaker, while the insulating inner liner has a sleek shiny side with a zip-up chest pocket, as well as a more subdued quilted side. Wear both pieces together for a heavy-duty dual layer.
Get it on Amazon
Dare2b Men's Burrow Jacket, $140
This lighter option is equally effective as a midlayer or outerwear. Its combination of natural and synthetic technical fabrics is meant to wick away excess heat and moisture when you're active and hang onto warmth when you're not. Since it is affordable, packable, and reversible, the Burrow Jacket is likely to be a wardrobe staple for many multi-sport winter warriors.

Shop for Dare2b coats on Amazon



Craghoppers Skipton Jacket,$180
This longer option takes cues from a prepster peacoat, but eliminates much of the fussiness. It comes in a sporty heather gray, with traditional deep patch pockets, button placket, and roomy hood. Fully lined and quilted, with a wool blend exterior and relaxed shoulder seams, it's another jacket option with a lot of wearability.

Alpha Industries Men's N-3B Slim-Fit Parka Coat, $116.81 - $200.00
If you don't want to break a sweat to stay warm, score a parka. This one incorporates favorite features like a combo zip/button placket, a non-cinched elastic waist and cuffs, elbow patches, an array of pockets, and a fur-trimmed hood (faux and removable). While some reviewers recommend a larger size to accommodate thick clothing, many praise this as a "one and done" layer that has no problem keeping out wind, rain, and frigid temps. Some colors have a bit of sheen to them, so as far as parkas go, this is more city than country. 

Columbia Men's Frost-Fighter Puffer Jacket, $150
What you see is what you get: an exemplary puffer coat by a trusted brand. No bells and whistles, just standard, uncomplicated warmth. With a rip stop nylon exterior, polyester taffeta lining, and faux-down insulation, it's machine washable and easy to care for. It's available in numerous solid colors, from bright to subdued. Since it is a timeless style, this pick could serve you well over several seasons. 
Carhartt Men's Sherpa Lined Jackson Coat, $114.99-$129.99
While most other winter coats are made of textile blends, the exterior shell on the Jackson Coat is heavy, 100% cotton sandstone duck cloth, which starts out stiff and softens with wear. The body is Sherpa-lined - a nubby, warm synthetic material similar to shearling - with quilted nylon in the sleeves. Rugged zippers, inner and outer pockets, and internal knit cuffs complete its utility. There are similar options in the Carhartt line, but the Jackson Coat sports a subtly updated shape.
The North Face Men's Inlux Insulated Jacket,$144.99-$199.99
This is a frontrunner amongst ski jackets with technical details. It packs a lot of features into a smooth silhouette: waterproof nylon, full insulation with partial fleece lining, flat taped seams, a removable and adjustable hood, lined chin guard collar, zippered pockets, and a Velcro flap protecting the front zipper. If you're liable to face wet conditions this winter, give this one serious consideration. You can add layers underneath, but it's comfortable enough to wear with a t-shirt, unlike some bulkier options.
BGSD Men's Benjamin Wool Blend Duffle Coat, $189.99
If nylon, bulk, and puffiness don't appeal to you - or you are just looking for a less athletic looking option - check out this classy duffle coat. Between the wool blend construction, fully insulated lining, and roomy detachable hood, you'll stay warm without looking like you came right off the slopes. We like how the toggle closures prevent this traditional coat from being too generic.  
-- Written by Michael Franco
Disclosure: TheStreet has advertisers and partnerships; we may get a share of the revenue from your purchase.