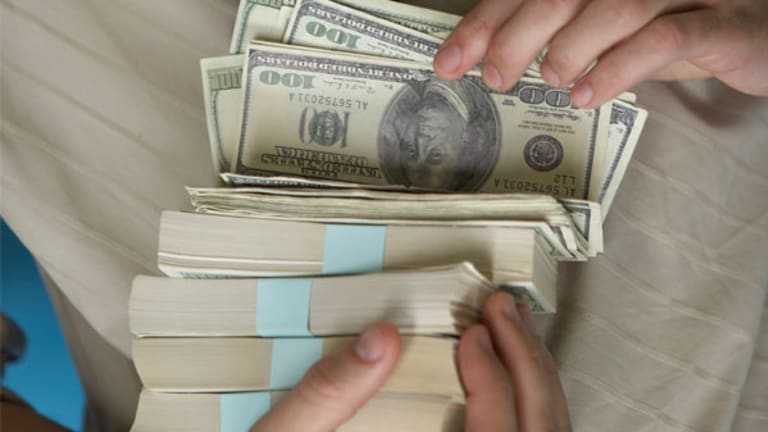 10 Best Vehicles For Pet Owners
At the very least, these vehicles are good four-wheeled sweatshirts for pets to sleep on as you mark the miles.
NEW YORK (MainStreet) -- A four-legged road trip companion doesn't get much say in where they're going or how they'll get there, but they'll let you know immediately if they're feeling cramped or uncomfortable in your car of choice.
Anyone who's ever taken a long ride with pets in a small vehicle has likely heard the howls and meows of disgruntled passengers or smelled the unfortunate results of confining a skittish animal to tight, bumpy quarters. Pets, their carriers and their stuff take up a lot of space, and the consequences of not providing that space may be more than your car's stain-resistant interior can handle.
Fortunately, auto pricing site TrueCar and its senior editor, Brandy Schaffels, have compiled a list of the 10 most popular vehicles bought by people with pets. While the models and styles vary drastically, they all have enough space and stability to keep your animal traveling companions comfortable for even the most arduous cross-country excursions. Consider these 10 vehicles four-wheeled, weightier old sweatshirts for pets to sleep on as you mark the miles:
10. 2012 Toyota
(TM) - Get Free Report
Prius 5-Door HB Three
MRSP:
$26,325
Passenger space:
93.7 cubic feet
Go ahead, make cracks about purebred pomeranians sipping lattes out of the cup holder while their owners struggle to maintain their permasmug facial expressions. Those generalizations are just fine by actual Prius owners, whose pets enjoy 21.6 cubic feet of cargo area alone. That's not enough room for a large dog and carrier, but it's double the space found behind the seats of a Honda CR-V and plenty of room for cats or smaller dogs and their stuff. Meanwhile, its combined 49.3 miles per gallon leaves a lot more room in the budget for kibble.
9. 2012 Toyota Camry Sedan I4 SE Automatic
MRSP:
$23,980
Passenger space:
102 cubic feet
As sedans go, this boat of a Camry may as well be a rolling dog run. Its passenger room is the largest of any sedan on the list and can accommodate all but the largest breeds in its backseat. Those pets owners get a pretty sweet ride as well, with the Camry offering a combined 25 mpg and an Entune entertainment and communications system with apps including Pandora (P) , Bing (MSFT) - Get Free Report and MovieTickets.com.
8. 2012 Hyundai Elantra Sedan Limited Automatic
MRSP:
$21,370
Passenger space:
95.6 cubic feet
It doesn't have the mileage of the Prius, but its efficiency is close enough to come down to a coin toss. The Elantra gets a combined 35 miles per gallon, including 40 on the highway, while costing nearly $5,000 less and offering about two more cubic feet of interior space. None of this matters to cats and dogs, which will likely prefer the Elantra's heated seats during chilly rides to see the family during the holidays. Warm, contented friends means less noise from the backseat and more personal space for you when they don't try to cozy up and share your heat.
7. 2012 Honda
(HMC) - Get Free Report
Civic Sedan Auto LX
MRSP:
$19,595
Passenger space:
94.6 cubic feet
Much like the Elantra, the Civic's only going to fit one big dog or two small-to-medium dogs, tops. Unlike some of its similarly sized contemporaries on this list, though, the Elantra offers that space and a combined 33 miles per gallon for less than $20,000. Having pets is a costly proposition on its own, so owners watching the bottom line might want to consider the Civic if a new pet shuttle is a must.
6. 2012 Subaru Outback H4 Automatic 2.5i
MRSP:
$25,070
Passenger space:
105 cubic feet plus 34.3 cubic feet of rear cargo
If you're hauling pet crates, few vehicles do so better than a crossover. While there's plenty of room in the wayback if you're inclined to fence it off and let your friends roam, there's also plenty of room in the second row if you want to keep your friends close and your stuff tucked away. The Outback clocks a pedestrian 21.3 combined miles per gallon, but its 256-horsepower will keep your pets from weighing down its performance. The Outback's all-wheel drive, meanwhile, makes it ideal for trucking pets through tough winter climates.
5. 2012 Ford (F) - Get Free Report Escape XLS Four-Wheel Drive
MRSP:
$22,265
Passenger space:
99.5 cubic feet plus 34.3 cubic feet of rear cargo
Need room for both your pets and family? The Escape seats five while offering enough room in the cargo area for pets, their food and their carriers. That cargo capacity expands to nearly 68 cubic feet when nobody else is around. The 3,500 pounds of towing capacity is nice and all, but kick-operated hands-free liftgate in back comes in handy when trying to wrangle a squirmy pooch or wrestle a bale-sized bag of food into the back.
4. 2012 Toyota RAV4 Four-Wheel Drive I4
MRSP:
$23,460
Passenger space:
132 cubic feet plus 12.3 cubic feet of rear cargo
A longtime favorite of the grocery-getting and soccer-shuttling classes, the RAV4 is a decent pick for pet owners as well. That 132 cubic feet of passenger space is the biggest on this list, but that minuscule cargo space is a bit misleading. That includes an optional, upright third row of seating. Drop that and the second row and the RAV4's cargo space swells to 73 cubic feet. The bad news, however, is that this RAV4 spurns a handy liftgate for a somewhat more cumbersome side-hinged cargo door. That's not so bad when you're loading in pets or malleable food bags, but it gets a little tough when you're trying to squeeze in a rigid carrier.
3. 2012 Toyota Corolla S Sedan Automatic
MRSP:
$19,580
Passenger space:
92.1
The fourth toyota on this list is the smallest in passenger space and trunk storage (12.3 cubic feet), but pet owners flock to it for one big reason: price. If you're a cat person or own an apartment-sized pup, its space and nearly 31 combined miles to the gallon are adequate without breaking the $20,000 barrier. Schaffels suggests "a canary in a cage" may be the Corolla's ideal pet passenger, but smaller creatures will find it comfortable enough for a cozy, rolling nap.
2. 2012 Honda CR-V EX
MRSP:
$25,425
Passenger space:
101 cubic feet plus 37.2 cubic feet of rear cargo
Yet another family crossover that translates well to pet owners, the CR-V's spacious interior gives everyone involved some room to rest. The 37.2 cubic feet in the back is ideal for pet carrying, while the 70 cubic feet that open up when the back seat is down is enough to support a dogwalking business.
1. 2012 Ford F-150 Two-Wheel Drive Supercab XLT
MRSP:
$31,800
Cargo space:
65.3 cubic feet
There are a whole lot of cab configurations to choose from when buying an F-150, so the passenger space can range from three to six people. The latter configuration allows pets and their stuff to stay inside without taking up a lot of space, but that cargo bed offers a lot of room for tied-down pet carriers and bulk-sized bags of kibble. If there was ever a vehicle that separated outdoor pets from their indoor brethren, the F-150 is it.
-- Written by Jason Notte in Boston.
>To contact the writer of this article, click here:
Jason Notte
.
>To follow the writer on Twitter, go to
.
>To submit a news tip, send an email to:
.
RELATED STORIES:
>>10 Great Convertibles For Summer 2012
>>10 Best Cars For Spring Sightseeing
>>10 Used Cars To Check Out Before Buying New
Jason Notte is a reporter for TheStreet. His writing has appeared in The New York Times, The Huffington Post, Esquire.com, Time Out New York, the Boston Herald, the Boston Phoenix, the Metro newspaper and the Colorado Springs Independent. He previously served as the political and global affairs editor for Metro U.S., layout editor for Boston Now, assistant news editor for the Herald News of West Paterson, N.J., editor of Go Out! Magazine in Hoboken, N.J., and copy editor and lifestyle editor at the Jersey Journal in Jersey City, N.J.