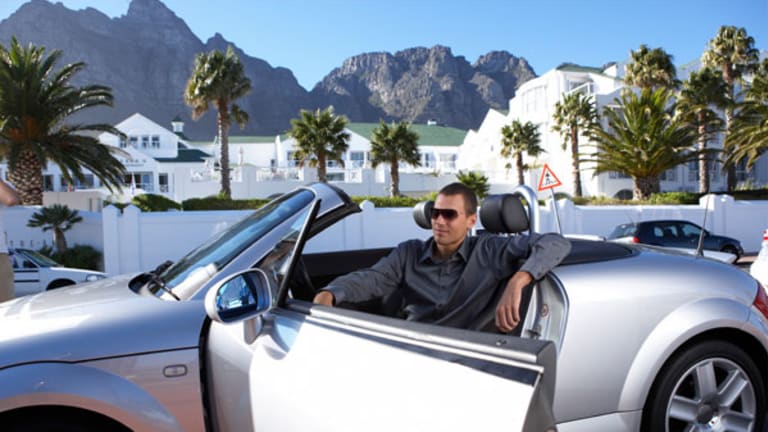 10 Best Used Luxury Cars Under $30,000
A certified pre-owned luxury vehicle gives a buyer all of the comfort with little of the immediate depreciation. It's how you get vehicles from Acura to Mercedes on the cheap.
PORTLAND, Ore. (TheStreet) -- In the post-recession car market, even second-hand luxury is still luxury.
The U.S. auto industry reached 15.6 million vehicle sales last year after bottoming out at 10.4 million in 2009. While the industry is on pace for 15.9 million sales this year, it's still well below the 17.4 million it rung up back in 2001.
Sales of new cars have increased 4.3% year to date, but used cars have continued to be hot commodities as inventory recovers from the economic downturn and buyers seek deals. Publicly traded used car dealers CarMax, AutoNation, Asbury Automotive Group, Group 1 Automotive, Litihia Motors, Penske Automotive Group and Sonic Automotive have watched vehicle sales rise for 19 consecutive quarters and by double-digit percentages in three of the past four quarters alone.
According to used car data firm Manheim Consulting, vehicle repossessions are down as the economy improves and 8% fewer people are selling their used cars. Meanwhile, leases are back and dealerships are unloading 2.5% more used cars than they a year ago. Prices for used vehicles are up across the board, with cars selling for $8,000 to $10,000 less popular this year than models going for $11,000 to $14,000. Luxury cars, however, have only seen their prices rise by 0.9% in the past year -- compared with a 7.4% bump for midsized cars and a 9.8% leap for pickup trucks.
With the largely foreign-dominated luxury sector not feeling the pinch of the U.S. economic downturn nearly as painfully as their bailed-out U.S. counterparts, it's not entirely surprising that there's a bit more used luxury inventory available. It's only surprising in light of information from automotive data service Polk reveals the average age of cars and light trucks on U.S. roads to be 11.4 years. That's up from 8.9 years a decade ago and 9.8 as recently as 2007.
The luxury dealers tend to benefit from established certified pre-owned programs that recondition lightly used or leased vehicles to a light new standard. Last year, dealers sold 2.1 million certified pre-owned vehicles. A glut of off-lease vehicles not only brought that number well above its 1.5 million recession low in 2009, but placed it above a pre-recession high of nearly 1.7 million. Sales of certified pre-owned vehicles have already risen 11% year-to-date.
There are a few benefits to this approach that outweigh the extra mileage. The price is a fairly obvious lure, but so is the lack of upfront costs for a new vehicle. With the price of a new luxury car depreciating 35% to 40% in the first three years, picking up a pre-owned model lessens the blow a bit by shifting the majority of a vehicle's depleted value onto the original owner. Also, certified pre-owned vehicles get an inspection, some retooling and -- in the best cases -- extended coverage from the dealer that a buyer wouldn't get from a private-party sale.
With a little help from the folks at auto pricing site Kelley Blue Book, we take a look at the best luxury vehicles that 2011 had to offer and see how they've matured into certified pre-owned steals:
10. 2011 Audi A4
KBB pre-owned starting price: $22,627
The cool LED headlights, the linked-ring logo, the 211-horsepower base model, the combined 26 miles per gallon, the bevy of perks: All of the above make the A4 a pretty sweet pickup for the price of a small, featureless crossover SUV.
Even the least tricked-out models come standard with a sunroof, cruise control, foglamps, automatic climate control, eight-way power front seats, a tilt-and-telescoping leather-wrapped steering wheel, leather upholstery, a dash-mounted Audi Multi Media Interface and a 10-speaker sound system with a CD player, auxiliary audio jack and satellite radio. If you stumble into the right one, it'll have bi-xenon headlights, LED running lights, automatic wipers, three-zone automatic climate control, an auto-dimming mirror, an enhanced trip computer and maybe even a navigation system with real-time traffic, digital music storage, a rearview camera, rear parking sensors, voice controls and more.

9. 2011 Volvo XC60
KBB pre-owned starting price: $24,297
This was around the time Volvo started killing off the last of its trademark wagons and slapping that XC on their replacements. The XC60 is Volvo's base crossover and comes with all the safety features parents love, including a five-star crash safety rating, a low-speed collision avoidance system, pedestrian detection and a driver-attention monitor that issues a warning if the driver appears to be drowsy at the wheel. Volvo eventually threw in SirusXM satellite radio, HD Radio, Bluetooth hands-free communications and other fun little toys as distractions to justify the expense.
Still, they didn't skimp on the performance and handling that made Volvos the wagon of choice for much of upper middle-class U.S. drivers. The XC60 3.2 and 3.2 R-Design models are powered by a 3.2-liter straight six with 240 horsepower. A cleaner-burning version manages 230 horsepower, but the all-wheel drive upgrades got a 3.0-liter turbocharged straight six with 300 horsepower. This crossover didn't want to be called a wagon and was brawny enough to beat that definition out of its system.
Also see: 10 Cars That Retain Resale Value After 5 Years
Also see: 10 Cars That Retain Resale Value After 5 Years>>
8. 2011 Cadillac DTS
KBB pre-owned starting price: $28,227
Yep, it was only three years ago that bailed-out General Motors was OK with producing a sedan with the mileage of a pickup truck.
The 4.6-liter, 270 horsepower V8 engine in this full-sized boat made even those 15 miles per gallon in the city and 23 on the highway seem like a stretch. Sure, it was quiet, plush and had a whopping 19 cubic feet of space in the trunk, but this was already beginning to look like a dinosaur compared with the Toyota Avalon and GM's own Buick LaCrosse.
It didn't help that the base model came with little more than xenon headlights, foglights, remote engine starter, dual-zone automatic climate control, leather upholstery, power front seats, OnStar emergency and information system and an eight-speaker CD stereo with satellite radio. If you paid fror the Luxury model, you got 17-inch chrome wheels, a sunroof, front and rear parking sensors, an auto-dimming rearview mirror, triple-zone climate control system, heated and ventilated front seats, heated rear seats, a heated steering wheel, driver seat memory settings and an eight-speaker Bose audio system with a six-disc CD changer.
In technology, performance and size, this was your grandparents' Cadillac. If you know someone longing for a simpler time when apps were the fried cheese you ate before dinner at the restaurant in the strip-mall parking lot and Bluetooth was what you got when you ate a nice blueberry cobbler too fast, this is your ride back to those good old days.

7. 2011 Mercedes-Benz GLK-Class
KBB pre-owned starting price: $28,383
Yes, it's a Mercedes-Benz crossover that gets a sad 18 miles per gallon combined and is way more expensive than similar Acuras or Infinitis, but that's scarcely the point.
It's a Mercedes, and all that prestige and technology behind the emblem has a price tag. This crossover just jumped into the game a year earlier after even luxury buyers had grown weary of the hulking ML-Class and GL-Class SUVs that came before. This small package made an immediate impression with its features. cruise control, automatic headlamps, eight-way power front seats, dual-zone automatic climate control, a power tilt-and-telescoping steering wheel, Bluetooth and an eight-speaker stereo with a CD player and an auxiliary audio jack all came standard.
Upgrades including a panoramic sunroof, a power tailgate, rain-sensing wipers, auto-dimming mirrors, driver seat memory settings, a 115-volt household outlet, satellite radio, navigation, rearview camera and voice controls have become fairly standard, but were a peek into the future at the time. The 3.5-liter, 268-horsepower V6 engine and solid design more than make up for a cramped rear seat and somewhat small cargo space. If you're buying a Mercedes crossover even at this price, however, you're not doing so for its utility.
6. 2011 Infiniti G
KBB pre-owned starting price: $20,717
You hate to see words such as "entry level" and "compact" enter the discussion when you're considering a luxury car, but they only work to your advantage in the used market.
The Infiniti G series is Nissan's answer to BMW's 3 series -- designed basically as the bargain version of its German counterpart. For the slight dip in prestige, however, Infiniti G buyers get a speedy rear-wheel drive V6 with sport-tuned suspension that turns each ride into a car commercial.
The best part is that you get a whole slate of models to choose from. Available in sedan, coupe and convertible, the Infiniti G can serve as a family shuttle or a zippy little weekend plaything. Granted, the latter two are basically the equivalent of a Nissan Z with more interior room, but even the little luxuries pay big dividends.

5. 2011 Cadillac CTS
KBB pre-owned starting price: $23,208
The base model comes with a 270-horsepower, 3.0-liter V6 engine, but can be bumped up to a 318-horsepower, 3.6-liter V6 just for kicks. The standard-bearer of American luxury vehicles also throws in a whole lot of perks, including headlights that adapt to your speed and turning angle, rear backup camera, leather seating, wood trim and a pop-up eight-inch GPS screen that connects to voice control and a 10-speaker Bose stereo system.
If you're willing to splurge for the CTS-V, your reward is a 556-horsepower, 6.2-liter V8 engine that takes you from 0 to 60 mph in 3.9 seconds. This beast was a problem child for General Motors when sales dropped by more than 20,000 vehicles during the economic downturn, but CTS sales have since accelerated from 38,817 in 2009 to more than 55,000 in 2011. With sales dipping to just above 32,000 last year as buyers awaited the big 2014 redesign, this pinnacle of the vehicle's second generation is a bargain compared with holdovers from the 2013 model year.
4. 2011 Audi A6
KBB pre-owned starting price: $29,525
If the A4 made this list, the supercharged quattro A6 deserves a spot as well.
Also see: 5 Hottest Cars You Can't Have
Also see: 5 Hottest Cars You Can't Have>>
With a 3.0-liter, 300-horsepower V6 engine, this was already a pretty soft sell for a midsized luxury sedan. In 2011, however, Audi decided that it was going to tweak competitors including BMW and Jaguar by making its sport package standard, giving the car an overall sportier appearance and throwing in its Multi Media Interface and navigation for free, just because it could.
Bravo. Not only did Audi completely understand the importance of those interior tech perks, but that exterior streamlining made the A6 as sexy and competitive as its current-day competition. It wasn't as if the A6 was lacking for toys -- it already came with automatic headlights and wipers, heated mirrors, a sunroof, automatic climate control, eight-way power seats (includes lumbar adjustment), partial leather upholstery, a tilt-and-telescoping steering wheel, Bluetooth and a 10-speaker stereo with six-disc CD changer, satellite radio and an iPod interface -- but Audi's recent success has been built on providing the freebies that Mercedes and others won't.
3. 2011 Acura TL
KBB pre-owned starting price: $23,943
This was an absolutely terrible year for Japanese automakers, thanks largely to an earthquake and ensuing tsunami that decimated their home country and severely damaged their supply lines and manufacturing capability.
Few luxury vehicles felt the effects as acutely as the Acura TL. Built in Japan with a whole lot of Japanese parts, the funky looking TL saw its price rise 6.5% after the tsunami, while sales dropped nearly 19% from a year earlier. That gave a 19% sales boost to the Hyundai Genesis and helped fuel a more than 74% uptick in BMW 3 series sales.
So what were buyers missing out on while Acura and parent company Honda scrambled to recover? A 280-horsepower, 3.5 liter V6 with a truckload of standard features including automatic xenon headlights; foglamps, a sunroof; dual-zone automatic climate control; a tilt-and-telescoping steering wheel; heated eight-way power front seats; leather upholstery; an auto-dimming rearview mirror; Bluetooth phone and audio connectivity; and an eight-speaker sound system with a six-CD changer, satellite radio, an auxiliary audio jack and an iPod/USB audio interface. If you upgraded to a tech package, you got a rearview camera, keyless ignition and entry, solar-sensing climate control, a navigation system and voice control.
2. 2011 Lexus ES
KBB pre-owned starting price: $27,751
There was a time this car wasn't just a pricier Toyota Avalon.
The ES was a great option for a luxury sedan, albeit an costly one for a la carte options. The 2011's 268-horsepower V6 engine finally ran well on standard gas rather than premium fuel and was built around a cabin of leather upholstery, wood trim and silence.
You got exactly one trim for the base price, and it included fog lamps; heated exterior mirrors; a sunroof; automatic wipers; keyless ignition/entry; dual-zone automatic climate control; 10-way power front seats; a power tilt-and-telescoping steering column; an auto-dimming mirror; Bluetooth phone and music streaming capability; and an eight-speaker stereo with in-dash six-CD changer, satellite radio, iPod interface, auxiliary audio jack and USB audio jack.
If you wanted to add xenon adaptive headlights, a self-parking system, a panoramic sunroof, adaptive cruise control with a pre-collision system, heated and ventilated front seats, upgraded leather upholstery, a power rear sunshade and a wood-trimmed steering wheel, however, that got costly in a hurry. So did the hard-drive-based navigation system, back-up camera, voice commands, real-time traffic updates and the Lexus Enform telematics system that are now among the more standard features. When you're only getting 22 miles to the gallon combined, the costs start to add up.
1. 2011 BMW 3 Series
KBB pre-owned starting price: $25,464
The BMW 3 Series isn't so much the "cheap BMW" as it is the sought-after Beemer that just happens to come in at that price.
Packed with great features including a heads-up display projected onto the windshield, blind-spot detectors in the rearview mirrors and a freestanding iDrive screen for communication, navigation and entertainment, the 3 series doesn't exactly come up short on perks. In fact, it piles them on with features including a pushbutton starter that shuts the engine off when idling, a 240-horsepower engine that gets 34 miles per gallon on the highway, adaptive all-wheel drive and hands-free trunk access.
Know what else squeaks into the base 328? A turbodiesel model that gets a mild-mannered 180 horsepower, but boosts fuel efficiency to 45 miles per gallon on the highway. Those are a lot of options at a price that's supposed to offer luxury car buyers very little.
-- Written by Jason Notte in Portland, Ore.
>To contact the writer of this article, click here: Jason Notte.
>To follow the writer on Twitter, go to http://twitter.com/notteham.
>To submit a news tip, send an email to: tips@thestreet.com.
RELATED STORIES:
>>5 Hottest Cars You Can't HAve
>>10 Cars That Retain Their Value After 5 Years
>>10 Best Convertibles For Summer 2014
Jason Notte is a reporter for TheStreet. His writing has appeared in The New York Times, The Huffington Post, Esquire.com, Time Out New York, the Boston Herald, the Boston Phoenix, the Metro newspaper and the Colorado Springs Independent. He previously served as the political and global affairs editor for Metro U.S., layout editor for Boston Now, assistant news editor for the Herald News of West Paterson, N.J., editor of Go Out! Magazine in Hoboken, N.J., and copy editor and lifestyle editor at the Jersey Journal in Jersey City, N.J.