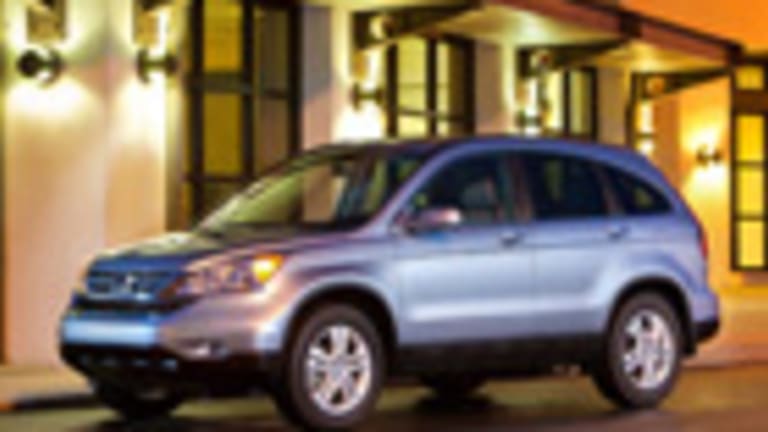 10 Best Used Cars Of 2013
With used car prices not quite the discount they once were, it pays to know which vehicles are worth the price.
PORTLAND, Ore. (TheStreet) -- When demand for used vehicles rises, the race to find the most reliable beater on the market suddenly becomes a slightly scuffed version of the new car market.
Sales of new cars increased 13.4%, but the definition of the "best" car money can buy has changed since the recession curbed everyone's spending. Those used cars that were once rental car fodder and lures for cash-strapped high school kids are now legitimate competitors to newer models. That's creating an interesting mix in the overall vehicle market.
Automotive data service
Polk
revealed last year that the average age of cars and light trucks on U.S. roads is roughly 11 years. That's up from 8.9 years a decade ago and 9.8 as recently as 2007. New car sales slumped during the 2008 and 2009 recession years as America's drivers squeezed as much mileage out of their old cars as possible.
According to
Manheim Consulting
's
Used Vehicle Value Index
, used car prices actually fell 0.8% last year, but jolted up 1.2% in December as Superstorm Sandy reduced an already small supply. Dwindling new car inventory and used car lots already depleted of 2- and 3-year-old vehicles are keeping prices high as sales increased 5% last year and more than 10% from 2010.
That's making a lot of formerly undesirable older vehicles a lot more popular. Manheim found that owners are looking to sell their old
Toyota
(TM) - Get Free Report
Camry,
Honda
(HMC) - Get Free Report
Accord or
Ford
(F) - Get Free Report
Fusion, Manheim says they'll make an average of 2% more on the deal than they would have last December. Even used pickups and vans have benefited as demand accelerated 2.6% and 0.2% respectively within the past year.
While Polk has found that American car buyers are regaining their confidence, there's no way to make them ignore the value of an older, cheaper, equally reliable vehicle. Considering the advanced age of the average American car, we asked the folks at
Kelley Blue Book
to see what decade-old models should factor into car buyers' decision-making this year. They came back with an extremely flush selection of 30 vehicles.
Even folks at auto-sales site
Edmunds
, who are typically more focused on newer model's than yesterday's favorites, are acknowledging the appeal of an older vehicle. They just released a rundown of the 17 "best" used cars of the market and showered praise on models including 2006-11 Ford F-150s, 2006-11
Subaru
Outbacks and 2006-11 Honda Odysseys. The following are just 10 of their selections and some of the reasoning behind the picks. With used car prices not quite the deep discount they once were, it pays to know which vehicles are worth the price:
Best compact SUV/crossover
2006-11 Honda CR-V
A used five-passenger SUV is basically what a used wagon/minivan/honkin' SUV was to families of other generations: automotive gold. They're spacious, they're reliable and they're ubiquitous enough that an older one won't necessarily stick out in the pack.
Also see: 10 Cars From 2013 You Should Buy Now>>
Around 2006, U.S. drivers were just getting used to a vehicle that didn't suck away all their gas and money and take up all of their parking space. The CR-V's second generation started in 2002, and its upgraded 2.4-liter, four-cylinder engine with 160-horsepower became a standard closely followed by competitors.
The spacious headroom and legroom remained steady through much of this run, as did the 33.5 cubic feet of cargo space with all the seats in place and 74 cubic feet when they're down. Tucked into all that space is air conditioning, power windows and locks, a one-touch up-and-down driver window, a CD player, rear-seat heater ducts and two 12-volt accessory outlets for gadgets that were yet to be invented when the 2006 first hit the market.
Best midsize SUV/crossover
2006-11 Toyota Highlander
Just five years after its 2001 release, the Camry-based Highlander was already tasked with weaning Americans off the gas-guzzling truck-based 4Runner.
Mission accomplished. The Highlander drives like a sedan and gets a sedanlike combined 22 miles per gallon out of its 3.0-liter V6 engine. Unlike the Camry, however, it provides 38.5 cubic feet of cargo space with the seats up and a cavernous 81.4 cubic feet of room when the 60/40 seats are knocked down.
Seeing that it had a family blockbuster on its hands, Toyota equipped the Highlander with standard ABS, skid control, "snow mode" for slick surfaces and child seat anchors. Throw in standard air conditioning, CD/cassette combo stereo with six speakers, cruise control, tilt steering wheel, bottle holders and grocery bag hooks standard and the Highlander starts to earn its high resale price.
Best large SUV/crossover
2007-11 Mazda CX-9
We're not going to lie to you: This is basically a Ford Edge in costume.
Though it got a facelift this year, the versions you'll see on used car lots are built on the same platform as the Edge, the old Lincoln MKZ and the now-deceased Mercury Milan. That said, it's not a bad little ride. With a 3.5-liter V6 in the 2007 and a 3.7L version each year thereafter, the CX-9 cranks out 274 horsepower and is packed with little throw-ins including electronic stability control, traction control, roll stability control, front and side impact airbags, and three row-side curtain airbags. Some are even stocked with DVD navigation systems, handsfree Bluetooth phone links, backup cameras, and
Bose
5.1 surround sound rear entertainment system.
Also see: 10 Best Cars On The Market>>
The addition of blind spot monitoring, a rearview mirror mounted backup camera, and collision avoidance/blind spot warning detection in 2009 helped make this
Motor Trend
's SUV of the year. It's a whole lot of vehicle, but it gives drivers and their families a whole lot for their trouble.
Best subcompact sedan
2007-11 Honda Fit
One of the subcompacts that started the class' renaissance, the colorful and convenient Fit gets by on a whole lot of flexibility and user friendliness. The Fit's standard keyless entry, cruise control and CD player with iPod/USB jack are enticing, but modular seating, under-seat storage, 57.3 cubic feet of cargo room and combined mileage that exceeds 30 miles per gallon bring some cool perks to that little price tag. Still wondering what would lure folks to a subcompact in the relatively go-go, gas-guzzling mid-Aughts? Try 10 cup holders. It's not the height of pre-recession excess, but encouraging five passengers to double-fist Big Gulps has somewhat lost its appeal after the economic collapse.
Best compact sedan
2006-11 Hyundai Elantra
There's a fairly significant difference between the Elantras made before 2010 and those that came after.
The Elantra's fuel economy has increased significantly, jumping from 26 miles per gallon in 2006 to 33 miles per gallon by 2011. Its 2.0-liter engine and 135 horsepower also got a much-needed makeover, trimming to a 1.8-liter but bulking up to 148 horsepower.
The best part, however, is that most of these Elantras will still be covered under Hyundai's 10-year, 100,000-mile warranty. This five-passenger ride is popular enough, but the continued coverage only makes it more coveted.
Best midsize sedan
2006-11 Ford Fusion
Ford needed something to get buyers' minds off its beloved Taurus and its less-loved Contour. The Fusion, released in 2006, took a little while to make that happen. The early models lacked simple items such as ABS and tire pressure monitors and was outsold by the Taurus for its first year of existence.
While the Fusion Hybrid is still knocked for not quite living up to its mileage sticker, the original recipe Fusion has become every bit as popular as Ford hoped. A facelift in 2010 gave the car a sportier look, more efficient engines and tech toys, including the Sync communication and entertainment system. It's still about as middle-of-the-road as the rest of the midsize market, but that's kind of the point.
Best large sedan
2006-11 Toyota Avalon
This is what the pseudo-luxury cars of old looked like -- big, brawny and built with an almost all-plastic interior. That said, the Avalon had two key elements its core, mature demographic desired: Space and silence.
The Kentucky-made Avalon was eventually upgraded to a discounted version of the Lexus ES about a year ago, but the original had its loyalists. Though it averaged a pokey 24 miles per gallon, the cavernous, quiet Avalon was just the right car for picking the kids up at school or dropping them off at college and hitting the city afterward. It was loaded with safety features, but just elegant enough for the discriminating adult.
Best coupe
2006-11 Honda Accord
If you go with the 2006 or 2007 sedan, you're basically getting a midsize. Anything later, and you have to go with the coupe to avoid a full-size.
In the 2008 model year, this car's base sedan got huge -- like four inches longer, three inches wider huge. The coupe, however, is roughly 16 cubic feet smaller. The coupe was available in a brawnier V6 with up to 271 horsepower, though. Toss in standard features including anti-lock brakes with brake assist and electronic brake force distribution, electronic stability control, keyless entry and extras including a power moonroof, eight-way adjustable driver's seat, security system and a six-disc CD changer, leather upholstery,
Sirius XM
(SIRI) - Get Free Report
satellite radio, navigation system, hands-free Bluetooth interface. Dual exhaust pipes, fog lamps and a spoiler and you're looking at one sporty little commuter car.
Best hybrid
2006-2011 Toyota Prius
The original-recipe Prius has a lot more competitors out there these days -- including a doppelganger in the Ford C-Max -- but none of them are as good at their jobs as the car that started it all. Even the newer Prius v wagon can't touch its older sibling's 50 miles per gallon, while the Prius c compact provides the same mileage in less space.
Its 21.6 cubic feet of cargo space isn't the largest in its class and its 98 horsepower is easily the pokiest among hybrids, but those aren't the numbers that matter to hybrid buyers. Even newer hybrids have a tough time matching its fuel economy. If you're willing to roll the dice on its battery life, a used Prius can be a sound bet.
Best luxury car
2006-2011 Infiniti G35/G37/G25
You hate to see words such as "entry level" and "compact" enter the discussion when you're considering a luxury car, but they only work to your advantage in the used market.
The Infiniti G series -- Nissan's answer to
BMW
's 3 series -- is basically designed as the bargain version of its German counterpart. For the slight dip in prestige, however, Infiniti G buyers get a speedy rear-wheel drive, V6 with sport-tuned suspension that turns each ride into an Infiniti commercial.
The best part is that you get a whole slate of models to choose from. Available in sedan, coupe and convertible, the Infiniti G can serve as a family shuttle or a zippy little weekend plaything. Granted, the latter two are basically the equivalent of a Nissan Z with more interior room, but even the little luxuries pay big dividends.

-- Written by Jason Notte in Portland, Ore.
>To contact the writer of this article, click here:
Jason Notte
.
>To follow the writer on Twitter, go to
.
>To submit a news tip, send an email to:
.
RELATED STORIES:
>>10 Best 40-MPG-Or-Better Cars of 2013
>>5 Vehicles You Want To Drive In A Rainstorm
>>Top 10 Cities For Car Sharing
Jason Notte is a reporter for TheStreet. His writing has appeared in The New York Times, The Huffington Post, Esquire.com, Time Out New York, the Boston Herald, the Boston Phoenix, the Metro newspaper and the Colorado Springs Independent. He previously served as the political and global affairs editor for Metro U.S., layout editor for Boston Now, assistant news editor for the Herald News of West Paterson, N.J., editor of Go Out! Magazine in Hoboken, N.J., and copy editor and lifestyle editor at the Jersey Journal in Jersey City, N.J.