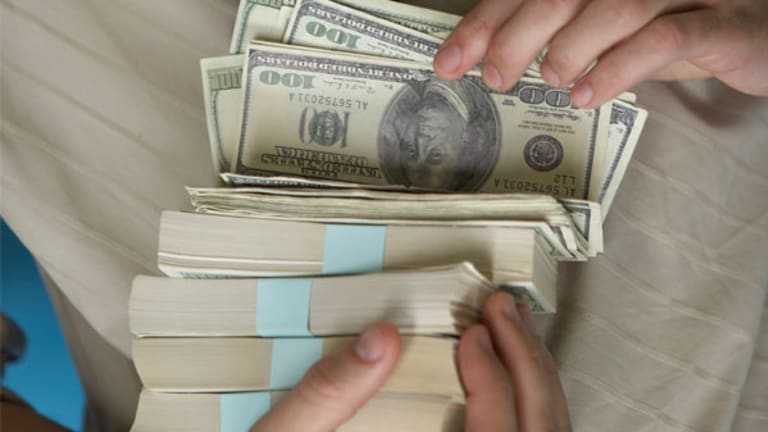 10 Best Holiday Beer Buys For 2011
Beer sales slump during holiday shopping season, but specialty beers spread plenty of cheer.
NEW YORK (MainStreet) -- Holiday beer sales require a lot more than holly leaves on six-pack packaging and snowy scenes in beer labels and commercials.
In a season filled with Beaujolais Nouveau, mulled wine, champagne punch and homemade eggnog, beer brewers have to struggle for every sale. Beer shipments that exceed 15 million barrels during the June, July and August peak months suddenly slouch toward 12 million in December and slightly less during the Thanksgiving holiday season in November, according to the Treasury Department's Alcohol and Tobacco Tax and Trade Bureau.
For the beer industry, there's potential for Santa's-waistband-sized growth in those holiday numbers. For the 92% of American holiday consumers per year who've scrawled food and beverage onto their holiday shopping lists since 2004, spending on holiday cheer has risen from an average of $90.68 per person to $105.42. Depending on where holiday beer's being bought and what favorites make it into the holiday fridge, that difference is enough for an extra six-pack or two.
Brewers are well aware of this, which is why
Budweiser
(BUD) - Get Anheuser-Busch InBev SA/NV Report
trots its Clydesdales through the snow between breaks in the NFL action each Sunday during the winter holiday season and
Boston Beer
(SAM) - Get Boston Beer Company, Inc. Class A Report
has its winter variety pack of Samuel Adams ready just weeks after Halloween party hosts put the last empty bottles of Octoberfest and pumpkin ales out with the recycling.
IBISWorld beer industry analyst Agata Kaczanowska anticipates the brewing industry will generate $27.6 billion in revenue this year. More than 20% of those sale ($5.6 billion) are expected to occur in November and December. IBISWorld also estimates that holiday revenue for the breweries industry will increase 6.2% from last year, compared with 1.3% year-on-year industry growth. Kaczanowska says that $324 million in additional revenue will come with a lot of help from small brewers, who are expected to produce more holiday beers.
While porters, stouts, English ales and winter warmers jostle for space on the package store shelves and battle Bordeaux and bubbly for space at the holiday table, we've come up with a list of 10 beers worthy of your consideration this holiday season:
10. Shipyard Prelude Ale
Style:
English ale
The first week of every December in Kennebunkport, Maine, Santa Claus arrives in Dock Square via lobster boat and the giant tree in Dock Square and the tree made of lobster traps in Cape Porpoise are lit for the town's Christmas Prelude festival.
Just before the festival's 11th installment in 1993, Maine brewer by way of England Alan Pugsley and his friends at Federal Jack's brewpub in Kennebunk decided to mark the occasion by making a 7.2% alcohol-by-volume English ale teeming with chocolate malt, roasted barley and American and English hops.
"Seasonal beers weren't a very common thing back then and it's funny when you think that now seasonal beers are some companies' biggest brands," says Pugsley, founder of Shipyard Brewery in Portland, Maine, who designed Prelude to stand up to Maine's harsh seasonal conditions. "It was a winter warmer that made you feel a lot warmer as you enjoyed the flavor of the beer and sort of keep adding that glow; Back in those early days, one didn't design beer to go with food."
When Pugsley founded Shipyard in 1994, Prelude came along for the ride and served as the brewery's first winter offering. Prelude's smooth caramel and chocolate sweetness pairs well with rich holiday dishes such as turkey and stew but, as Pugsley discovered, tends to wear out its welcome with consumers by January. That forced Shipyard to limit its availability to January and February.
Pugsley also dropped Prelude's alcohol content to 6.7%, which makes it far more tame than Shipyard's 8.5% ABV Barleywine or 11.2% ABV Double Old Thumper extra-special strong bitter ale. That's just fine with the beer's creator, who admits he prefers its subtle flavor and low octane because it allows for more than one in a long holiday-dinner-style sitting.
"Back when we first made that beer, it was the strongest beer that we made," he says. "Now you see beers out in the marketplace with 11%, 12%, 13% or 14% alcohol and Prelude has almost become boy's beer."
9. Avery Brewing's Old Jubilation Ale
Style:
English old ale
Colorado knows a thing or two about surviving a long winter, and Avery Brewing in Boulder isn't shy about turning up the heat a bit.
Its Old Jubilation Ale may seem harmless enough with its imitation Currier and Ives label, hints of chocolate and hazelnut and smooth mocha latte finish, but this beast packs a double-diamond wallop. At 8.3% ABV, Old Jubilation drinks like a beer with three-quarters less strength and can put unassuming holiday revelers down for a warm winter's nap quicker than tryptophan.
We know it's sweet going down, but sip it like cocoa. Don't chug it like cider.
8. HE'Brew Jewbilation 15
Style:
American strong ale
Back in 1996, Jeremy Cowan thought he would get some laughs by making the country's only Jewish celebration beer. He brewed 100 cases of Genesis Ale and delivered it around Northern California just in time for Hanukkah.
Fifteen years later, his Shmaltz Brewing and its Saratoga, N.Y.-brewed HE'Brew beer has outposts in New York, San Francisco, Atlanta and Chicago, a 10-person staff, $2 million in annual business and a holiday gift pack stuffed with beers such as the Lenny Bruce tribute Bittersweet Lenny's R.I.P.A., Origin Pomegranate Ale (ordinarily available only in 22-ounce bottles), Messiah Bold, its new Hop Manna IPA, a free glass, Hanukkah candles and instructions on how to make a beer bottle menorah. In case his sincerity about the brewery's holiday offerings was in doubt, Cowan has had all of Shmaltz's ingredients and materials, brewing process and brewery conditions certified kosher by Kosher Supervision of America and Orthodox Union.
"It's a really cool way for both the Jewish community and the beer geek community to be able to sample the breadth of what we're up to on the HE'Brew side of Shmaltz Brewing," says Cowan, whose company also makes the Coney Island Craft Lagers line of beers. "Kosher certification certainly hasn't had huge demand in the beer market, but I thought it would be important to get all of our beers kosher-certified so that all the community would be conscious of the fact that they could bring the beers to celebrations, give them as presents and enjoy the beers in their homes or in restaurants."
The centerpiece of the package, though, is the high-powered Jewbelation 15. Brewed in various potencies since HE'Brew's eighth anniversary, Jewbelation 15 is so named because of the 15 malts and 15 hops in its formula and its 15% ABV. Like its predecessors 8 through 14 and the Vertical Jewbelation rye-barrel-aged mix of all eight of those varieties, Jewbelation is a bitter, potent brew best enjoyed as slowly and steadily as Shmaltz's fan base was built. That pace and that nonregional niche approach has made HE'Brew not only a holiday favorite among fans, but a still-burgeoning success in the craft-beer sector.
"Originally I knew I would never sell enough beer in one area to run the business, and that's exactly what happened," Cowan says. "It wasn't until I expanded to 20 markets around the country that had a Jewish community that I reached those folks and started to break even, but what really happened is that my strange little business model of selling a little beer in a lot of places ended up being the perfect model as craft beer exploded over the last five years."
7. Schlafly Christmas Ale
.
Style:
Winter warmer
It may not be drawn by a team of horses down a snow-frosted country drive, but Schlafly's Christmas Ale shows someone in St. Louis actually lets the holiday spirit drift into the brewing process as well as its promotions.
Schlafly's Christmas Ale is packed with the cardamom, clove and orange peel that a good European mulled wine should have, but with the caramel and chocolate undertones and rich hop texture American beer drinkers have come to expect. At 8% ABV, this Christmas Ale is a lot of cheer in a little 12-ounce package but has all the holiday flavor of a steaming pot of strong holiday grog set beside a circle of can-fire holiday carolers. Think warm thoughts.
6. Great Lakes Christmas Ale
Style:
Winter warmer
For lots of beer fans in the Midwest, Great Lakes Christmas Ale
is
holiday beer.
A four-time gold medal winner at the World Beer Championships, Christmas Ale is infused with just enough honey and biscuit-flavored malt to make it sweet but more than enough cinnamon and ginger to bring home its baked-goods flavor.
Great Lakes isn't stingy with the spices, either, so Christmas Ale's cinnamon-toast smell hits just as soon as the glass comes under a drinker's nose. Hints of nutmeg and caramel accompany it on the way down, but might be a bit too sweet for some drinkers.
That copper color, cheerful trains-and-ornaments label and home-for-the-holidays taste make it a great holiday pick, but its 7.5% ABV should ensure plenty of slumber before Black Friday or the big morning.
5. Deschutes Jubelale
Style:
Winter warmer
When your brewery is within a short drive of a great hop source and myriad Christmas tree farms, your holiday ale had best be spectacular.
From its label designed by Oregon artists Cara Thayer and Louis Van Patten to its fruity mocha flavor, Jubelale captures the spirit of the season as boldly as possible. Its potpourri of caramel, coffee, chocolate, cherry and mild citrus mix like a mulled-wine porter with just enough spice to let a drinker know it's there.
It's a bit hoppy, which is to be expected of an Oregon beer so close to Cascade and Willamette hops, but the mild crystal and two-row pale malt keep this a warm, subtle holiday treat.
4. Sierra Nevada Celebration Ale
Style:
IPA
Christmas comes early here at the brewery! Big bottles of Celebration are so damn festive!
Pardon Sierra Nevada for tweeting its own horn, but when you make a holiday brew as highly anticipated as its Celebration is each year it's worth taunting the fanboys with big corked bottles of it.
From the poinsettia-laden label and its snowy winter cabin scene to a slightly caramel malt flavor hidden beneath a holiday-sized helping of Chinook, Cascade and Centennial, Celebration is a seasonal brew devoid of subtlety. Hopheads have been all over 22-ounce helpings of Sierra Nevada's holiday brew since the first batch came out of Chico, Calif., in 1981 mostly because of its big, hoppy bitterness that other holiday beers lack.
Those hops not only pop holiday beer drinkers right in the nostrils before they take a sip, but it's 6.8% ABV packs the punch on every regular IPA drinker's holiday wish list. Let your eggnog-swilling relations lap up all the cinnamon, nutmeg and sugar in sweeter holiday beers: Celebration drinkers can have a wreathload of hops to themselves this season.
3. Anchor Christmas Ale 2011
Style:
Winter warmer
Lots of breweries have a holiday recipe or passable winter warmer, but few have the nearly 40 years of tradition behind them that Anchor's Our Special Ale brings to the holiday table.
Like a beer version of the Hess truck, Christmas Ale's recipe has varied each year since 1975. The formula is kept under wraps by Anchor's brewers in San Francisco, but we can tell you that the brew available from now through mid-January has hints of pine in the aroma and cinnamon, gingerbread, caramel and chocolate in its flavor. We won't ruin the surprise, but it's definitely more Christmas than ale, which isn't such a bad thing around this time of year.
2. Samuel Adams Old Fezziwig Ale
Style:
Winter warmer
When you spend each year stocking your holiday party's beer fridge with variety packs, it becomes immediately apparent which beers disappear before the bowls of red-and-green M&Ms need refilling and which will be taking up fridge space until St. Patrick's Day.
Old Fezziwig has become just as popular as the jovial, party-loving boss from Charles Dickens'
A Christmas Carol
since being introduced in 1995. It wasn't Samuel Adams' first holiday seasonal, as the much-debated Cranberry Lambic preceded it in 1990, but its delicate balance of mild, malty chocolate, caramel and toffee notes, fiery ginger and cinnamon spices and just a bit of orange peel tang has held its spot in the company's winter variety pack -- the only place it can be found.
"We're in New England, we have real winters here and we wanted to create a rich, malty beer and balance it with some spices that have a little bit of heat to them like ginger and cinnamon," says Boston Beer's Jim Koch. "Our kind-of inspiration was a Christmas cookie, which has a lot of things in it and you can taste everything."
Where the cranberries in the Cranberry Lambic can be a bit overwhelming, for better or worse, Old Fezziwig uses its malty base to bring all its elements to the fore while keeping its stronger spices at bay. The lambic has since been booted from Boston Beer's holiday 12-pack, but Old Fezziwig has laid a sweet, malty base for smooth-drinking boxmates Holiday Porter, Chocolate Bock, Winter Lager and the newest addition, Black & Brew Coffee Stout.
Though Fezziwig is subtle enough to win over holiday beer scrooges and just benign enough at 5.8% ABV to warrant more than one during a party or meal, Koch admits that it can be as tough to stomach after January as the Christmas cookie it's modeled after. Though it could once be found in 22-ounce bottles and six packs, Fezziwig production was pulled back when its holiday leftovers looked as out of place on shelves in January and February as a Tickle-Me-Elmo in a 34-year-old's bedroom.
"The basic reason -- and it's not that we can't get enough of the ginger or cinnamon or anything -- is that freshness is a big deal for us and this is a beer that has a season. Beer at its foundation is a performance art that exists in the moment of its creation and that's it, and Fezziwig is very much in that situation of being perfect for a certain time."
1. Troegs Mad Elf
Style:
Belgian dark strong
How does the best holiday gift stand out from the rest? By being the boldest, most colorful and most cheerful item under the tree.
Every year, without fail, Mad Elf is just that gift. Its swirly cartoon-elf label hides a ruby red brew that sits like a holiday wine and sparkles like Rudolph's nose when poured.
Its flavor, however, doesn't pander to holiday convention and combines the best elements of Belgian and German styles to do Pennsylvania's traditional and craft-brewing communities proud. The Saaz and Hallerstrau hops are bold without delivering an IPA-style bite while the pilsner, munich and chocolate malts provide the smoothness of a stout or dark bock.
The core of its sweet, strong taste comes from a mix of honey and cherries that coats the tastebuds like holiday candy but stops just short of being syrupy. At 11% ABV, Mad Elf has Santa-sized kick, but slow sips of it at the holiday table or on a wrapping-paper-strewn sofa are like drinking from the North Pole's municipal water system. It's the closest the brewing world gets to bottling holiday spirit.
-- Written by Jason Notte in Boston.
>To contact the writer of this article, click here:
Jason Notte
.
>To follow the writer on Twitter, go to
.
>To submit a news tip, send an email to:
.
RELATED STORIES:
>>Craft Brew Founder Widmer Savors Results
>>Why Joe Six Pack Pays 11 A Beer Bottle
>>How Home Brewing Beer Beats Buying
Follow TheStreet.com on
and become a fan on
Jason Notte is a reporter for TheStreet. His writing has appeared in The New York Times, The Huffington Post, Esquire.com, Time Out New York, the Boston Herald, the Boston Phoenix, the Metro newspaper and the Colorado Springs Independent. He previously served as the political and global affairs editor for Metro U.S., layout editor for Boston Now, assistant news editor for the Herald News of West Paterson, N.J., editor of Go Out! Magazine in Hoboken, N.J., and copy editor and lifestyle editor at the Jersey Journal in Jersey City, N.J.