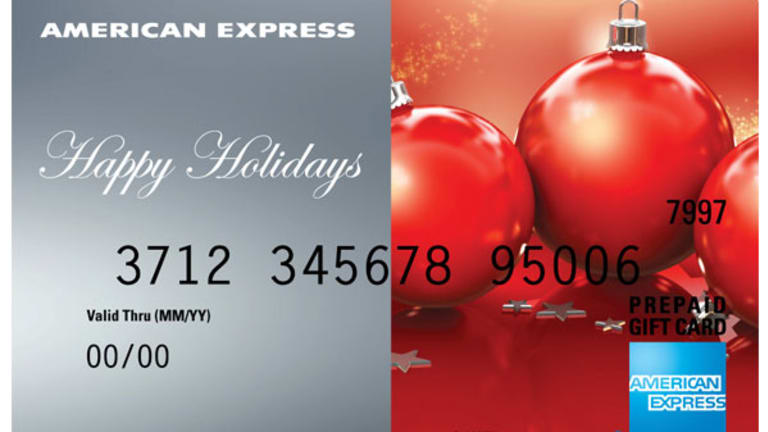 10 Best Gift Cards For Holiday Shopping
Cards may be uncreative gifts, but better to prove good things come in small packages than that it's the thought that counts.
PORTLAND, Ore. (TheStreet) -- A gift card isn't a cop-out, it's a growing holiday tradition.
According to the National Retail Federation's annual holiday survey conducted by BIGresearch, holiday shoppers planned to spend $28.8 billion on gift cards last year alone. That's an average of $156.86 per shopper, the highest amount in the past decade and up from $155.43 in 2011.
Roughly 81% of all holiday shoppers bought gift cards last year, compared with less than 80% in 2011, and they were planning to spend more with each purchase. The average gift card was worth $43.75, a slight increase from $43.23 the year before.
About 45% who planned to buy gift cards went with the explanation that the cards allow the recipient to choose exactly what he or she wants. That secures just a bit more moral high ground than the nearly 21% choosing gift cards because they were more convenient.
Still, there are a whole lot of holiday shoppers who have their pick of reasons not to buy up some pseudo cash. About 9% say they'd rather buy an item on sale than a gift card with a fixed price, while 16% say they're leery of suddenly subjecting their gift to fees and expiration dates that wouldn't exist if they just doled out cash. A full 24% of those of shoppers just find them impersonal no matter how many uses they have or what they're being bundled with.
Besides, the card is only as good as the retailer or restaurant issuing it. Gift card monitoring site
assigns zero-to-100 scores to gift cards from retailers throughout the U.S. and does a great job of shaking out the duds.
With their help, we came up with 10 gift cards that separate a thoughtful gift from a last-minute nightmare:
Also see: 3 Steps to Mastering Holiday Gift Delivery>>
American Express Gift Card
(AXP) - Get American Express Company Report
American Express
still charges a $4 purchase fee for the privilege of buying its gift cards, but that fee upfront spares users more fees down the road and opens up a ton of options for undecided shoppers.
American Express dropped the expiration dates and monthly fees on its gift cards and allows users to replace lost, stolen or damaged cards for free and get full refunds for unused cards. It's like handing someone $25 to $3,000 at once -- or as much as $5,000 on two cards -- and sending them on a shopping spree anywhere in the U.S., Puerto Rico and the U.S. Virgin Islands that takes American Express (except cruise lines, casinos and ATMs).
Not being able to redeem them outside the United States means no mulled wine from Europe or high-end fleece purchases in the Himalayas. Holiday shoppers in Hawaii and Vermont are out of luck as well, as American Express doesn't deliver gift cards to either state and won't allow potential e-card buyers in those places to make those purchases. The worst part, however, is that you can't get it online without incurring a $9 fee. That's for a card you can't use online if it isn't registered from a company that doesn't even have a website to let you register it. It's annoying when you're basically just trying to give someone money.
GiftCardMall.com Visa
(V) - Get Visa Inc. Class A Report
Like the American Express card, this is just another more subtle way of handing someone cash.
Unlike cash, though, this Visa costs buyers $3.95 just for the purchase and another $1.99 for delivery. That's not great but, also unlike cash, if it gets lost or stolen GiftCardMall.com can ship a new one complete with the remaining funds.
With that peace of mind, the card can be used at any store or online outlet that accepts Visa. It has no further fees, no expiration date and basically no restrictions on how to spend the $20 to $500 on it.
Whole Foods Market Gift Card
(WFM)
Call it "Whole Paycheck" if you want, but a gift card goes a long way with its generic 365 Brand organic food, and its card is far better than any other grocer is offering.
Scoring 97 out of 100, Whole Foods Market's gift offering is easily ScripSmart's highest-rated grocery card. It never expires, has no fees, spells out a replacement policy and is available either in the store or online with free shipping. It's reloadable and redeemable at all Whole Foods locations and Whole Foods subsidiaries..
If you're that concerned about expense, though, just consider the card a subsidy. It can buy a lot of Annie's Mac and Cheese, but we're guessing it'll be more fun if spent on take-and-bake pizzas and party platters from the meat-and-cheese section.
Also see: 5 Holiday Shopping Apps You May As Well Download Now>>
Costco
(COST) - Get Costco Wholesale Corporation Report
It's just genius on Costco's part to offer this every holiday season. Now, maybe folks won't be terribly excited by the ability to buy all their paper products for the year at once, but they'll never know unless they try.
Costco's Cash Card gives folks $25 to $1,000 to spend on big boxes of cereal in the warehouse, electronics in the online store or unleaded at its gas stations. Perhaps the Cash Card's best feature is that it lets folks shop at any Costco location without being a member. In Costco's eyes it's a trial membership that gets new folks into the stores, but for non-members its a great way to get bargains without forking over a $50 to $100 membership fee.
Amazon
(AMZN) - Get Amazon.com, Inc. Report
It's a catch-all, but that's what makes it kind of perfect. A $5 to $5,000 plastic or e-card version of this card is good for just about everything on the site -- which is basically like handing over the keys to Santa's workshop.
Want streaming video and two-day shipping for a year? Just throw them $79 for Amazon Prime. Want to fill a library on the cheap while not putting a single book on the shelf? Hit the Kindle store and go to town. Want to just kick back and watch movies or listen to music? Rent some of Amazon's on-demand videos or download some songs.
Toys, furniture, home and garden supplies ... it's all at their disposal. If they're cool with setting up an account first, the folks on your list won't know where to start with this walk through the marketplaces.
The Gap
This is routinely one of the most versatile gift cards on the market, mostly because of all the places it can be redeemed.

Can't decide between a Gap, Old Navy, Banana Republic, Piperlime or Athleta card? It doesn't matter. Any of those cards can be used at all the stores in the Gap family. That helps when a troublesome gift recipient grows out of Old Navy and into Banana Republic.
Whether you're buying cheap jeans or work-appropriate silk shirts, the $10 to $500 gift card for each store has the same policy. The card never expires, has no fees, ships for free if ordered online and can be used in stores or on the various brands' websites.
Also, if there's less than $5 on the card, for example, the user has the option to either reload or get cash back. If that same user decides to shun the Gap brands altogether, Gap will give him or her a check for the value of the unused card.
Home Depot
(HD) - Get Home Depot, Inc. Report
Household calamity happens. This isn't a terribly fun card, but it's a lifesaver for a first-time homeowners who's had a pipe burst or had a storm leave most of their shingles scattered across the neighborhood.
Home Depot's $10 to $500 gift card has some very important features its competitors don't: the ability to use it both in store and online, combine multiple cards into one, send it as an e-card and customize it with various background images or your own image. The picture portion seems trite, but a photo of that tissue you held up to your relative's bathroom fan that couldn't ventilate the room if it was on an open-air porch could be a great hint to get it fixed.
Bass Pro Shops
It's not much good to you if you can't clean a trout, but with a 99 ScripSmart rating and lots of customer-friendly features, the Bass Pro Shops gift card and e-gift card are an outdoor sports enthusiast's dream.
The cards never expire and have no hidden fees. Campers, hunters and fishers also get a written gift card replacement policy and free shipping. If a recipient gets multiple cards, they can be merged into one and used for purchases in-store, online and over the phone.
Also, because it helps to have a full stomach when you're on the river or lake all day, Bass Pro Shops Gift Cards may be redeemed at the company's Hemingway's Blue Water Cafe, Big Cedar Lodge, Top of the Rock restaurant and Islamorada Fish Co. restaurants and at
Starbucks
(SBUX) - Get Starbucks Corporation Report
outlets within the stores.
Marriott
(MAR) - Get Marriott International, Inc. Class A Report
Again, a gift card should occasionally get the recipient something they want rather than need.
In this case, the lucky person on your list can get a night away from it all anywhere in the world. They also can get it replaced if it gets lost, stolen or damaged, and can check their balance either by phone or online.
Meanwhile, the recipient gets it shipped to them for free, gets $25 to $2,000 for their stay and can redeem it at all Marriott-branded hotels and resorts including Courtyard, Fairfield Inn, Renaissance, Ritz-Carlton, Bulgari and Autograph. Yes, it's good for international use as well, so dream big.
Nordstrom
It's not exactly a discount store, but that's all the better reason to throw a $25 to $1,000 someone's way.
For your trouble, you'll get the card shipped to you or its recipient free of charge. The person you're giving it to, however, will get to use it at any Nordstrom or Nordstrom Rack shop or at Nordstrom's online store. They'll also be able to use it any time they want, as it never expires.
-- Written by Jason Notte in Portland, Ore.
>To contact the writer of this article, click here:
Jason Notte
.
>To follow the writer on Twitter, go to
.
>To submit a news tip, send an email to:
.
RELATED STORIES:
>>How Seasonal Beer Could Boost Holiday Shopping
>>5 Holiday Shopping Apps You May As Well Download Now
>>5 Ways It's Already Black Friday
Jason Notte is a reporter for TheStreet. His writing has appeared in The New York Times, The Huffington Post, Esquire.com, Time Out New York, the Boston Herald, the Boston Phoenix, the Metro newspaper and the Colorado Springs Independent. He previously served as the political and global affairs editor for Metro U.S., layout editor for Boston Now, assistant news editor for the Herald News of West Paterson, N.J., editor of Go Out! Magazine in Hoboken, N.J., and copy editor and lifestyle editor at the Jersey Journal in Jersey City, N.J.