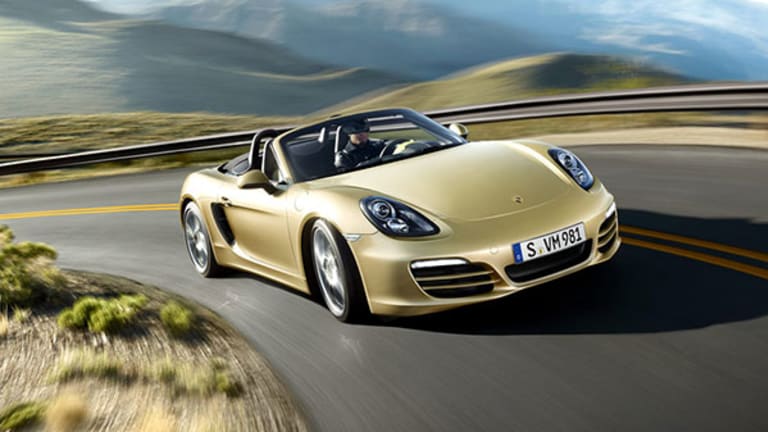 10 Best Convertibles for Summer 2014
Convertibles aren't strictly luxury vehicles, but that hasn't stopped luxury automakers from staking out a huge segment of their market.
PORTLAND, Ore. (TheStreet) -- The warm weather's here, so why are you all cooped up in your car?
Rolling down the windows is a commuter move and the sun/moonroof doesn't do anything other than bake you in an already sweltering vehicle. The convertible is frivolous, expensive, inefficient and rare, but it's not always as ill-advised as it's made out to be.
The folks at TrueCar took a look at convertible buying habits and found that folks in California, Florida, Texas, New York and New Jersey are almost always gearing up to take their cars' tops down. Those are the states that tend to invest in convertibles most, while Alaska, Wyoming, North Dakota, Montana and Idaho don't feel it's particularly necessary to own a car that can't keep the breeze or rain out for long stretches at a time.
If you're in a region with long stretches of warm, sunny weather that justify its premium price and relative inefficiency of a convertible, it's not such a splurge. It also helps to have an address in one of the nation's richer states if you're considering ditching the day-to-day hardtop.
Still, for car buyers 35 to 54 years old and nearly 40% of the female car-buying public, the convertible is the way to go during the warm months. With help from the folks at TrueCar and Kelley Blue Book, we put together a list of the Top 10 convertibles on the market for those willing to feel the wind in their faces. It's not for everybody, but convertibles aren't built to be:
10. Lexus IS C
Starting price: $42,860
The leather interior, wood trim, Bluetooth, heated and ventilated seats and Enform entertainment, navigation and emergency assistance system are all nice perks. It's the sporty suspension, steering and wheel-mounted paddle shifters that make this luxury horse feel a whole lot heftier than its 204 horsepower imply.
A somewhat light luxury option for a convertible, the IS C has a three-piece hardtop that folds down in 20 seconds, optimized climate control that keeps things cool whether the top is up or down and hands-free audio, navigation, phone and even air conditioning and heat. You can boost it up to a 306-horsepower V6 with the sport package if you'd like, but the 7-inch multimedia display, backup camera and 12-speaker sound system are available no matte what's under the hood.

9. Mini Cooper
Starting price: $25,700
Small cars were once underpowered, cramped and inherently bad vehicles fit only for game show giveaways. As films such as 2002's Austin Powers: Goldmember and 2003's The Italian Job showed U.S. audiences, however, a modernized take on the classic British Mini could not only be fuel-efficient, but fun and fast at the same time.
You could swap out colors, arrange the interior, trick it out with gauges and accessories and use its wide wheel base to hug turns while putting its impressive speed to the test. In the decade after its return to the U.S. market, the Mini sold 2.5 million vehicles and became a cult favorite while the big gas guzzlers faded. Now Ford, General Motors, Toyota, Honda and several other automakers each have sporty, options-packed subcompacts. Meanwhile, the U.S. market became so open to subcompacts that the Fiat 500 that was banished a generation ago has made a comeback. For a marque called Mini, it's had a major impact.
Also see: 10 Most Union-Made Cars Of 2014
Also see: 10 Most Union-Made Cars Of 2014>>
The Mini convertible comes loaded with its Mini Connected entertainment center featuring a 6.5-inch high-definition display, Apple-designed Bluetooth interface and app for smartphone and iTunes connectivity and optional GPS. While's it's also hooked up with Sirius XM satellite radio, Pandora and HD radio, the most indulgent item built into the dash is an Openometer whose sole purpose is to count the number of minutes or hours your convertible top is down during your trip.

8. Fiat 500C
Starting price: $19,945
As much as its American cousins at Dodge like to promote the bigger, brawnier Charger and Challenger, Fiat doesn't mind making them feel as if they're overcompensating by giving drivers just as much fun in a smaller package. The cinquecento measures a scant 140 inches long and 64 inches wide, gives parallel parkers a 30.6-inch turning radius for squeezing into tight spots and finds room for 10 cubic feet of trunk space -- nearly double that of the Mini.
The retractable, pool-cover-style sunroof, power outlets, five cupholders, cruise control, power windows and 40 miles-per-gallon highway mileage -- not to mention 31 mpg in the city -- are a whole lot cooler to the post-bailout buyer base than gas-guzzling reincarnations of Dodge muscle cars.

7. Nissan 370Z Roadster
Starting price: $41,470
The "Z" doesn'trepresent anything other than the "zoom" this car is capable of on the open road.
The top features Nissan wants to make sure you know about once you get beyond that droptop are its 3.7-liter V6 engine and its 332 horsepower. Don't sweat the scant standard features such as xenon headlights, intelligent key, LED lighting and pushbutton starter. Upgrades including Bluetooth, a Bose sound system and an entertainment/information system are all available.
But you could get those in a far cheaper convertible. No, if you're even considering this particular convertible, you're doing so for its convenience and performance. Worry about accessories later: You've got speed now.

6. Ford Mustang
Starting price: $27,510
Back in 2005, when the Mustang was redesigned with a retro-futurist look that was basically an update of the first generation's classic aesthetic, fans responded instantly. Sales jumped from fewer than 130,000 in 2004 to more than 160,000 in 2005 and 166,500 in 2006. It gave the Mustang line a huge boost just before the Great Recession and prompted Chevy and Dodge to make similar retro tweaks to their Camaro, Charger and Challenger.
Ford's softened up that style a bit and is getting ready for a 2015 overhaul that makes the Mustang look more like a jacked up Ford Fusion than anything else. Still, the Mustang is a brawny little pony that lends itself well to a convertible configuration.
Also see: 10 Family Cars You'll Still Look Cool In
Also see: 10 Family Cars You'll Still Look Cool In>>
Yes, that's 305 horsepower pumping out of that base-level V6, which makes features such as leather racing seats, leather steering wheels covers and high-powered gas headlights not at all ridiculous. But that 29 miles per gallon on the highway, six-speaker sound system and 4.2-inch touchscreen entertainment and navigation display give it all great features of a practical midsize without ditching any of the muscle.

5. Chevrolet Camaro
Starting price: $31,055
Let the gearheads fight over whether the Camaro or Mustang provide more power for the money. Among these two convertibles, the Camaro gets the upper hand with a 323 horsepower, 3.6-liter V6 engine that still gets 28 miles per gallon on the highway. It also comes with fog lamps, a rear spoiler and a top that drops in 20 seconds.
A color heads-up information display on the windshield, the MyLink app center with 7-inch color touchscreen and Pandora, a rear-vision camera and Apple Siri Eyes Free that lets iPhone users send text messages through voice commands are just some of the perks behind the muscle. With apps for roadside assistance and diagnostics, available navigation and a remote starter, the Camaro's a whole lot more than just looks and a motor.

4. BMW 6 Series
Starting price: $83,200
Bye, bye, ponies. These luxury convertibles are well-bred dressage horses compared with your little beach cruisers.
With 315 horsepower and 30 miles to the gallon on the highway, the base 640i has all the power of the aforementioned convertibles, but with a few extras such as an app-driven touchpad entertainment and information system, a Bang & Olufsen Surround Sound system with HD and satellite radio, full-color heads-up display, parking assist, an emergency telematics system, adaptive LED headlights and night vision via an infrared camera built into the front of the vehicle.
You can kick it up to an all-wheel-drive model for $6,000, make the jump to the 4.4-L V8 engine with 446 horsepower of the 650i for $10,000 or bulk that one up with AWD for $14,000. If you're getting into six figures anyway, you may as well go with the 560-horsepower M model. That starts at $117,800.

3. Porsche Boxster
Starting price: $51,400
Yes, you see a lot more of Porsche's Cayenne SUVs out picking up the kids from Waldorf and Montessori schools and dropping them off at lacrosse practice and riding lessons, but this is the Porsche you want once they're out of the house and off to the boarding school/university/youth hostel of choice.
The iconic body, the 2.7-liter engine, the 276 horsepower, the wind in your hair, the change in your pocket from not buying the 911. It's just a dream, isn't it? Every local Interstate is the Autobahn, every speed limit sign daring you to floor it to 160 mph. The touchscreen Bose audio system cranking the hits of your youth, the six-disc CD changer and cordless phone handset representing that '90s technology you loved so well.
Don't pay those graying temples any mind, and stop fretting about your diminishing squash game and earlier bedtimes for now. You're living the dream, so just feel that breeze and let it take you on to the next great adventure. There are still a few good years between you and the end of your reluctance to wear socks with sandals: Make them count.

2. Mazda MX5 Miata
Starting price: $23,720
What does a Miata owner have that a Porsche Boxster owner doesn't? Almost $30,000 extra dollars, a more reliable automobile and, maybe, just a little more self confidence.
OK, so the engine is is a little pokier at 167-horsepower from a 2-liter, 4-cylinder -- no matter which trim you pay for. That said, the two cars have similar acceleration (zero to 60 in 6.5 seconds for the Porsche, seven seconds for the Miata), similar ratings from Consumer Reports (90 for Porsche, 89 for Mazda) and similar customer satisfaction. The Miata's available hardtop that kicks the starting price up above $27,000 only closes the gap further.
What the Porsche does have that the Miata doesn't is engine, cooling, electrical system, power equipment and significant brake problems that add up to a lot of future costs over the life of the car. Boxter owners pay twice as much for that privilege, but at least they're getting a bit more trunk space out of the deal.

1. Audi S5
Starting price: $60,400
Audi has no problem roping you in with a 3-liter, 333-horsepower engine. It's the narcissism that routinely gets buyers to stay.
Audi has so much swagger that its lists Audi S5 Exterior Appearance as one of the key features of its vehicle. Seriously, the ability to look at the S5 is considered one of its finer traits. Not the xenon headlights that scorch the retinas of all oncoming drivers. Not the super bright LED daytime headlights that do the same to drivers who thought they could get away with looking at an S5 in the daylight for free. Not the 10-speaker stereo system, not the keyless entry and starter, not the folding hardtop or the heated seats and leather seats and armrests.
Fog lamps, decorative inlay, LED turn signals: You can get those just about anywhere. This is a German luxury car that doesn't look as if it was stolen out of the parking lot of somebody's grandfather's law firm. It's not what confused account executives see when they get out to the club parking lot after a strenuous day of laps and chicken sandwiches and wonder which one is theirs. You know it's yours because you spend minutes before your commute just looking at it. You could ride down the highway with it and let your hair blow back, but that only lets all the plebes get an eyeful. This is your prize. Covet it appropriately.
-- Written by Jason Notte in Portland, Ore.
>To contact the writer of this article, click here: Jason Notte.
>To follow the writer on Twitter, go to http://twitter.com/notteham.
>To submit a news tip, send an email to: tips@thestreet.com.
RELATED STORIES:
>>10 Best 40-MPG-Or-Better Cars of 2013
>>5 Vehicles You Want To Drive In A Rainstorm
>>Top 10 Cities For Car Sharing
Jason Notte is a reporter for TheStreet. His writing has appeared in The New York Times, The Huffington Post, Esquire.com, Time Out New York, the Boston Herald, the Boston Phoenix, the Metro newspaper and the Colorado Springs Independent. He previously served as the political and global affairs editor for Metro U.S., layout editor for Boston Now, assistant news editor for the Herald News of West Paterson, N.J., editor of Go Out! Magazine in Hoboken, N.J., and copy editor and lifestyle editor at the Jersey Journal in Jersey City, N.J.