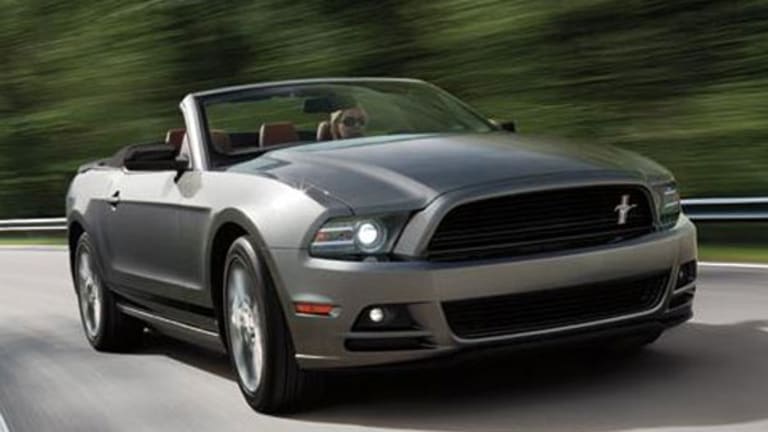 10 Best Convertibles for Summer 2013
It may be all about the view and the wind in your face, but these cars offer stylish and sometimes cheap ways to get it.
PORTLAND, Ore. (TheStreet) -- Blizzards and bitter could may not be distant memories as of yet, but those long stretches of blue sky and slight uptick in temperatures should be enough to make drivers consider unsealing themselves from their winter cocoons.
Spring is here, summer is on the way, sunroofs are sliding back and windows are descending below elbow level. Considering last year's record-high temperatures, should this be the year you spring for a convertible?
The folks at
TrueCar
took a look at convertible buying habits and found that folks in California, Florida, Texas, New York and New Jersey are already gearing up to take their cars' tops down. Those are the states that tend to invest in convertibles most, while Alaska, Wyoming, North Dakota, Montana and Idaho don't feel it's particularly necessary to own a car that can't keep the breeze or rain out for long stretches at a time.
Still, for car buyers 35 to 54 years old and nearly 40% of the female car-buying public, the convertible is the way to go this time of year. With help from TrueCar, we put together a list of the Top 10 convertibles on the market for those willing to feel the wind in their faces. These cars aren't for everyone, but if you don't mind mussed hair, exposure to the elements or the occasional swallowed bug, these may be your rides of choice:
10. 2013 Lexus IS C
Starting price:
$42,610
The leather interior, wood trim, Bluetooth, heated and ventilated seats and Enform entertainment, navigation and emergency assistance system are all nice perks. It's the sporty suspension, steering and wheel-mounted paddle shifters that make this luxury horse feel a whole lot heftier than its 204 horsepower imply.
9. 2013 Mini Cooper
Starting price:
$23,900
The Mini convertible comes loaded with its Mini Connected entertainment center featuring a 6.5-inch high-definition display,
Apple
(AAPL) - Get Free Report
-designed Bluetooth interface and app for smartphone and iTunes connectivity and optional GPS. While's it's also hooked up with
Sirius XM
(SIRI) - Get Free Report
satellite radio,
Pandora
(P)
and HD radio, the most indulgent item built into the dash is an Openometer whose sole purpose is to count the number of minutes or hours your convertible top is down during your trip.
8. 2013 Fiat 500C
Starting price:
$16,000
As much as its American cousins at
Dodge
like to promote the bigger, brawnier Charger and Challenger, Fiat doesn't mind making them feel as if they're overcompensating by giving drivers just as much fun in a smaller package. The
cinquecento
measures a scant 140 inches long and 64 inches wide, gives parallel parkers a 30.6-inch turning radius for squeezing into tight spots and finds room for 10 cubic feet of trunk space -- nearly double that of the Mini. The retractable, pool-cover-style sunroof, power outlets, five cupholders, cruise control, power windows and 40 miles-per-gallon highway mileage are a whole lot cooler to the post-bailout buyer base than gas-guzzling reincarnations of Dodge muscle cars.
7. 2013 Mazda MX5 Miata
Starting price:
$23,720
You don't go shopping for a
Porsche
Boxter and come home with a Miata, but the Porsche's label is about about all that's separating these two vehicles. The two cars have similar acceleration (zero to 60 in 6.5 seconds for the Porsche, seven seconds for the Miata), similar ratings from
Consumer Reports
(90 for Porsche, 89 for Mazda) and similar customer satisfaction. The Miata's available hardtop that kicks the starting price up above $27,000 only closes the gap further. What the Porsche does have that the Miata doesn't is engine, cooling, electrical system, power equipment and significant brake problems that add up to a lot of future costs over the life of the car. Boxter owners pay twice as much for that privilege, but at least they're getting a bit more trunk space out of the deal.
6. 2013 Mercedes-Benz E-Class Cabriolet
Starting price:
$59,070
Mercedes' four-seater comes as either a V6 engine-powered E350 or V8-driven E550, has a standard-issue leather-and-wood interior and multi-area climate control. When the soft top's away, passengers are protected by a wind-deflecting spoiler above the windshield, a wind screen and draft stop between the rear seats, and an Airscarf ventilation system that blows heat directly onto passengers' necks. Throw in the Comand entertainment, navigation and communication system and you have a top-down luxury like few others on this list.

5. 2013 Volkswagen Eos
Starting price:
$34,350
Volkswagen just loves pouring standard features into cars across its various lines, which is why the Eos is treated like an
Audi
when it comes to perks. The Eos comes with front and rear LED lights standard, with retina-searing xenon headlights thrown in for good measure. Inside, the Eos gives away leather seats, dual climate control, heated seats, touchscreen sound system, satellite and HD Radio and Bluetooth connectivity, all with the price of admission. It doesn't skimp under the hood, either. The same 2.0-liter, 200-horsepower engine is available in all models and gives this drop-top a whole lot of punch for a plaything. Unfortunately, the Eos doesn't leave room for much else. The nine-cubic-foot trunk is already down to Fiat proportions, but drop the standard folding hardtop with sunroof and your trunk space shrinks to five cubic feet. Pack light.
4. BMW 328i
Starting price:
$47,600
The standard retractable hard top with included rear defroster is nice, but the xenon headlights, fog lights, heated mirrors, heated windshield washer jets, chrome exhaust, power front seats, walnut trim, automatic climate control and stability control are what BMW customers have come to expect from their convertibles. The zippy little 230-horsepower V6 engine and ton of tech features with multiple audio options don't hurt, though.
3. 2014 Ford Mustang
Starting price:
$27,200
Yes, that's 305 horsepower pumping out of that base-level V6, which makes features such as leather racing seats, leather steering wheels covers and high-powered gas headlights not at all ridiculous. However, that 31 miles per gallon on the highway, six-speaker sound system and 4.2-inch touchscreen entertainment and navigation display give it all great features of a practical midsize without ditching any of the muscle.
2. 2013 Chrysler 200 Touring
Starting price:
$27,100
There was a time a working-class U.S. driver could buy a convertible without being shoved into a compact box, putting on a pair of racing gloves or taking out a mortgage to pay for some luxury marque's hood ornament. The Chrysler 200 is the last link to that distant past. While not as cheaply made or noisy as the Sebring convertible that preceded it, the 200's V6 gives buyers a combined 25 miles per gallon while delivering more than 280 horsepower. The interior, meanwhile, offers a ton of legroom, LED lighting throughout and a touchscreen communication and entertainment console that buyers won't have to upgrade to a luxury package to enjoy.
1. 2013 Chevrolet Camaro
Starting price:
$30,660
Let the gearheads fight over whether the Camaro or Mustang provide more power for the money. Among these two convertibles, the Camaro gets the upper hand with a 326 horsepower, 3.6-liter V6 engine that still gets 28 miles per gallon on the highway. It also comes with fog lamps, a rear spoiler and a top that drops in 20 seconds.
-- Written by Jason Notte in Portland, Ore.
>To contact the writer of this article, click here:
Jason Notte
.
>To follow the writer on Twitter, go to
.
>To submit a news tip, send an email to:
.
RELATED STORIES:
>>10 Best 40-MPG-Or-Better Cars of 2013
>>5 Vehicles You Want To Drive In A Rainstorm
>>Top 10 Cities For Car Sharing
Jason Notte is a reporter for TheStreet. His writing has appeared in The New York Times, The Huffington Post, Esquire.com, Time Out New York, the Boston Herald, the Boston Phoenix, the Metro newspaper and the Colorado Springs Independent. He previously served as the political and global affairs editor for Metro U.S., layout editor for Boston Now, assistant news editor for the Herald News of West Paterson, N.J., editor of Go Out! Magazine in Hoboken, N.J., and copy editor and lifestyle editor at the Jersey Journal in Jersey City, N.J.