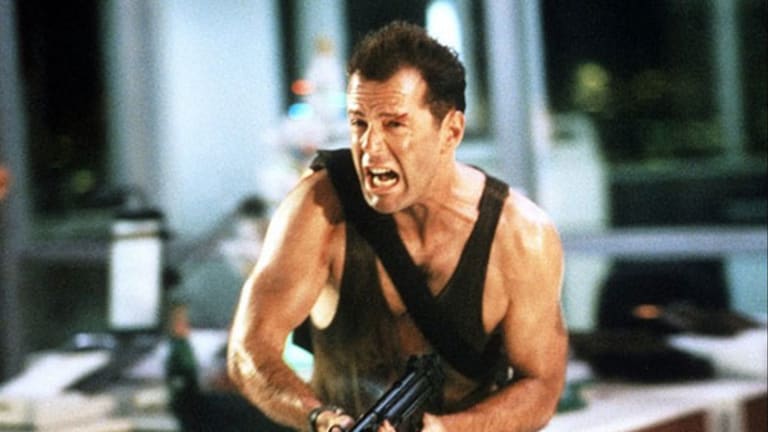 Publish date:
10 Best Christmas Movies That Aren't About Christmas
Can slapstick violence, formulaic romantic comedy, super-hero action and big-budget explosions put you in the holiday spirit? Yipee-ki-yay, everyone.
Can slapstick violence, formulaic romantic comedy, super-hero action and big-budget explosions put you in the holiday spirit? Yipee-ki-yay, everyone.
PORTLAND, Ore. (TheStreet) -- Christmas has some star power to it when it's the big draw behind a holiday movie, but sometimes it takes only a Christmas cameo to make a seasonal film favorite.
We've gone into some depth about the merits of the top-grossing Christmas movies of all time, but even classics including Miracle on 34th Street and It's A Wonderful Life start to lack freshness and narrow the audience a bit. By using a Christmas setting to touch on broader, more universal themes, holiday films can be just as beloved as seasonal standards, but far more lucrative.
The folks at BoxOfficeMojo note that the average $41 million brought in by Christmas-specific films is eclipsed by the $67 million that movies only set at Christmas yield in average box-office receipts. Change the criteria to wide releases and the disparity changes from $55.5 million per Christmas film to $78.4 million per Christmas-adjacent movie.
So what qualifies in the not-quite Chrismas category? Think of the Mel Gibson/Danny Glover 1987 buddy cop flick Lethal Weapon, which ranks No. 11 on BoxOfficeMojo's Christmas-set list after taking in $65 million in the U.S. during its original run. For a film that ends with Mel Gibson and Gary Busey fighting on a lawn lit by Christmas lights and acting about as uncorked as the average moviegoer believes them to be, this film ended up being a holiday gem and set a pattern for writer Shane Black -- who also set his trigger-happy films The Last Boy Scout, Kiss Kiss Bang Bang and The Long Kiss Goodnightaround Christmas.
Sometimes, it comes in the form of a film that does just about everything but tell some sort of holiday parable. The 2005 film The Family Stone (No. 12 with a $60 million take) goes into the perils of reuniting a family under the same roof for the holiday, the strain that places on personal relationships and the varying levels of importance placed on decorations and gifts when the person central to all of it is getting ready to die, but still is more of an interpersonal drama than it is a "Christmas movie."
Then there's Love Actually: The 2003 ensemble comedy that tries its hardest to tap into the meaning of love, but does so in the most secular series of Christmas stories put to screen. That made only $59.7 million here in the U.S., but took in another $187 million abroad, gained a cult following and remains a topic of heated debate around this time of year. The Atlantic, ThinkProgress and The Guardian have all committed considerable space to it merits and shortcomings this year -- which says a whole lot about this film's position in pop culture a full decade after its release.
Unlike the Top 10 highest-grossing holiday films of all time, the initial box office tend to have more effect on these films' staying power. The world knows It's A Wonderful Life only because it was a moviehouse failure that didn't even cover its production costs. The $3.2 million it made during its original release in 1946 would be roughly $38 million today -- making it less successful than 2011's Arthur Christmas and its $46 million take -- and briefly relegated its images to the public domain. That allowed local TV affiliates to air it with only minimal royalty fees in the late '70s and early '80s, making it nearly ubiquitous for impressionable Generation X kids.
A Christmas Story, meanwhile, made only $20.6 million when it was released in 1983 and never played in more than 950 theaters. That's $48 million in current dollars and firmly in Arthur Christmas territory, but that kept the price of the rights just low enough for Turner Broadcasting, Time Warner and their various networks to use A Christmas Story as cheap, inoffensive holiday filler and give a whole bunch of their staff the holiday off as it aired on repeat. TBS and TNT have been airing 24-hour marathons of the film since 1997, and the ratings for its Christmas Eve and Christmas morning showings just keep rising.
10. The Family Man
Released: 2000
Box office gross: $75.8 million
OK, so we really aren't sure why this only gets the "Christmas setting" treatment when it's basically director Brett Ratner's mix of It's A Wonderful Life and A Christmas Carol.
Nic Cage's wealthy Wall Street executive gets mugged by this film's form of Wonderful Life's Clarence the Angel (played by Don Cheadle) and shown what life would have been like if he didn't learn finance in London and, instead, shacked up with Tea Leoni, had some kids and settled down in Jersey. We'll give our finance folks a second to finish off their Old Fashioneds at the company office party and figure out which life Cage's character decided was better.
Though we understand the greater point this film is trying to make about balancing success in one's professional endeavors with a deep, fulfilling personal life, the NY Waterway ferries, PATH trains and NJTransit rails are filled with folks from Wall Street and other financial centers along the Hudson who manage to do both. The Brothers Grimm story everyone still tells about modern finance is that everyone with an office is a slicked-back Gordon Gekko with a penthouse uptown and a pied-a-terre in a far-off city accessible only by private jet.
That's nowhere near true, and the film's ending alludes to that fact. Recalibrating your personal priorities to that of a human being rather than that of an ATM is one thing. Painting the world in broad, cartoon strokes that make every blue collar/white collar interaction into Jamie Dimon vs. Johnny The Roofer glosses over a whole lot of folks in the middle.
Watch The Family Man on Amazon Instant Video.
9. While You Were Sleeping
Released: 1995
Box office gross: $81 million
Where you see a comatose hospital patient lucky to be alive after nearly being crushed by a subway train, Sandra Bullock sees a wingman.
That's the fundamental premise of While You Were Sleeping -- in which a farcical misunderstanding prompts the family of a comatose patient (Peter Gallagher) to believe that Bullock's subway attendant is his fiancee. When coma guy's dreamy younger brother (Bill Pullman) shows up, the madcap holiday misunderstandings snowball.
That's the backbone of what could have been a terrible holiday rom-com, but Bullock, Pullman, an eventually reawakened Gallagher, an inspired Ally Walker and none other than Peter Boyle all turn in performances that make this film far better than its flimsy premise.
That this film holds up a whopping 18 years later speaks both to the level of performance director John Turteltaub was able to coax from his cast, but to the timelessness of a wintry Chicago backdrop in this kind of film. There are a lot of guilty pleasures on this list. While You Were Sleeping shouldn't make you feel so guilty.
Watch While You Were Sleeping on Amazon Instant Video.

8. Die Hard
Released: 1988
Box office gross: $83 million
"Now I have a machine gun. Ho. Ho. Ho."
No words better encapsulate what the past 25 years have meant to this film's Christmas legacy than those read off by terrorist/bank robber Hans Gruber (Alan Rickman). While walking out of a second-run theater in Portland that was showing Die Hard as part of its holiday lineup, we overheard one bit of consensus from the moviegoers around us: "I don't remember this movie being this funny."
From the cocaine-and-finance stereotypes, to the bad German accents and translation to the scenery-gobbling drama and big-budget blowups, Die Hard has grown into a holiday favorite for its faults as much as its strengths.
A soundtrack that features Run D.M.C.'s Christmas in Hollis played during a limo ride, Vaughn Monroe's Let It Snow playing over the charred remains of Nakatomi Plaza and Beethoven's Ode To Joy throughout certainly has the holiday spirit, but the unrestrained, over-the-top '80s audaciousness of this film gives it the feel-good holiday vibe that contemporaries like Lethal Weapon lack. When you can build around a NSFW catchphrase and still serve as a growing swath of the country's favorite holiday film, you're getting something about Christmas that candy-coated "traditional" holiday films just don't.
Watch Die Hard on Amazon Instant Video.

7. Trading Places
Released: 1983
Box office gross: $90.4 million
Trading Places isn't about Christmas, a snooty trader brought low, a hustler-turned-broker or a hooker with a heart of gold, race and class relations in the U.S. or commodities trading -- it's a smart, nuanced and very funny story about all of it.
When Randolph Duke (Ralph Bellamy) and his brother Mortimer (Don Ameche) make a $1 bet on whether experience or environment make the man, the slow decay of Louis Winthorpe III (Dan Aykroyd) and the grooming of Billy Ray Valentine (Eddie Murphy, NSFW), everybody ends up learning a couple of lessons. The first is that racially condescending commodities brokers and bookies are not-so-distant relatives and the commodities they traded only got motors running in the go-go '80s.
The second is that when the queen of horror movies manages to keep her shirt on for her entire reign, folks will come out in droves when Jamie Lee Curtis gives them a (NSFW) topless scene for Christmas. Finally, Trading Places makes it known that you can feature in a scene that involves Dan Aykroyd in blackface and still be elected to one of Minnesota's Senate seats, as the gentleman at the 51-second mark of this clip was.
Mostly, however, it's a pleasant holiday reminder that Eddie Murphy could liven up a Christmas movie without disguising himself as a cartoon donkey. For parents who remember Murphy's Raw and just wish he'd do a comedy that they didn't have to show on the backseat screens of their minivan, that's a great gift.
Watch Trading Places on Amazon Instant Video.

6. Die Hard 2: Die Harder
Released: 1990
Box office gross: $117.5 million
Remember when you could crash an airliner full of holiday passengers, killing everyone aboard, and still call your film a Christmas movie?
In a sequel that seems just a touch less plausible post-9/11, our hero John McClane once again finds himself battling terrorists during the holiday season. This time, however, McClane uses Dulles International Airport as a first-person shooter and elevates the body count significantly to stop rogue special forces agents from freeing a deposed dictator of a nonexistent country and -- you know what, it doesn't matter.
There's a bit more dramatic tension with several hundred people hovering above in planes running low on fuel, and there's a far more torrential bullet storm as a result of an army much bigger than the one McLane faced in the first film, and that works out pretty well for a movie that has all of the anachronism but none of the charm of its predecessor. The filmmakers bring back Reginald VelJohnson's Los Angeles cop and William Atherton's pushy television reporter and Bonnie Bedelia as McClane's wife who never seems particularly distressed, but those are about the only ties to the original. John Amos, William Sadler and then-unknown Robert Patrick and John Leguizamo make great bad guys, but this sequel is all blood and no heart. Sadly, it's not the only cookie-cutter second installment on this list.
Watch Die Hard 2: Die Harder on Amazon Instant Video.

5. Gremlins
Released: 1984
Box office gross: $153.1 million
If that Furby you bought a few years back was alive and spawned evil, killer versions of itself that destroyed your hometown, this is what your Christmas might look like.
This film about an inventor who buys a furry little pet in Chinatown despite the shopkeeper's misgivings, gives it to his son and takes off while his kid ignores every instruction he provided about that creature's care is going on 30 years old and is holding up pretty well for its age. While it was a Steven Spielberg-tinged merchandising machine when it was released, the passing years have kindly stripped away the toy-store schmaltz and left bits of director Joe Dante's original vision exposed for all to see.
Forget all of the glowing Christmas decor and Snow White sing-alongs. Mean old lady Mrs. Deagle is dispatched in unflinching fashion, a science teacher's hand is eaten clean off his arm and co-star Phoebe Cates relates a story about her father snapping his neck while trying to climb down the chimney dressed as Santa Claus that is the Gremlins equivalent of the USS Indianapolis speech from Jaws. Oh, and a gremlin is microwaved until it explodes.
How that was all cereal-box and fast-food promotional fodder in the '80s is still a mystery, but Gremlins lives on today as one of Christmas' few midnight movies.
Watch Gremlins on Amazon Instant Video.

4. Batman Returns
Released: 1994
Box office gross: $162.8 million
Tim Burton was behind this one, which gives you a sense of where this dark Christmastime tale is heading.
It starts with Paul Reubens and Diane Salinger marking their Christmas newborn's birth by throwing their baby boy into the sewer, descends into a tree-lighting ceremony that ends in an all-out attack on Gotham City and turns penguins into rocket-launching instruments of destruction. Jesse Hassenger of The Onion's A.V. Club goes into greater detail about the film's foray into holiday loneliness, but the only thing that depresses fan is that this film ended the Tim Burton era and was the last time the series would eschew all-out marketeering for filmmaking until Christopher Nolan took control of the franchise.
It was also the first time the series began its habit of shoehorning way too many villains into the mix. Danny DeVito makes a surprisingly apt and incredibly dark Penguin, Michelle Pfeiffer still seems more comfortable in the Catwoman role than either Anne Hathaway or Halle Berry, but Christopher Walken's department store tycoon Max Shreck feels like an unnecessary middleman.
Still, this is about as close to a work of art as the Batman series came and seems like an unlikely criticism of crass commercialism given the film-to-store formula of the movies that followed. Meanwhile, look at The Nightmare Before Christmas that Burton made immediately thereafter to get some sense of how the millionaire bat put him in the holiday spirit.
Watch Batman Returns on Amazon Instant Video.

3. Home Alone 2: Lost In New York
Released: 1992
Box office gross: $173.6 million
Substitute New York City for suburban Chicago, the Plaza Hotel for the McCallister household and a sage old pigeon lady for a sentimental old man and you've got yourself a blockbuster sequel.
The question that routinely arises from this film is "How does a family end up leaving a kid behind on Christmas twice?" We're sorry, but have you met Macaulay Culkin's Kevin? When surrounded by anyone other than himself and bungling burglars, all he excels at is complaint and petulance. He hates his brothers and cousins, so he gets left at home the first time for sulking. Then he hates that the family Christmas destination of choice in Miami, he runs away to New York with a bag full of daddy's money.
Despite being genuinely awful, he somehow befriends a toy store owner, saves his store from well-traveled thieves Harry (Joe Pesci) and Marv (Daniel Stern) and gets an eccentric old woman who lost her family to save him with her pigeon powers. It's implausible, but it's also just really annoying.
It also stretched the premise to its breaking point. When a sequel was released five years later, Culkin and the rest of the regulars were notably absent. If not for its distinction as one of Scarlett Johansson's earliest roles, Home Alone 3 would have little separating this landfill fodder from the two straight-to-TV sequels that followed.
Watch Home Alone 2: Lost In New York on Amazon Instant Video.

2. Home Alone
Released: 1990
Box office gross: $285.8 million
This, however, was a much better, fresher idea. At this point, Kevin was just a picked-on, pouty kid who got lost in the shuffle. No running away, no theft -- just a wacky misunderstanding that John Hughes seemed way more into writing than the sequel.
Hughes isn't just some afterthought here, either. All the paint cans, torchings, slip-and-fall gags and sticky traps aside, this movie is Hughes doing what Hughes does best: Exposing the logistical and emotional difficulties of youth while keeping them true to the experience of those living it. In Kevin's world, Christmas would in fact be better if adults paid attention to him and his brother and cousins weren't such jerks. And, for a little while, he's right -- there's a great world to be enjoyed when you're granted your independence.
There's also some hefty, dangerous responsibility associated with those freedoms, and Kevin is basically a healthy old man away from being dumped into Lake Michigan and never heard from again. Maybe that's why it's so easy to label the gags and slapstick humor as childish holdovers. In truth there are two versions of this film: The ones that kids see and the one adults see. The kids don't see the adult bashing and implausible plot, but the alienation and isolation of the first half followed by the comedic release and satisfying family reunion of the second. Adults may get some chuckles out of the pratfalls still, but they don't forgive Kevin or the film until the McCallisters come back and order is restored. Even then, they grouse about how he needs more punishment.
Some of the same parents sucking their teeth at this movie now helped drive its big box-office receipts 23 years ago. Guess what version they were begging to see then.
Watch Home Alone on Amazon Instant Video.
1. Iron Man 3
Released: 2013
Box office gross: $409 million
And welcome back Shane Black!
The man who's been turning a mix of Christmas settings and action films into an explosive holiday cocktail for more than a quarter of a century gets some monster Marvel money and puts Robert Downey into some reluctant Christmas spirit.
Not a Christmas movie, you say? Nonsense. There are some fight scenes in a Tennessee holiday town, a precocious 10-year-old sidekick and even a Tony Stark Jingle Bells dance number.
Maybe a little of that gets lost amid the Robert Downey Jr. PTSD pathos, the Pepper Potts (Gwynneth Paltrow) superhuman freakout and a whole lot of Iron Man suits fighting at the same time, but so what? Have you learned nothing from this list? John McClane doesn't spend any of this movies sipping egg nog and singing carols. Louis Winthorpe and Billy Ray Valentine don't throw the Duke brothers into the back of Santa's sleigh and go for wacky adventures around the world. Phoebe Cates doesn't stop fighting gremlins, jet up to Iceland, throw on a Santa bikini and reenact the pool scene from Fast Times At Ridgemont high in a hot spring.
The best part about these kind of Christmas movies is that they scarcely have to be Christmas movies at all. In fact, many of these seem to be appreciated because of the break they provide from the standard Christmas movie.
Moviegoers seem good with that, as does Shane Black and his host of CGI iron men.
Watch Iron Man 3 on Amazon Instant Video.
-- Written by Jason Notte in Portland, Ore.