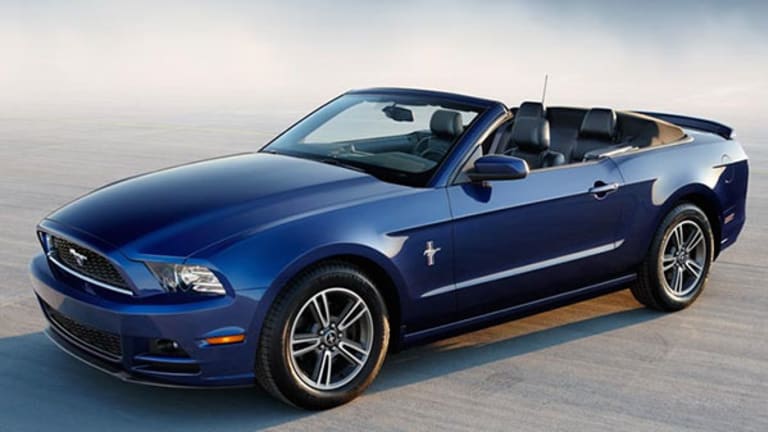 10 Best Cars for the Great American Road Trip
U.S. travelers hate driving and keep getting pinched by fuel prices. This mix of vehicles increases comfort and, in many cases, decreases the number of gas stops.
PORTLAND, Ore. (TheStreet) -- The Great American Road Trip isn't dead, it just needs some tweaking.
Getting out the map, seeing the country and sleeping where the day takes you is a grand tradition that the automobile is becoming less and less vital to. At some point after the last recession, the American love affair with the car became a relationship built on tolerance between an increasingly grumpy couple. Researchers at the Texas A&M Transportation Institute revealed in their 2012 Urban Mobility Report that the average American commuter wasted $818 in time and gas sitting in traffic in 2011. That's $121 billion total, which is up $1 billion from 2010 but still shy of the $128 billion wasted in pre-recession 2005.
The Department of Transportation notes that U.S. driver, who had been racking up a steadily increasing number of miles since the 1970s, started cutting back in 2008 and never returned to that peak. Meanwhile, traffic information service Inrix notes that as average gas prices started spiking in 2010, average commute times during peak hours dropped from more than four hours to less than two.
A study done by the Frontier Group and the U.S. Public Interest Research Group Education Fund found that the average U.S. driver actually started cutting back well before the recession, peaking around 2004 but dropping 6% by 2011. While the total miles driven in the U.S. rose 3.8% from 1948 to 2004, they've been flat since. Gas prices, disdain for the commute, a 4% drop in vehicle ownership since 2006 and a 4 percentage-point drop in licensed drivers since 1992 are all sucking the joy out of the road trip.
Americans are still vacationing, but they're not doing so with an easy conscience. According to travel site TripAdvisor (TRIP) - Get TripAdvisor, Inc. Report, 89% of Americans are taking a trip this summer, with 74% of those travelers going by car. But a full 32% say that gas prices are going to have a direct impact on their travel plans, especially with gas prices hovering around $3.70 per gallon.
Still, AAA found that 34.8 million people planned to travel by car on Fourth of July weekend, which was the highest level of holiday traffic since 2007. But most of those trips are more like jaunts than epic summer adventures. Last year, when gas prices were about 30 cents cheaper per gallon, TripAdvisor discovered that only 11% of Americans planned road trips of 500 miles or more.
So what if those drivers upgraded their vehicle? Maybe something a little more comfortable, more fun or more fuel-efficient? Well, with some help from the folks at Edmunds, Kelley Blue Book and TrueCar (TRUE) - Get TrueCar, Inc. Report, we've come up with 10 vehicles that put some of the leisure back in those long leisure trips down lost routes and expansive highways:
10. 2014 Volkswagen Jetta Sportwagen diesel
MSRP: $26,565
This is it: The last stand for the venerable station wagon. In the shadows of summers past, America's Spirit of the Road donned an aloha shirt and sunglasses, hitched up a teardrop trailer and packed the entire family into a wood-paneled wonder car.
Artist Norman Rockwell painted it into the American storybook in paintings including Closing Up the Summer Cottage and Coming and Going, while Chevy Chase and his family of Griswolds likely signed the wagon's death warrant with a less-than favorable portrayal in National Lampoon's Vacation.
But the Vista Cruisers and Volvos are gone, leaving the Volkswagen (VLKAY) Jetta Sportwagen to turn out the lights on an entire era. With roomy seating for five, 33 cubic feet of cargo capacity with the rear seats up and 67 cubic feet of room with the seats flat, this is the family wagon for those who can't bear the thought of a minivan, never bought into SUVs and don't want to spend on Audi or Mercedes wagons. The quiet cabin and smattering of Volkswagen tech throw-ins are a nice touch as well, but it's the turbocharged 2.0-liter diesel engine that gets nearly 42 miles per gallon on the highway that helps a budget-conscious family spend a little more on the vacation itself. Throw in a nearly 13 square foot panoramic sunroof, touchscreen navigation and a rearview camera, and you have the most modern version of the road relic station wagon available.

9. 2015 Honda Fit
MSRP: $15,525
One of the subcompacts that started the class' renaissance, the colorful and convenient Honda (HMC) - Get Honda Motor Co. Ltd. Report Fit got by on a whole lot of flexibility and user friendliness. This year, it gets a complete revamp.
Cargo space shrinks from 57.3 cubic feet with the seats down to 52.7, but the seats get a little more modular, to the point that the passenger seat folds back to serve as a footrest for a passenger in back who wants to sleep for this leg of the trip. Blind-spot cameras, a multi-angle rearview camera, touchscreen audio system, Bluetooth connectivity, an app suite, leather-trimmed and heated seats, a moonroof and satellite navigation all make for a pleasant, comfortable ride for driver and passenger.
But it's the mileage that's been jacked up to 33 miles per gallon in the city and a whopping 41 on the highway (a combined 37 mpg) that's the Fit's most impressive new feature. That 97 cubic feet of passenger space isn't huge, but when it's two people hitting the road, it's all you need from a fun and frugal ride.

8. 2014 Toyota Prius V
MSRP: $26,750
Whose turn is it to pay for gas? That question is a lot less annoying when you only have to ask it every 500 miles or so.
Also see: 10 Best Convertibles for Summer 2014
Also see: 10 Best Convertibles for Summer 2014>>
So what if its combined 42 miles per gallon now lag behind the 50 of the original Toyota (TM) - Get Toyota Motor Corp. Report Prius? The V's 67.3 cubic feet of cargo space is what matters during a long haul with the family, and that's way better than the original Prius' 39.6 cubic feet. In fact, it's a whole lot closer to the cargo space of compact SUVs such as Toyota's RAV4.
Even if you go with the base model, features including a touchscreen audio and information system, a backup camera and Smart Key come standard. There are available tech upgrades including SiriusXM (SIRI) - Get Sirius XM Holdings, Inc. Report satellite radio, navigation and the Entune app suite -- as well as an optional panoramic moon roof -- but the surprising room and fuel-sipping mileage sell a road trip in the Prius V on their own.

7. 2014 Hyundai Veloster
MSRP: $17,800
Aimed toward the same drivers who loved the Mini's deceptive quickness, the Hyundai Veloster's a light little speedster whose 1.6-liter, 201 horsepower turbo engine are more than adequate for its needs.
Unlike the Mini, however, the Veloster's sleek styling evokes more of a sports car than a retro subcompact. It revels in that present-day persona and is stocked with a ton of tech, including a 7-inch multimedia touchscreen with available navigation, pushbutton start, wireless connectivity, emergency assistance and collision notification. The available tech package even allows you to connect to your game console.
Its three-door configuration is a little funky, but its combined 34 miles per gallon and 10-year warranty more than make up for its eccentricity.
6. 2014 Ford Mustang
MSRP: $27,510
For car buyers 35 to 54 years old and nearly 40% of the female car-buying public, the convertible is the way to go during the warm months. The staff at TrueCar took a look at convertible buying habits and found that folks in California, Florida, Texas, New York and New Jersey are almost always gearing up to take their cars' tops down.
But if you feel cramped in a smaller car such as the Mini Cooper convertible, Mazda (MZDAY) Miata or the Fiat (FIATY) 500c and don't want to splurge for an Audi, Mercedes (owned by Daimler (DDAIY) ), BMWundefined or Lexus convertible, this is your least costly option. Back in 2005, the Ford (F) - Get Ford Motor Company Report Mustang was redesigned with a retro-futurist look that was basically an update of the first generation's classic aesthetic. Fans responded instantly. Sales jumped from fewer than 130,000 in 2004 to more than 160,000 in 2005 and 166,500 in 2006. It gave the Mustang line a huge boost just before the Great Recession and prompted Chevy (GM) - Get General Motors Company Report and Dodge to make similar retro tweaks to their Camaro, Charger and Challenger.
Ford's softened up that style a bit and is getting ready for a 2015 overhaul that makes the Mustang look more like a jacked-up Ford Fusion than anything else. Still, the Mustang is a brawny little pony that lends itself well to a convertible configuration.
Yes, that's 305 horsepower pumping out of that base-level V6, which makes features such as leather racing seats, leather steering wheels covers and high-powered gas headlights not at all ridiculous. That 29 miles per gallon on the highway, six-speaker sound system and 4.2-inch touchscreen entertainment and navigation display give it all the great features of a practical midsize without ditching any of the muscle.

5. 2014 Honda Odyssey
MSRP: $28,825
Is a minivan fun? Not unless you're one of the passengers in back watching a movie. Is it fuel-efficient? A combined 24 miles per gallon isn't great, but 28 miles per gallon on the highway is excellent for its class. Is it comfortable? Now you're talking.
Before vain U.S. parents became preoccupied with how cool they looked trucking kids to school, the minivan was the ride of choice. It's never stopped being practical or comfortable and, in fact, has only tacked on more amenities. In the Odyssey's case, its versatile cabin seats up to eight, with second-row seats that can be configured to fit three child seats. The Odyssey's removable center console offers a useful flip-up trash-bag holder, and there's also a "cool box" beverage cooler to accommodate chilled refreshments. Available features include a blind-spot warning system and a rear-seat DVD entertainment system with a 16-inch screen capable of simultaneously displaying two program sources.
Also see: 10 SUVs Selling for Less Than $25,000
Also see: 10 SUVs Selling for Less Than $25,000>>
Best of all, an in-cabin vacuum is an available option for parents who just know that a healthy percentage of that trip's road snacks are going to end up on the floor. It also comes in handy for a vehicle that can carry up to eight people with enough room behind them for a small grill. More importantly, it can carry five family members, collapse the third row and have 93.1 cubic feet for more storage.
If you're going Kerouac-style on your road trip, a minivan is probably the polar opposite of what you're looking for. If you're taking a multi-day trip to see the relatives or head to a theme park, this should be the first option you consider.

4. 2014 Mazda MX5 Miata
MSRP: $23,720
If you're going to go with a small car and a Thelma & Louise-style road trip, there's no better option than the Miata. Porsche (POAHF) will insist that its Boxster is a superior choice, but the Miata costs almost $30,000 less and is a more reliable automobile.
The engine is is a little less zippy at 167 horsepower from a 2-liter, 4-cylinder. That said, the Miata and Boxster cars have similar acceleration (zero to 60 in 6.5 seconds for the Porsche, seven seconds for the Miata), similar ratings from Consumer Reports (90 for Porsche, 89 for Mazda) and similar customer satisfaction. The Miata's available hardtop that kicks the starting price up above $27,000 only closes the gap further.
What the Porsche does have that the Miata doesn't is engine, cooling, electrical system, power equipment and significant brake problems that add up to a lot of future costs over the life of the car. Boxster owners pay twice as much for that privilege, but at least they're getting a bit more trunk space out of the deal.

3. 2014 Subaru XV Crosstrek
MSRP: $21,995
What seems like a long time ago, Subaru used to make wagons. Not the big, high-ground-clearance crossover SUVs with the Outback and Forester names on them now, but actual wagons.
A whole lot of loyal Subaru drivers remember when the Outback was just a wagon, which is why this mini crossover has the look and feel of a wagon with just slightly more elevation. As with all Subarus, the all-wheel drive is standard, but the 40 inches of driver headroom, the 43 inches of legroom and combined 52 cubic feet of cargo space with the seat down are all more SUV than Subaru wagon.
Still, the standard multi-function display and rearview camera are nice perks for Subaru's smallest crossover, and those 33 miles per gallon on the highway are better than any wagon could manage. Besides, wagons never had Bluetooth connectivity, SiriusXM satellite radio, HD radio, voice-controlled navigation or automatic climate control. All of it was waiting just a few years down the road.

2. Mini Cooper convertible.
MSRP: $25,700
This car, more than any other, has made the case that a small car can be an incredibly fun road trip vehicle.
With the Mini, you can swap out colors, arrange the interior, trick it out with gauges and accessories and use its wide wheel base to hug turns while putting its impressive speed to the test. In the decade after its return to the U.S. market, the Mini sold 2.5 million vehicles and became a cult favorite while the big gas guzzlers faded. Now Ford, General Motors (GM) - Get General Motors Company Report, Toyota, Honda and several other automakers each have sporty, options-packed subcompacts. Meanwhile, the U.S. market became so open to subcompacts that the Fiat 500 that was banished a generation ago has made a comeback. For a marquee called Mini, it's had a major impact.
The Mini convertible comes loaded with its Mini Connected entertainment center, featuring a 6.5-inch high-definition display, Apple (AAPL) - Get Apple Inc. Report designed Bluetooth interface and app for smartphone and iTunes connectivity and optional GPS. While's it's also hooked up with Sirius satellite radio, Pandora (P) and HD radio, the most indulgent item built into the dash is an "Openometer," whose sole purpose is to count the number of minutes or hours your convertible top is down during your trip. Oh, and there's no saying that roof has to go all the way down, either, as the 3-in-1 roof allows passengers to open it halfway as a giant sunroof.
Think it's going to be crammed? A whopping 41 inches of legroom awaits up front, as does a GoPro (GPRO) - Get GoPro, Inc. Class A Report camera app that lets you control your camera from the center console to document what you're seeing on the road or what it looks like with the top down during your trip -- or even your fuel gauge as you get an impressive 31 combined miles per gallon.

1. 2014 Ford Flex
MSRP: $29,015
All of the little cube-shaped surf wagons that were released a few years ago to entice young people into the road trips of yesteryear all managed to miss the mark in one big area: They just weren't very comfortable or spacious cars.
The Flex has no such issue. Basically a minivan in a crossover's body, the Flex has room for seven, 44 inches of legroom in the second row and a power folding mechanism for getting into the third row. A surprising amount of headroom makes it easy to transport a large crew or throw some gear in the back and take a long trip all while giving them enough room to maneuver regardless of height.
Options such as sliding second-row captain's seats, Microsoft (MSFT) - Get Microsoft Corporation Report Sync phone, entertainment and navigation systems in its MyFord Touch screen, DVD entertainment center for the back, a multipanel sunroof and second-row fridge console for road sodas compensate somewhat for its roughly 20 combined miles per gallon. It used to look like a giant Mini Cooper, but standout frame, spacious 80 cubic feet of cargo room make it as close as you'll get to a hotel room on wheels without going for a full RV.
-- Written by Jason Notte in Portland, Ore.
>To contact the writer of this article, click here: Jason Notte.
>To follow the writer on Twitter, go to http://twitter.com/notteham.
>To submit a news tip, send an email to: tips@thestreet.com.
RELATED STORIES:
>>10 Best Convertibles For Summer 2014
>>10 Most Union-Made Cars Of 2014
>>Session IPA Is Taking Over Summer Beer
Jason Notte is a reporter for TheStreet. His writing has appeared in The New York Times, The Huffington Post, Esquire.com, Time Out New York, the Boston Herald, the Boston Phoenix, the Metro newspaper and the Colorado Springs Independent. He previously served as the political and global affairs editor for Metro U.S., layout editor for Boston Now, assistant news editor for the Herald News of West Paterson, N.J., editor of Go Out! Magazine in Hoboken, N.J., and copy editor and lifestyle editor at the Jersey Journal in Jersey City, N.J.