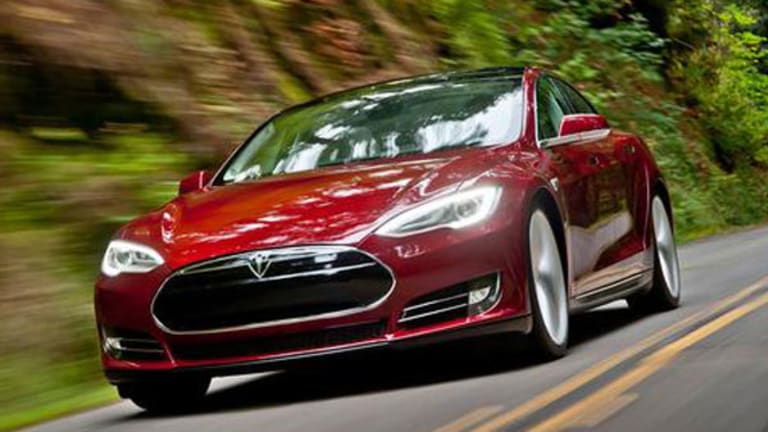 10 Best 40 MPG-or-Better Cars of 2013
The age of the 40-miles-per-gallon vehicle is upon us, and automakers are starting to hit the mark more.
PORTLAND, Ore. (TheStreet) -- The age of the 40-miles-per-gallon vehicle is upon us, and automakers are starting to hit that mark with much greater frequency as the national emissions deadline approaches.
Under a fuel economy standard passed by President Barack Obama in 2009, all new cars manufactured for use in the U.S. will have to average 42 miles per gallon or better by 2016 to be sold here. The price for missing that mark is $5 for every 0.1 mile over the bar for each vehicle produced. That's a tough number to meet, even with the restrictions relaxed to just 26 miles per gallon for trucks, but auto manufacturers around the world seem up for it.
Also see: Cramer Greets the 21st Century: Parkopedia
The folks at
Kelley Blue Book
compiled a list of the top low-mileage vehicles available in the Class of 2013 and came up with
that hit the roads at 40 mpg or better in both the city and on highways. With electric vehicles encroaching on the combustible engine's turf, even the term "miles per gallon" finds itself in need of a tweak.
In the interest of simplicity, we've narrowed Kelley Blue Book's list to the Top 10. While some come by that 40 miles per gallon honestly, the majority on this list are judged by the Environmental Protection Agency's "miles per gallon equivalent" standard that declares 33.7 kilowatt hours of electricity equal to one gallon of gasoline. That said, let's hit the road and find out who's getting the most mileage for the money:
10. 2013 Toyota (TM) - Get Toyota Motor Corp. Sponsored ADR Report Prius Plug-In
MSRP:
$32,000
Miles per gallon:
First 11 miles: 95 mpge combined. Next 529 miles: 50 mpg combined
This is how far fuel economy has come: A Prius is at the bottom of this list.
Unfortunately for Prius owners, the Plug-In earned this spot by having one of the wimpiest electric ranges in the industry. Seriously, a three-hour charge to go a scant 11 miles without using gas? Where are you commuting to, the end of the driveway?
Also see: Deduct Tax Preparation Fees
Fortunately, the Prius makes up for its somewhat gimmicky electric mileage with the 50 mpg hybrid mileage owners have come to know and love. It also gets owners some sweet state and federal rebates for their trouble, as well as an occasional comfy solo ride in the carpool lane.
9. 2013 Tesla (TSLA) - Get Tesla Inc Report Model S
MSRP:
$52,400
Miles per gallon equivalency:
94 city, 97 highway, 95 combined.
Electric charge range:
200 miles
OK, tech geeks, if you're done foaming at the mouth over that
New York Times
test drive and laying palm branches at the feet of Elon Musk, maybe we can have an honest discussion about this car.
Aside from one guy's experiences in between the two supercharging stations along the Northeast Corridor in the dead of winter, here's what we know: The Model S is a technical marvel that not only gives drivers 200 miles of range on a full charge, but has a diagnostic system that can gauge every variable that's influencing the life of that charge.
Also see: How to Get the Most Out of Your Tax Refund
Features include a 17-inch touchscreen control center, a sound system with enough memory for 500 songs and options including navigation, a high-definition backup camera, a power liftgate and a communications and emergency response system. Add-ons can boost the Model S' sound system to a 12-speaker beast and upgrade the passenger compartment with a rear-facing back seat that gives it room for seven.
The other thing we know? Even with a rebate, it's really expensive and requires an update to a $62,000 model to get the vehicle's best range, acceleration and charging options. It's an electric luxury car that will never change the world for the majority of Americans who can't afford it.
8. 2013 Chevrolet (GM) - Get General Motors Company (GM) Report Volt
MSRP:
$31,645
Miles per gallon:
First 35 miles: 98 mpge combined. Next 344 miles: 37 mpg combined.
At least you still get an electric vehicle and some fuel efficiency when you splurge on a Tesla. Take the Volt out for more than 35 miles and you basically have a very costly, somewhat inefficient hybrid.
That said, its all-electric range is still far better than that of any plug-in hybrid on the road. All those tech toys such as navigation, status apps for your mobile device, a sweet sound system, lots of space and relative silence make it far more luxurious than its plug-in hybrid peers as well.
It's a fuel-efficient luxury, if not an entirely cost-efficient one.
7. 2013 Nissan (NSANY) Leaf
MSRP:
$21,300
Miles per gallon:
106 city, 92 highway, 99 combined.
Electric charge range:
73 miles
This is the car people should be pointing to and shouting about when people say you can't get a decent electric vehicle for less than $25,000.
It's hard to believe the Leaf has been around since 2010, but this old-timer is still a great option for folks lacking a long commute and living in places such as the West Coast towns along Interstate 5's electric corridor with loads of access to chargers. That said, this car lacks the supercharging power of the Tesla and takes a good, long time to charge.
Once it's juiced up, however, its bevy of audio, navigation and app support features - including maps of nearby charging station -- are similar to that of the higher-priced Volt. The Leaf is just as silent, though, and is still one of the best EV options available for the money, even if advancing EV technology makes this aging model look like it's lingering in the slow lane.
6. 2013 Ford (F) - Get Ford Motor Company Report C-Max Energi
MSRP:
$32,950
Miles per gallon:
First 21 miles: 100 mpge combined, Next 600 miles: 43 mpg combined
Maybe C-Max sounds a little too similar to a certain Pepsi soda, but what was Ford supposed to do, call it the Ford Prius?
Hey, we're just calling it as we see it, and what we see is a car that looks a whole lot like the Prius priced similarly to the competing Prius doing some very Prius-type things. Its plug-in range is a full 10 miles better than the competing Prius and it has that Ford label on it that scores a few more points with the "Made In The U.S.A." crowd (yep, it's assembled in Wayne, Mich.).
It also gets all those sweet Prius benefits such as state and federal refunds and solo carpool lane access. Just look past the name and you'll see a huge win for Ford and for U.S. competition in the plug-in/hybrid race.
5. 2013 Ford Focus Electric
MSRP:
$32,900
Miles per gallon:
110 city, 99 highway, 105 combined
Electric charge range:
76 miles
Of course, Ford could always just go straight electric with one of their models, too. By taking the frame of a popular, existing brand, stripping out the combustion engine and giving it all the cool electronic and mobile-based features EV owners have come to expect, Ford's begun the arduous task of carving a niche for itself in this increasingly crowded market.
How do you do that, you ask? By taking aim at the other populist electric car on the road. While the Focus Electric is a full $11,000 more expensive than the Nissan Leaf, the company takes great pains to point out that its high-capacity charger can juice up the Focus in half the time it takes the LEAF to get a full charge. During a time when electric vehicle advancements are occurring incrementally and U.S. drivers' patience with range and charging is still being tested, the Focus' familiarity and fast charging speed may mean the difference for buyers who can see beyond that vast pricing divide.
4. 2013 Smart Fortwo ED
MSRP:
$25,000 (before tax credits)
Miles per gallon:
122 city, 93 highway, 107 combined.
Electric charge range:
68 miles
Oh Smart: Your size always says "cheap and efficient," but your price tag and mileage consistently tell a different story.
The ED is a good step toward turning that around, as its starting price after tax credits would make it the lowest-priced electric-only car on the market. Granted, it would still be the size of a two-seater Smart car, but is that so bad? Urban dwellers get the high-mileage, affordable, parkable puttering car they were promised when Smart first made its way across the pond, while smart gets to reintroduce itself to a market that seemed miffed by Smart's costly, relatively inefficient first impression.
Kelley Blue Book likes the fact that an electric Fortwo signals an end to the gas-powered version's pokey transmission, but both car buyers and Smart should be happy that this brings an end to Smart's so-so first act in the U.S.
3. 2013 Mitsubishi i
MSRP:
$21,625
Miles per gallon:
126 city, 99 highway, 112 combined.
Electric charge range:
80 miles
First off, yes, Mitsubishi is still selling cars in America. It's not selling many of them, mind you, now that its offerings are down to the Galant, Lancer, Outlander and this pint-sized electric vehicle, but it's still selling them.
Until Smart's ED hits the market, the I, formerly known as the MiEV, holds the crown as the most affordable pure-electric car sold in the U.S. It's also surprisingly big on the inside for a car so puny, with more than 50 cubic feet of cargo space once the rear seats are folded down.
That 80-mile range is nothing to sniff at, either; it's better than what the Leaf and the Focus offer. Remote-controlled pre-heating and pre-cooling, turn-by-turn navigation, a rearview camera and brakes that recharge the battery as they slow the car all make the I a worthy electric option. Whether Mitsubishi stays in the U.S. long enough for most Americans to enjoy it is anyone's guess.
2. 2013 Honda (HMC) - Get Honda Motor Co., Ltd. Sponsored ADR Report Fit EV
MSRP:
$389 a month (lease)
Miles per gallon:
132 city, 105 highway, 118 combined.
Electric charge range:
83 miles
The great news is that Honda's Fit subcompact hatchback gets the EV treatment and gives drivers 83 miles per charge and room for five passengers. That's better than every EV save the Tesla, but there's one catch.
Only a few Americans can get it.
Honda's going with a pilot program that only makes the vehicle available for lease in select cities, likely those in the coastal U.S. with access to charging equipment beyond peoples' homes. The Fit's standard keyless entry, cruise control, modular seating, under-seat storage, 57.3 cubic feet of cargo room and 10 cupholders should be as appealing as they've always been, but the EV version will likely inspire some envy among drivers who aren't lucky enough to get a lease and are left waiting for the inevitable broader launch.
1. 2013 Scion IQ EV
MSRP:
N/A
Miles per gallon:
135 city, 105 highway, 121 combined.
Electric charge range:
50 miles
Toyota's super-small Scion is built for space-deprived city living, but its IQ is destined for densely populated environments.
Seriously, there were only 90 of the electric versions made and they're all earmarked for car-sharing programs in cities and schools around the country. Unless you're willing to get a
Zipcar
( ZIP) membership and some patience, this tiny parallel parking machine probably isn't happening for you.
That's not going to elicit many tears from folks who like their electric vehicles to top out at more than 78 mph, but it'll likely cause some consternation for folks who've just circled the block for the 15th time and keep seeing that length of curb that's just a little too small for their midsized utilitarianmobile -- but a perfect fit for the IQ.
-- Written by Jason Notte in Portland, Ore.
>To contact the writer of this article, click here:
Jason Notte
.
>To follow the writer on Twitter, go to
.
>To submit a news tip, send an email to:
.
RELATED STORIES:
>>How Tapping The Jewish Beer Market Begat A Plan
>>Sierra Nevada CEO Makes East Coast Beer Run
>>Craft Brew Founder Widmer Savors Results
Jason Notte is a reporter for TheStreet. His writing has appeared in The New York Times, The Huffington Post, Esquire.com, Time Out New York, the Boston Herald, the Boston Phoenix, the Metro newspaper and the Colorado Springs Independent. He previously served as the political and global affairs editor for Metro U.S., layout editor for Boston Now, assistant news editor for the Herald News of West Paterson, N.J., editor of Go Out! Magazine in Hoboken, N.J., and copy editor and lifestyle editor at the Jersey Journal in Jersey City, N.J.